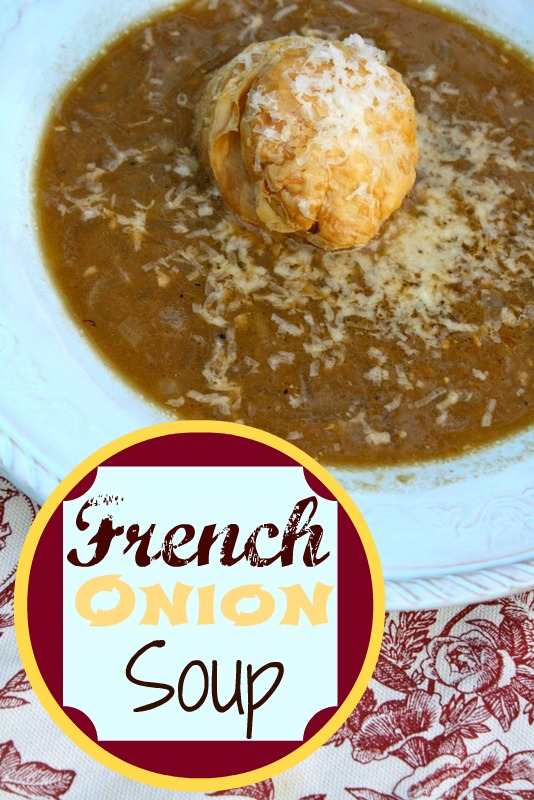 Just before we left to go to France, I made classic French onion soup.
You know, I don't think I've ever eaten French onion soup except once from Panera Bread.  The one time I ate it was the day after the Disney Marathon, when Brad and I camped out in Panera to use their wifi for five hours straight.  Good times.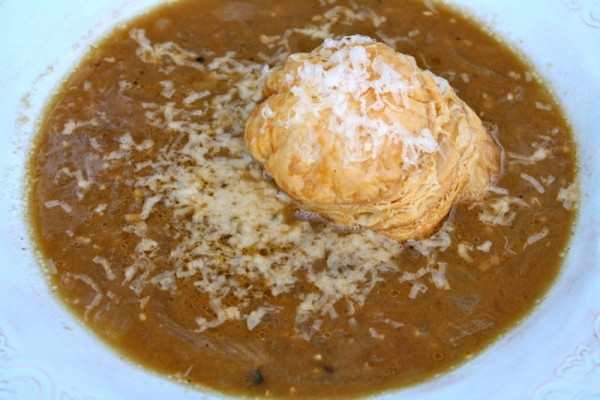 So yeah, I haven't had a lot of experience with French onion soup.   But I thought to myself, "How hard can it be? A little beef broth, some caramelized onions, a generous amount of cheese…"
And then there's the crusty baguette slice to top it all off.  Except, I didn't use a baguette.  Instead, I turned to the lump of leftover frozen puff pastry dough that I shoved into the freezer several months ago.
In case you didn't know, I freeze everything that may go bad before I want to use it. I've even froze milk in the past.  It's a great way to save money and not be wasteful.
As much as I love baguettes even after having more than my share in France the past two weeks (I bet we ate a baguette a day, easily), this puff pastry ball in lieu of the baguette was one of the best ideas I've had this month.  Well, that and taking eight dresses and only two pairs of shorts on our trip to France.
No, wait.  That was the worst idea I've had this month.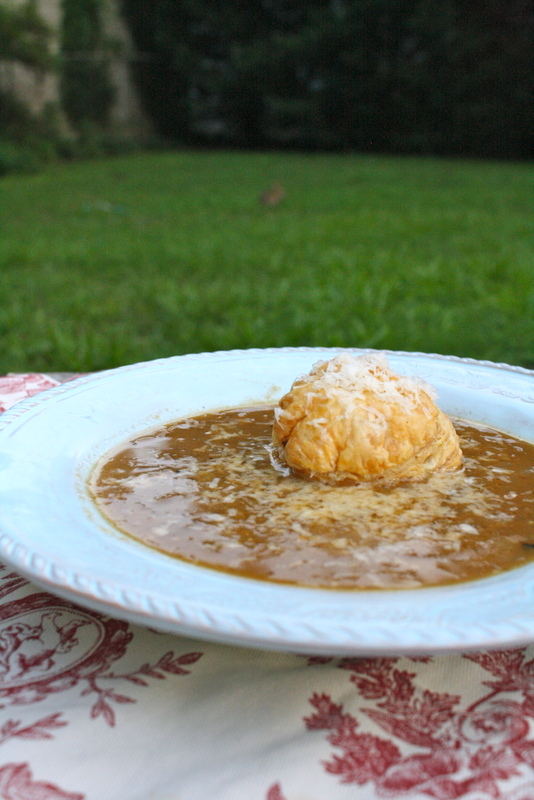 French Onion Soup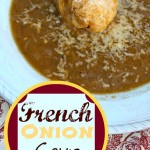 (Serves 4 (entree), 6-8 (appetizer))Kelly Davis2012-08-14T11:54:40+00:00PT1H0MPT0H15MPT0H45M

I made this the week before Brad and I went to France and we didn't find a better version while we were there. If that's not convincing enough to make this, I don't know what is.

Ingredients

8 cups beef broth
2 bay leaves
6 sprigs of fresh thyme
2 cups sweet yellow onion, chopped roughly
2 Tablespoons garlic, minced
4 Tablespoons salted butter
2 Tablespoons all purpose flour
2 puff pastry sheets
1 cup Gruyere cheese, finely shredded


Directions

Pour the broth in a large pot with the herbs and bring to a simmer. Allow to cook for at least 30 minutes.

Meanwhile, in a large pan, heat the butter on medium heat and once it is almost completely melted, add the onion and the garlic. Stir the onion regularly, cooking on medium heat slowly, until the onion is a rich golden brown.

Use a slotted spoon to remove the sprigs of thyme and bay leaf from the broth and discard. Add the onions to the broth. Quickly whisk in the flour to thicken. Continue to simmer the soup for 15 minutes, while it thickens.

Preheat oven to 350 degrees F. Fold puff pastry so that it is doubled. Use a round cookie/biscuit cutter to cut 4-8 pastry circles (depending on how many you are serving). Grease a small baking sheet with butter or oil. Place puff pastry on the sheet and cook for about 15 minutes or until pastry has fully puffed and has turned golden brown on top.

Ladle soup into bowls, placing a puff pastry round in each bowl. Garnish with plenty of Gruyere cheese.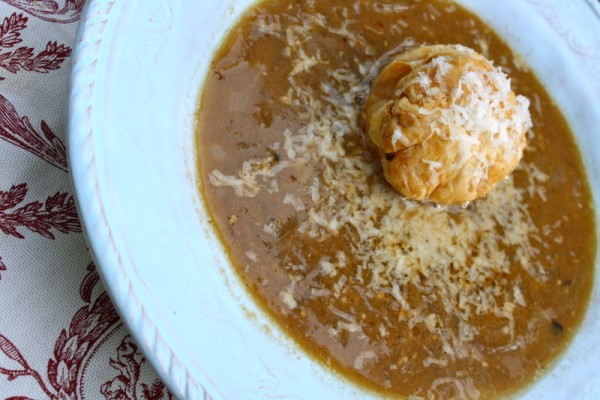 This soup could easily be made vegetarian if you substituted vegetable stock for the beef broth, but I would also add a bit (maybe 1-2 tablespoons of vegan worcestershire sauce) for some added depth and complexity to the broth.
But even if I made it veg-friendly, there's still an additional animal that showed up in this post. Can you spot him?