I'm writing you from my in-laws on the northeastern tip of NC.  They live on the Currituck Sound and the sound is literally their backyard.  See the last photo in this old post for a visual picture of that.  It's a beautiful!
Brad and I are here for two reasons: 1) We miss his parents and always have a wonderful time here and 2) We fled Charlotte to escape the madness that is the DNC.
If you kept up with my blogging for SavorNC, you might have already seen my next recipe.  I whipped up a special batch two days ago of this light and refreshing gazpacho and packed it in the cooler to share with my coastal family.
I love this stuff! I'll be sharing it with them later at lunch, so here's hoping it's a hit.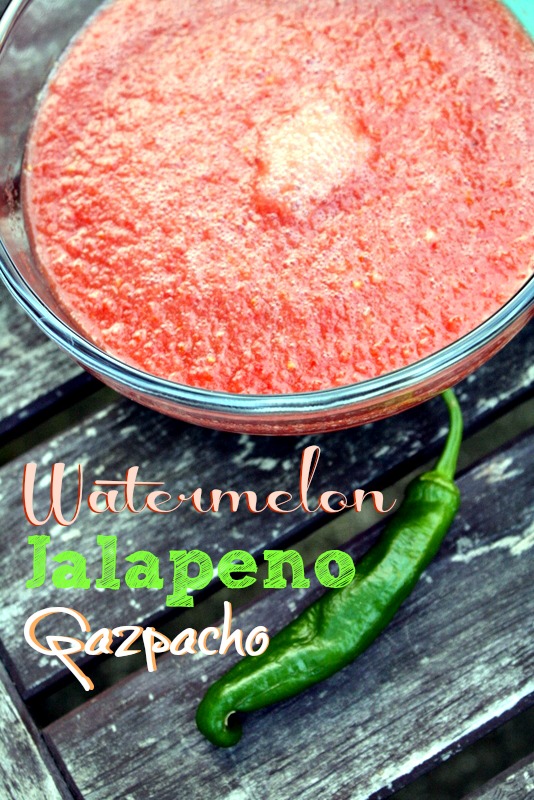 Several years ago, Brad whisked me away on a trip to Charleston for Valentine's Day.  Charleston is one of those places I just adore.  It has culture, history, old Southern charm, and absolutely wonderful restaurants.
Brad did his homework and reached out to an old friend who live in Charleston to find out what restaurants we simply had to try.
One of these was High Cotton.  We had a wonderful Sunday brunch complete with a mimosa for me, a bloody mary for Brad, and live jazz music.  When we returned a year later to attend a wedding at Folly Beach, we planned to return for Sunday brunch.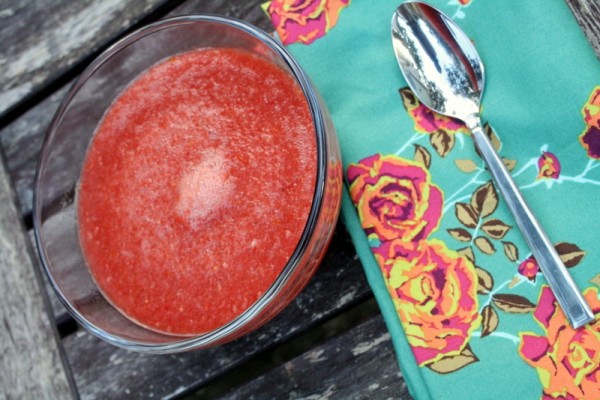 It was much warmer on this second trip to Charleston to I opted for a light salad, but to start my meal I ordered the local melon gazpacho.
It was light, refreshing, and had a bit of kick from a jalapeno.  I loved it and Brad loved it too.  Gazpacho is so incredibly easy to make, so I knew I would have to give this cold and sweet soup a go.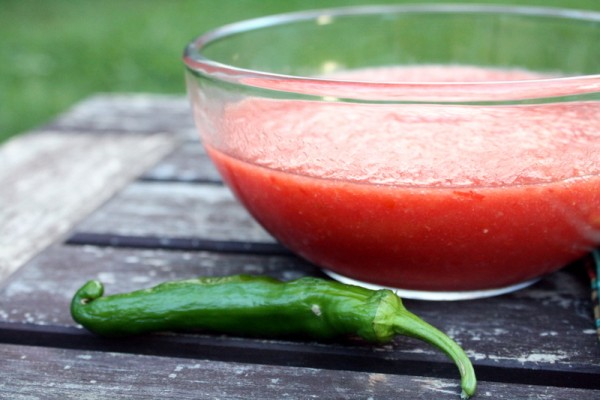 Watermelon Jalapeno Gazpacho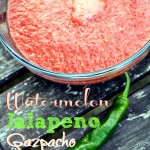 (

Serves 6-8

)
Ingredients
8 cups watermelon, seeds removed
1 cup canned diced tomatoes
1 ½ cups red pepper, chopped
1 ½ cup cucumber, peeled and chopped
1 jalapeno, chopped*
1 tsp. sea salt
1 Tbsp. + 1 tsp. red wine vinegar
Juice of 1 lime
Directions
Add all ingredients to a blender or food processor and puree. Serve chilled or at room temperature.
*Add as much jalapeno as you like, depending on your spice preference and the spiciness of your pepper. If you want extra spice, you can also add the seeds, which are more potent than the green flesh of the pepper.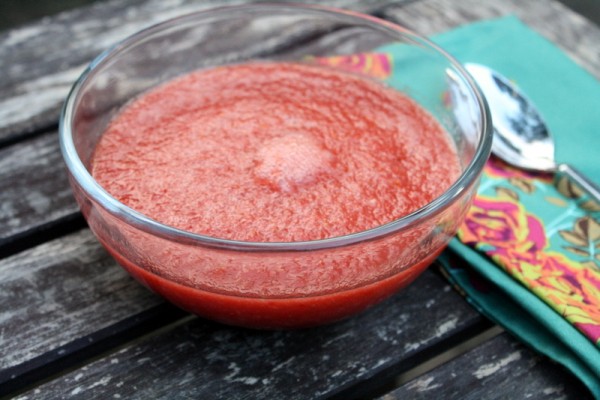 This is the perfect summertime pre-dinner soup.  It's so light and refreshing, it almost quenches your thirst.
In fact, if you pour this soup throw a fine strainer, you can add vodka and call it a cocktail.  Trust me.  I know from experience. 😉
You can read about our trip to Charleston here.