Last Friday night, I met Chef Tom LaFauci who develops all the recipes for Salsarita's.  All of them! By the way, did you know that Salsaritas is a local Charlotte company? The first one was at Eastland Mall.
Chef Tom and I talked about Salsarita's guacamole and pico de gallo and I got to help him make up a batch of both (recipes at the end).  The recipes are incredibly simple, which is what I like best about Tex Mex food when I cook it at home.  It's nothing fancy and what makes it delicious are simple flavors that always taste fantastic together.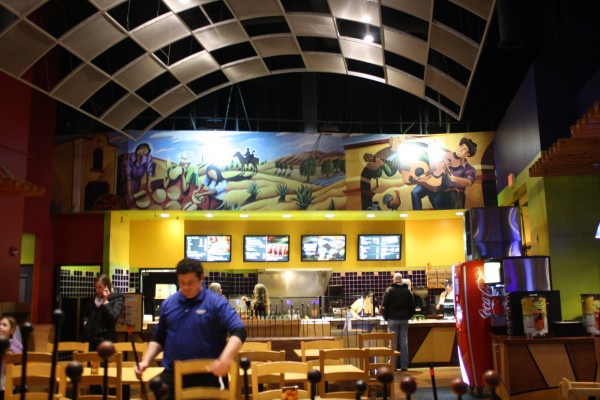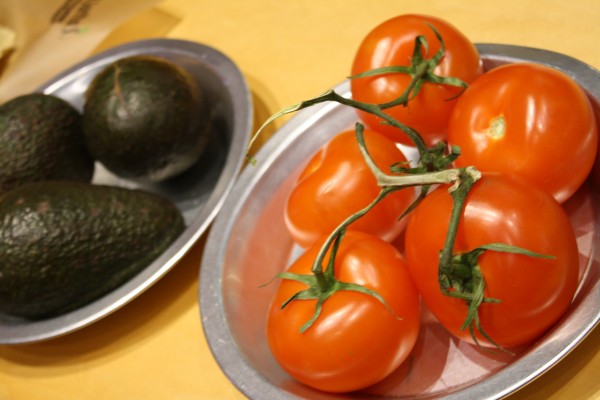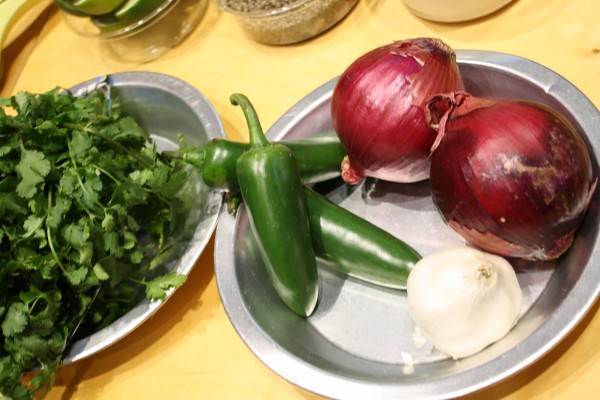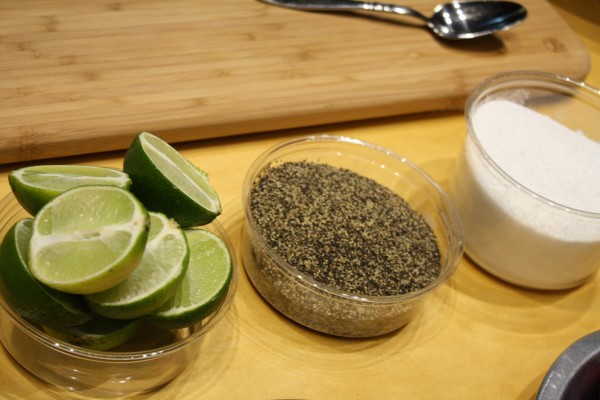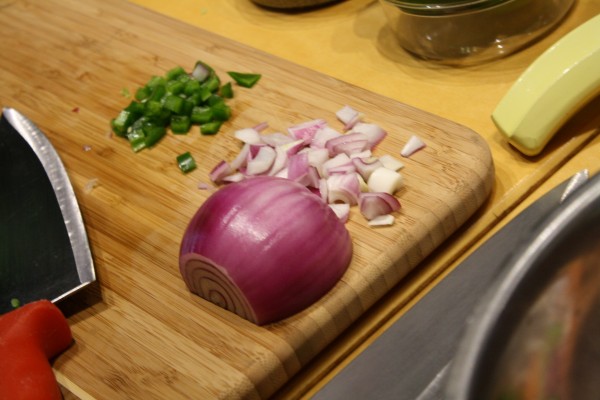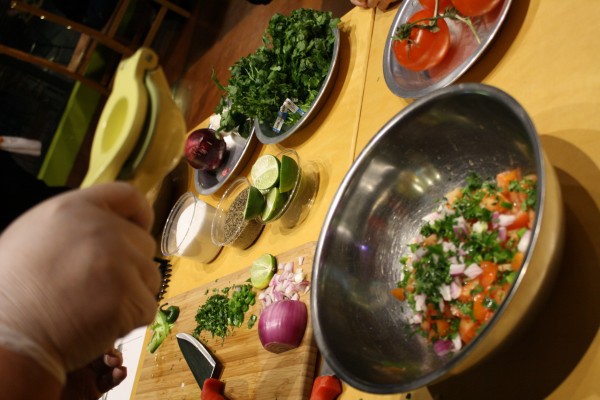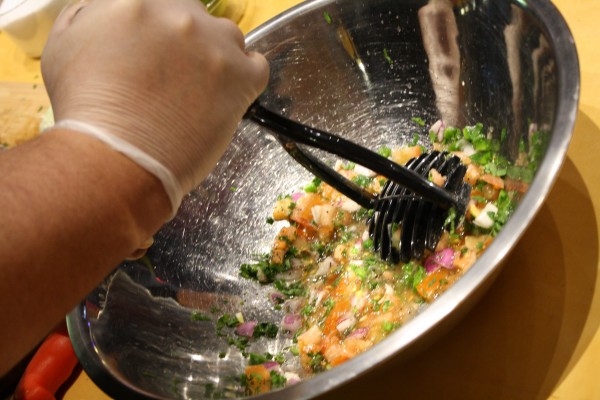 I've never thought to use a potato masher when making guac.  What a great idea!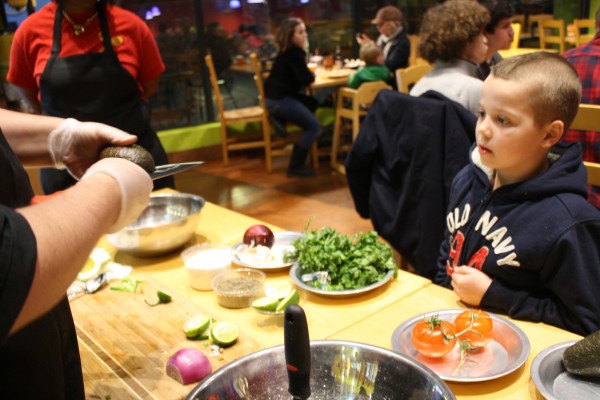 This kid was enthralled with Chef Tom, even though he said he didn't like guacamole.  He was mesmerized by the demonstration.  I think we have the beginnings of a young chef!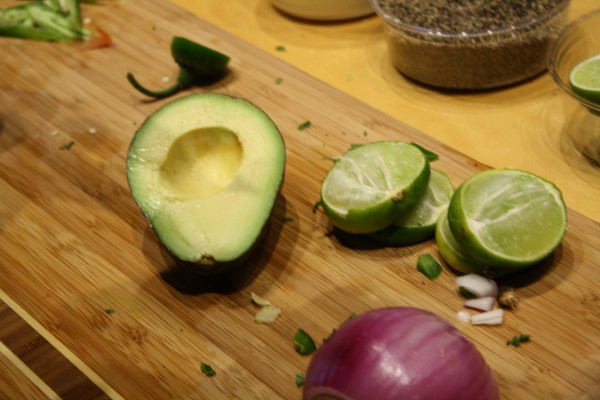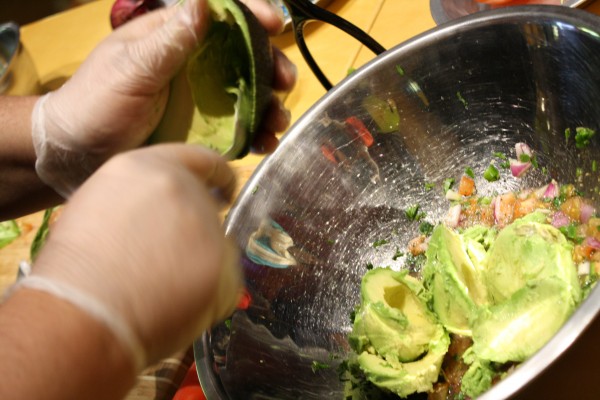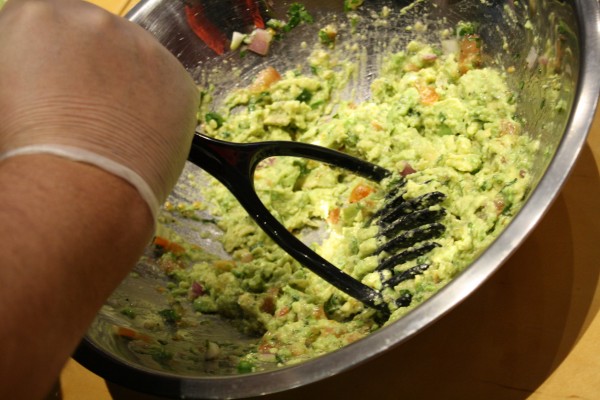 The recipes for both the guac and pico de gallo are very similar and of course, I ate my fair share while I was there.  I could literally eat this entire bowl of guac in one sitting.  The guac is basically the same recipe as the pico, except for the addition of avocado and garlic. Salsarita's recipe for guacamole is actually really similar to my own.
Chef Tom has one of the coolest jobs around.  I think it would be so fun to be a recipe developer.  He actually tests all of his new recipes in the Charlotte market, so we get to try out his ideas before he sends out the successful ones to the other Salsaritas all over the country.
We also talked about how he tries to get local produce to use in his kitchen as much as possible when they're available.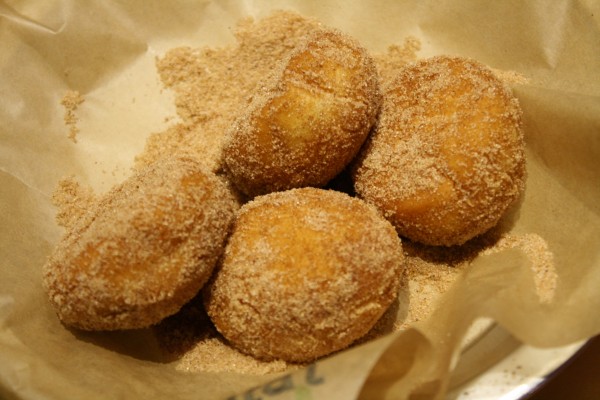 These babies were definitely the high point of the night.  Chef Tom told me about how he wanted to make churros, but that would require a completely different deep frier since they use their frier to make their chips. Instead, he came up with Poquitos, which are little balls of dough that are baked — not fried — and covered in cinnamon and sugar.  So you get the flavor of the churro, but in a soft baked dough ball.
Oh man these were good.  Next time, I have to get the recipe for these!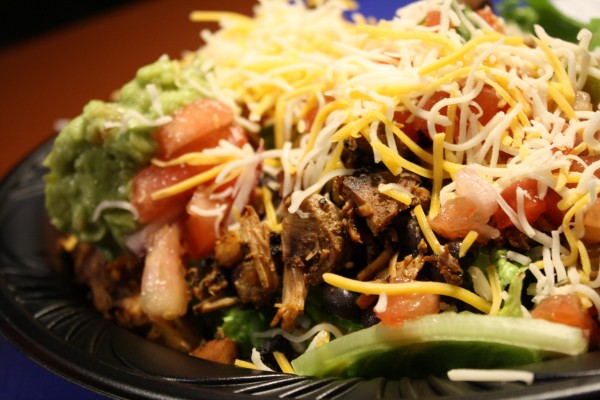 By the end of our cooking demo, I was ready for dinner and ordered a salad with grilled chicken.  I was very happy to learn that guac comes with ALL of the meals at Salsaritas, which is something I usually have to pay extra for at every other Tex Mex restaurant.
I left with a big container of guacamole, which didn't make it 24 hours in my house.
Thank you, Chef Tom, for such a fun experience!
Salsarita's Guacamole
Equipment Needed:
Large Mixing Bowl
Potato Masher
Cutting Board
Chef's Knife
2 ounces diced tomatoes, about ½ of a tomato
2 ounces diced onions, about ¼ of a medium onion
3 ounces chopped cilantro, about ¼ of a bunch
1 clove of garlic, finely chopped
Diced Fresh Jalapeno, to taste
Juice of (1) lime
Kosher Salt and Ground Black Pepper, to taste
2-3 avocados
1. Place all ingredients EXCEPT the avocados add all ingredients in the mixing bowl.
2. Use the potato masher to smash the ingredients into a chunky mixture.  
3. Remove the flesh from the avocado and add to the mixing bowl. Use the potato masher again to smash the avocado and incorporate the flesh into the other ingredients.  KEEP THE MIXTURE AS CHUNKY AS POSSIBLE.
4. Season with salt and pepper to taste.
Salsarita's Pico de Gallo
Equipment Needed:
Cutting Board
Chef's Knife
Mixing Bowl
Kitchen Spoon for mixing
2 cups Diced Tomatoes, about (2) medium tomatoes
1 ½ cup Diced Red Onion, about (1) medium red onion
1 cup Chopped Cilantro, about ½ of a bunch
Diced Jalapeno, to taste
Juice of (2) limes
Kosher Salt, to taste
1. Place all ingredients into the mixing bowl.
2. Use the kitchen spoon to mix the salsa.
3.  Allow to sit 30 minutes before enjoying with Salsarita's Tortilla Chips.