My baby boy will be four months on Christmas Eve, but I thought I'd take a look back on the first three months and share what we loved — what we couldn't live without. I know that sounds like an exaggeration, but sometimes I literally felt like we couldn't make it without these things. Life would have been a lot harder, that's for sure.
When I was looking for baby registry items, I ate these types of posts up. It's always helpful to find out what has worked well for other mommies so here is what worked well for us!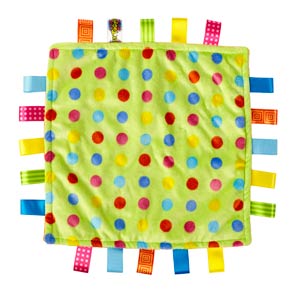 We handed this exact Taggies Blanket to Elliott when he was about two months old and he absolutely loves it. He has a fixation with putting his tongue on things and he loves putting his tongue on this blanket. A lot of times I catch him with the blanket over his mouth and when I look closely, I can see he is touching it with his tongue, over and over again. Hilarious.
The blanket is very soft and made of fleece while the tags are silky like a lot of the tags you find in clothes. This blanket isn't for warmth, it's not very big and is more for playing and feeling.  I think he liked it so much during month 2-3 because most babies are really discovering their hands during this time and it's easy to grasp and has different textures to feel.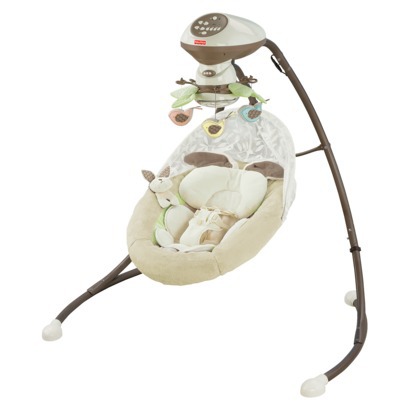 2. Fisher Price My Little Snugabunny Cradle and Swing
A friend let us borrow this exact swing since her son had out grown it and isn't planning to have another baby for a little while longer. As soon as she tells me she's pregnant again, I'm fully committed to going out and buying this exact swing.  We love it!
Elliott loves that it swings fast. A lot of my friends told me I could let a blanket drag from it to slow it down, but Elliott prefers for us to crank it all the way up.  I love that you can turn the cradle to swing front to back (from two different positions) or side to side (facing forward). We put it in the corner of our living room so that if we turned it to the right, he would face the window, if we faced it forward he could see the whole room, and if we faced it to the left he could see a lamp. We switched it up regularly to keep him from getting bored.
I have to also mention that for the first three months of his life, he took almost all of his naps in this swing and usually ended up in it for at least part of the night.  I worked on weaning him off of it just before traveling to my in-laws for Thanksgiving because we needed all the trunk room we could get. He no longer needs it to sleep, but lights up every time I put him in it. He loves to swing!
3. Swaddles
Elliott cannot sleep without being swaddled…at least not for long [edited to add that since I started writing this post three days ago, he is now breaking out of his swaddles so we're starting to transition him out of them by leaving one arm out]. When he does fall asleep without a swaddle, he is sure to wake himself up within 30 minutes. I used to not swaddle him for naps (because he was in the swing), but swaddling him for naps is how I transitioned him to being in his crib 100% of the time for all sleeping.
We've used several different types of swaddles.  These are my favorite.
Aiden and Anais Swaddle Blanket
These are classic muslin swaddle blankets with no velcro or zippers. So if you use these, you have to learn how to properly swaddle a baby, which is very much like trying to hog tie a squealing pig. If you plan to use these, do not leave the hospital without getting intensive swaddle training from the nursing staff.  They are experts and great teachers. We loved using these but babies eventually get strong enough to bust out of them. I love that they're light weight and I still use mine to block the sun from Elliott's face when we're in the car and the sun is so bright that the window sun screen isn't doing the job.

SwaddleMe Stage 2




We used the Stage 2 swaddle blanket with Elliott, which is for swaddling with the arms in. They make later stages where they baby can leave their hands out. We're not quite there yet. We had the small/medium size, which was still too big for Elliott when he was first born. We started using these after he started busting out of the muslin swaddle blankets.  I loved that these used velcro.  Elliott looked like a cute little caterpillar in his green SwaddleMe blanket. They're easy to use and I definitely recommend them.

Halo Sleep Sack Swaddle




T

his is what we're currently using and definitely the easiest to use out of all these options.  The Halo Sleep Sack is like a tank top that the baby's arm slips through with a sack at the bottom, which easily zips up. There are two wings on the back which you can wrap around the baby to keep their arms in. Or you can wrap the wings under their arms (or just one arm) to let them keep their arms out.  I love that you don't have to completely unswaddle the baby to change their diaper. You can keep their arms swaddled and unzip the sack partially or you can choose to let them stretch their arms for a few minutes while they scream bloody murder like they're starving to death in the middle of the night while you attempt to change them with one eye open (just me?).  Elliott is currently in the small, which is the largest size the swaddle comes in. I have a feeling we'll be buying the newborn size for the next little Davis.
We used an assortment of swaddles because so many of our friends let us borrow theirs. My friend Brittney literally brought me a huge bags with a variety of swaddles.  It was so nice to try out so many different types without paying a dime.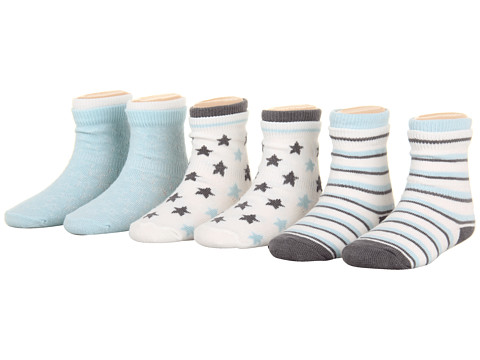 Whoever gave these to me at one of my baby showers, God bless you. I think if I had never been introduced to Robeez socks, I would have just accepted that my baby was going to kick off every. single. sock. that I put on his foot. These socks have been a Godsend.  I'm pretty sure the angels in Heaven knitted these themselves. And because they are the only socks that will ever stay on Elliott's feet for more than five minutes (how about the entire day), they are the only socks that I will ever purchase for my current and future babies ever again.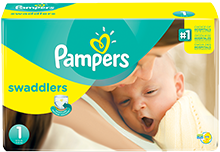 5. Pampers Swaddlers
Diapers are diapers are diapers, right? Unless you can't tell when your baby's diaper is wet and your baby screams bloody murder every time he has a wet diaper.  It has been really helpful to quickly pull back his onesie and realize, "Oh, his diaper is very slightly wet.  That's why he's so grumpy.".
Pampers Swaddlers aren't the only ones that have the stripe that turns blue to tell you that your baby's diaper is wet. Huggies also has a similar stripe.  But there's just something about Pampers that I like more. They open more easily? Yes, that's it! Huggies seem to be more difficult to open. This sounds strange, but just picture yourself half asleep and up for the umpteenth time in one night.  Convenience is key. Anything that makes diaper changing easier is so very worth it.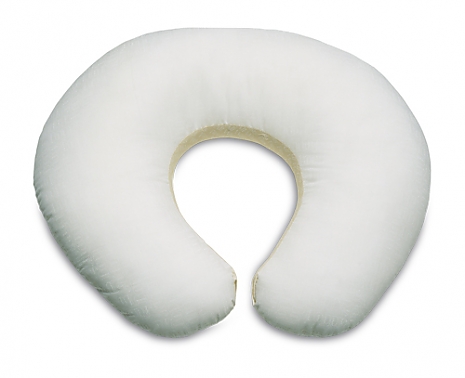 I heard over and over again that the Breast Friend was the better nursing pillow. So I bought both at consignment sales, just in case.  But at the end of the day, I liked the Boppy Nursing Pillow better. I like how it's curved so my baby has to turn towards me and is kind of cradled, if that makes sense.  The Breast Friend is flat so it doesn't cradle him towards me.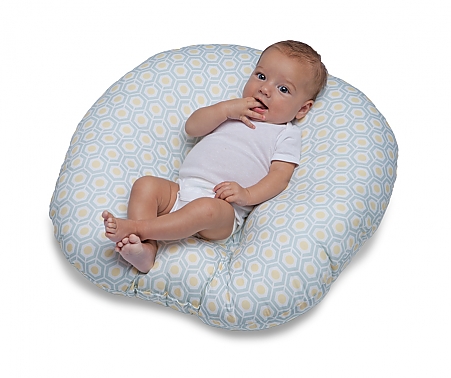 7.
Boppy Newborn Lounger
I love this thing.  I put Elliott on it to talk and play with him.  I also prop him up on my legs sometimes, but I really like how I can put him in a cradled slightly upright position and still be completely mobile. He has even napped in this on the ground when we were away from home. It's just a very convenient and comfy place to put a baby.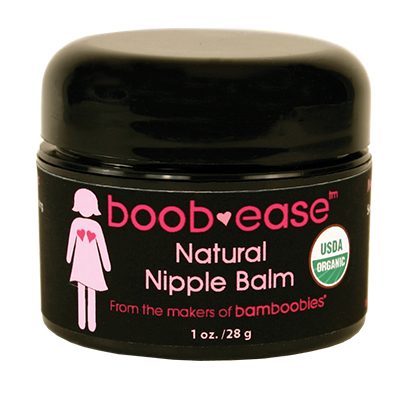 8. Boob♥ease 100% Organic Natural Nipple Balm
My friend Katie gave this stuff to me and it was another Godsend. I went to a breastfeeding class put on by a local hospital before Elliott was born and a lactation consultant said that coconut oil or olive oil is the best thing for nipples and that lanolin can actually clog your milk ducts.  So for a week or so, I tried to use the coconut oil I already had on hand.  But it's kind of inconvenient. It's solid so you have to warm it in your hand to make it malleable enough to spread. Enter Boob♥ease.  It's olive oil based + a few natural  ingredients.  It easily spreads, which is so important when it seems like even the most minor inconveniences can make you lose it.
And just so you know, all the horror stories about breast feeding that you hear (like cracked nipples) are so very true. Mine only lasted a week, which I credit to this stuff. Now I have nipples of steel. You're welcome for that mental image. 🙂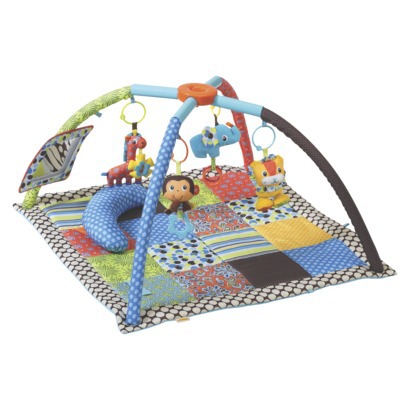 9. Infantino Twist and Fold Gym
This was another hand-me-down from another generous friend and Elliott absolutely loves it.  He still spends time here every day.  My nephew who is a week and a half older than Elliott has this exact same play mat and he loves it too. We started using it when he was two months old.
Elliott loves to grasp the toys (I call them his "friends") with his hands, especially the two that have rings attached.  He recently started using both hands to grasp them. Plus, it's just so bright and colorful.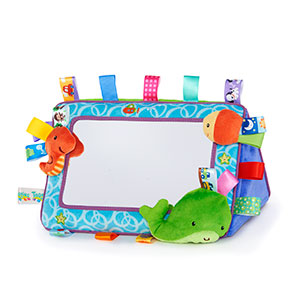 Elliott is really into mirrors.  I've read that babies don't really know that it's them in the mirror until they're much older. But for a while he really loved to hold out his hand, balled up into a fist while he raised and lowered it while watching it in the mirror.  He also likes to grab the tags around the mirror.  When Elliott plays on a blanket, I always put this mirror down to entertain him. He's less into it now (approaching 4 months), but he really loved it for the past month and a half.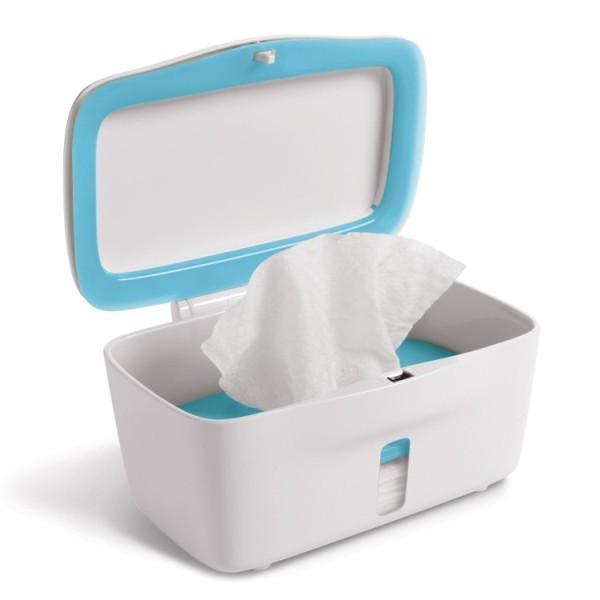 11. OXO Perfect Pull Wipes Dispenser
At first glance, this seems like a totally unnecessary purchase, but let me tell you, it's very convenient.  When you change a baby's diaper, you need to keep one hand on the baby while you're other hand reaches for things.  With wipe dispensers, it's hard to get one wipe out at a time and you have to use one hand to reach and pull while the other hand helps to detach one wipe from the other.  This dispenser puts a weight over the wipes so you can easily pull out one wipe at a time.  This is so extremely helpful in the middle of the night when even the smallest inconvenience can be so irritating.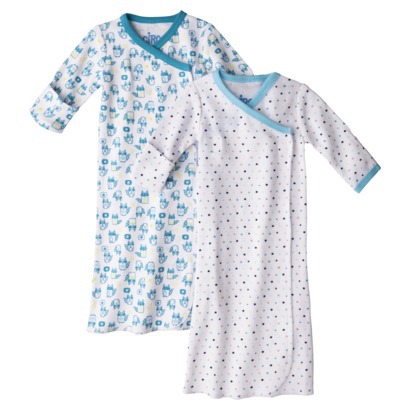 12. Nightgowns
Yes, my baby boy wears nightgowns. It's not like they're frilly and pink.  They're baby boy colors with baby boy things on them.  And they're awesome. In the middle of the night, I can't stand to have to unbutton and unsnap 15 different buttons and then re-snap them.  Zippered footies are better, but they ain't got nothin' on night gowns.  Night gowns make night diaper changes so easy. Elliott tends to be very upset when he wakes up in the night and he immediately wants to nurse, despite needing to be changed.  I have to change him first because I want him to fall asleep while we're nursing so making diaper changes easy is my #1 priority. We had both Carters and Chico nightgowns.  The Chico ones pictured above look amazing because they both open and close in the front and have the opening at the bottom. All of ours had to be put over Elliott's head. The bad thing about nightgowns is you get used to them and then they stop making them after 3-6 months. I can't even find 3-6 months right now; I just happen to have some that were gifted to us. In fact, all of these were gifted to us. And I just want to say thank you so much to whoever you are that knew better than me.  I never thought I'd gladly put a nightgown on my baby boy, but you never know about a lot of things when it comes to babies.
I put a lot of thought into this post and I'm happy to answer any questions you have about what we liked and didn't like.  However, this is just my point of view.  You may feel completely different about the things you and your baby liked.  I hope at least one piece of information is able to help make your life easier when your little one comes along.  Adjusting to a baby is  hard and I would have been lost without the guidance of other mommies.