I wrote this post when I was 13 weeks pregnant, but am sharing it slightly later in my pregnancy. 
***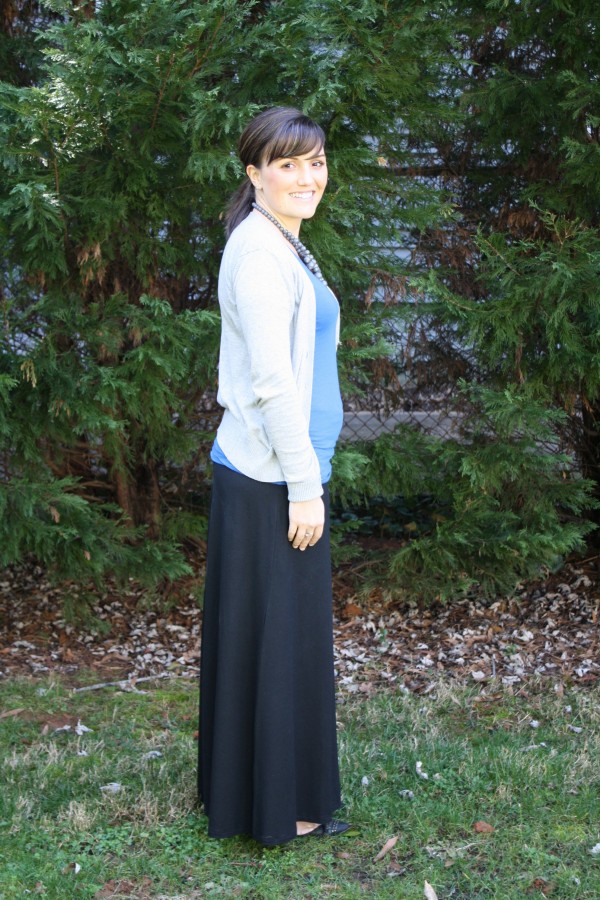 Proof that I don't only wear yoga paints on the weekend…
Hitting the second trimester mark felt like a huge milestone for me! You mean, I'm already through a third of the pregnancy?  No way! When I first got pregnant, the remaining 37 weeks seemed to stretch in front of me like an eternity. Now the number 27  doesn't seem very far away.
Symptoms:
I really hope this isn't turning into a weekly thing, but I had another dull headache most of the day yesterday and here I am up again in the middle of the night typing this because I've woken up and can't go back to sleep.  I have a full day tomorrow so I'm hoping my eye lids will start to droop any minute now.
I don't know what I was expecting, but I'm now three and a half days into my second trimester and am hoping all that energy you're supposed to get in the second tri finds me soon. My energy level surely doesn't know I'm in the second tri.  Brad and I went to a chef's table dinner a few nights ago and I was literally about to fall asleep in my plate as the dinner progressed.
Cravings:
I don't know if I've adequately been able to gage my cravings this week because we've had a lot of events and have eaten out a lot. I really wanted a smoked salmon bagel with cream cheese yesterday so I bought sprouted bagels at Earth Fare, light cream cheese, and smoked salmon, which I heaten in the oven. The bagels just weren't the same as those you get in a real bagel shop and I think I overcooked the salmon. But to some degree it did satisfy my craving.
Other than that, it's really been hard to pinpoint what I actually want to eat so I try to just grab something that we already have and try to keep it as healthy as possible.
Fun Stuff:
Nothing really momentous happened this week, but hitting the second trimester just seems like a cause to celebrate.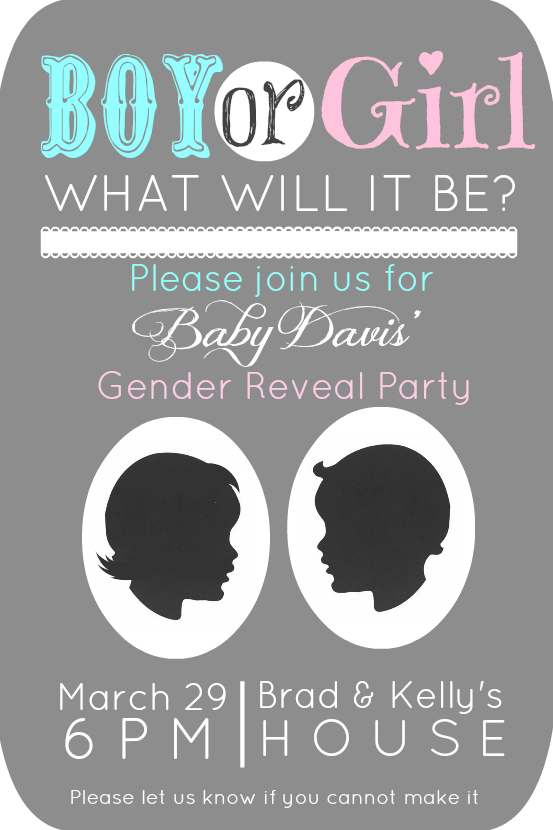 With the impending gender reveal happening in about a month, Brad and I finally decided to have a gender reveal party for our family (+ my best friend).  We want to keep it really casual.  After planning two baby showers in two months, I'm am not volunteering to plan a very involved party again for quite some time. But I couldn't resist sending cute invitations.  So I created this invitation all by myself an emailed it to my family members.  I'm really proud of how it turned out!
It's going to be really hard not to cave when the ultrasound tech asks us if we want to know what the baby's gender, but I think it will be more fun if we find out with our family.  I'll definitely share how we do the gender reveal and share the gender the day after the party.