I wrote this post when I was 12 weeks pregnant, but am publishing slightly further along in my pregnancy.  
***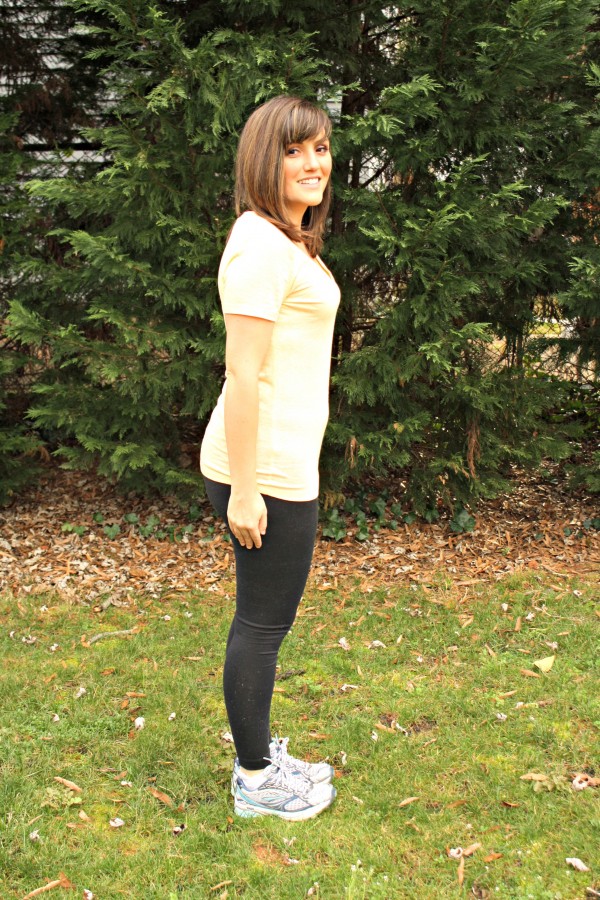 In case you are wondering, I don't wear yoga pants all the time.  I just happen to wear them a lot on the weekends when we typically take my pregnancy shots. 🙂 
Week 12 has been an exciting week because it was my marker of when I could finally let the cat out of the bag here on the blog, at work, and when I told my family they could finally shout it from the rooftops. Finally being able to tell people was a fun experience (well, most people).  A lot of our friends have recently had babies so it's really fun to be able to pick their brains and get advice from them.
Symptoms:
So far, the most annoying thing about pregnancy have been the dull headaches I get. It's not an everyday thing, but it's starting to happen more often now. With nausea I could just eat a few bites and fell instantaneously fine.  But with the headaches, I try to avoid taking anything until I feel like I have to take something.  When I met with the OB Coordinator (a person who gives an overview of when you'll do what with the doctor and when you should plan your hospital visits and classes) she told me to take something when I needed it and gave me a list of what I could take. But I've always held off on popping a pill until I really couldn't take it anymore. It really has nothing to do with my pregnancy. I just don't like the thought of taking meds if my body will just fix itself after some time and if the pain isn't very severe.
I'm still tired. Still needing nine hours of sleep most nights. Still waking up for several hours in the middle of the night at least once a week.
Cravings:
I've really liked sandwiches lately and since I can't have deli meat, I've been eating turkey bacon and cheese (not grilled) with some mayo and sometimes a piece of romaine lettuce.  Well this past weekend, I think I had my feel of bacon.  I went up to the mountains of Tennessee with all 12 of my closest family members to stay in a cabin. Over the course of four days I ate two BLT's and bacon with my pancakes and officially declared that I had met my quota of bacon for the year and was done.  But now sitting here typing this, I wouldn't mind another BLCheese right now (at 3 am — hopefully this is the only night this week that I'm sleepless).
My sister in-law Jen (my brother's wife) is pregnant and our due dates are only a week apart, which has been really fun. It's really nice to go through this with someone else.  Anyway, this weekend we completely egged each other on with the cravings and seemed to have similar cravings, which worked very well. On the night we got up to the cabin, we both were craving spaghetti and then our very accommodating family basically let us plan out the grocery list for the weekend. It was also really fun to shop with her at the outlets and then find ourselves needing Ben and Jerry's before we left. My grandfather's pancakes were also high on my list of priorities for the weekend, so he made them the first morning of our trip. Even though I love sweets (forever, now, and always) I actually have found myself eating less sweets now that I was a week or so ago. Often, I get full late in the day more quickly than usual and then don't want anything more to eat before bed. 
Fun Stuff:
I found some cute stuff at the outlets in Sevierville, TN.  Jen found a black maxi skirt in the lounge section of Gap Outlet that is so stretchy, I think it will last me through my third trimester. We both snagged one.  I also found a navy with white stripes maxi skirt that will work as well (neither are maternity), some colorful cardigans (not maternity) at Banana Republic outlet, and a few cute items from the Motherhood Outlet.  I'm so glad maternity clothes aren't what it used to be.  Shopping for them and imagining my belly actually being large enough to fit in them has been a highlight of my pregnancy, thus far.
My dear friend Brittney, had a beautiful baby girl this week and that was definitely a huge highlight of the week.  I darted over to the hospital as soon as I got a chance to hold little Allie and it was so wonderful to see such a happy ending to a journey that I know has been very difficult for her.  We talked about how surreal it was that Allie was just inside of her hours ago and now she was there in our arms and perfect.  It's so amazing to think that that will be me in less than six months and that this tiny creature inside of me will be a full sized baby, for which I will be completely responsible. These are things that I've always known but now that I'm going through the actual process, it feels like such a miracle.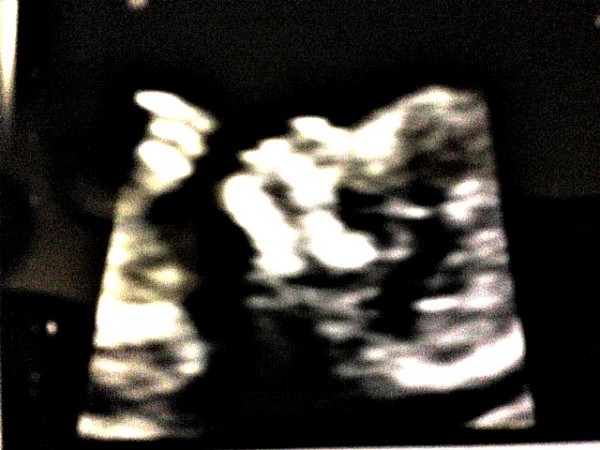 The most fun thing this week was seeing my baby again on the ultrasound.  The last time we had an ultrasound (6 weeks), he/she was so tiny, you could only make out the head and the body.  At 12 weeks and 4 days, the baby is starting to look more like a baby.
Brad really wanted to do the first trimester screening which is a combination of blood tests (my blood) and checking the babies nose area via an ultrasound to check for abnormalities.  We decided to go through with it and everything came back great.
The baby was lying on his/her belly when we first started the ultrasound and after some time of mashing my belly to get the baby to flip over so we could see his/her nose, the ultrasound tech told me to cough.  Apparently coughing can make the baby move.  Well move it did! I always thought that a baby moving in utero would look like slow mo, but my baby after I coughed, my baby did a full somersault in one fell swoop.  It was amazing.  I never knew babies could move like that!
Another fun thing this week was all the wonderful feedback we got from family and friends after we made the pregnancy announcement (on Facebook).  Nothing is better than getting to share good news with wonderful people who genuinely care about you and  that's never been more true to me than now.
And sharing with readers has been such a wonderful experience as well. I know that I feel like I know some of the bloggers behind the blogs I read, even if I haven't met them, and share in their pain and happiness when they share their lives on their blog. I think and hope it's the same way for those of you who visit my space here regularly. Thank you so much for your kindness, support, and for sharing in our happiness. It means so much to me.