A few of you have asked me to share my team's winning recipe for the Food Lion Frugal Cook-Off.
But first, I thought it might be fun to actually share some of the photos that were taken of my team at the event.  From start to finish, here's everything from the brainstorming to the final product.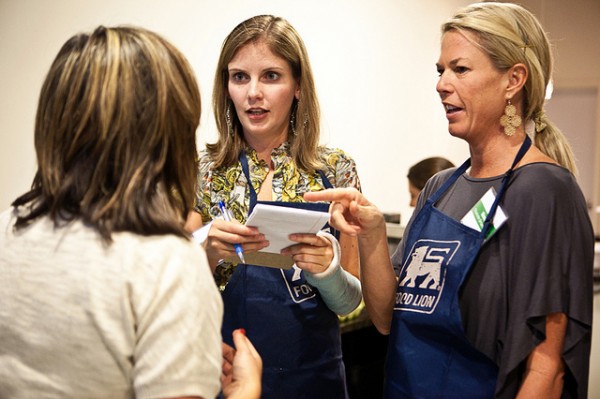 My teammates Wendy of Smarty Pants and Katie of Charlotte Mom Favorites, planning our meal (in no more than 10 minutes!).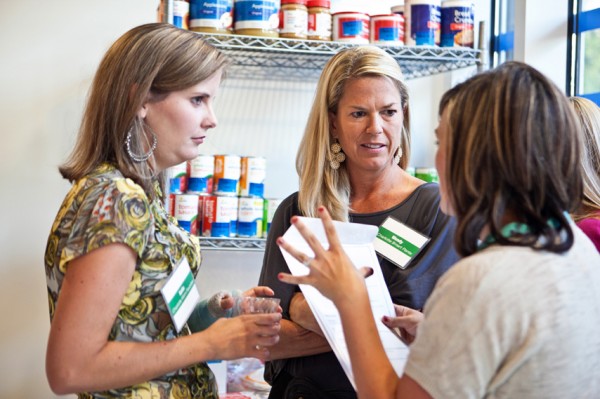 A few hitches were thrown into our plans, like when we tried to take the salad greens of the Flex and Fit staff.  It turns out the top shelf of the fridge was off limits.
Whoops!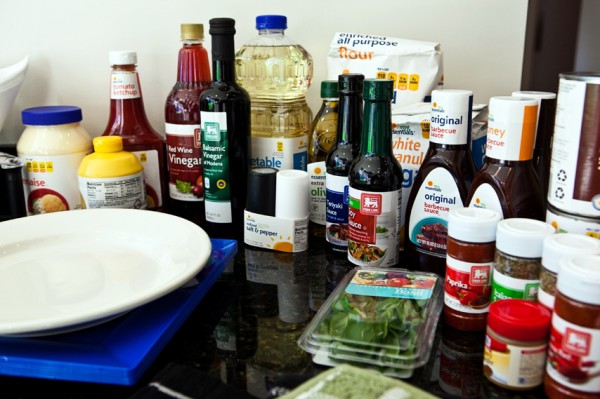 Our grocery budget was limited to $15, but we could use any of these pantry staples at no cost.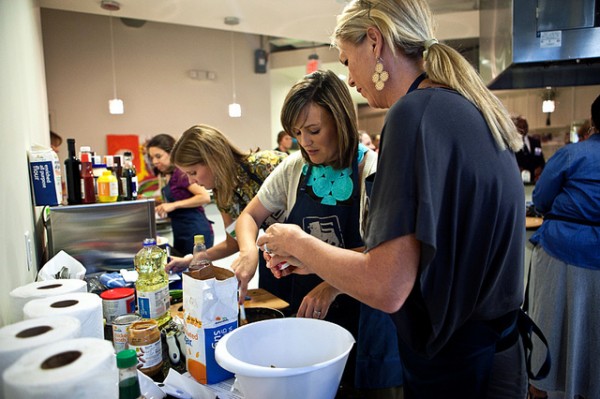 My team worked great together.  For some reason I volunteered to chop vegetables and peanuts, which was probably the last thing I should have been doing.  I have awful knife skills.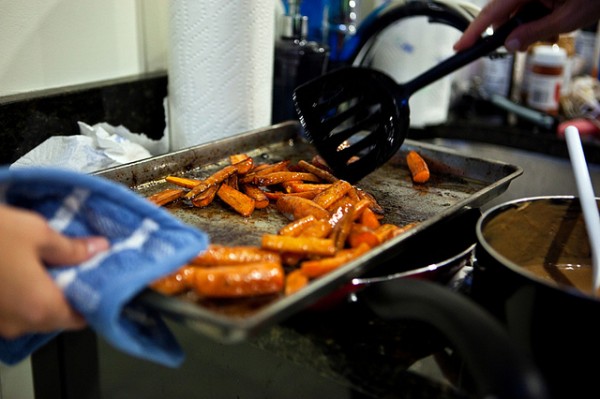 The teriyaki carrots came out right on time and we tossed them in more teriyaki sauce before we added chopped peanuts.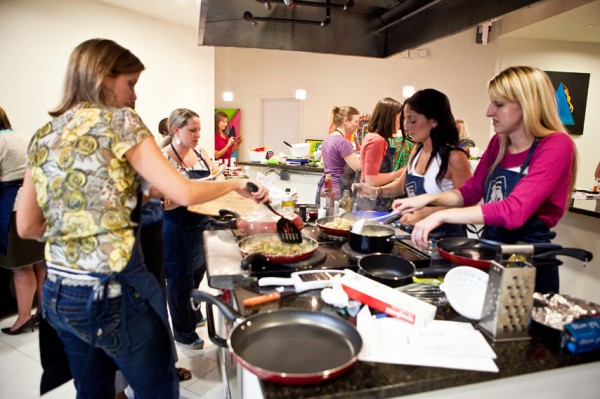 Talk about too many cooks in the kitchen!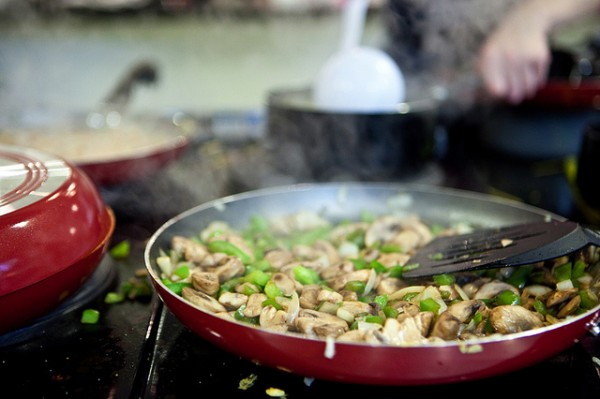 Since we only had one burner for the entire meal, we relied on the microwave and the oven (which we were all sharing also).  Veggies and chicken went on the stove top.
I'm pretty sure we could have also won the messiest workstation contest.
When we were all done, we added up the cost of our ingredients to get an official total.  Up until that point, we had been estimating the cost in our head, so we were really glad to see that the total was below $15 — $14.75, in fact.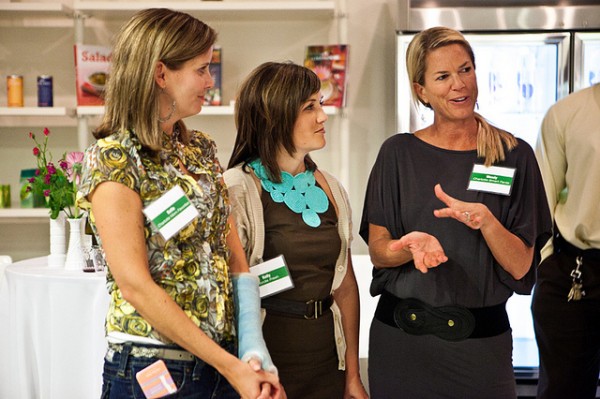 After plating our dish, we explained what ingredients were used and the cooking process.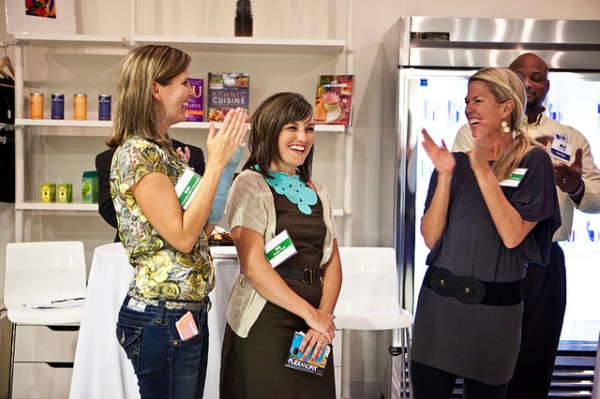 I think we all knew that we had created a great dish, but we were so surprised when they announced my team as the winner.
And now for the recipe…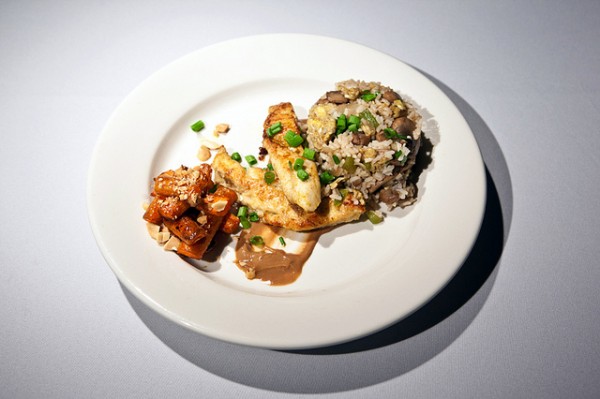 Curried Chicken and Peanut Sauce
1 pound boneless chicken breasts
1 teaspoon yellow curry powder
1/2 teaspoon salt
1/4 teaspoon pepper
2 Tablespoons canola oil
1/4 cup green onions, chopped
Pound chicken with a meat mallet about 1/2 inch thick.  Cut chicken into 2 inch wide strips.  Season with spices on both sides.  Heat oil in a medium sized pan on medium heat.  Place chicken in pan and cook, flipping once, until chicken is completely cooked through.  Serve with peanut sauce (recipe follows) and garnish with green onions.
1 cup creamy peanut butter
1/4 cup red wine vinegar
1/4 cup soy sauce
2 Tablespoons honey barbecue sauce*
1/2 teaspoon cayenne pepper
pinch of salt
Add all ingredients to a medium bowl.  Mix well.  Serve with curried chicken (above).
*We used barbecue sauce in the original recipe, only because we had no honey.  But the recipe has been remade with honey and it works far better in the peanut sauce than the barbecue sauce.
Teriyaki Carrots with Peanuts
1 lb. carrots
1 tablespoon canola oil
1/4 cup Teriyaki sauce
1/4 teaspoon salt
1/4 cup peanuts
 Preheat oven to 450 degrees F. Halve carrots lengthwise, and then across.  Toss in 1/4 cup of teriyaki sauce and sprinkle with salt.  Bake for 20-25 minutes.
 Chop peanuts coarsely.  Scatter peanuts evenly over the carrot.  Plate and serve hot.
Asian Rice Pilaf
4 eggs
1 ½ teaspoons curry powder
3 Tablespoons canola oil, divided
2 cups instant white rice
2 cups chicken broth
1 green bell pepper, chopped
1/2 large white onion, chopped
3 cloves of garlic, minced
16 oz. pre-sliced button mushrooms
1/4 teaspoon salt
1/4 cup teriyaki sauce
Heat 1 tablespoon of oil in a medium pan.  Beat the eggs and curry powder and add to the pan.  Allow to set slightly, then scramble.  Remove and set aside.
Place rice and chicken broth in a microwave safe bowl and cook according to package directions.
Heat the remaining 2 tablespoons of oil in a medium pan.  Add garlic and onions to the pan and cook until soft.  Add mushrooms and bell pepper and cook on medium high for about 10 minutes or until veggies begin to caramelize.
Combine rice, egg, and vegetables with salt and teriyaki sauce.  Serve warm.