Hola! Long time, no see, right?
Thanks for bearing with me over the past few weeks (!) while I did not blog.   I'm going to focus on blogging a few times over the next few days with odds and ends of things I want to share.
I'm hoping that if I don't make each blog post such a production, I'll feel more inclined to share.  Does that make sense?  I have a bit of an all or nothing attitude (and I sound like a broken record) so if I don't have time to make something I think is blog worthy, sometimes I don't post.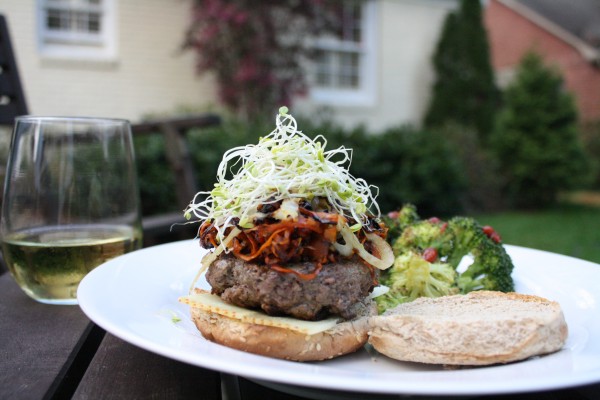 Today, I want to share an amazing combination of food that Brad and I enjoyed one night, as we dined al fresco in our back yard.  This warm spring nights has been amazing lately.
On week nights we've been eating much later in the evening (because we've both been working out!) so it's been dark when we finally sit down.  To enjoy the beautiful weather, we throw a quilt on the back stoop and eat in the backyard, picnic style.  The back door light helps us to see in the dark.  It's been lovely.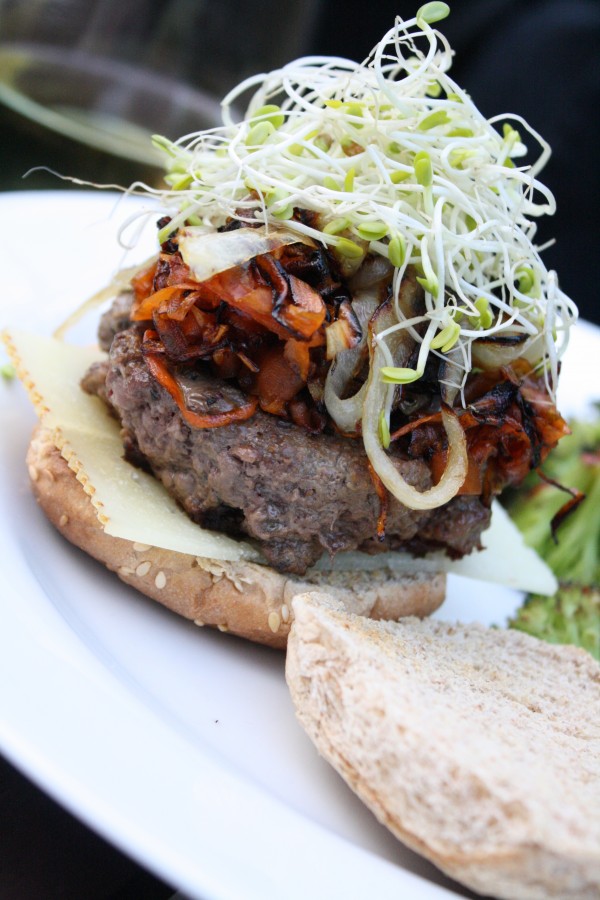 This burger is actually ground venison, courtesy of a hunting trip to Montana by our friend Gibson.  I love wild game (it's so healthy and lean!) and truly appreciate friends that are generous with their hunting accomplishments.
I simply flavored the ground venison with a few generous shakes of Grill Shakers Hamburger seasoning and cooked on our grill pan on the stove top.  We paired the burger with Manchego cheese, which is our favorite cheese ever.  The burger was topped with sprouts, caramelized onions, and crispy maple carrots.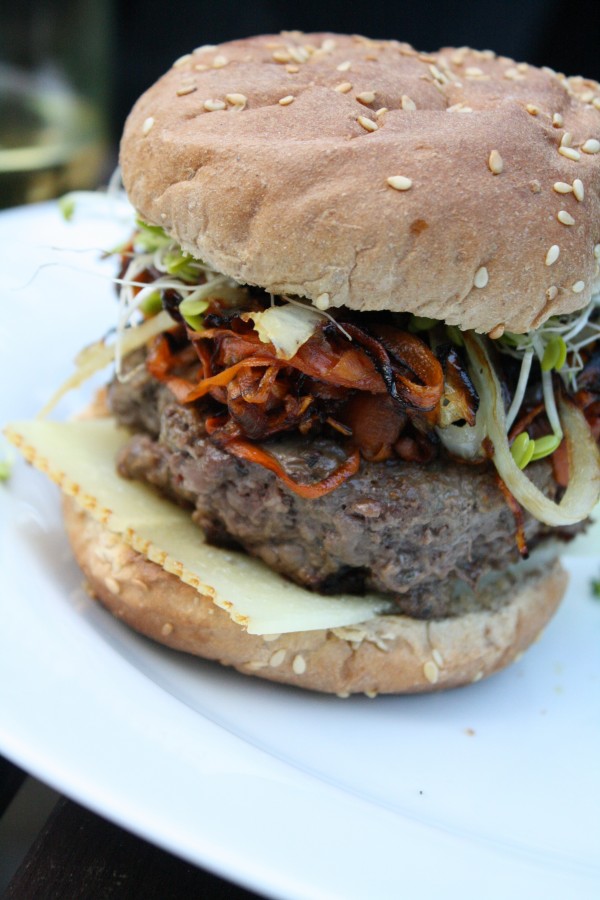 I have to give credit where credit is due.  These simply amazing flavor combinations were all Brad's idea.  He had something similar to the crispy maple carrots when he was out of town on business and suggested recreating them.
I was skeptical at first, not because I didn't think they would be tasty, but because sometimes all I want on a burger is ketchup and cheese. Although I can appreciate fancy burgers, I'm the person who goes to the best burger joint in town and asks for American cheese and enough ketchup to sink a ship for my turkey burger.
This burger might have changed all that.
Crispy Maple Carrots  (serves 2 as a topping, 1 as a side)
2 large carrots
1 teaspoon grape seed oil
1 Tablespoon real maple syrup
salt
Kitchen gadget: Vegetable Peeler
Using the vegetable peeler, peel the carrots in short thin peels.*  Warm oil in a pan or skillet.  Add carrots and cook on medium heat until carrots soften.  Add maple syrup and continue to cook, flipping periodically with a spatula.  Cook until carrots begin to turn deep brown on the edges.  Sprinkle lightly with salt, stir, and remove from pan.
Eat as a side or use as a topping for a burger or sandwich.
*Brad says that to get the carrots super thin, peel at an angle so the blade isn't going straight down the carrot, but curving about midway down the carrot. This creates thinner, curlier carrots.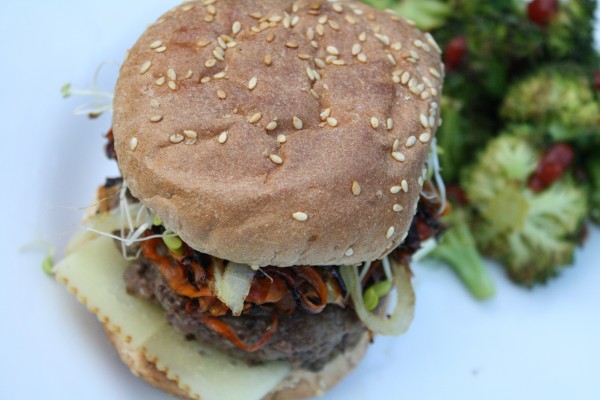 We enjoyed our burgers with some roasted broccoli and a bit of ketchup.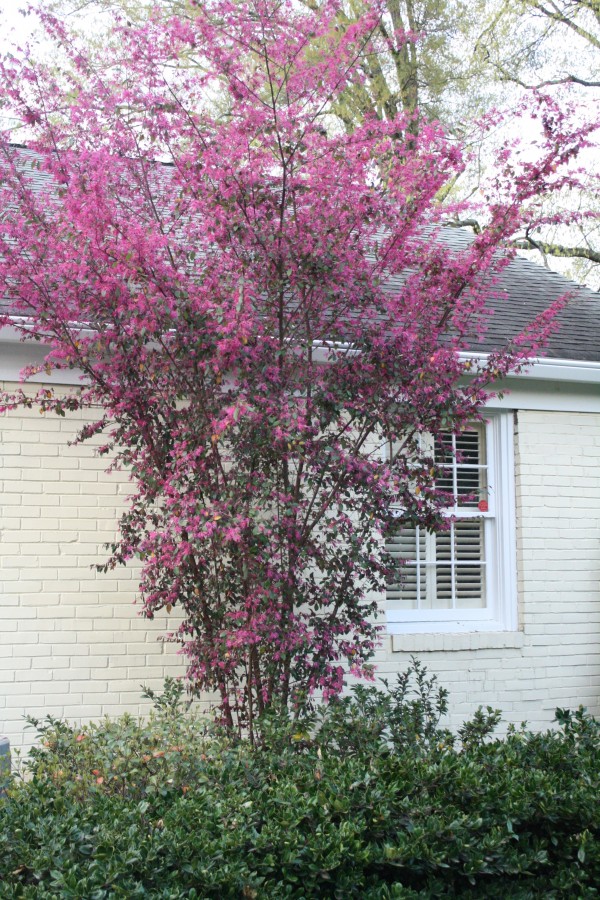 Did I mention that the weather in Charlotte is absolutely gorgeous right now?
Brad and I both gush almost everyday about how this is our very favorite time of year.  Besides eating outside, there have also been a lot of evening walks and sipping wine on lazy Friday afternoons after work.
****
While I've been absent the past few days, you might have missed out on a few things.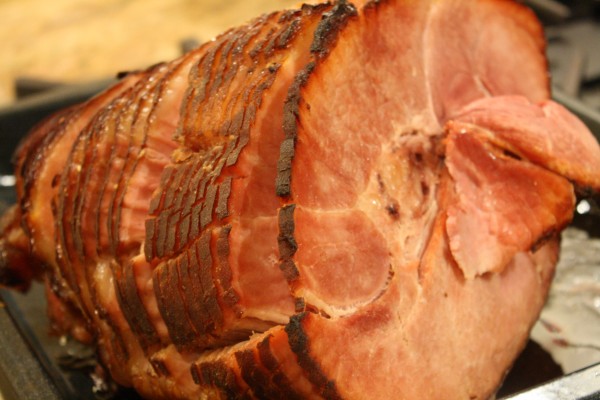 Two Easter recipes on the Eat My Charlotte Blog:
– Deviled Eggs
– Honey Glazed Ham
I did a brief segment on A Healthier Charlotte about grabbing a quick breakfast in five minutes or less. I'm about halfway through the video but the whole interview is really interesting and worth checking out.
I answered this question from my reader survey on Radio Exiles (completely a coincidence):
I'm so impressed that you have been working out less this month! Congrats! I feel like this deserves a congrats because I know how hard it can be to take time off, and how hard people can be on themselves mentally when they take time off. Therefore, my question is how do you deal with taking days off when you really need to, and how do you not "beat" yourself up? It's a lot easier for me to say congrats to you for taking some time off, than it is for me to say to myself.
Besides the "not beating yourself up" part, I also discussed getting my butt back in gear when I've been slacking off a bit…which is exactly what I've been doing lately.  I've been training for a half marathon, running regularly, and also incorporating weight training.
P.S. I've decided to leave my reader survey open as a means for readers to communicate with me anonymously.