Quick Meals: (n) meals you can cook in a jiffy
…because all though I love cooking elaborate, made from scratch meals, I can't eat that way all the time.  Life just gets in the way.
The meals I feature here are typically how I eat about 20% of the time.  The other 80% of the time, my meals are quickly prepared, simple, but still pretty healthy.
I'm going to be straight-up with you.
I mostly eat whole foods, but also rely on foods of convenience to help me with these quick meals.  I try to purchase healthy-ish foods of convenience.  Eating healthy shouldn't be daunting so I hope these quick meals give you ideas about how to incorporate healthy meals into your own diet.
Eating 100% unprocessed whole foods is doable.  But we all make choices based on what's important to us. Sometimes I want to spend my evenings reading the first three books of the Twilight series in 9 days, not slaving in the kitchen.  That's when I turn to quick meals.
Feel free to make substitutions based on your own preference or what you like.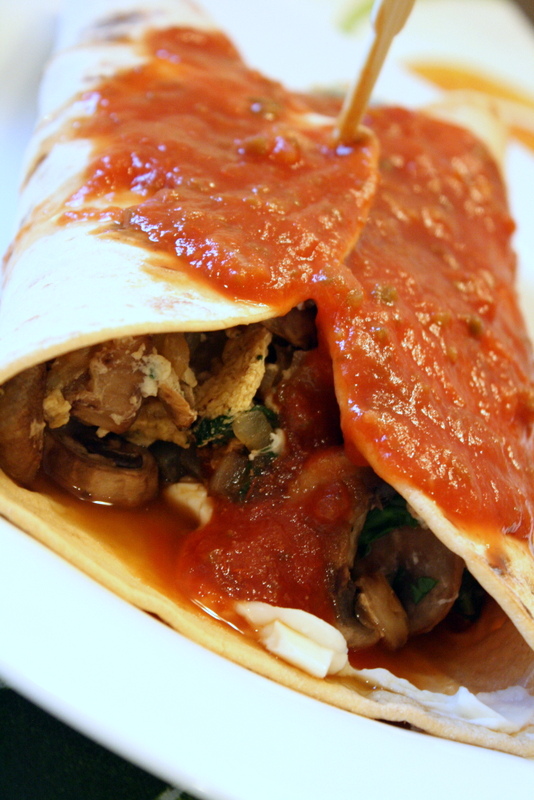 EGG WHITE ENCHILADA
1/2 teaspoon extra virgin olive oil
1/3 yellow onion, chopped
1 1/2 cups pre-sliced baby portobello mushrooms
2 cups baby spinach
1/2 teaspoon garlic salt
1/2 cup + 1 Tbsp. (3 servings) egg whites
1 Light Swiss Laughing Cow Cheese wedge
1 Light Flatout wrap
3 Tablespoons salsa*
Heat oil in a pan or skillet (I use a Misto to spray the oil evenly)  on medium high heat.  Add onion and saute until onion softens.  Add mushrooms and continue to cook for 2-3 minutes, stirring often to cook the vegetables evenly.  Reduce heat to medium and add spinach.  Continue to stir often.  Once spinach is completely wilted, add garlic salt and stir to combine.  Top with egg whites and use spatula to fold egg whites into the vegetables.  The egg whites will cook immediately (~1 minute).
Plate wrap and spread cheese in the center of the wrap.  Spoon egg whites and vegetable mixture into the center of the wrap.  Fold both sides of the wrap over and secure with a toothpick.  Top with salsa and enjoy.
*I used Wholesome Goodness mild salsa. I like it because it has less calories and less sodium than most salsa.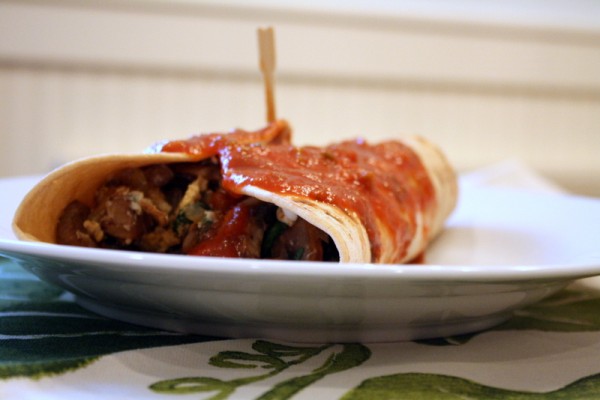 Calories: 278
This meal is super light and super filling.  I paired with an orange the size of my head.  I love eating lightly at night because it means I can enjoy something later on in the evening without feeling stuffed, like a piece of dark chocolate and a glass of red wine.
What's your favorite foods of convenience?