This morning's running inspiration comes from Jen who blogs at The Salad Princess.   I find that most runners are very goal-oriented people and Jen definitely proves this.  She is all about setting goals like eating more veggies and taking the stairs at work, which she documents on her blog.
I'm a pretty goal-oriented person myself and my goal is to look as young as Jen, when I'm Jen's age. That age below is no typo.  Jen is solid proof that taking care of yourself really pays off.
Here are her answers to my I'm a Runner Q & A.
***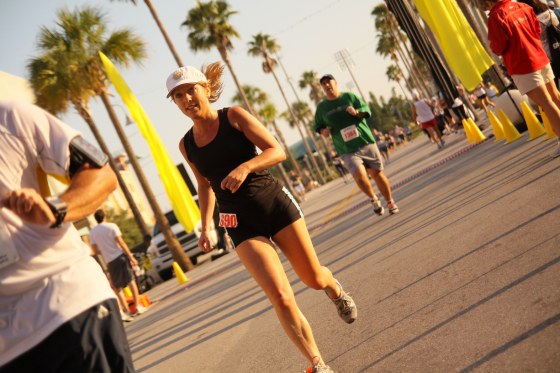 Name: Jen
Age: 43
Blog: http://thesaladprincess.com
1. How long have you been running?
My first 5K was five years ago at Universal Studios. It's still my favorite annual race. There's music throughout the theme park and the Universal employees cheer you on!
2. In how many races have you competed?
About 20 5K races and the UCF You Can't Finish 5 Miler.
3. What is your favorite pre-run fuel?
Coffee, a peanut butter sandwich and aspirin.
4. What is your favorite post-run snack or meal?
I have to wait a while to eat!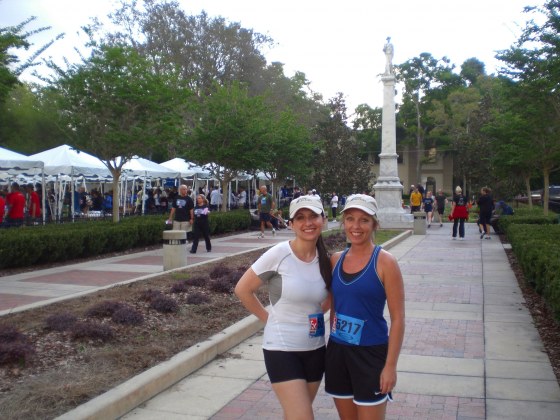 5.What is the most embarrassing thing to ever happen to you while running?
I accidentally grabbed a guy's private parts in the very crowded Corporate 5K Run in Downtown Orlando (Spring 2011). I had been recently practicing my running form, consciously pumping my arms extra hard to go faster. Still, he was way too close behind me!
6. Do you like running buddies or do you prefer to run alone?
If I had a bad day, it's great to just take off with my iPod by myself! In general, I prefer buddies. Otherwise I use any excuse to a) not go running at all or b) stop and take walking breaks.
7. What's your favorite running outfit?
At the Reindeer Run in Maitland, Florida, my friend Mari and I wore sleigh bells on our shoes. It was annoying to other people, but helped me keep a quick even pace. I wish I could come up with a reason to come to every 5K "with bells on."
8. Favorite place to run?
Because Florida's so humid, I like the elliptical at the gym. I'm not sure if it's considered running per se but think it's harder because I can create an incline (which you can't find on the Florida roads). I try to keep my hands off the machine, holding myself up with/working my core.
9. What is the worst race in which you have ever participated?
The Disney Expedition Everest Challenge in 2009, just because it rained so hard. No, REALLY hard, like a monsoon. We couldn't see in front of us and I was too short to get up on the obstacles and kept falling in mud. The run was much longer than a 5K by the time you run the obstacle course and scavenger hunt and I was so exhausted and soaked. I am still happy I did it!
10. How has your running or your feelings toward running changed over the years?
Growing up in California, I thought running was for an exclusive group of super skinny people. Now I realize that running is for everyone; every healthy, able person has access to run, but only few seize the day and actually go do it. Lots of other sports make you look strong but runners have a slim, healthy energy and attitude – maybe from being in the fresh air. I'm proud to be part of the group.
11. What's your pie-in-the sky running dream?
I am going to try for the ING Half Marathon in Miami in January and the Seven Mile Bridge Run in the Keys in April. I'd also love to participate in a mud runs like the Warrior Dash or Tough Mudder. I don't care to ever run a marathon.
12. What or who inspires you to run?
The people in their 60's and 70's who pass me in races. I look forward to passing people in their 40's someday when I'm a senior citizen!
13. A friend just ran a mile and is inspired to start running regularly.  What words of wisdom or inspiration do you have for them?
Sign up for a race! It's so exciting and you can walk some of it. Crossing the finish line is a wonderful feeling.
***
I couldn't agree more with her advice to sign up for a race if you're a new runner.  Races are great motivation to push yourself towards improving as a runner.  Plus the runner's high you get after finishing a race is like no other.
I hope you have enjoyed reading about Jen as much as I have!  Stop by her blog for more running and goal-setting inspiration.
Thank you Jen, for volunteering to be featured in my I'm a runner series today. 
If you would like to be featured as part of the I'm a runner series, please email me at foodiefresh@gmail.com.