Last but not least in this weekend's I'm a runner posts, is Marcia who describes herself as "a stay-at-home-mom who, as part of a mid-life challenge, decided to run a marathon for kicks."
Well, that's the healthiest mid-life crisis I've ever heard of!
Talk about inspiration! Since then, Marcia has ran seven marathons total and she just qualified for Boston!
Here are her answers to my I'm a runner questions.
***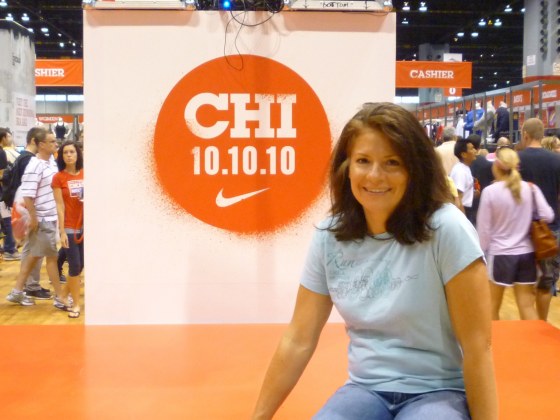 Name: Marcia Kadens
Age: 48
Blog (if applicable): The Studly Runner (teamarcia-runningmouth.blogspot.com)
1. How long have you been running?
I dabbled on the treadmill with a mile or 3 before this but I got started with longer distance running in 2007 when I signed up for the Chicago Marathon and began training for my first half as well.
2. How did you begin running?
On the treadmill, I'd run just a couple of miles and mess around with the buttons altering the speed and incline. It was more of a warmup for working out with weights.
 3. In how many races have you competed?
6 marathons so far with two more coming up this fall, 15 half marathons, 1 8k, twelve 5k, three 4 milers, one 10-miler and ten 10ks.
 4. What is your favorite pre-run fuel?
Mini bagel toasted w/almond butter.
5. What is your favorite post-run snack or meal?
Recovery shake: coconut milk, frozen mixed berries, vanilla protein powder, spinach, chia seeds.
6. What is the most embarrassing thing to ever happen to you while running?
At my first marathon (the very hot Chicago, 2007) I had Hammer gel in a flask on my fuel belt. Somehow I failed to snap the top shut completely. Around mile 7, I felt something sticky under the tongue of my shoe. I looked down to find a dark brown line of gel running all the way down my leg and pooling in my shoe.
7. Do you like running buddies or do you prefer to run alone?
I enjoy running buddies but with the kids, my schedule is very changeable and I usually run by myself very early.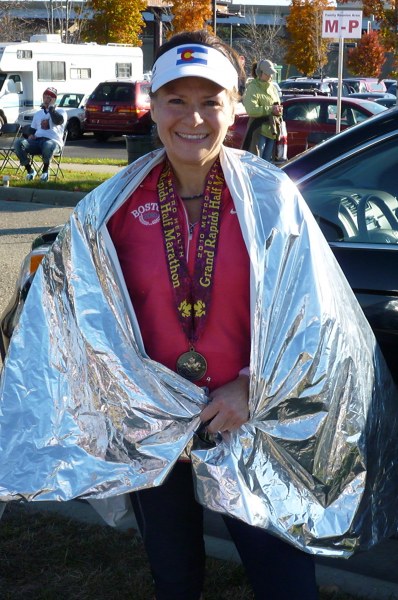 8. What's your must-have object on a run?
Keeping my hair out of my face is key. I wear either a hat, visor or Girl In Motion headband at all times while running.
9. What's your favorite running outfit?
Either Nike capris or a running skirt with a tank.
 10. Favorite place to run?
The lakefront path in Chicago just as the sun is rising.
11. What is the worst race in which you have ever participated?
My first Chicago Marathon in 2007 was freakishly hot and humid. I had no clue how I'd be able to handle the conditions. It was hard to watch so many people struggle along the course. I was at mile 22 when they cancelled the race and begged us to board cooling busses. At that point there was no way I wasn't going to finish. It was a long, hard day and of course I vowed I'd never do another marathon at the finish line. Ha!
12. What's your favorite race distance and why?
5k. I enjoy fast running the most and it's what comes most naturally to me.
13. How many times a week do you typically run?
3
14. How has your running or your feelings toward running changed over the years?
First I ran for health and enjoyment. When qualifying for Boston was on my radar, it was all about being on pace for the BQ. Now I'm doing it more for enjoyment again. I hope to be able to run well into old age.
15.  What's your pie-in-the sky running dream?
I'd like to run the five marathon majors: I've run Boston and Chicago each twice but I've yet to run NYC, London and Berlin.
16. Any running or race superstitions?
I always wear some orange in a race, whether it's a tank, trim on my socks or just a hair tie. Legend has it orange brings luck to masters runners.
17.  What or who inspires you to run?
Heart disease runs rampant on my dad's side of the family. My paternal grandmother and all of my aunts died quite young. I started running mainly for health purposes but discovered it nourishes my body and spirit in other ways as well.
18. What's your favorite running memorabilia and why?
I have a unicorn charm I got at the expo before I ran my first Boston. The Boston Marathon was beyond my wildest dreams. The charm reminds that wonderful things happen when you dream big and go for it.
19. How has running changed or contributed to the person you are?
It taught me that anything is possible. There's a world filled with opportunity and adventure out there. Seize the day.
20.  A friend just ran a mile and is inspired to start running regularly.  What words of wisdom or inspiration do you have for them?
Running is hard so don't expect to love it right away. Start slow, let your body acclimate, and let it develop into a habit.
***
That's some great advice, Marcia!  Thanks for sharing your experiences as a runner and being a part of this series.
Congratulations on your BQ!  I can't wait to read all about it!
If you would like to be featured as part of the I'm a runner series, please email me at foodiefresh@gmail.com.