I hope you are all having a lovely weekend! I'm spending a good part of the day by the pool with my best friend and her little one, Lizzie bug.  I'm definitely down for a little lounging after my 12 mile run yesterday.
Now onto more exciting things like a new runner who is training for her first 10K!  Meet Kendall!  She's a runner!
***
Name: Kendall
Age: 23
Blog: www.onaninhale.com
1. How long have you been running?
I have been running consistently for about two months now. In high school I ran for a month or so then quit. I am definitely sticking with it this time.
2. How did you begin running?
I have wanted to run a 5k for about two years now. Growing up, I couldn't even finish the 1 mile Presidential Challenge. I avoided exercise like it was the plague. I really wanted to push myself and felt confident to do so during my Yoga Teacher Training program that I just completed.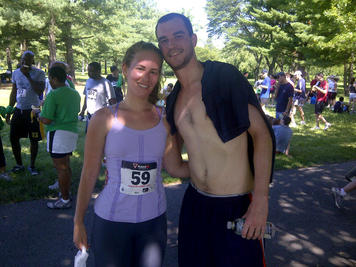 3. In how many races have you competed?
I just completed my first 5k! I just wanted to finish but I clocked in with a decent time of 34 minutes. I think I am hooked.
4. What is your favorite pre-run fuel?
I had some berries and lemon water before the race. I have a sensitive stomach so I wanted to have something light.
5. What is your favorite post-run snack or meal?
I am a huge Larabar fan which the race gave out for free afterwards. My stomach seems to hurt after running so I try to keep it light until everything settles. I love hummus too. That is always one of my go to snacks.
6. What is the most embarrassing thing to ever happen to you while running?
I was born a very clumsy individual so I am used to embarrassing moments. I was most embarrassed struggling through a short run with a friend. It was my first time running with her and I didn't want to seem like I couldn't keep up. I kept apologizing but she understood.
7. Do you like running buddies or do you prefer to run alone?
I love working out with friends but I am scared to run with anyone besides my boyfriend since my poor running experience. I think I'll get over it once I am a little more experienced.
8. What's your must-have object on a run?
I bought a lululemon cuff that is perfect for my keys and money. It is really light weight and I often freak out checking if my keys fell out because it is so comfortable!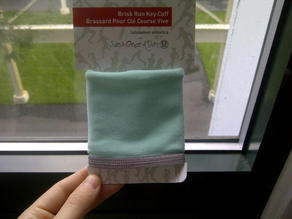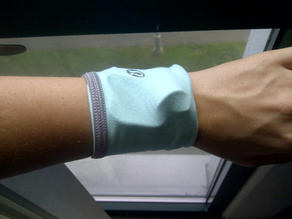 9. What's your favorite running outfit?
My under armor shorts and lululemon tank.
10. Favorite place to run?
In my neighborhood. I live by the water which really relaxes me. The breeze is also helpful when I feel like I can't go on. I also have a little friend who is there in the mornings (insert seal pic) Isn't she cute?
11. What's your favorite race distance and why?
So far just the 5k!
My goal is to run a 10k by next July. At the moment, that's as much as I would ever want to run. But we'll see what happens!
12. How many times a week do you typically run?
3
13.  How has your running or your feelings toward running changed over the years?
I have always been very intimidated by running. It seems very elite. Even at the 5k I felt like I didn't belong before the race. After the race, I felt like a total champ! I think just like yoga, running is for everyone it just needs to be modified to fit where you are at the present moment.
14. What's your pie-in-the sky running dream?
10k!
15. Any running or race superstitions?
Not yet.
16. What or who inspires you to run?
My blogger buddies, my past Buddha belly and insecurities. I have come to love pushing myself and proving the chubby little girl in my head wrong.
17. What's your favorite running memorabilia and why?
So far just my race #59. I did not want to take it off!
***
If I ran past a seal, I think I would have to stop and cuddle it.  Brad can confirm this.  He's heard my wish to cuddle a seal several times.  They look too much like Rascal without the floppy ears.
Kendall, your excitement for running is contagious!  I love hearing from new runners.  I have a feeling you're going to be running that 10K very soon and then will be on to a new running goal. 🙂
Thanks so much for volunteering to be a part of the I'm a runners post series.
If you would like to be featured as part of the I'm a runner series, please email me at foodiefresh@gmail.com.