Happy Sunday!
Brad and I are on a little backpacking trip in the Smoky Mountains of Tennessee.  About now we are probably making breakfast.  I don't sleep in on backpacking trips.  In fact, I don't sleep much at all.  I've never slept very well outside in a sleeping bag, but that doesn't ever stop me from a backpacking trip with Brad.  What I miss in sleep, we more than make up for in beautiful scenery and goofy songs we make up on the trail.
You'll have to check in later this week when I do a recap of our trip,  including what we ate on the trail.  It won't exactly be my standard Foodie Fresh fare.  But hopefully it will be interesting nonetheless.
Speaking of food, I have another guest post lined up for you today; the very lovely Tanya of Vegan Faith, another Charlotte-area resident like myself, who is so incredibly sweet and bubbily, both on her blog and in person. She's been cooking up some yummy vegan Memorial Day eats lately and lucky for us, she saved one recipe to share here today.
***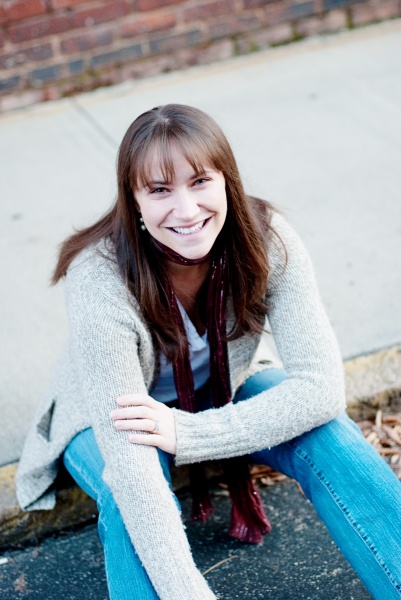 Oh boy, am I nervous!  Kelly's blog is so fantastic, I would hate to muck it up in anyway…so I hope you enjoy!
I first (and only) met Kelly at a blogger Christmas dinner where we may or may not have even had the opportunity to say hello to one another from across the wide expanse between the two of us.  But even so, I checked out her blog and was immediately hooked.  You see, we were both in the midst of training for our first marathon and reading her experience was so inspirational to me!  That and she is just so darn cute!  I had a serious "friend crush"…or should I say "blend crush" on her!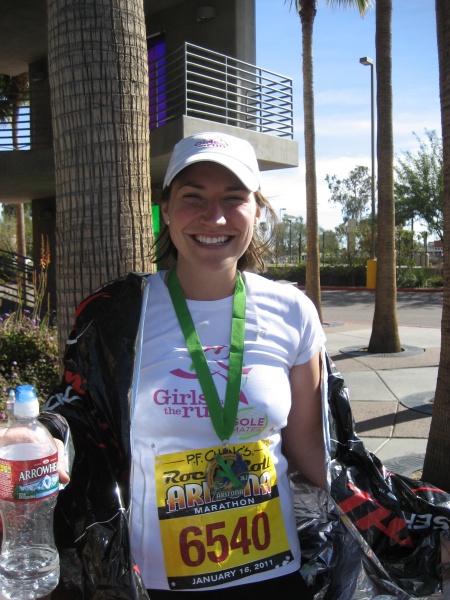 While I see lots of similarities between Kelly and myself, there are two striking differences.  First, she has fashion and I have…well, I just have clothes.  Check this out for my first and only attempt at a fashion post.  I am not saying that I am completely hopeless, but I am not Kelly!
The second difference between the two of us is Kelly eats meat and I do not.  (Although she is known to enjoy her share of meatless meals!) I have not always been vegan, but this is what works for me, for right now.  I am a vegan first because of my health.  For me, cutting meat and dairy began as an attempt to clean up my diet, and has continued because my body just operates better this way.   Plus it just makes me feel cool.
Growing up I always thought vegetarians were the coolest kids around and I always wanted to be one.  Now that I actually am one, I find that the word vegetarian or vegan is received more like a four-letter word rather than a symbol of status.  So in my life, I try to show how veganism isn't so weird, and is actually quite normal and respectable.
All this week on VeganFaith (my little blog home) I have been featuring Memorial Day worthy recipes, perfect for a picnic or BBQ.  I saved the best for last for today's featured recipe…just for the Foodie Fresh readers!  This recipe is a wonderful addition to any Memorial Day event…and is a recipe that is always vegan without having to be called vegan.  This cold soup is made without any animal products-  well once I ordered it at a restaurant and they served it with a little crème fraiche drizzled on top, but the base itself is always vegan!  So this one can please omnivores and veggies alike!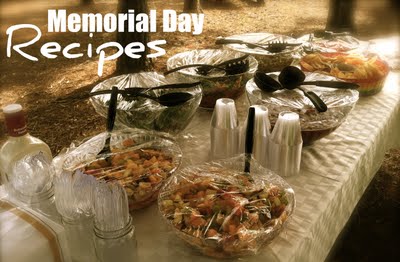 Gazpacho
1 1/2 pounds vine-ripened tomatoes, peeled, seeded and chopped
3 cups Tomato juice
1 cucumber, peeled, seeded and chopped
1 chopped red onion
2 stalks celery, chopped
3 medium garlic clove, minced
1/4 cup extra-virgin olive oil
1 lime, juiced
2 teaspoons red wine vinegar
2 teaspoons sugar
1 teaspoon kosher salt
1/4 teaspoon freshly ground black pepper
Fill a 6-quart pot halfway full of water, set over high heat and bring to a boil.
Make an X with a paring knife on the bottom of the tomatoes. Drop the tomatoes into the boiling water for 15 seconds, remove and transfer to an ice bath.  Allow to cool until able to handle, approximately 1 minute. Remove and pat dry. Peel, core and seed the tomatoes. When seeding the tomatoes, place the seeds and pulp into a fine mesh strainer set over a bowl in order to catch the juice. Press as much of the juice through as possible.
Place the tomatoes and juice into a large mixing bowl. Add the cucumber, onion, garlic, celery, olive oil, lime juice, vinegar, salt and pepper and tomato juice and stir to combine. Transfer about half of the mixture to a blender or food processor and puree for 15 to 20 seconds on high speed. Return the pureed mixture to the bowl and stir to combine. Cover and chill for 2 hours and up to overnight.  Serve chilled.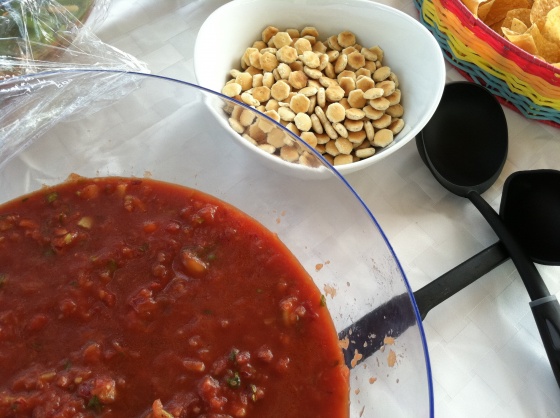 I hope you enjoy the recipe and a big thanks to Kelly for letting me post today!  It is a privilege!
***
Thanks so much Tanya for your kind words and your post!  I'm definitely trying this gazpacho, as my only attempt at gazpacho was kind of bland and not very exciting.
Tanya is one of the reasons I think vegans are some of the coolest people around.  Please go visit  Vegan Faith to see some more of her incredible recipes and enjoy her wonderful sense of humor.