Get excited!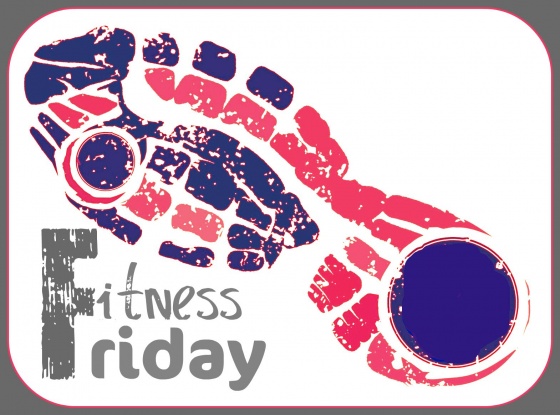 It's Fitness Friday!
Last Friday was a rest day, as usual, so let's skip straight to Saturday.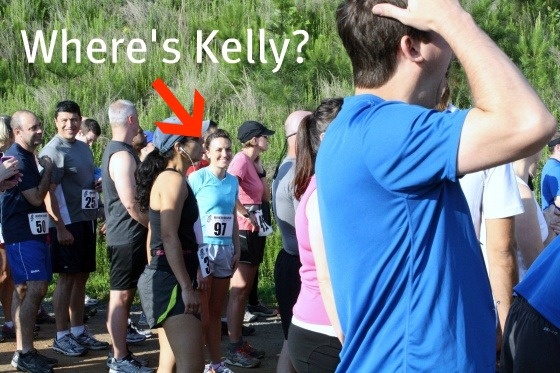 On Saturday, I ran my very first trail race and had an absolute blast! I devoted a whole blog post to the recap, so I won't go into any details, except to say that I'm now considering running some future trail races. 🙂
On Sunday, I did a two mile run with Brad and he was pain-free again!  We're still testing the waters, but a friend just invited us to do a half marathon in September and we're seriously considering it, if Brad is able to add on the mileage without any pain.
Later that afternoon, I had my you-know-what handed to me in the first yoga class I've been to in two months.  I went to the Power Mixed class at Y2 Yoga with Jenn, who made me feel like less of a wimp by confirming that it was as hot as Haides in class.  Running in the heat I think has kept my heat tolerance up but nothing could help my lack of limberness.  I'm naturally as stiff as a steel board (yes, even more stiff than a wooden one) so not really stretching for two months did me no favors on the yoga mat. My shoulders were seriously sore for four whole days! Jillian and Jackie's shoulder presses ain't got nothin' on spending the better part of an hour and a half yoga class in downward dog.
On Monday,I skipped my plans to do my Personal Training with Jackie video, because I could barely lift my arms over my head and couldn't  imagine working my shoulders.  Instead, I opted for 30 minutes on the elliptical with my latest issue of Woman's Health. I know some people consider an elliptical workout as an "easier" workout.   But I really do push myself on the elliptical.  To make sure I'm getting maximum benefit out of my 30 minutes, I put the settings on random which varies the tension throughout your workout and I also put it on level 10, which increases the tension overall. I use the arm handlebars to make sure my upper body gets a workout too and I pump my legs fast.  No slow swaying for me.  I always almost always push myself just as much as I would during any other workout.
On Tuesday, I decided to do a speed workout on the greenway in South Charlotte where I did all my long runs for my marathon.  I forgot how horrible the traffic is going to South Charlotte during rush hour, but was soon reminded when I hit bumper to bumper creeping on the interstate. I was in good spirits though and had a really awesome speed workout once I finally arrived at the greenway.  After my first speed workout two weeks ago, that didn't go exactly as planned, this was just the boost in confidence I needed.
My speed workout went something like this:
Mile 0 – 1: Warm up (9-9:30 minute miles)
Mile 1 – 1.5: Speed (7:30 – 8:00 minute miles)
Mile 1.5 – 1.75: Recover (9-9:30 minute miles)
Mile 1.75 – 2.25: Speed (7:30 – 8:00 minute miles)
Mile 2.25 – 2.5: Recover (9-9:30 minute miles)
Mile 2.5 – 3: Speed (7:30 – 8:00 minute miles)
Mile 3 – 3.25: Recover (9-9:30 minute miles)
Mile 3.25 – 3.75: Speed (7:30 – 8:00 minute miles)
Mile 3.75 – 4.75: Cool down (9-9:30 minute miles)
Mile 4.75 – 5: Sprint to the end (7-7:30 minute miles)
So, basically, I warmed up for a mile, then alternated between half mile speed work with quarter mile recoveries, cooled down for a mile, then sprinted to the end.  I've read mixed reviews on sprinting at the end of the workout.  From "it's a good way to pull a hamstring", to "it will train you to push past the pain so you can sprint over the finish line", the juries out on this strategy.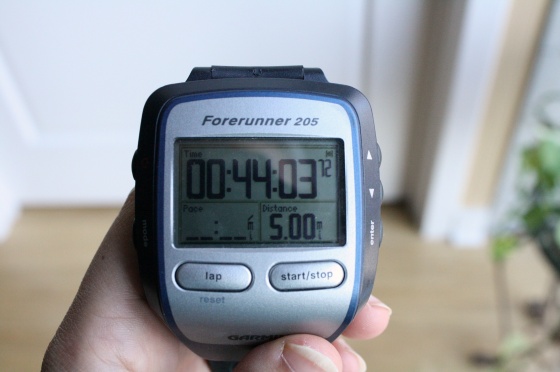 I like to sprint at the end.  I like to finish strong.  So I do it. And it helped me finish 5 miles in 44:03 minutes.
Wednesday brought some brutally hot weather and I was back and forth in my head about joining my running group on their 6:30 pm run.  It was beastly hot,  but I did it.  I chose to only do the four mile run (you can choose to do up to eight miles).  I was sluggish; no doubt from my speed work the day prior, but it felt good to sweat and do something active.  I might be crazy, but I have this little goal in the back of my head to be able to keep up with the front runners in this group, some day.  When that someday will be, who can say? I finished the 4 miler in just over 37 minutes.
And on Thursday, she rested. Kelly 2:16
Since Thursday was a rest day, I managed to fit some strength training in this morning.  About time right? After waking up at 4:30 am and tossing and turning until 5:15, I finally decided to get up, workout, and more importantly, catch up on the Real Housewives of New York.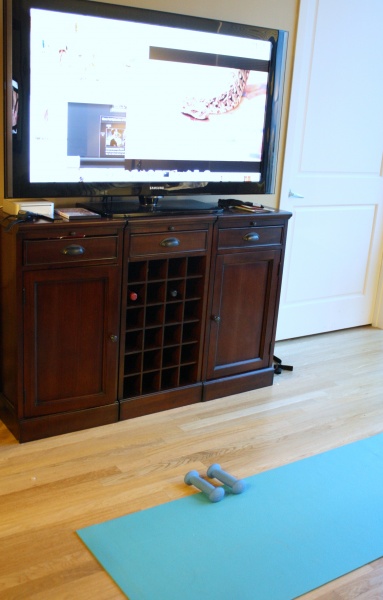 See my sweet little dual screen set up?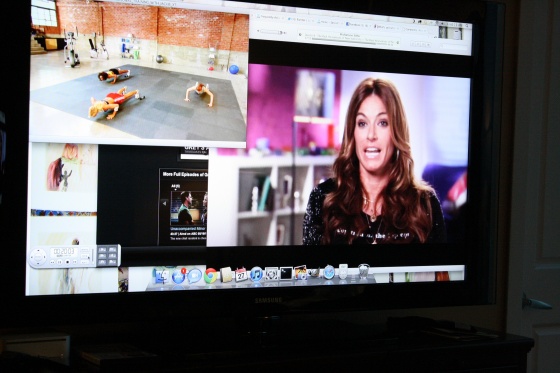 Notice the ratio of big Kelly to little Jackie?  Clearly, I've got my priorities in order.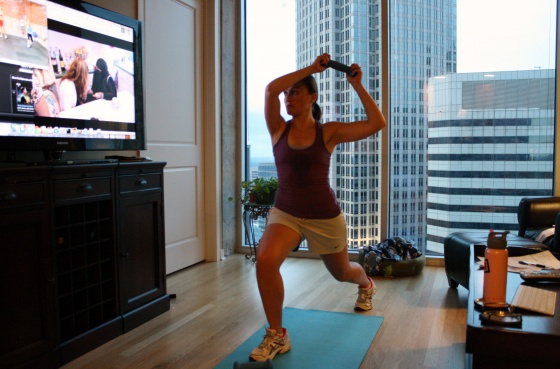 This workout was harder today than last week, no doubt to my shoulders still being tired.  Also, I have trouble holding a lunge for an entire minute.  I have the same trouble in yoga when we put all of our weight on one leg for a while.  It's not my muscles that hurt so much as my knee, which has never given me any problems while running (knock on wood).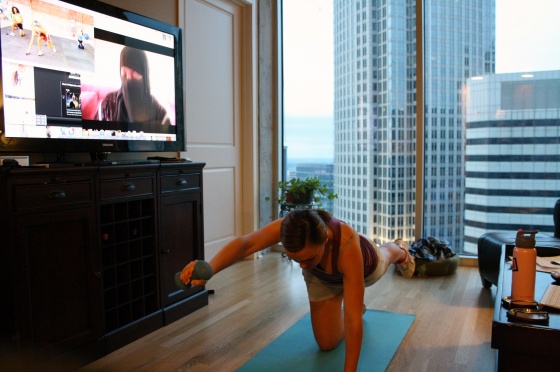 It was dark when I started and daylight when I ended.  And boy was I glad when I was done.  I was staaarving!
On next week's fitness agenda:
– Tomorrow and Sunday, Brad and I are backpacking; hiking Mt. LeConte in Tennessee.  It's a fairly steep 5 mile climb.  We plan to do some shorter trails without our packs, once we get to the top and set up camp.
– On Monday, I am running the Patriot 5K and the "Go the extra mile".  It's the first 5K I've ran competitively in a long time.  I plan to run the 5K fast and the extra mile as slow as I want.
– No formal fitness plans for the rest of the week, but my goal is to enlist some exercise buddies and to incorporate at least two strength workouts and a trip to the yoga studio.
And since I'm going out of town and will be internet-less and computer-less for two days, I have two really awesome guest posts lined up for you.  Trust me when I say, you don't want to miss them! 🙂
Happy Memorial Day weekend!