My alarm clock went off at 4:50 am this morning.  That's 20 whole minutes more than yesterday morning, but still 40 minutes earlier than I usually get up.  When I start out Monday morning with a pre-work workout, I feel inspired to do it everyday.
However, when my alarm went off, I quickly changed my mind and mumbled, "I'm getting up at 5:30," to a non-responsive Brad.  Then I lied there for two more minutes and quickly changed my mind.  When I'm awake, there's no use trying to go back to sleep.  I might as well get in a good run.
I did 3.25 miles in 30 minutes on the hill setting, level 4.  I usually do this on level 3 so I'm proud of myself for pushing a little harder.  I also did intervals ranging from 6.0 miles per hour to 8.0 miles per hour.  Basically, I warmed up at 6.0 mph for 4 minutes, then increased by 0.5 for 1 minute, 6.0 for one minute, increased an additional 0.5 for 1 minute, and so on.
I'm saving some strength training for tonight with Brad, so I didn't get reprimanded by the gym hours police this morning since I arrived a little after 5 am.
Now, onto breakfast, my favorite part of any day.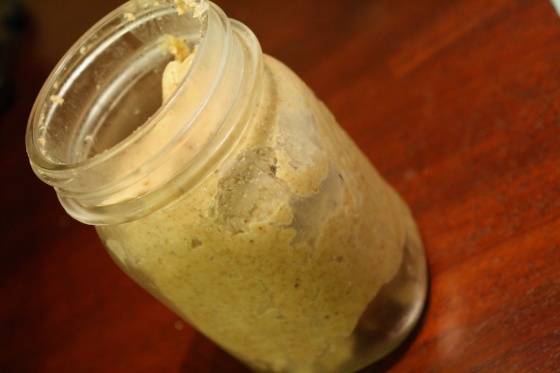 I've been holding out on you.  I made something Sunday night.
It's incredible, although it looks kind of unsuspecting.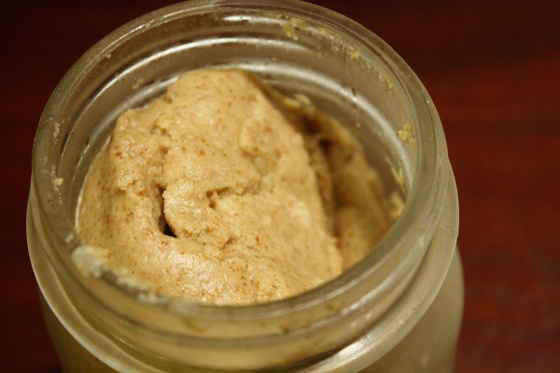 You know that 2 lb. tub of coconut flakes I have? I put it to good use to make Raw Almond Coconut butter!
Raw Almond Coconut Butter
2 cups raw almonds
1 cup coconut flakes (or shredded coconut)
1 Tbsp. coconut oil
1/2 tsp. salt
Add almonds to a food processor and blend.  After a couple of minutes, add coconut and oil and continue to blend.  Once the mixture becomes like a paste, add salt.  Blend for about 30 more seconds and taste the almond butter to see if you prefer additional salt.
I have been storing this in my fridge, but have recently moved it to the pantry. The coconut tends to get very hard in the cold, so let's see how it works out at room temperature.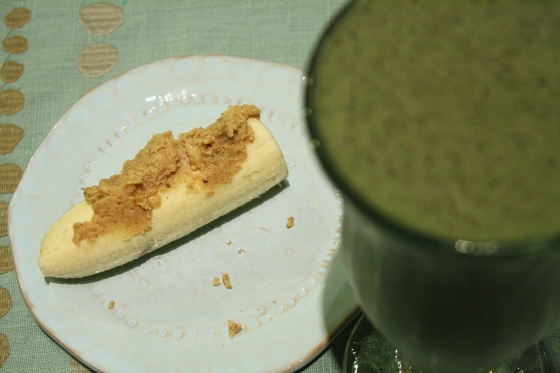 I had to use some of this almond butter goodness in my breakfast this morning.  So I smeared about a tablespoon of it on half of a banana.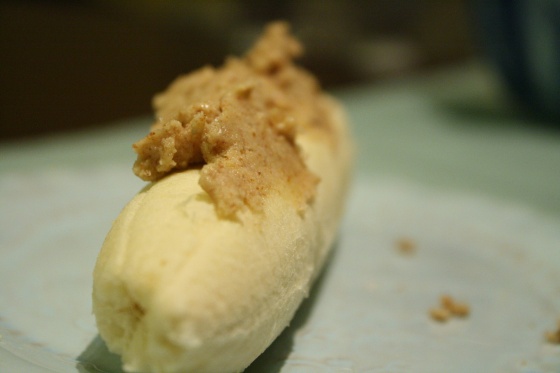 I had a blue green smoothie on the side.  Blue from blueberries and green from spinach.
1 cup of almond milk
1/2 frozen banana
2/3 cup frozen blubes
1 cup frozen spinach
1 scoop whey protein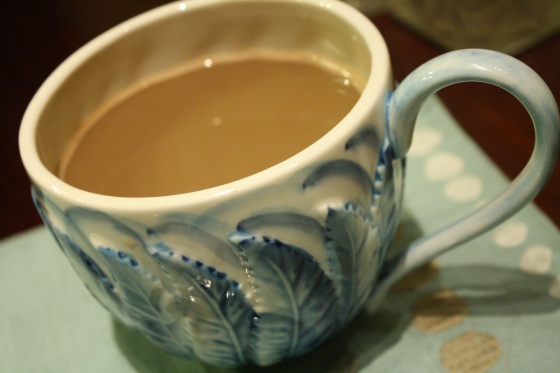 Then there was coffee.  Glorious coffee.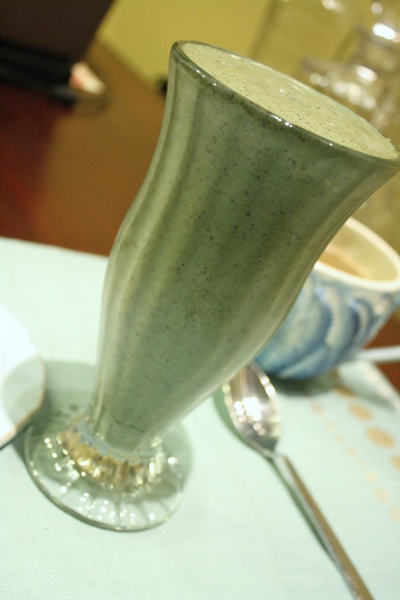 This tasted like a tall order of blueberry ice cream.  Yummy.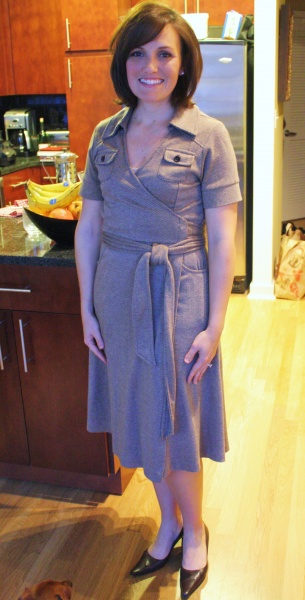 I put on a dress this morning that only gets worn during certain times of the year.  I love this dress.  It's so cute and comfortable.  But because it's short sleeves, I rarely wear it in the dead of winter, but because it's a heavy material, I can't wear it in the spring or early fall.  I'm starting to get spring fever, even if the highs are dropping back into the 50's tomorrow, so I want to bring out the cheery colors in my closet.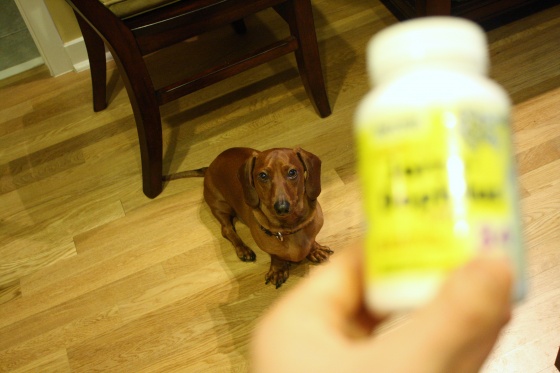 Someone followed me around all morning while I was trying to get out the door.  Rascal really wanted to go to work with me this morning.
I made the mistake of forgetting to take my probiotic yesterday, so my stomach was grumbling at me by mid afternoon.
I did not forget today.
By the way, that is not a horse pill, my hands are just child-sized.
Have a lovely day!
***
Don't forget to enter my Tropical Traditions Virgin Coconut Oil Hair Treatment giveaway! Say that five times fast.