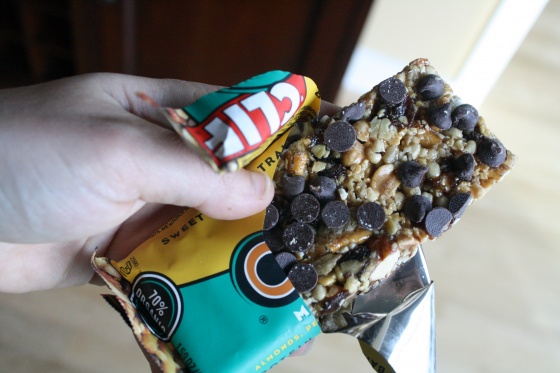 Dear Clif Bar & Company, thank you for your generosity with your chocolate chips on your Mojo Mountain Mix bar.  If I hadn't had such an awesome day, this would have been the highlight of my day.
Sincerely,
Kelly
No seriously, this is the best Mojo bar.  Every time I eat one, I like it better than the last, even though I loved the last one.  Have I mentioned that Mojo bars are 70% organic?
So back to my great day…let's rewind a bit before my afternoon snack.
Around 1 pm today, I sent out an SOS to my dad.  He had went with my aunt to find lunch.  Somehow we got our wires crossed and I thought he was bringing back his lunch to eat with me.  Wrong!
When he got back I found out that they ate in the cafeteria, so I dug into my lunch.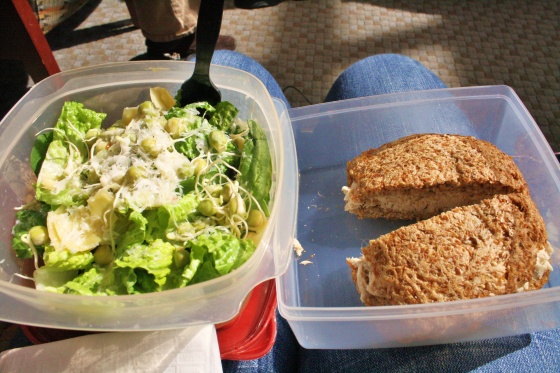 I made a side salad, much like yesterday's salad: romaine, spinach, sprouted peas, Parmesan Reggiano, tomatoes, carrots, sprouted peas, lemon juice, and a drizzle of honey.
I also had a tuna fish sandwich mixed with 1/2 Tbsp. of Canola mayo on two heels of Ezekiel bread.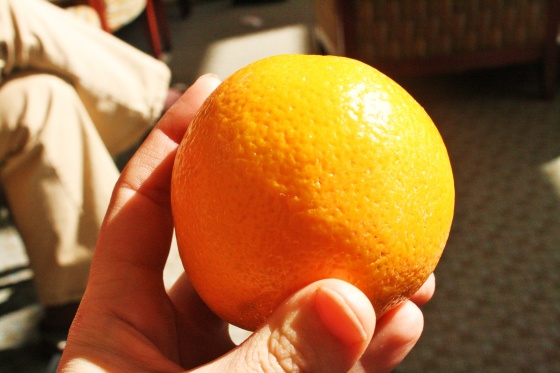 I also had a navel orange, which I always peel with my fingers.  Does everyone else eat oranges this way or do you cut them with a knife?
Soon after lunch, I got a call from the organization I interviewed with yesterday.  They offered me the job!  I asked them for some time to think about it and called Brad to talk about the pros and cons of each job opportunities.  I talked to my dad and my aunt who were with me in the hospital waiting room.  I called my boss and bounced my ideas off of him.
Finally, I called the organization who had just offered me the job and said yes.  It was difficult to tell the other organization no, but I'm very happy with my choice.  I'm especially ecstatic, that I will now be working Uptown, only a few short blocks from where we live and only a short bike ride away from our new house.  After one year and seven months of driving over two hours total to work and back, I am in love with the idea of walking to work.  I might go a whole week without setting foot in my car.  How awesome is that?
I got back later from the hospital than I had previously planned, so I'm blowing off my three mile run tonight (which I technically did yesterday) to go celebrate my good news with Brad.  We're also going to stop by the hospital to see my mom.
By the way, thanks for your sweet words about my mom's surgery.  She's doing fine.