I hate housework during the week when I'm rushed and don't have time to wash and fold clothes in addition to cook dinner, pack my lunch, exercise, etc.  BUT, I almost like housework on the weekends when I have no where to be and no obligations.
The laundry at my house has become out of control in the past two weeks.  I've washed clothes, but have had absolutely no time to fold any.  Because I have run out of places to stash the unfolded clean clothes, the dirty clothes were starting to pile up as well, since my dryer was my last stashing location. Wow, this sounds worse as I type it.
Today I planned on spending a good portion of the day getting the laundry back in order.
Back from our long walk, I showered and made a quick lunch of  leftover salsas from last night.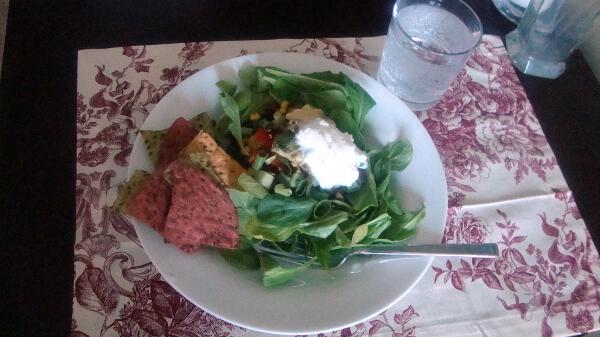 My salad was a base of arugula with both the black bean corn salsa and the mango salsa, plus avocado, a big dollop of Greek yogurt, and some green onion.  I had some tortilla chips on the side plus about four more I snacked on while making lunch.
Just in case you're wondering the ingredients of the salsas are…
Black bean/corn salsa
1 can of black beans, drained and rinsed
1/2 bag frozen corn (thawed or nuked for a minute or two)
1 large beefcake tomato or 2-3 small on the vine tomatoes
1/3 cup chopped cilantro
juice of 1 lemon
salt to taste
Mango Salsa
1 mango sliced
1 red bell pepper chopped
1/2 large red onion finely chopped
1/4 cup finely chopped cilantro
juice of 1/2 lemon
salt to taste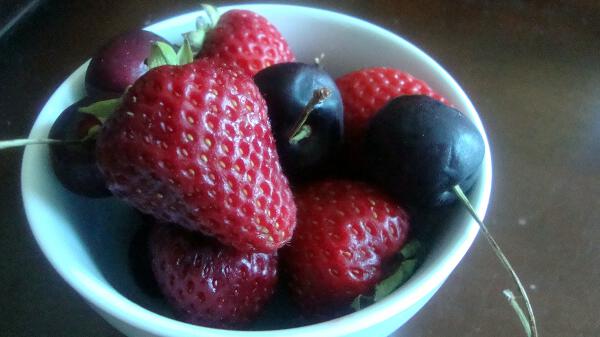 I also had some cherries and strawberries in my new Pottery Barn snack bowls, courtesy of my brother and sister-in-law. 🙂
I then got started with my laundry chores by starting a new load of laundry, but somehow got distracted from folding by the kitchen.  It was calling my name, I swear.
First up, my homemade granola.  I followed the exact same directions as last week.  It's kinda scary that we went through that much granola so quickly.  It was mainly me, although Brad did have some as well when I showed him how tasty it is on a SIAB.  I love this recipe and I might change some of the ingredients in the future just to mix it up, but the base of oats, flax seed mill, and applesauce will be the same.  It's just so good.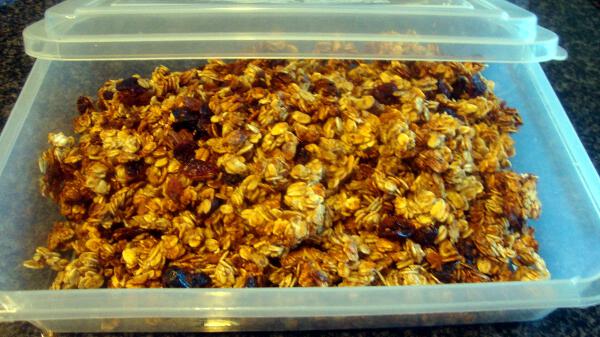 Next up, I started on a little baking experiment that turned out edible, but not as good as I hoped.
Sunflower Seed Coconut Bars
1 cup spelt flour
1 cup oat bran
1/4 cup tapioca flour
1 cup light coconut juice
1/2 cup apple sauce
1/2 cup sunflower seeds
1/4 cup sunflower seed butter
1/3 cup unsweetened coconut
3/4 tsp. salt
8 tiny spoonfuls of stevia
1/8 cup agave
Honey for drizzling
more sunflower seeds and coconut for sprinkling on the top
Mix all the ingredients together except the last two.  (I know, I'm a bad baker for not doing wet ingredients separately from the dry ingredients.) Spread evenly in a square glass pan lined with wax paper.  Sprinkle lightly with coconut and sunflower seeds.  Bake on 350 degrees Farenheit for 35 minutes.  Allow to cool, then drizzle with honey and cut into 16 squares.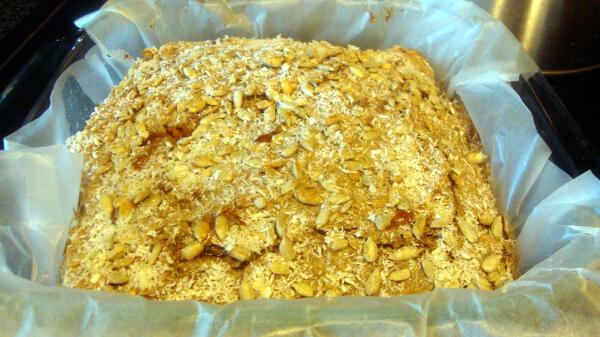 I'm always worried when I post about Stevia, that someone is not going to understand what I mean by tiny spoonfuls, resulting in a baking disaster.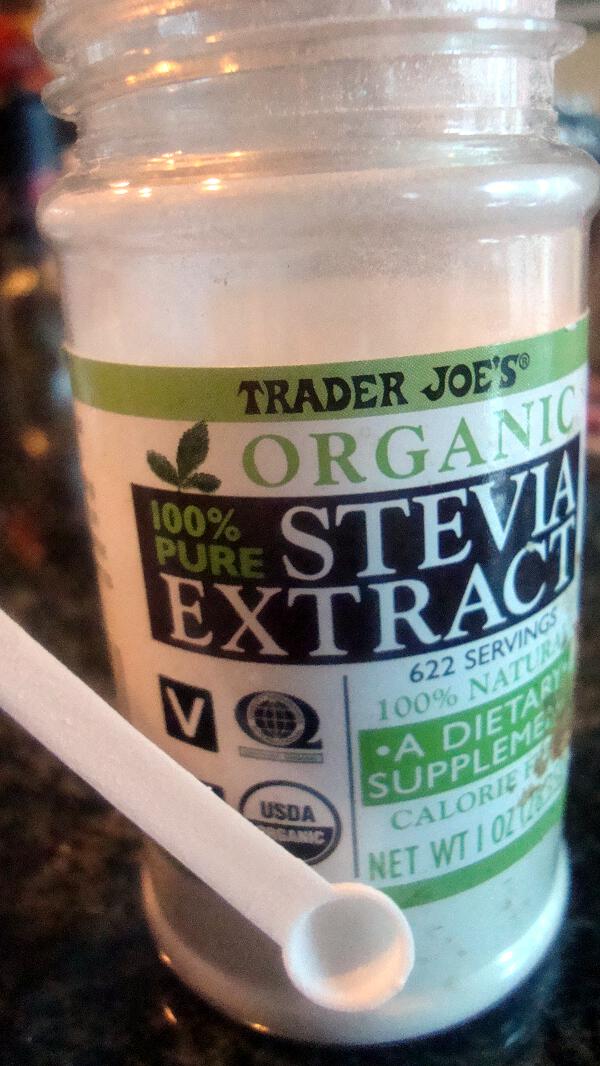 This is the kind of Stevia I use.  It's from TJ's and has a super tiny spoon.  The container is about the size of a salt shaker.  The spoon is about the size of my pinky and I have child hands.
Even with all the sweetner, it wasn't enough.  These bars had a good flavor but the sweetness was definitely lacking.  If it's not dessert, I don't want food to be too sweet.  I don't think I've gotten the knack for baking with Stevia yet.  I'm just never sure how much to add.  I want to try these again but I think I would add more sunflower seed butter and maybe 1/4 cup brown sugar.  I ran out of agave so maybe if I had added 1/4 cup instead of an 1/8, it would have turned out better.  More coconut would probably improve the flavor as well.  I am almost out of honey so I ended up putting not quite as much as I wanted because it was so difficult to get out of the container.
This recipe is completely vegan, until you add the honey.  This would be easy to omit and use agave or maple syrup instead.
I'll still be eating these probably with jam and sunflower seed butter.  The texture is really nice and fluffy.  I wanted a fluffier bar, not a dense bar.  This turned out to be a good balance between the two.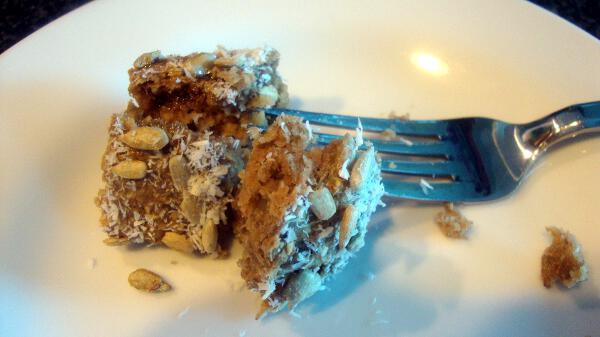 With my baking bug cured, I set off to face the laundry.  Half way through I snacked on a small corner of the sunflower seed coconut bars (it crumbled because I didn't allow it to cool before I removed it from the pan) and tried my first Honest Tea.  The white peach flavor was really refreshing and just slightly sweet.