I used to make a Rachel Ray recipe for Brad involving pork and noodles.  Brad loved it so I made it several times.  Recipe can be found here.  I thought I would try making it tonight since he mentions it every once in a while, but I didn't have all of the ingredients.  Plus, I really only cook meat upon request or if I'm really craving it.
I completely improvised, keeping most of the flavors, but only using the edamame and the whole wheat noodles from the original recipe.  I also changed portion sizes.  I like Rachel Ray's recipes and some of them are pretty healthy if you use high quality ingredients.  However, her portion sizes are out of control.  When you get used to cooking for two, you tend to get a feel for how much pasta or rice you might need.  Sometimes I cook for four so there are leftovers, but in this case I had just enough whole wheat spaghetti for the two of us.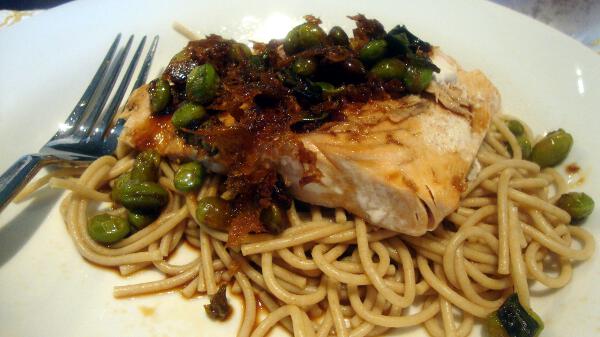 Orange-y Salmon and Noodles (for two)
2 Salmon fillets
1/4 box whole wheat noodles (I used Hodgkin's Mill)
6 Tbsp. Bragg's Amino Acid
1/2 cup of orange juice
1 1/2 Tbsp. honey
1 tsp. sesame oil
1/2 cup shelled edamame
1/4 cup chopped green onions
Boil noodles in salted water until tender.  Meanwhile sprinkle salt and pepper on salmon fillets and saute in skillet.  I used EVOO in my misto to keep the salmon from sticking to the pan.  Once salmon are cooked through, place on a plate and cover with tin foil to keep warm.  Add sesame oil, Bragg's, and orange juice to pan.  Scrape the pan with a spatula to de-glaze any leftover salmon that stuck to the bottom of the pan b/c you can't figure out how to get the misto to work properly (seriously, does anyone else have this problem?).
After 2 minutes, stir in honey.  Add green onions and edamame continuing to stir.  Plate your noodles with the salmon on top.  Continue to stir sauce mixture watching the pan carefully.  There's a 30 second window of time where the sauce starts to carmelize and in that moment in time, it is perfect.  Once you start to notice the carmelization (sauce gets sticky and much darker within seconds), pour over the salmon with the edamame, scallions, and any yummy bits you scraped off the bottom of the pan during the de-glazing process.  Serve immediately.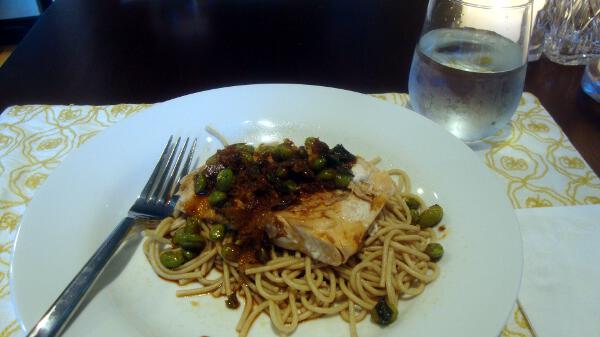 My plate with a side of water.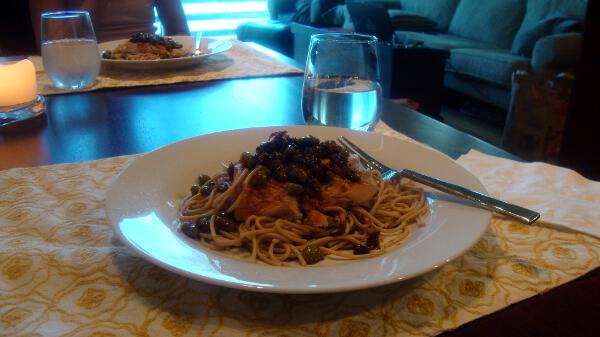 Brad's plate.
His words, "I give this a 10".  I think that means he likes it.
After dinner, we decided to go over to a friend's house to trade shirts.  Somehow we had ended up with one of his shirts and he had one of Brads.
It occurred to me during our discussion whether to go or not, that it was in close proximity to Tasty Yo and today is their anniversary.  Tasty Yo tweeted several days ago that on their anniversary date, customers could pay whatever they felt their yogurt was worth.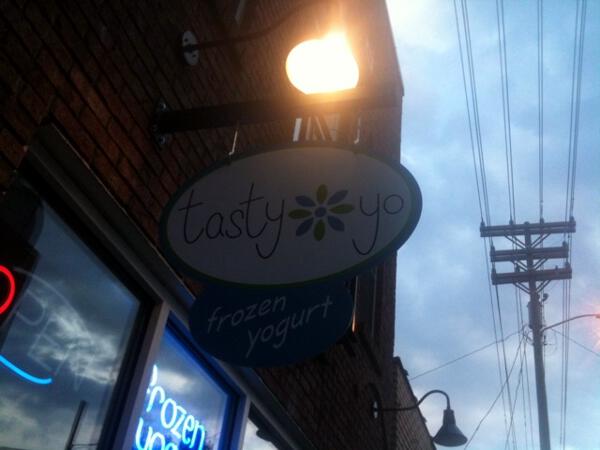 We headed right over to share a large blueberry/tart swirl with blueberries, strawberries, and coconut.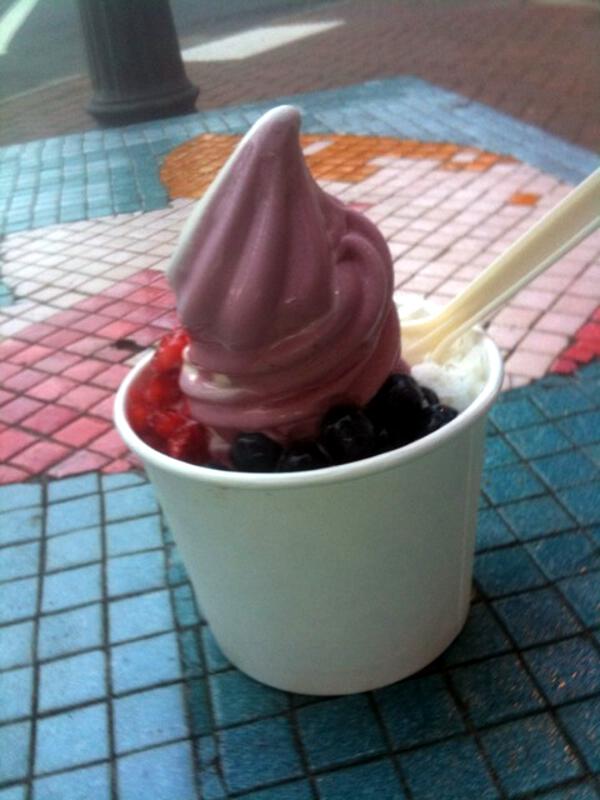 It was everything I thought it could be.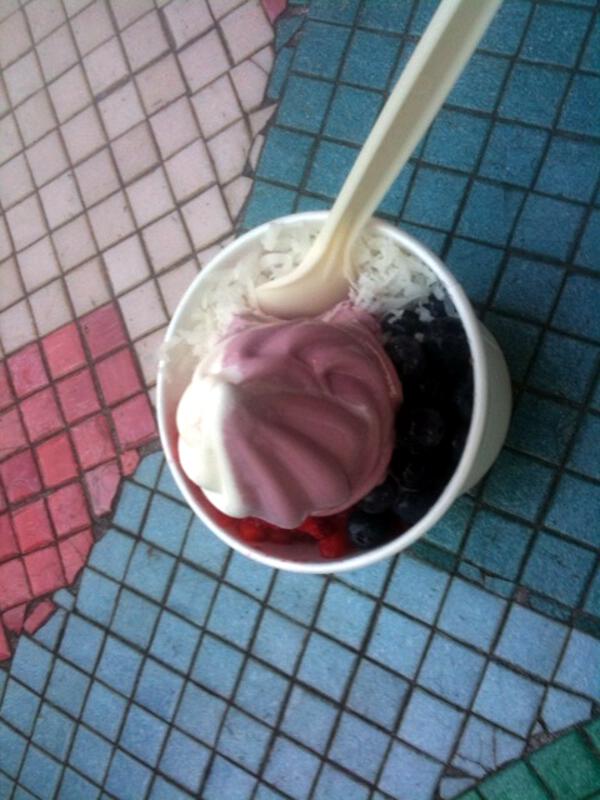 A perfect end to a summer evening.
P.S. You should definitely stop by Lauren's blog for a sweet giveaway.