On Tuesday night, I drove all the way down to Ballantyne to attend the VIP pre-opening event of JJ's Red Hots.  I covered the Dilworh location opening on East Boulevard for Creative Loafing last year, but haven't ever posted about it here.
JJ's Red Hots is a hot dog joint that serves really creative hot dogs and takes a lot of pride in the quality of their food.  The East Blvd. location is very close to my house, so I've eaten there many times.  This girl loves some hotdogs.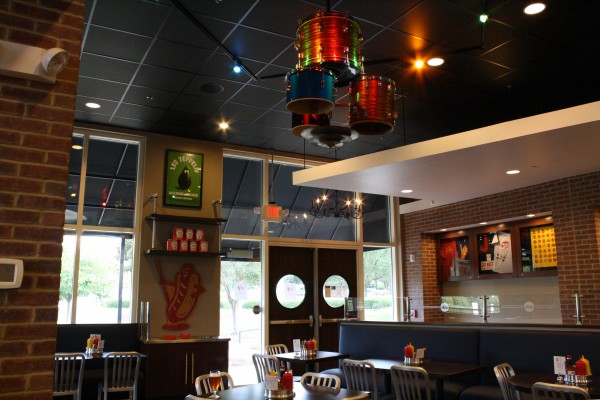 The Ballantyne location has similar decor as the Dilworth location, but the building is very different.  It's definitely sleeker and newer.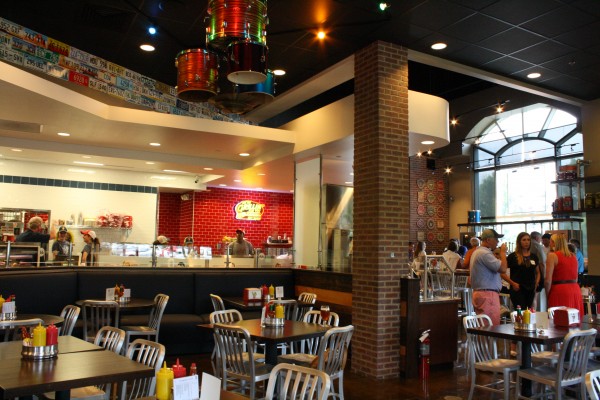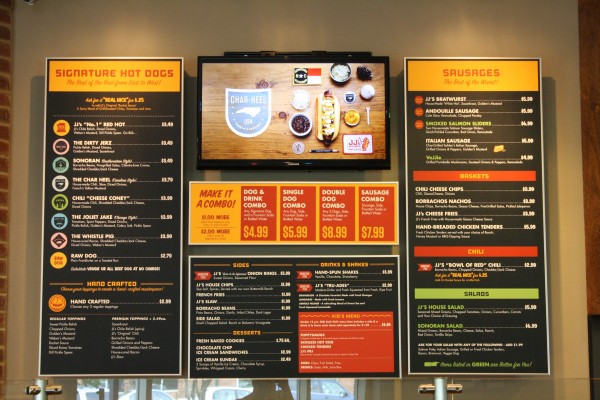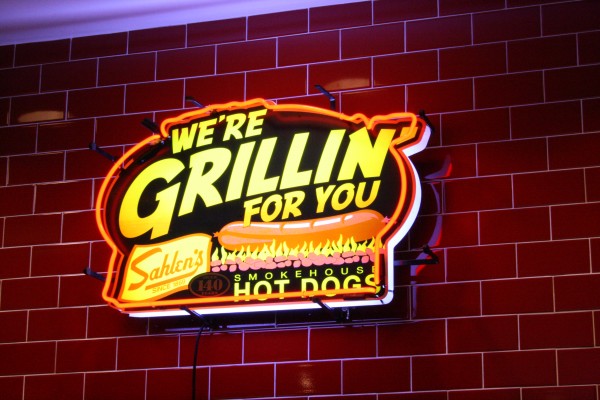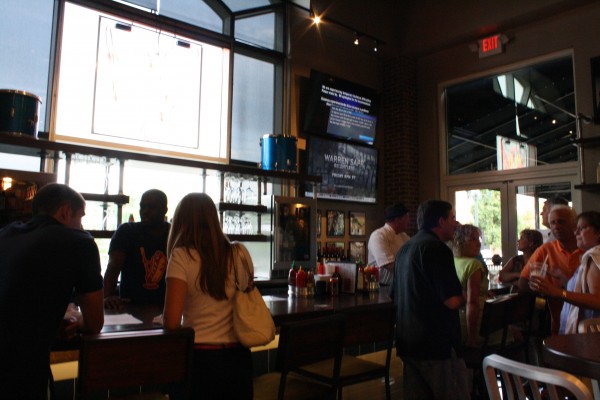 More importantly, this location has a bar.
You can get wine and beer at the Dilworth location of JJ's, but you have to order it at the food counter.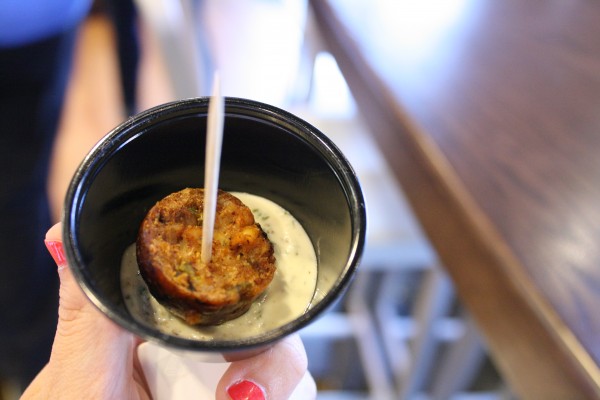 Upon arriving, I met up with my friend Jes and we chatted while trying a few samples.  This is a chicken sausage paired with a cilantro cream dipping sauce.  One thing that I really like about JJ's is they get really creative for a place that only serves hotdogs and sausages and they are always featuring specials to highlight their creativity. Case in point — this chicken sausage.  It's something they're trying out, but isn't on the regular menu.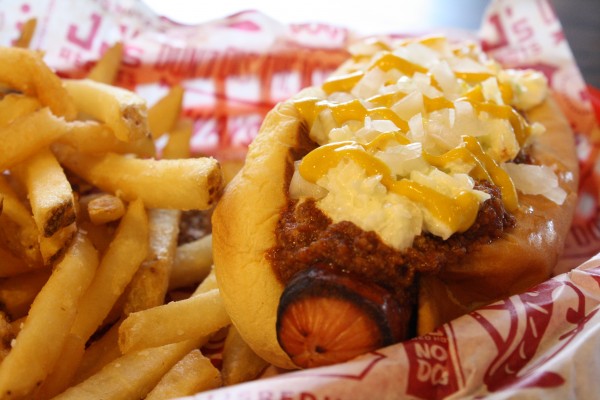 As much as I can appreciate their creativity, I order the exact same thing every single time I'm at JJ's.  Sure, I like to try new things (from other people's basket), but I'm a traditionalist when it comes to hotdogs.  I love Carolina dogs, which at JJ's is called the Char Heel.
For those of you who don't know, a Carolina dog is a beef hotdog with chili, mustard,  onions, and slaw.  If you order a Carolina dog anywhere, this is what you get.  And being a Tarheel (a graduate of UNC Chapel Hill), just makes me love this hotdog even more.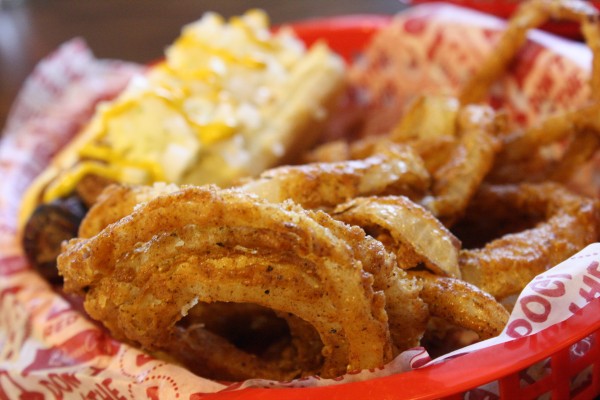 I'm proud of Jes for branching out and getting a Char Heel too.  She usually prefers plain hotdogs with just ketchup.  However, instead of fries, she ordered the onion rings.  JJ's onion rings are stringy and a bit spicy, which she loved.
Since the food was free for us, we also ordered a brat.
Pork and Veal "White Hot" served with Sauerkraut and Deli Mustard 
I am not a sausage expert by no means, but decided that I like the prefered andouille that was also passed around as a sample.
Traditional Louisiana Pork Sausage Link, Cole Slaw, Remoulade
This may have something to do with the fact that I like spice and am not a huge fan of kraut.
You can check out the rest of their menu here.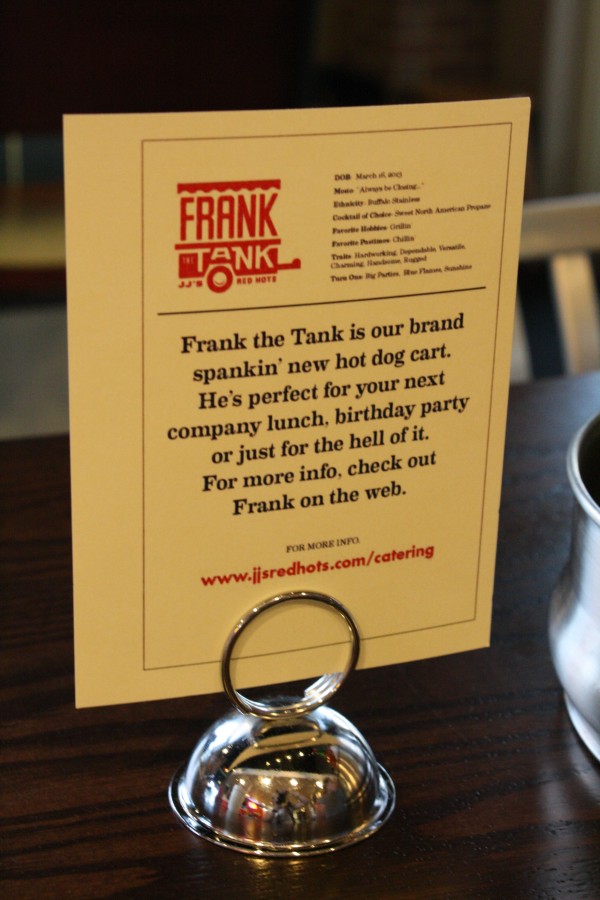 The food at the Ballantyne location of JJ's Red Hots is just as good as the food at their Dilworth location, except the feel of the restaurant is a bit different because of the newness of their location.
I would say that I'll be back, but instead I'll be frequenting the location within walking distance of my house when I want a Char Heel.  However, for those of you who live in the South Charlotte area, you should definitely check this place out if you're a fan of hotdogs or sausages.
JJ's Red Hots in Ballantyne is now open to the general public.