On our third full day in Belgium, Brad and I took the train to Gent, which is only a 30 minute train ride from Brussels IF you get on the right train.
In Europe, there are often two different trains going to the same destination.  One is a train that stops in major towns, which we should have boarded, and the other is called a local train and stops at every single little train stop along the way.  We got mixed up because the train schedule was a bit off and got on the local train, which took an hour and a half. It's kind of like having a flight with 18 layovers instead of one.
Once we finally arrived in Gent, we met up with our friends Jeremy and Cristin again and also met up with Geoffrey who works for the same company as Brad, but actually lives in Gent. He graciously offered to spend the day with us giving us a tour of Gent.  How nice is that?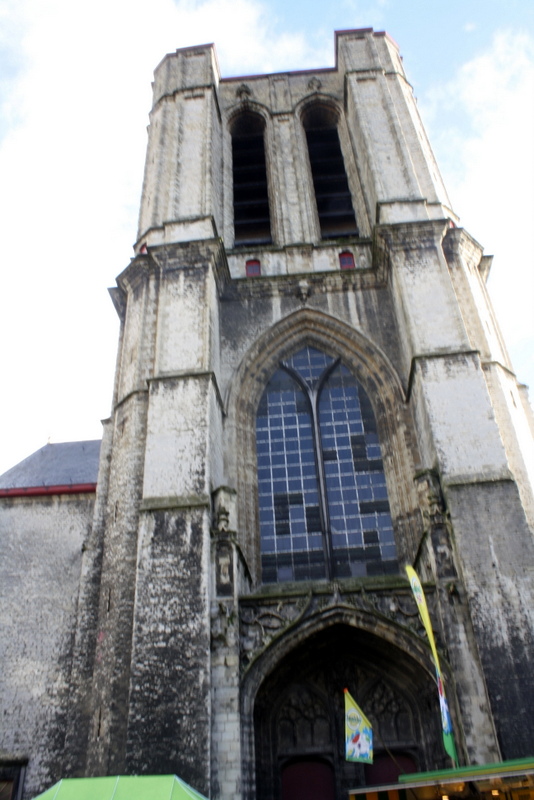 On our trek through the town, Geoffrey showed us this beautiful gothic church that has never been used.  It sits vacant and has been that way since it was built, which must have been a very long time ago.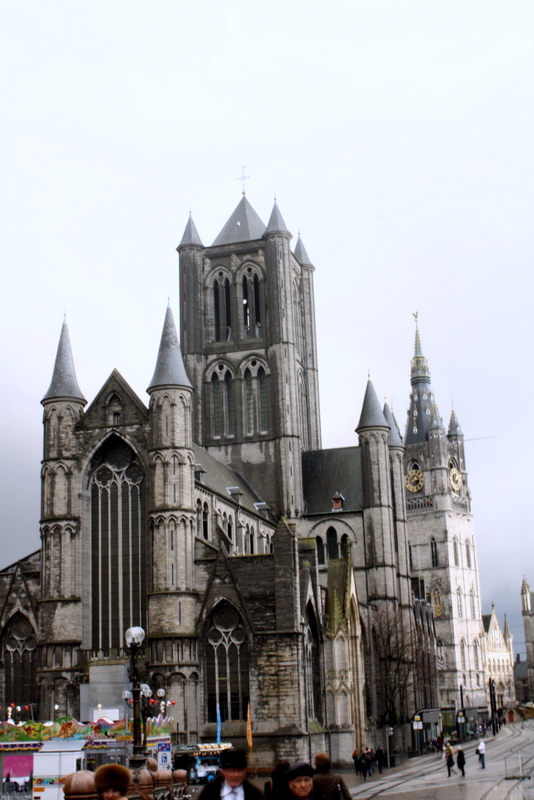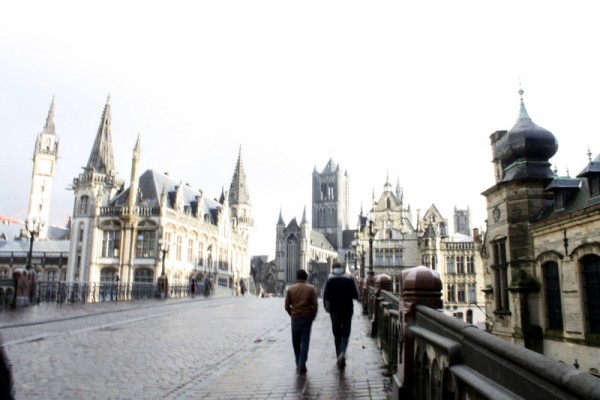 The whole city is just beautiful!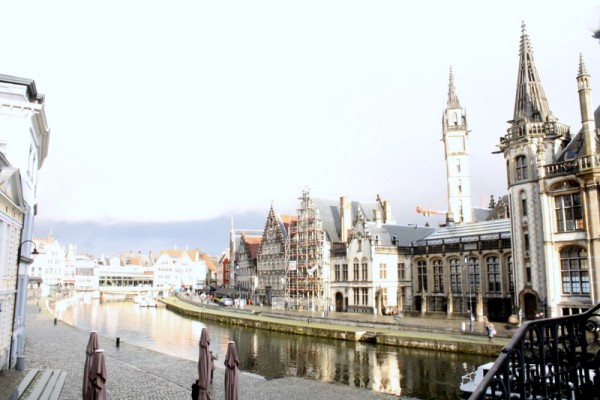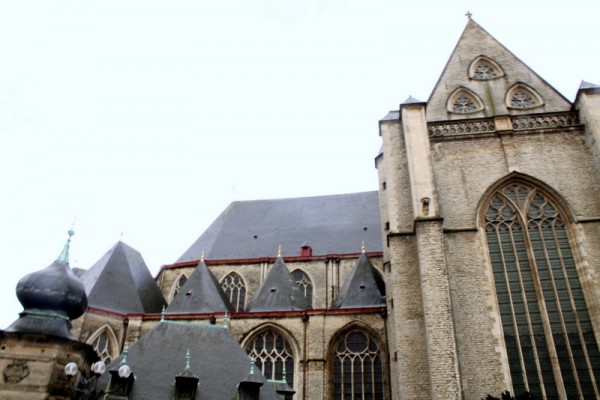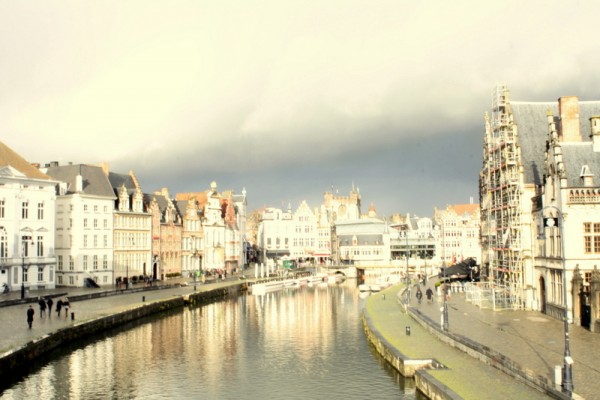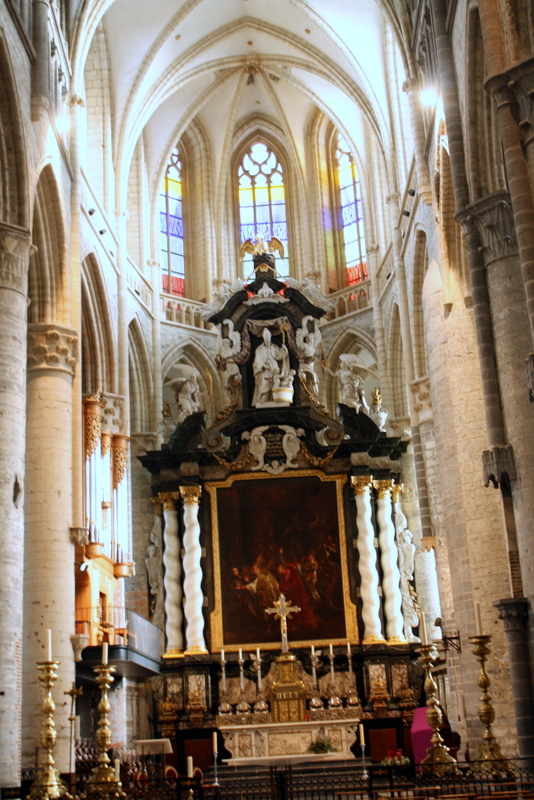 It started to rain, so we ducked into a church to take shelter and to check out its interior.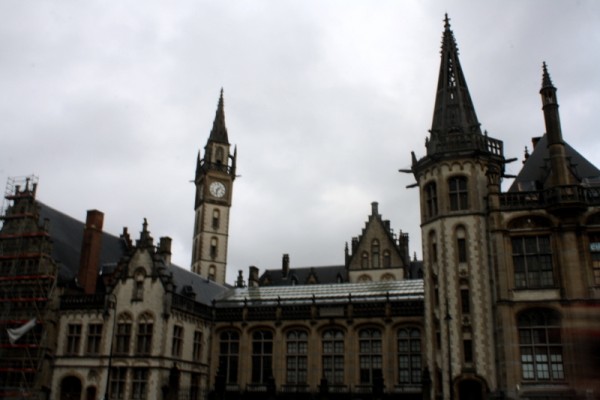 Brad and Geoffrey went to grab umbrellas from Geoffrey's car and then we were off to lunch.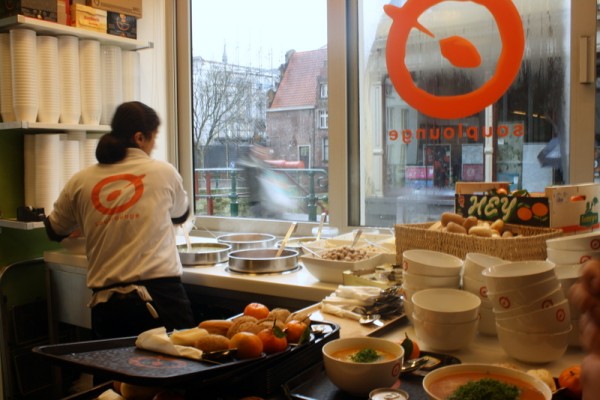 The restaurant where Geoffrey wanted us to have lunch was closed so instead he took us to Souplounge. It was frigidly cold and rainy so soup was a very fitting choice.
According to Geoffrey, places like this are very Flemish.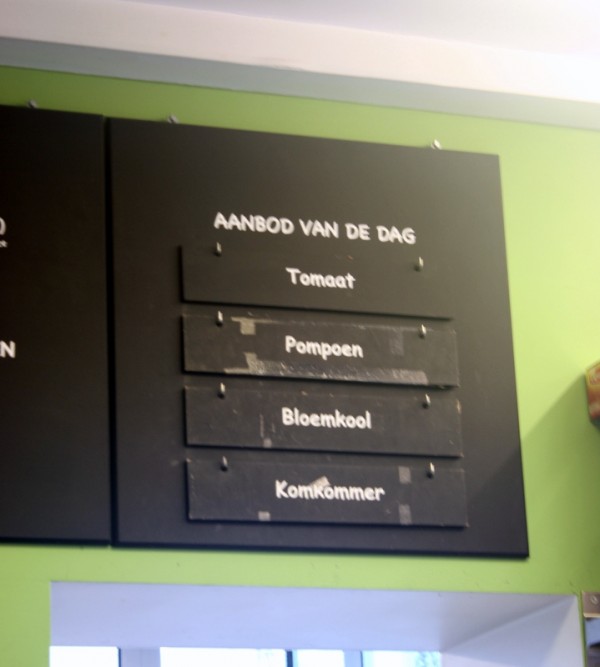 Everyday Souplounge has four different soups. On that particular day they had tomato, pumpkin, cauliflower, and cucumber.
There are also various toppings for the soup such as finely chopped veggies, parsley, cheese, and matza meatballs.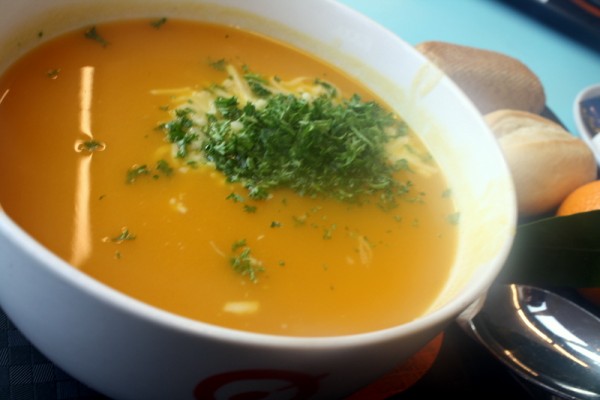 I ordered the pumpkin soup and asked for a little cheese and parsley.  It was served with two rolls and a tangerine. This pumpkin soup really hit the spot. I ordered the medium bowl (they also have a kiddie size and a large) and it was the perfect size.
Side note: Notice how blurry one side of my photo is?  My camera lens got foggy when I came in from the cold and into the heated restaurant.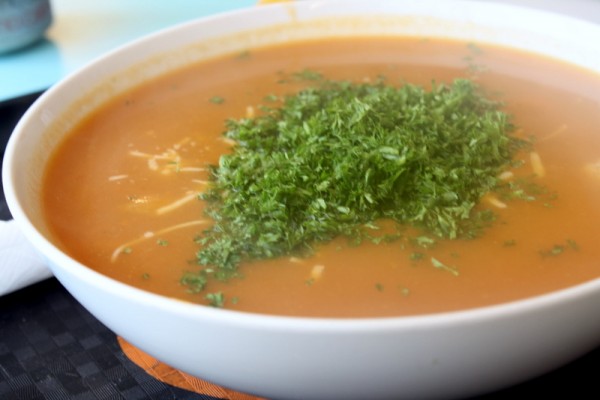 Brad ordered the tomato soup and it was also very good, but I much preferred the pumpkin.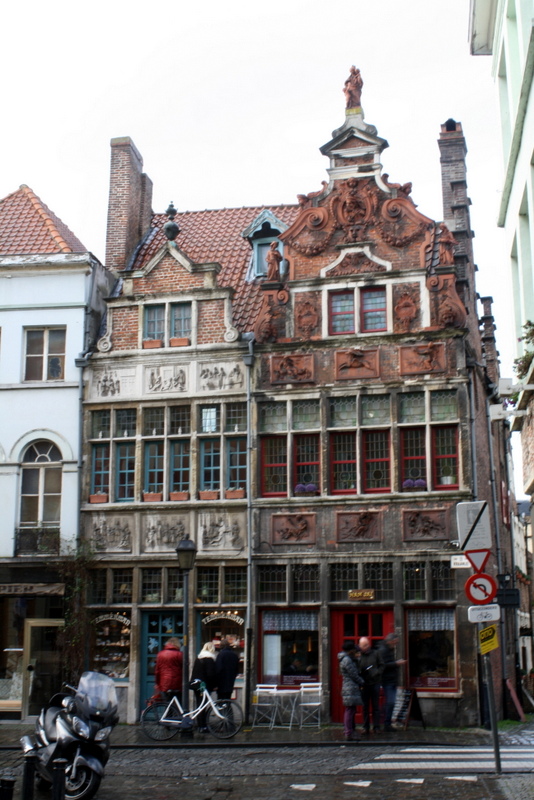 After lunch we walked around Gent admiring the architecture and the quaintness of the beautiful town.
We learned from Geoffrey that Gent is a college town and actually has about 250,000 people, but to me it seems much smaller than that. I guess because most of the beautiful quaint towns in France were also very small.  You just don't see many decent sized towns that can retain their historical charm.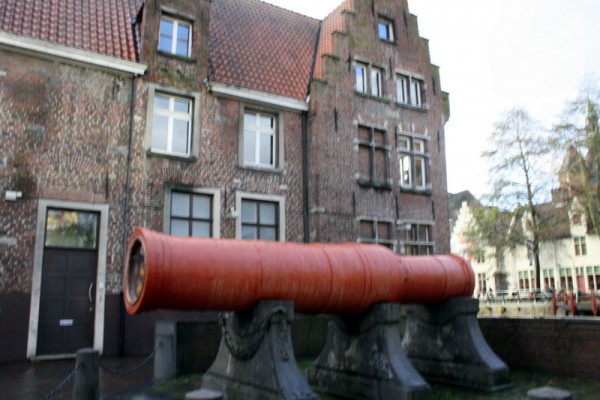 Strike that.
You rarely see it in the States.  It's probably more common in Europe.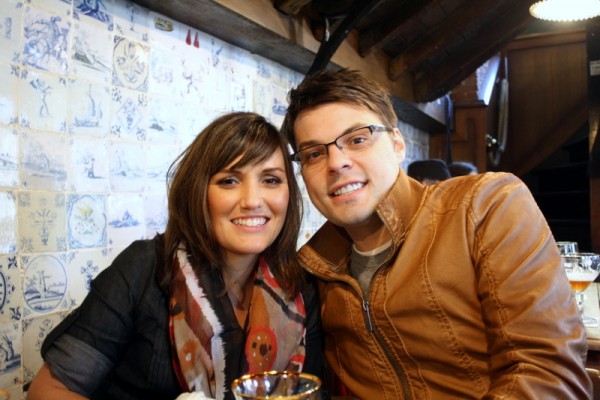 We talked about several things to do or not do, and then we spotted the tiniest little pub — it was actually the smallest pub in Gent so we had to stop and have a pint.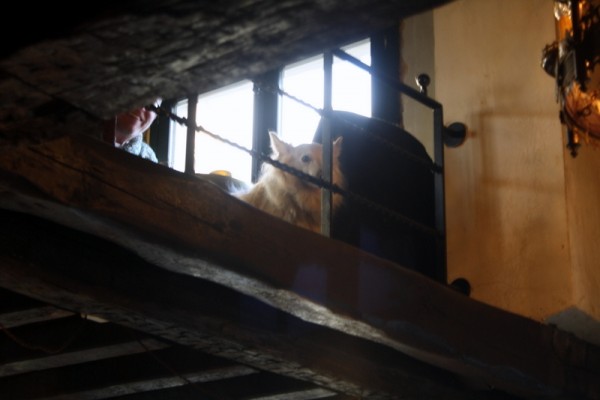 At first we tried to sit upstairs, but this little guy ran us off.  He then watched us from the balcony while we were there.
I like to think he felt sorry for being so grumpy and wanted us to come back.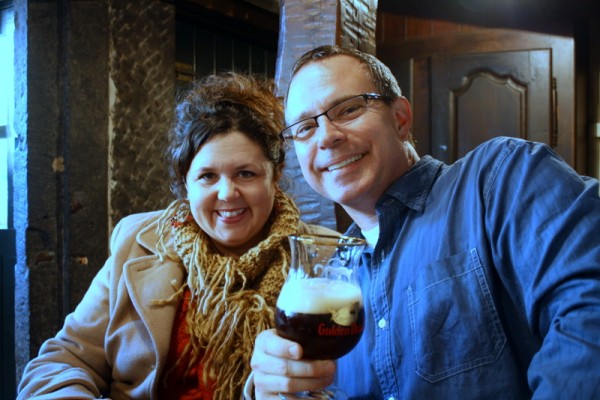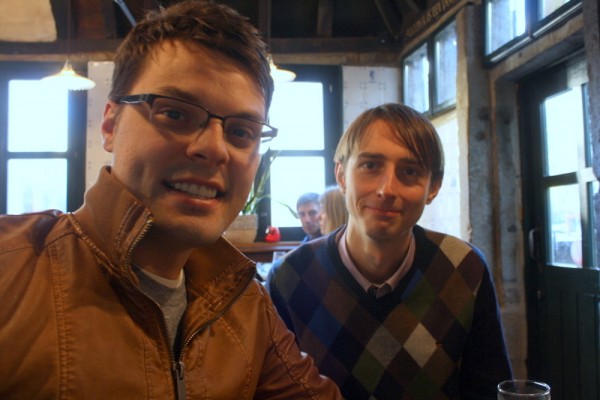 A good time was had by all.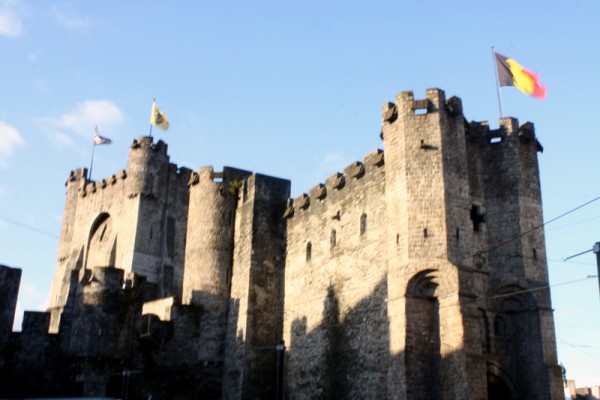 Next on the agenda was checking out the Gravensteen Castle.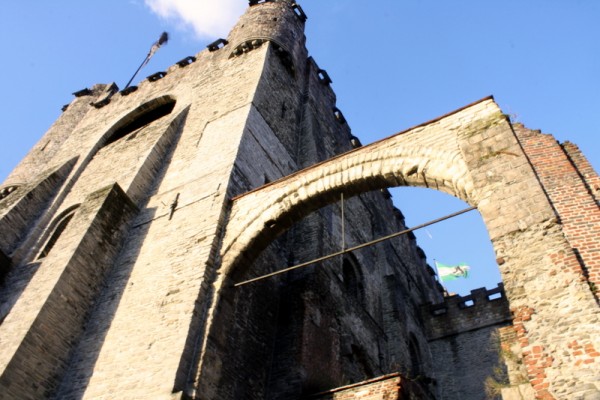 This castle belonged to the Count of Flanders and was later used to produce textiles, and even later as a prison.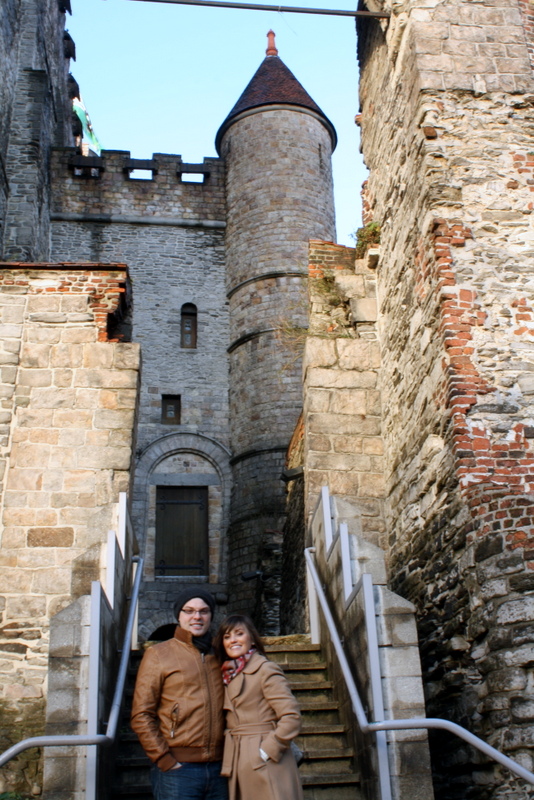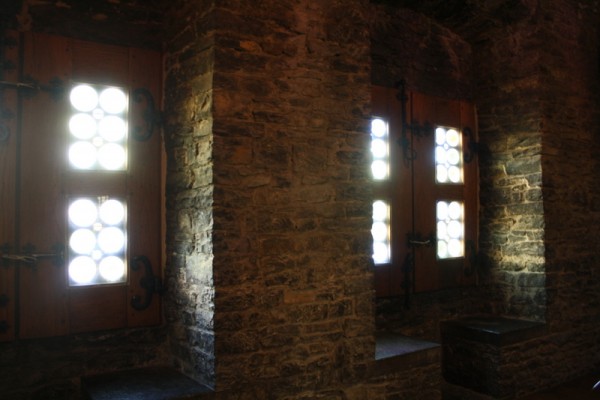 Despite most of it not being heated, it was nice to get out of the cold and take a look inside.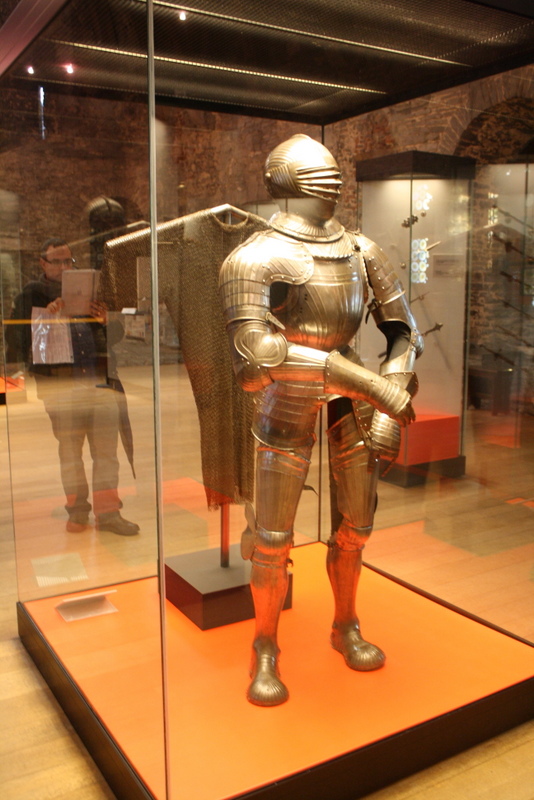 The first room we entered was a museum of ancient weapons.  The guys were enthralled with this part, but I just glanced around a bit, then chatted with Cristin while the guys meticulously noted every display, asking Geoffrey to translate the markers.
What is it about weapons that completely captivates males?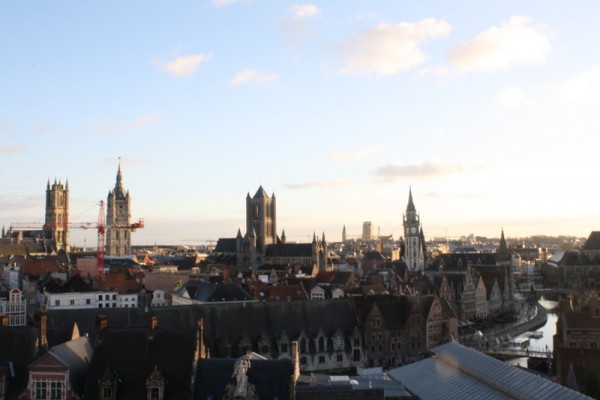 After we drug the guys out of the weapons museum, we went out to the top of the castle, where the castle would have been defended from intruders.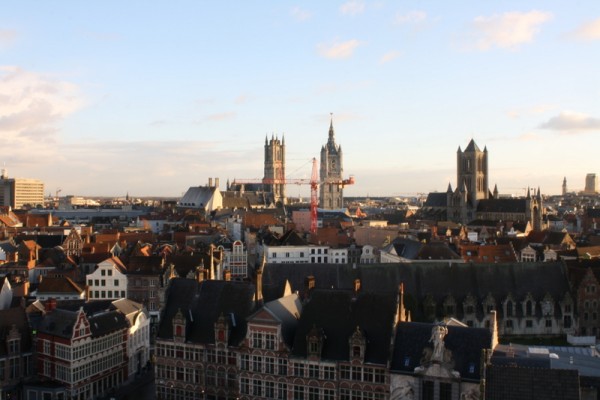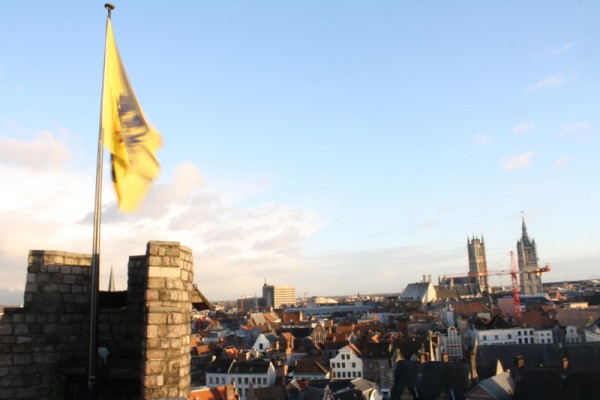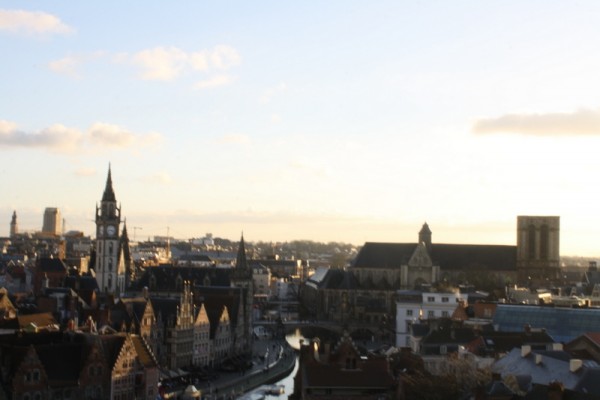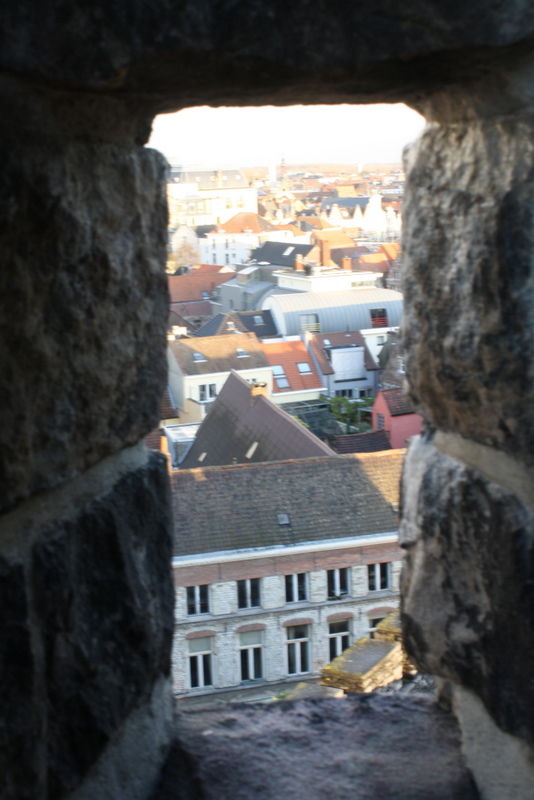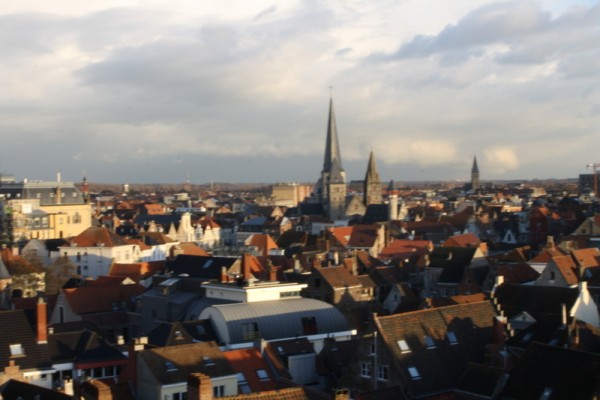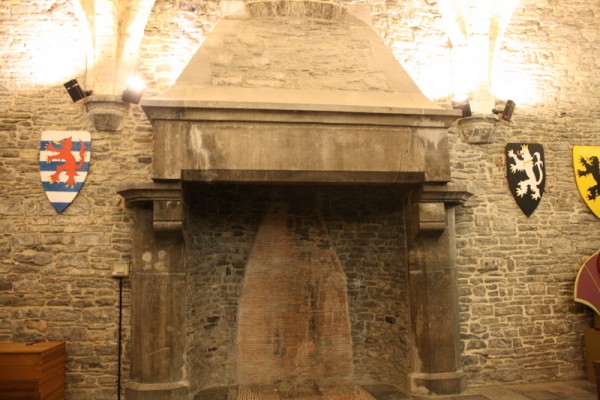 And then later we walked into several other parts of the castle which was a museum of prison life during Medieval times.  There were all sorts of torture instruments on display and descriptions of how and when they were used.  Very gruesome.
As interesting as it was, I couldn't imagine wanting to remember this part of the castle so I saved my photography for more pleasant things.
Here are a few more shots of the castle.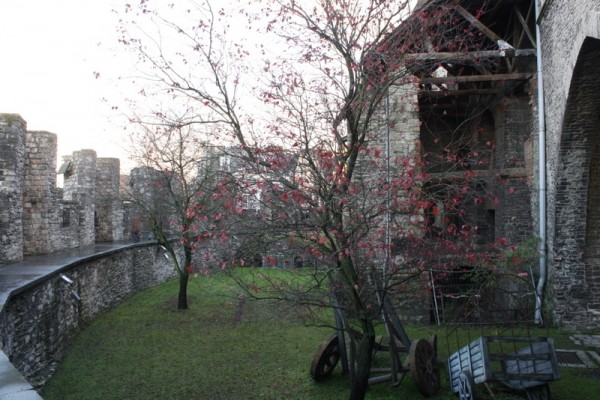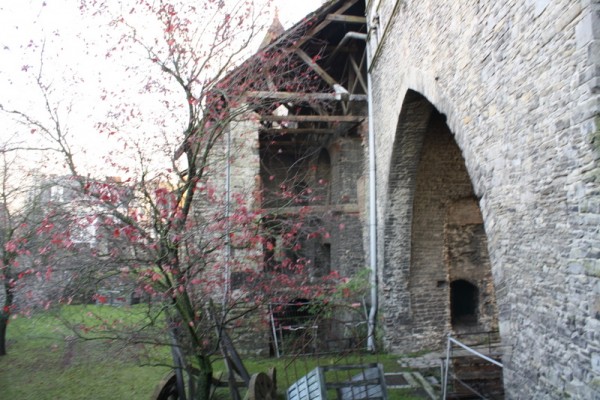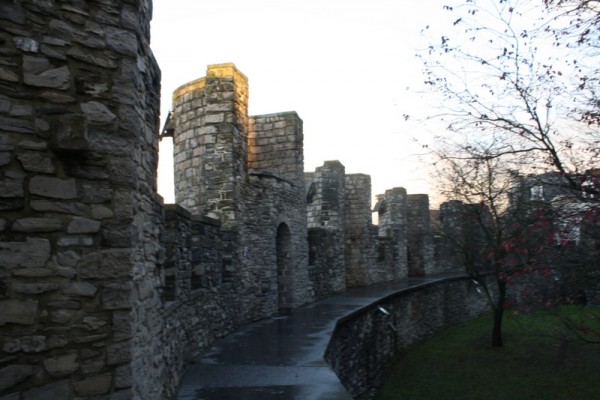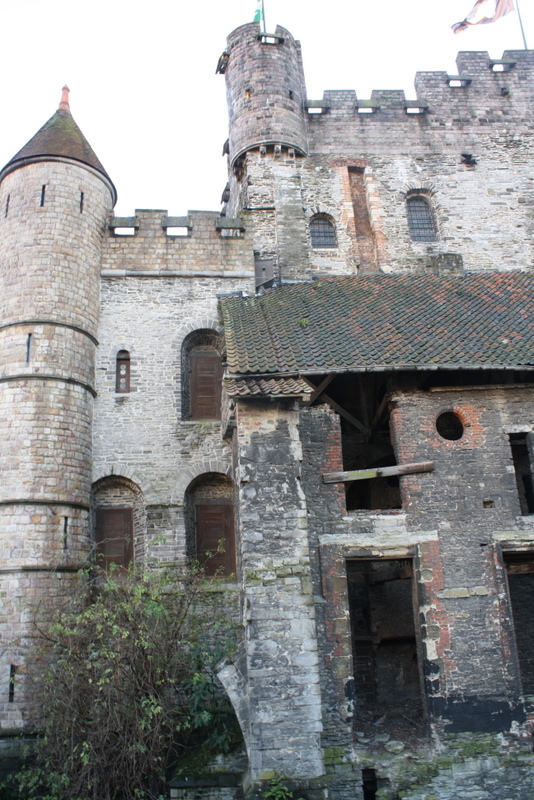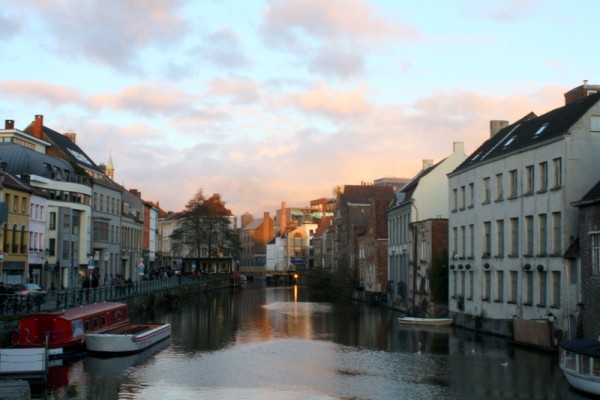 Walking around the town after the castle visit, the sun was going down and I captured the loveliest photo of Gent.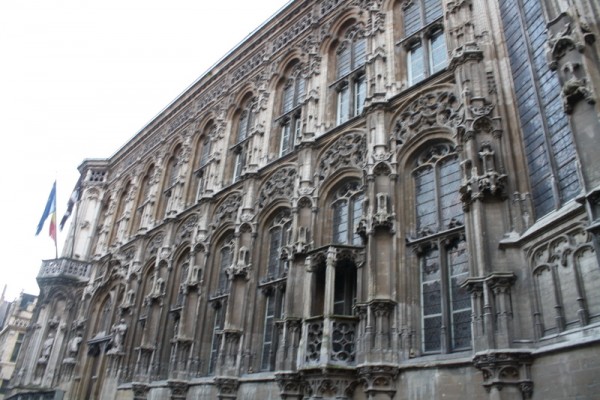 This is a government building where Geoffrey and his wife Stephanie were married.
He told us that in Belgium, couples have to get married by the government and then may later get married in a second ceremony in a church.  Geoffrey explained that his first ceremony only included parents and then the church ceremony was much larger.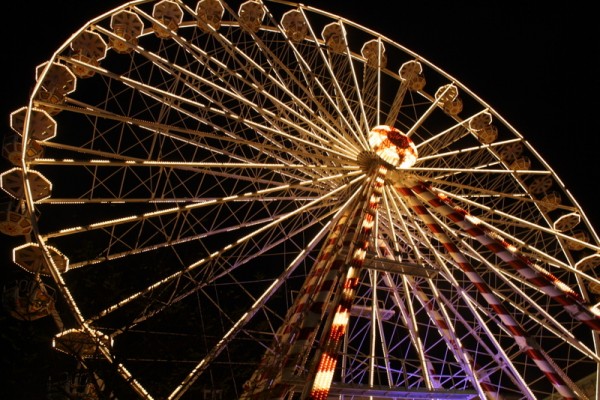 Just as in Brussels, Gent celebrates the Christmas season with a festival.
Brad knows how much I love ferris wheels so he bought us tickets as soon as we spotted one.
Here are a few views of Gent from it's peak.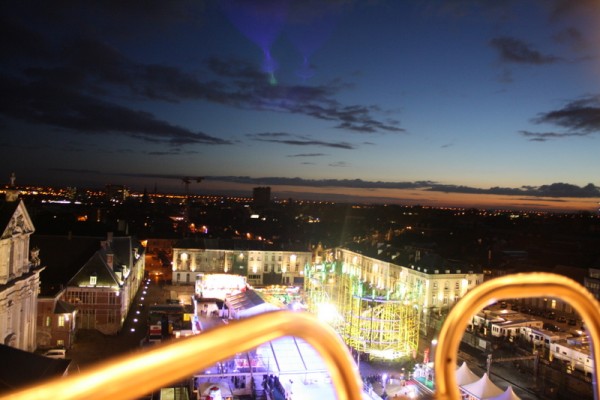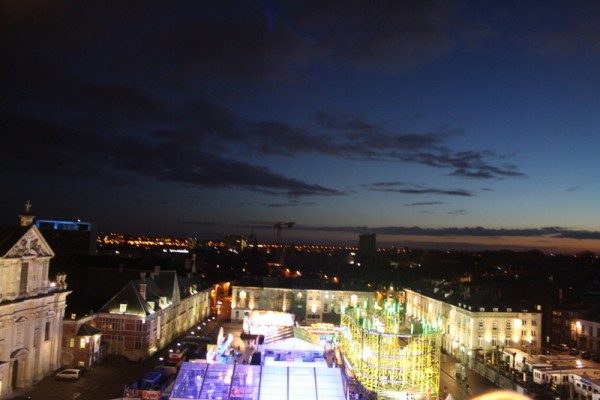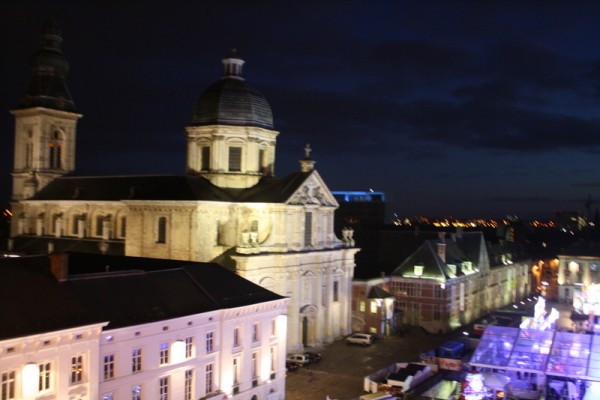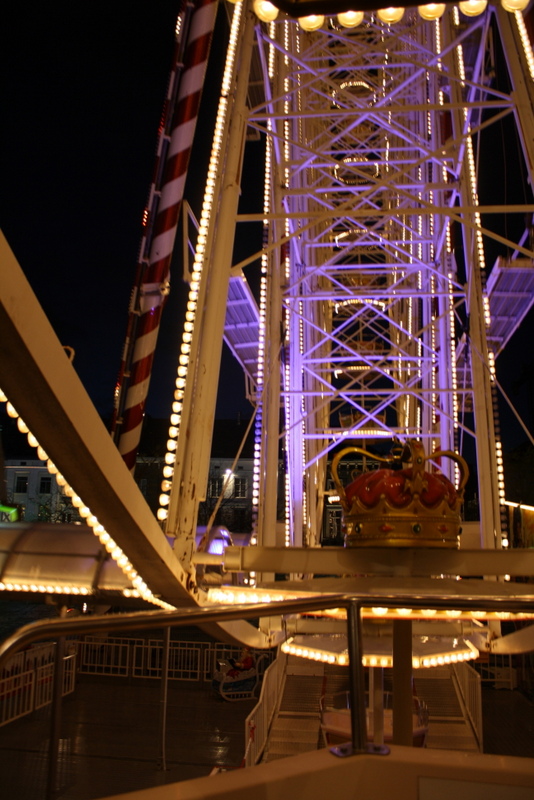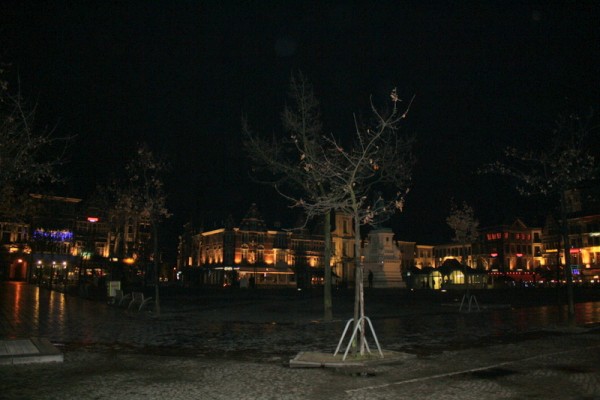 While we rode the ferris wheel, the rest of the group looked around the Christmas market.  We had just enough time to drop by a pub before dinner so we hurried to find a good place close to the restaurant where we had a reservation.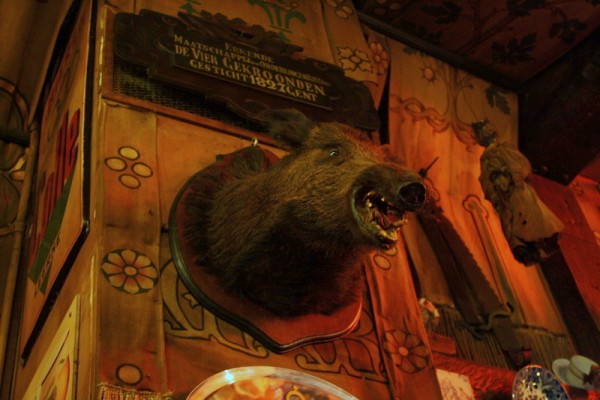 We landed at De Dulle Griet.
How's that wild boar for scary?
Consider this foreshadowing. 🙂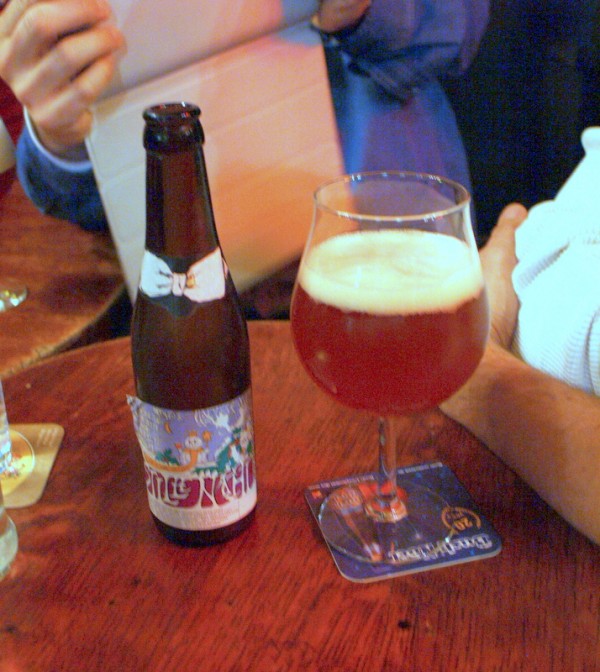 Brad got a Stille Nacht (Still Night), which is a Christmas beer.  I had a few sips and found it to be very yummy.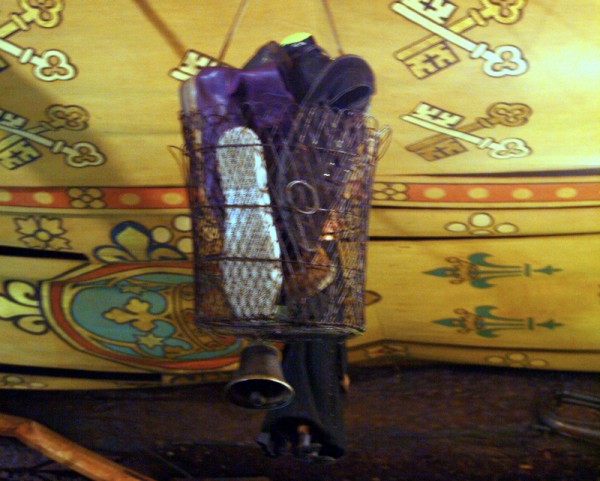 This is a bad photo but I had to share the basket of shoes that hung from the ceiling.
This particular bar serves entire liters of beer that are served in a coachman's glass. Apparently at one time they had a problem with people stealing the glasses.  Now, to order that particular size, which is so tall it comes with a wooden stand to prevent it from tipping over, you have to give up your left shoe, which are placed in the basket.  Shoes are always returned once the glass is returned.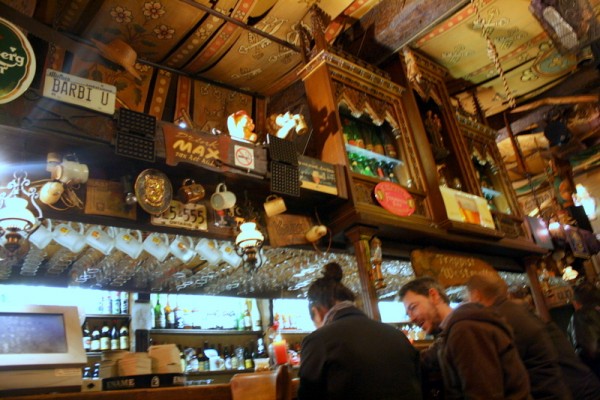 This bar was authentic Belgium and I really loved its eclectic coziness.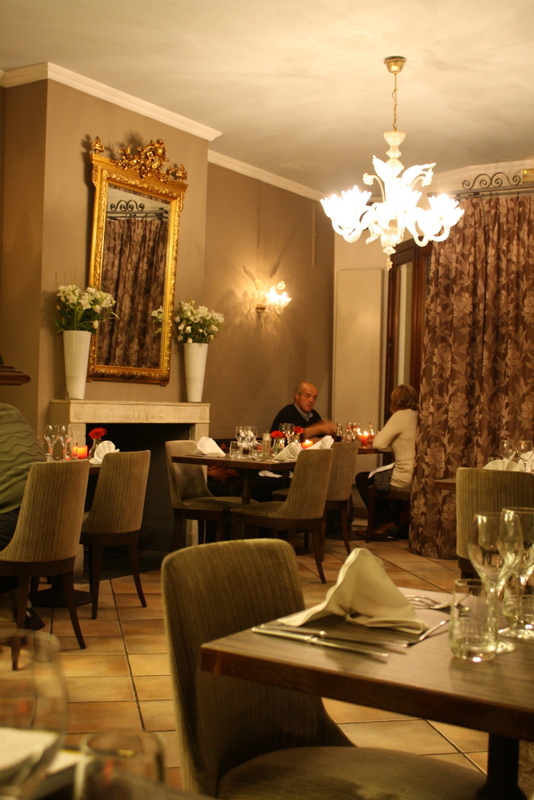 Dinner was just a few meters away in this little elegant restaurant called Restaurant De Acht Zalig Heden.
One of the really nice things I found about Belgium is that people don't typically get very dressed up for dinner. They're very unpretentious that way.  Of course, I love getting dressed up every now and again, but it was just too darn cold to wear anything but several layers including a big sweater, gloves, and a scarf at all times. The dressiest I got all week was a sweater dress.
After perusing the menu a bit, Brad and I decided to order between us one menu and one plate (entree).  Entrees are actually considered starters in both France and Belgium (and possibly other countries to which I've never been) so when you want an entree, refer to the plats section of the menu. A menu is a selection of each course of the entire menu — so this means one entree (starter), one plat (entree), and one dessert.
I ordered the menu and we shared the starter and the dessert and each had our own main dish.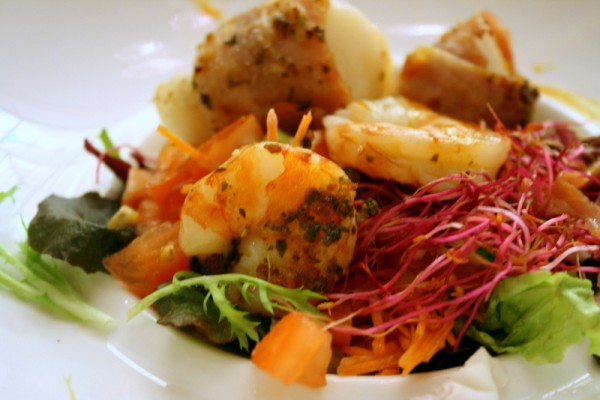 We started off with a lovely salad of shrimp and bacon wrapped scallops over greens and other vegetables, including beet ribbons. The shellfish was served on a skewer, but I jumped into pulling them off before taking a photo.
It was very light and yummy!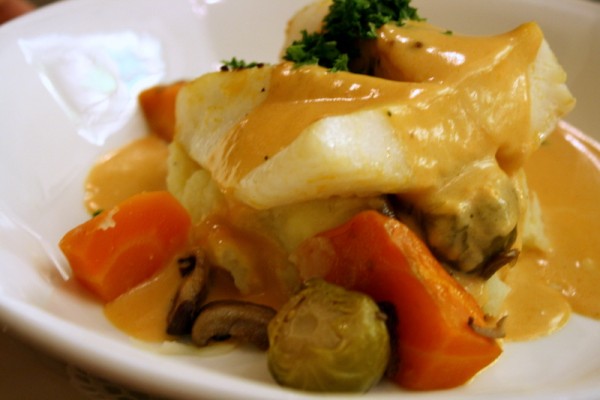 Most of our other dinner companions, which included Geoffrey's wife Stephanie, who was able to join us, ordered halibut as their entree. I had a taste of someone's and it as just wonderful — thick and meaty with a tasty sauce.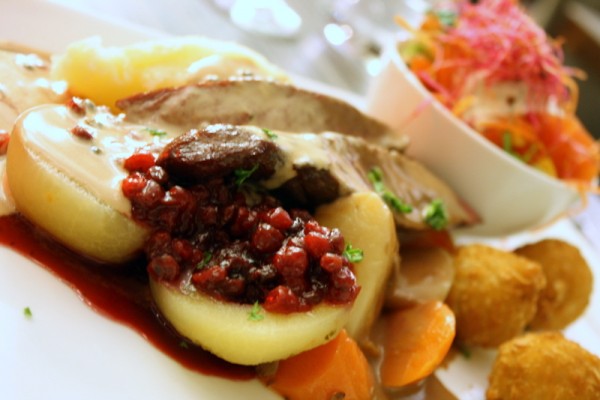 Brad ordered hare which is not rabbit. (Wikipedia has an interesting description of what makes a hare different from a rabbit, if you're interested).
I had a few bites and decided that although I'm a huge fan of rabbit after that wonderful meal from the previous day, hare is just not for me.  You wouldn't imagine that the taste is so incredibly different, but in fact, it is.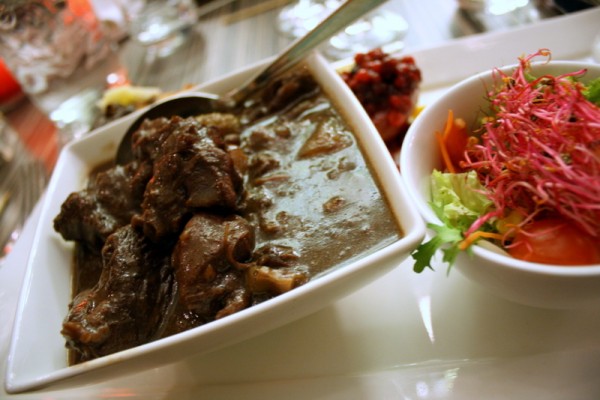 I was extremely pleased with my plat choice for the evening.  I selected the wild boar stew, which just like the rabbit stew, I have tasted, but never ordered myself.
Wild boar is very dark and it tastes more like beef to me than pork.  It was cooked in a delicious stew of potatoes and carrots, but had a generous portion of meat overall.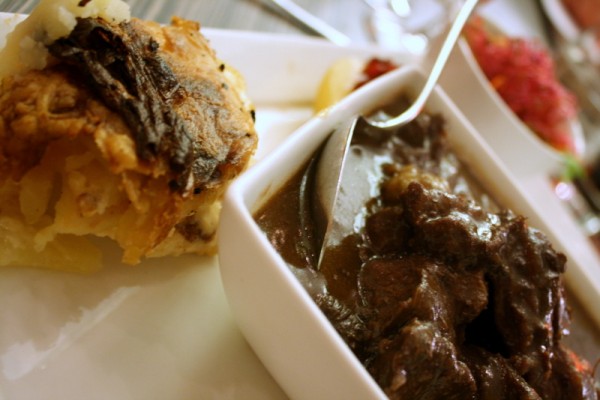 It was served with a side of potatoes that reminded me of scalloped potatoes — very crusty and buttery with large slices of potatoes.  Every bite was wonderful!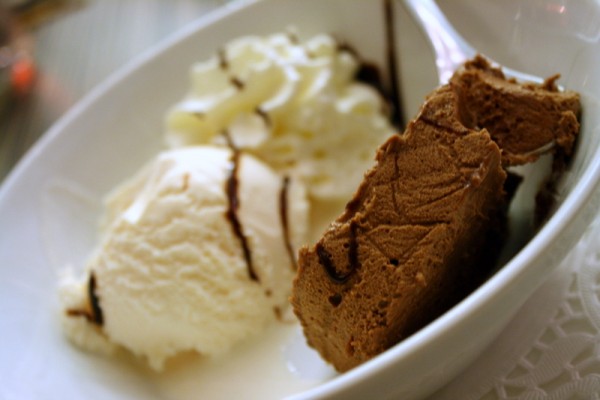 And last, but not least, was my dessert selection for the evening. I ordered the chocolate option (I can't recall the name) and it was very rich, just like I like my chocolate. The texture and taste was like a thick chocolate mousse and it was served with ice cream and whipped cream.
At the end of the evening, Stephanie remarked that we had all thoroughly discussed two of the topics that are off limits for polite discussion. We all laughed because it was true.
Any guesses of our dinner conversation topics?
I absolutely adored Gent.  It was breathtakingly beautiful, even in the rain.  It's not as touristy as Brussels or Bruges, but if you really like soaking up the culture (my favorite part of traveling), it's definitely a must-visit location if you ever find yourself in Belgium.