If you're playing catch up on my posts or this is your first time here, I am recapping my trip to Belgium, which I traveled to with my husband Brad.  He was here on business but we were able to take sometime to play as well. You can catch up with my first two posts here and here.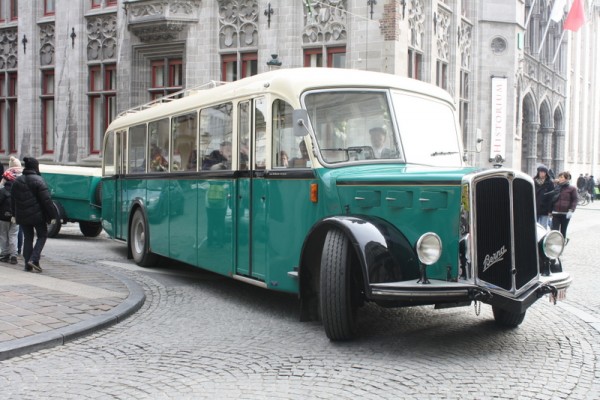 On our second day in Belgium, Brad and I made plans with a coworker, Jeremy, and his wife, Cristin, to go to Bruges (also spelled Brugges).  The very charming town is only about an hour away via train. While we were on the same train, we got on at two different train stations , so Brad and I met up with them once we got off the train.
This was my first time meeting them and I liked them immediately.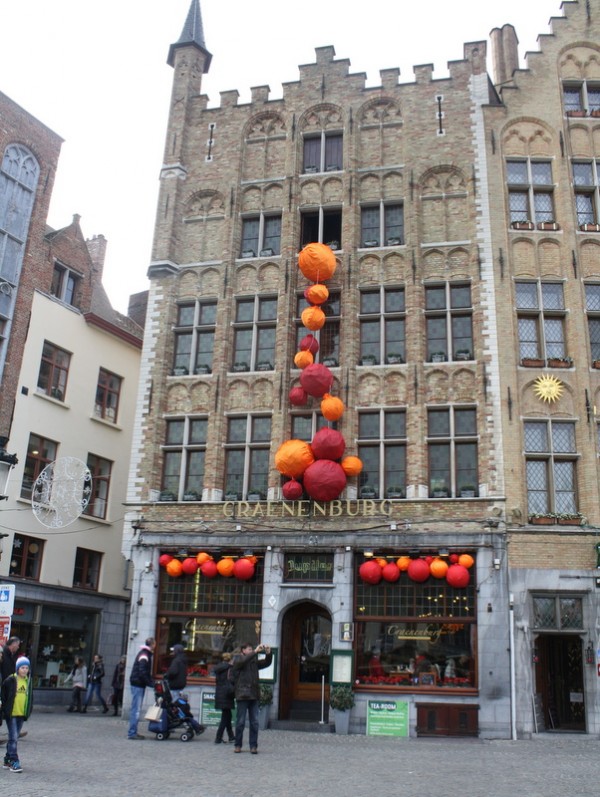 We walked around Bruges' main square for a while.  It was all decked out in Christmas decorations, just like Brussels, except less extravagant.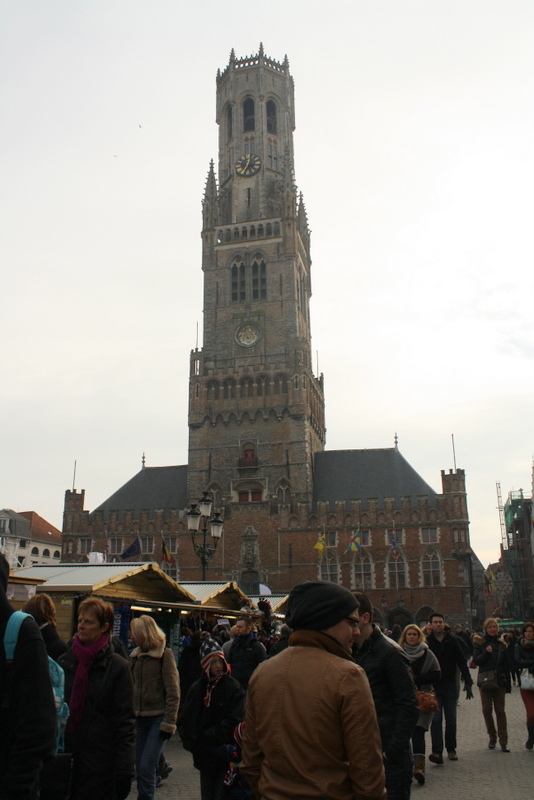 In my brief glimpse of Bruges from the train station to the square, I immediately liked the town.  It is much less populated than Brussels and has a charm that metropolitan cities just can't pull off.
We talked a bit about lunch but instead decided to climb the bell tower in Bruges' main square.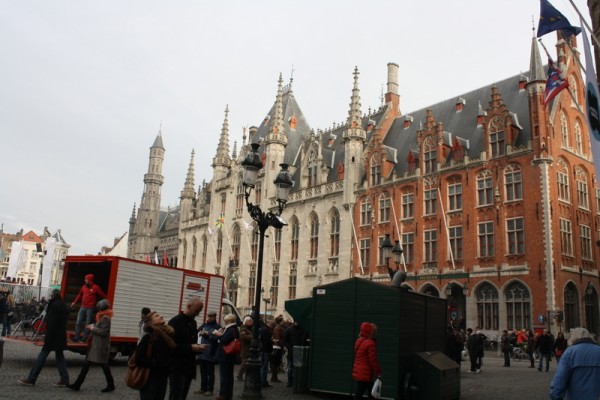 The bell tower is a 366 step climb to the top. A great activity for working up a good appetite for lunch!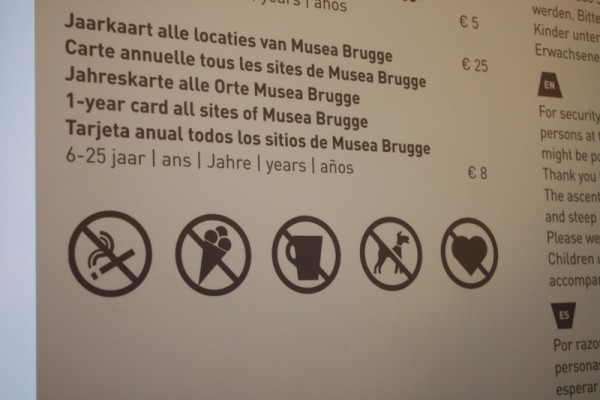 We stood in line for about 20 minutes and once we finally got to the window to purchase our tickets, we couldn't help but laugh at this sign showing what you could not bring up the bell tower.
– No cigarettes
– No ice cream
– No coffee
– No dogs
– No love
No love? Now, that's just harsh.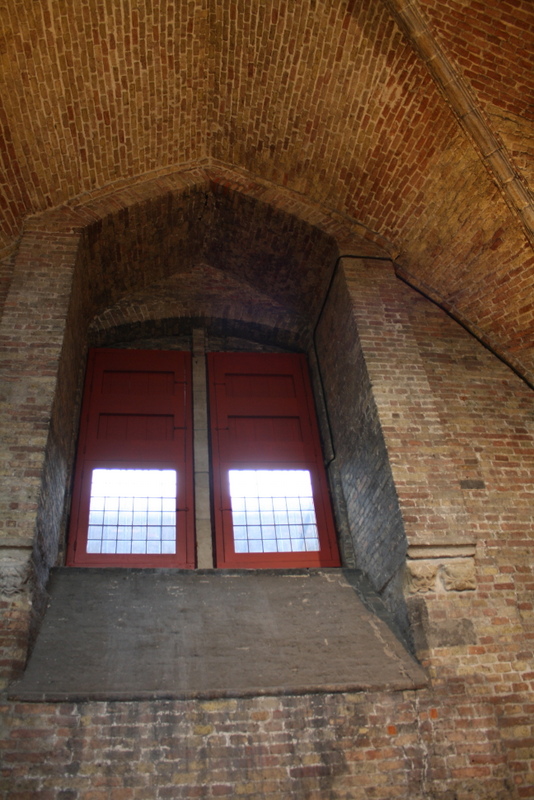 The climb to the first landing was very easy.  The steps were wide and the hallway was narrow, but wide enough.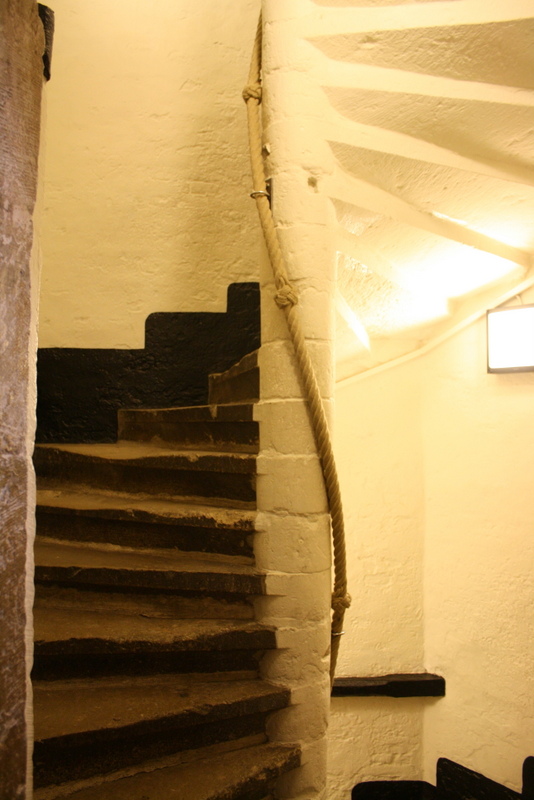 The climb to the second landing was a little tougher.  The stairs started to get more narrow so even for someone with tiny feet, it was important to pay close attention to where I put my feet.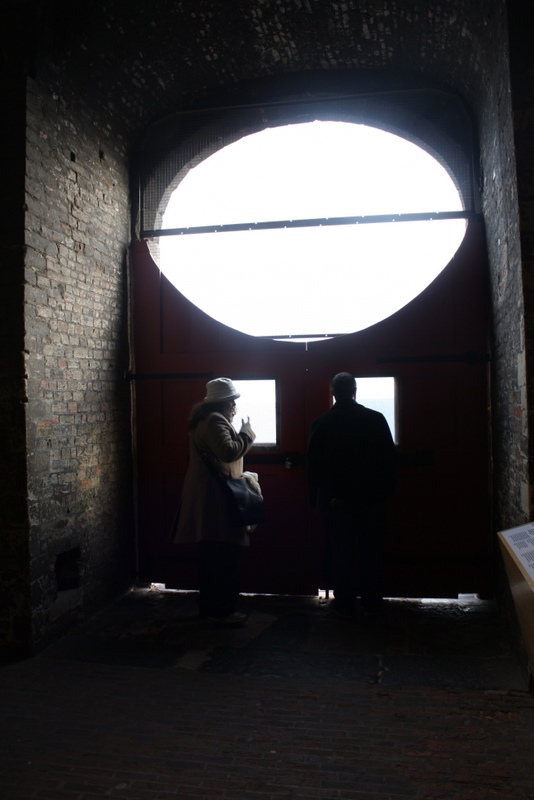 As we climbed, each floor got colder and more drafty.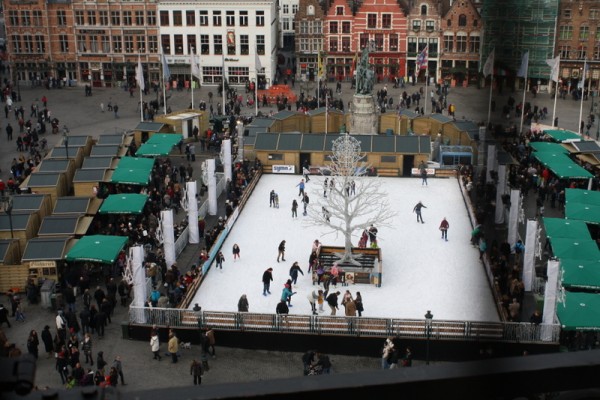 From the second landing, there was a great view of the ice skating rink in the center of the square. The little green rooftops are stands with all sorts of food and Christmas goods for sale.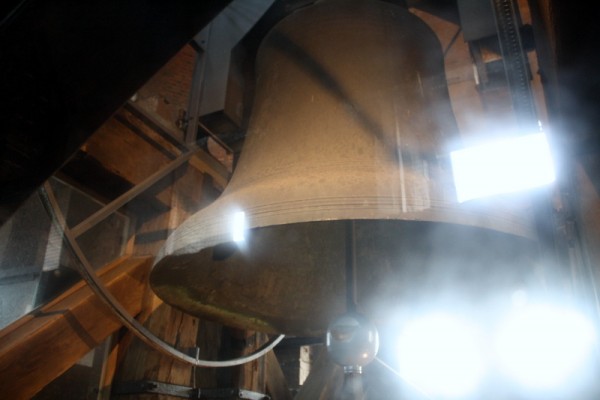 The third landing housed the actual bell.  It was huge! This floor was even more drafty and cold. This was around the time that I really wished I had remembered my gloves when I was packing.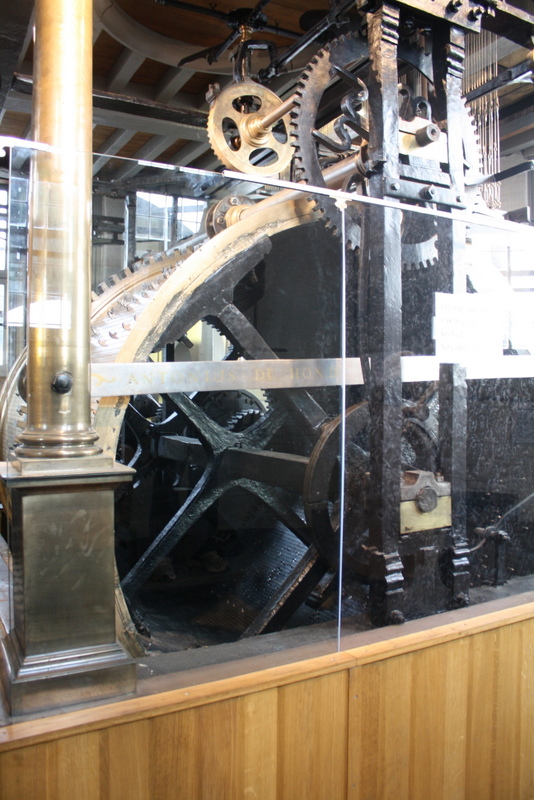 It was really cool seeing the gears that control the ringing of the bell.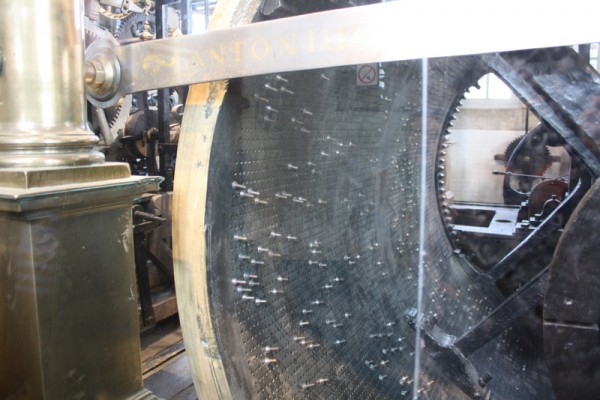 See the bolts on this round contraption?  The bolts dictate which notes are played on the bell, just like one of those pianos that play themselves.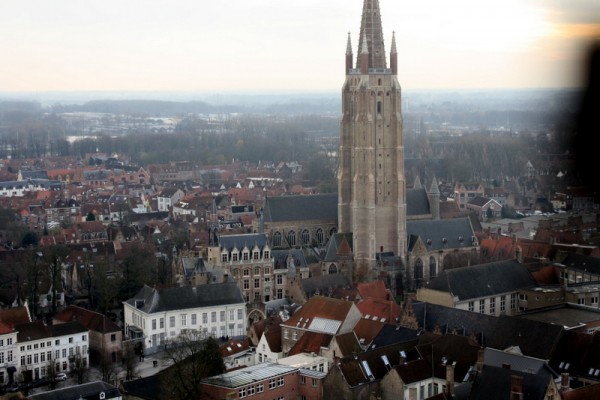 The next landing was the top and it had the most fantastic panoramic views of Bruges.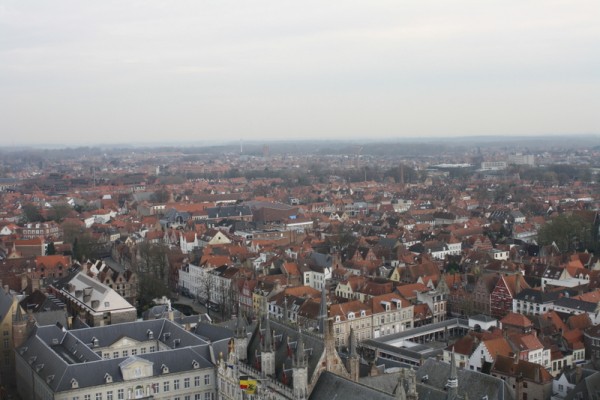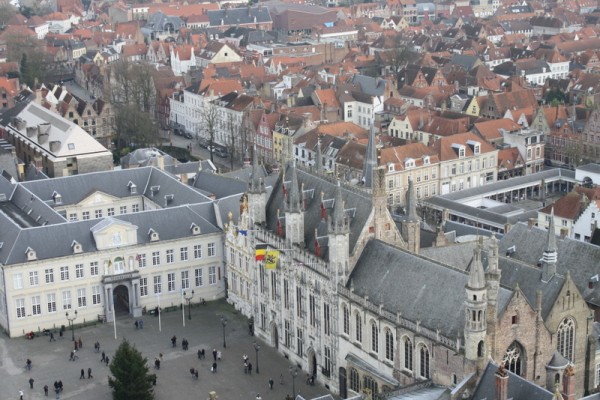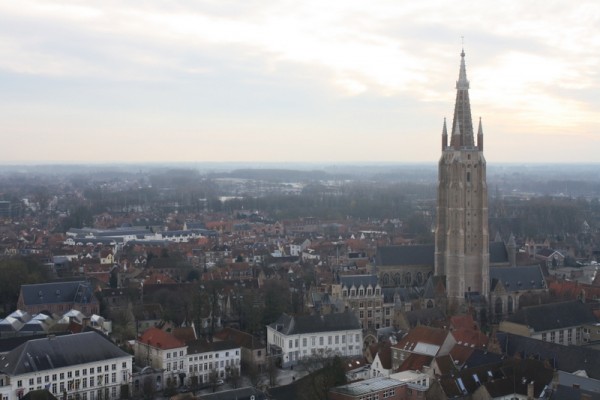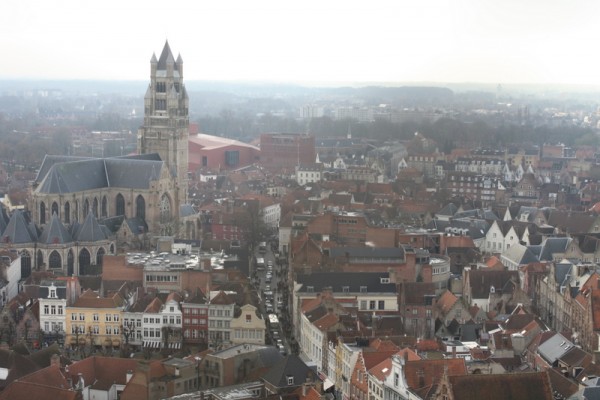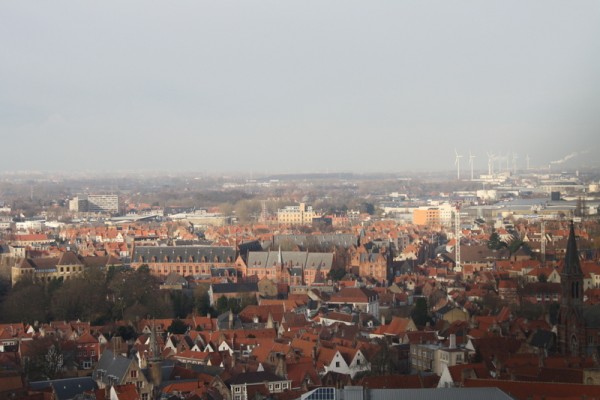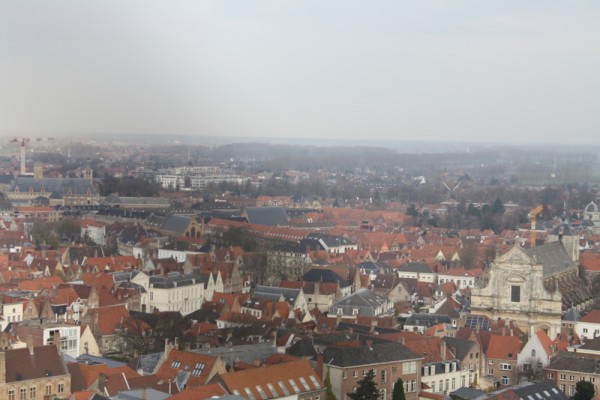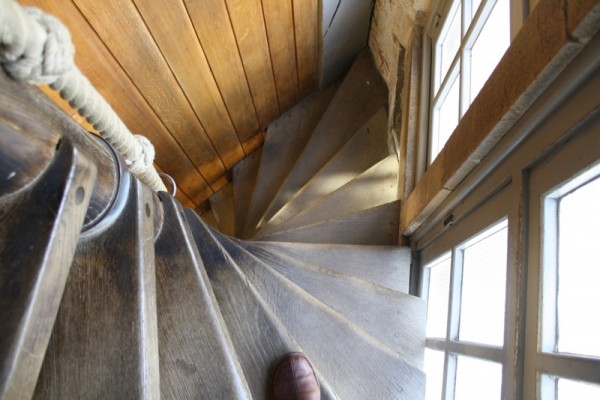 After looking at those gorgeous views, it was time to climb down the stairs, which was much more difficult than going up the stairs.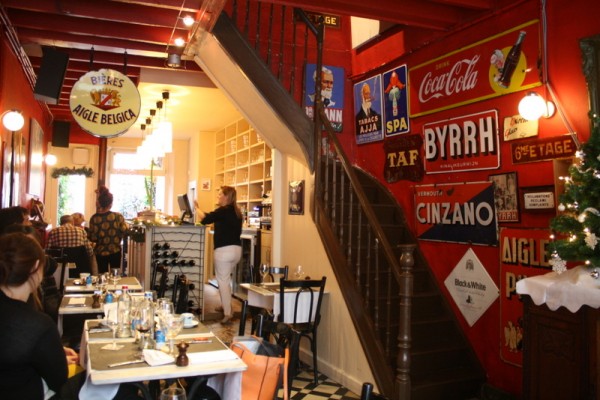 Once the bell tower descent was over, our little group referred to Rick Steve's guide, which includes information on Brussels and Bruge. He pointed us towards a little restaurant called Bistro in den Wittenkop.  It was so adorable!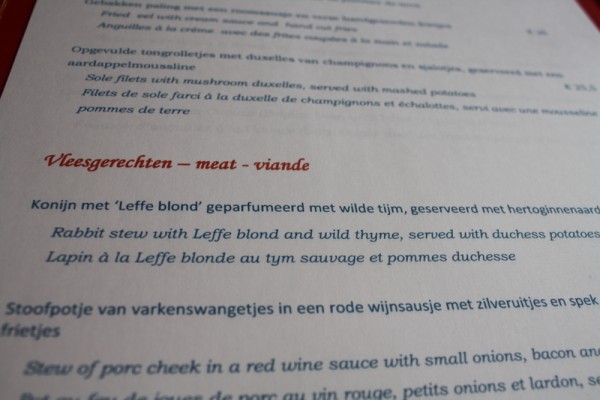 I am an adventurous eater, especially when in a foreign country, so the rabbit stew sounded appealing to me on the blustery cold day.
Notice on the menu above that the first description of the dish (Konijn met 'Leffe blond' geparfumeerd…) isn't written in French, it's written in Dutch.  And by the way, Leffe Blond is a very delicious Belgian beer.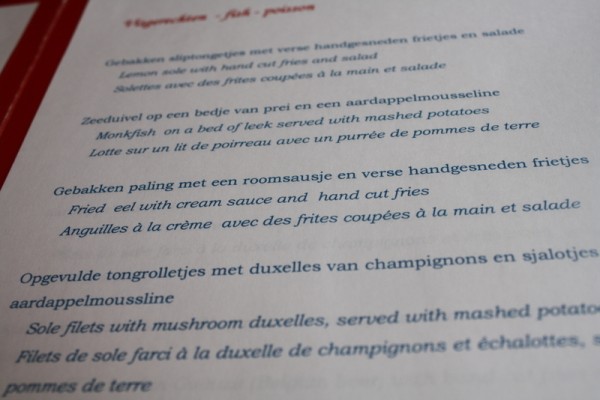 Brad ordered the fried eel with cream sauce and hand cut fries. I actually really love eel on sushi.  However, in a dish like this, I was a little apprehensive.  It's definitely not something I would have chosen.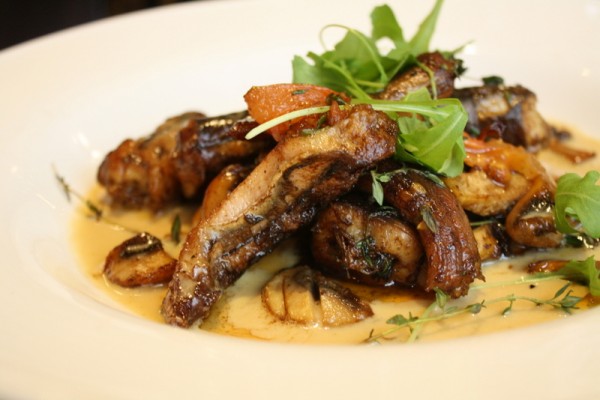 I don't know what I was expecting of Brad's eel dish, but I was actually quite surprised when the eel looked so much like the eel that is served on sushi. It was served in a curry dish and Brad loved it.
I didn't love it, but probably because it tasted a little different than the eel I'm used to eating.  Also, the eel wasn't deboned and when I tasted it, I immediately chomped on a small bone.  Not a fan of those!
But Brad liked it and that's all that matters.  He actually has a taste for more exotic foods than I so this dish is probably very good, just not my cup of tea.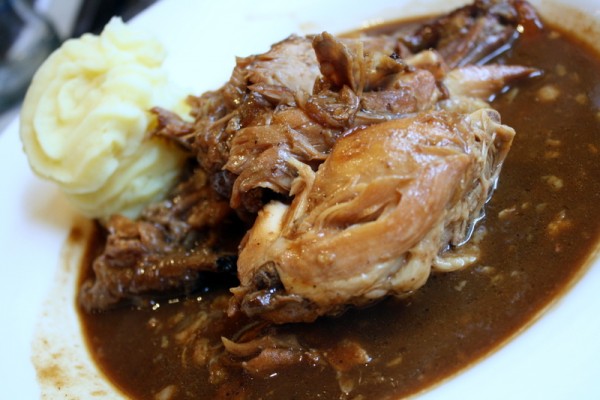 However, my dish might have been one of my top 10 meals of all time in a restaurant. I've had a bite or two of rabbit before, but this was my very first time ordering it. The rabbit was superb — fall-off-the-bone tender, with the most wonderful flavor. I hate to compare it to chicken, but it's a flavor we can all relate to, so to describe the flavor I would compare it to the dark meat of chicken.  And the sauce was simply amazing.
The "duchess" potatoes were creamy mashed potatoes and complimented this meaty dish so well.
Brad loved the sauce too and when I was done eating, he used the bread to sop up the rest of my sauce.  Had I not been so full, I would have stabbed him with my fork for finishing off the sauce.
Just kidding.
Probably.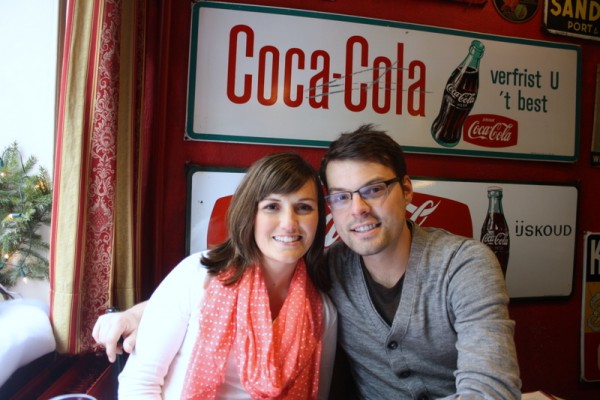 Overall, I absolutely loved Bistro in den Wittenkop and highly recommend it to anyone who finds themselves in Bruges.  If rabbit or eel isn't your thing, they also have more dishes friendly to the less adventurous palate like fish.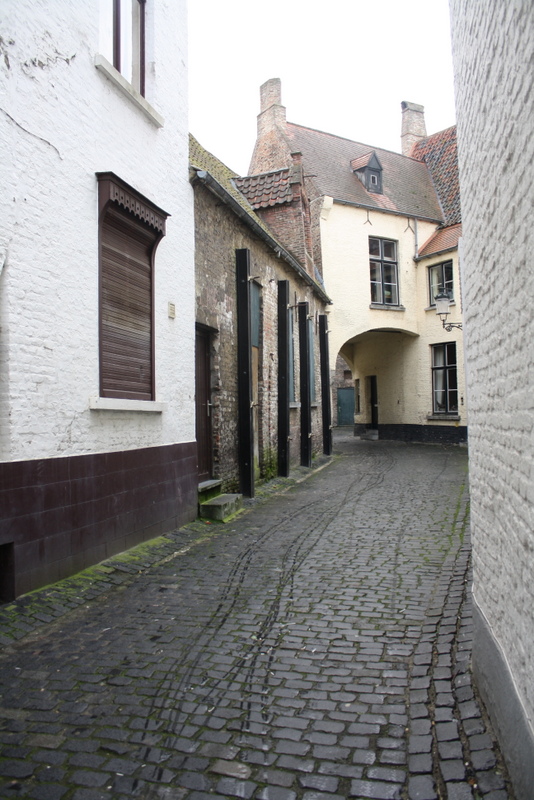 After our wonderful lunch, we walked through the streets of Bruges in search of a couple museums.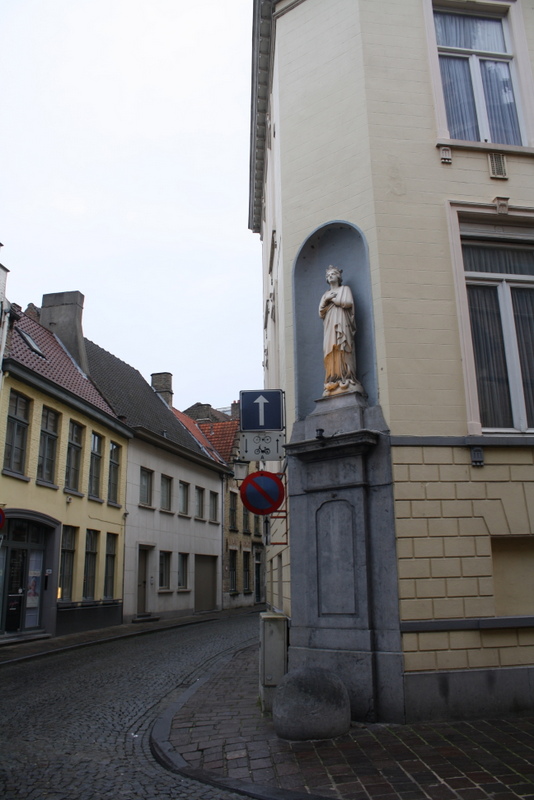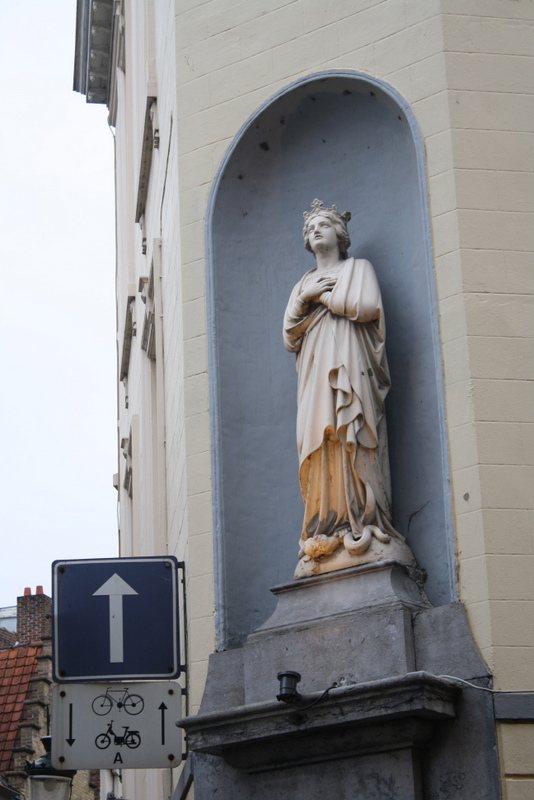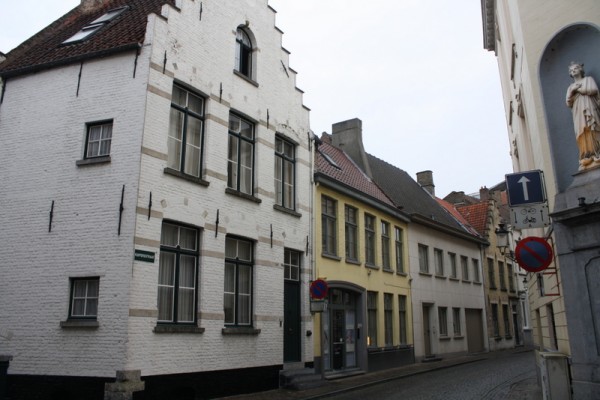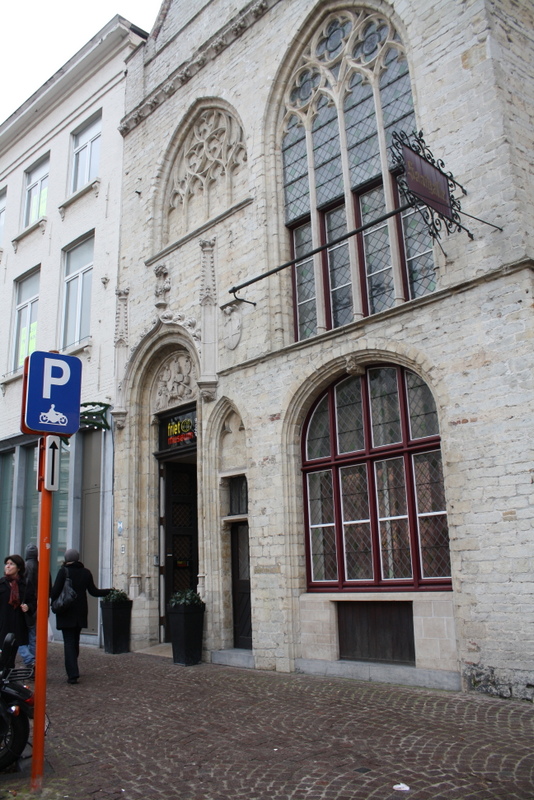 First up was the Friet Museum, in other words the French Fry Museum.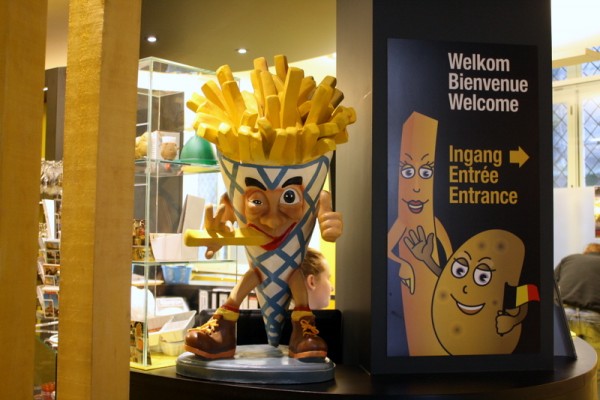 However, as soon as we entered and tried to purchase the ticket which would dually get us into both the French Fry Museum and the Chocolate Museum, we learned that we didn't have time to visit both before they closed.
It was a tough decision.  Okay, not so tough.  We decided in less than a second that chocolate trumps french fries. So we set off in search of the chocolate museum.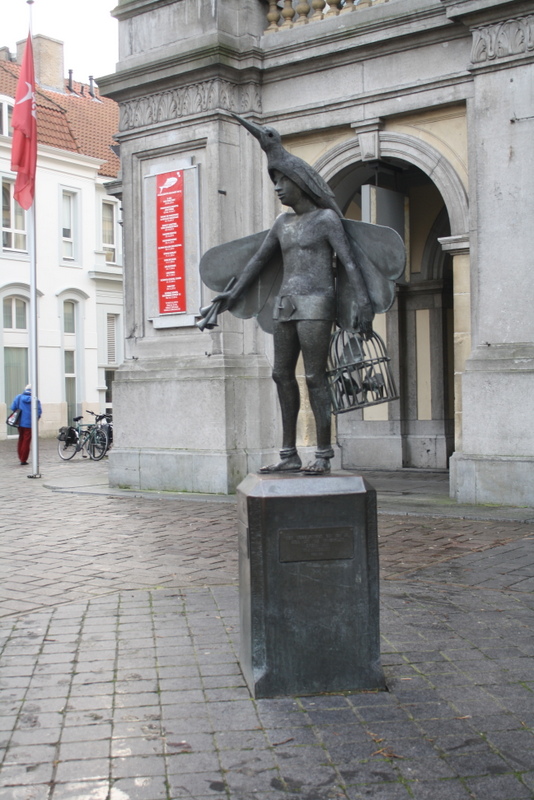 Along the way I spotted this beautiful statue.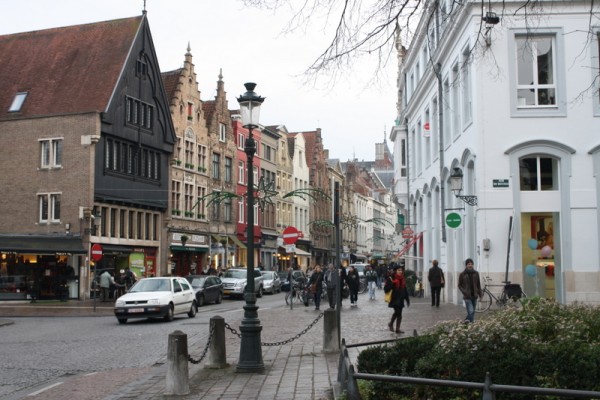 It was only a short walk before we found ourself at…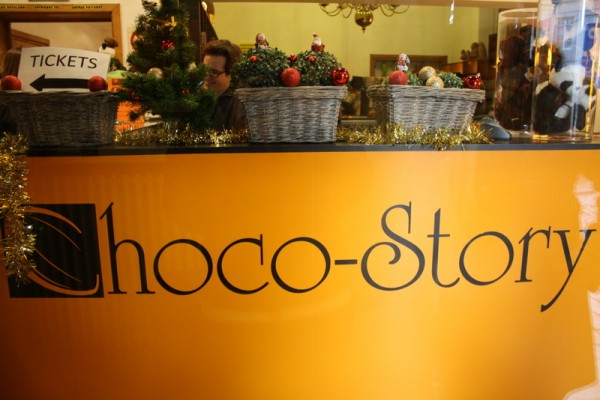 Choco-Story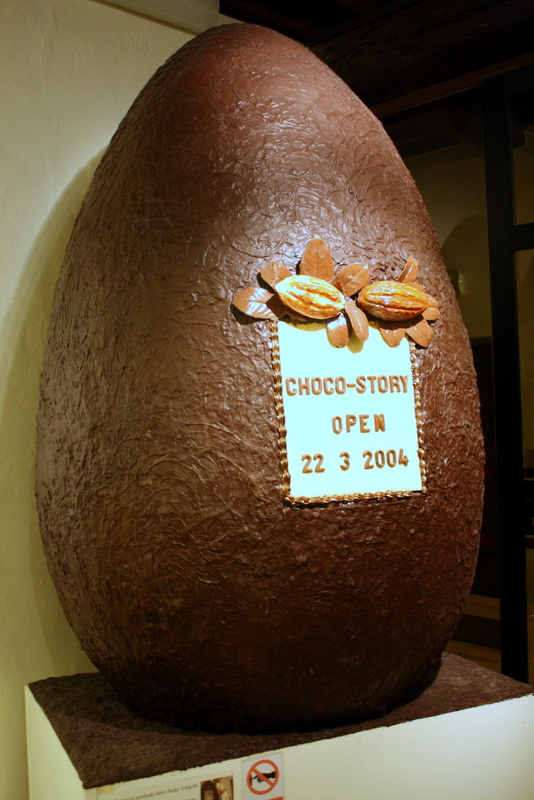 Complete with a humongous egg.  For perspective, this egg is probably about 4-5 feet tall without the stand.
Who thinks this gigantic chocolate egg is real?
I'm still curious about this myself, but feel like it couldn't be real or else it would mold or decay…right?
The museum told the story of how chocolate came to be popular beginning with the Mayans and then moving on to it becoming popular with Europe when Cortez brought it back to Spain from the New World.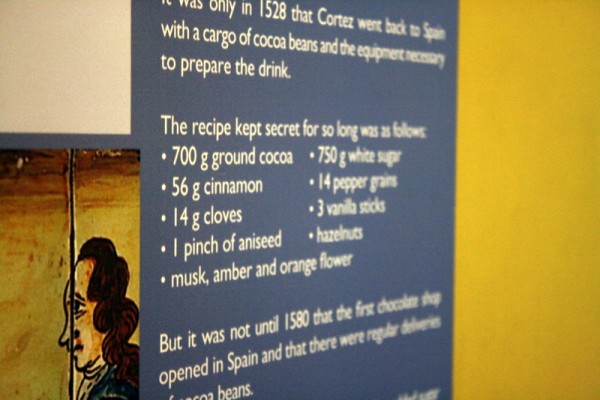 They even had the recipe of how Cortez preferred to enjoy chocolate. I'm thinking about actually reproducing this but without the musk, amber, and orange flower.  I can't even imagine where to find those ingredients.
The museum concluded with a sample of chocolate, just as all good museums should.
When we came out of the museum, it started to rain. We sought shelter in a chocolate shop and then later a small pub before deciding to call it a night and head back to Brussels.
The wonderful lunch satisfied me well into the evening so dinner wasn't even on my mind, just getting into bed…until 10:30 pm when I ordered room service for some tomato soup.
Bruges was such a good time and such a convenient trip from Brussels. That's one of the best parts about Brussels — it's in a very centralized location so it's very simple to visit other cities, in and outside of Belgium.
The next day, we took full advantage of Brussels' convenient location by heading to Gent, which was easily my very favorite part of our trip.