This past Monday, Block and Grinder opened, which is a new restaurant in the Cotswold area of Charlotte.  The venue is half restaurant, half butcher.  You can enjoy an entree from their very meat-centric menu or you can order a cut of meat to take home and cook yourself.
The week before, I was invited with a guest to attend their sneak preview.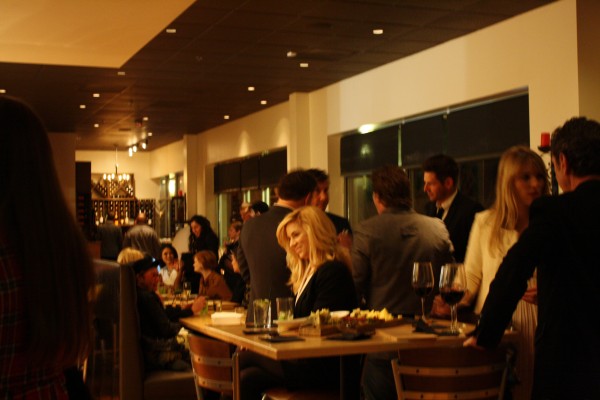 The house was packed.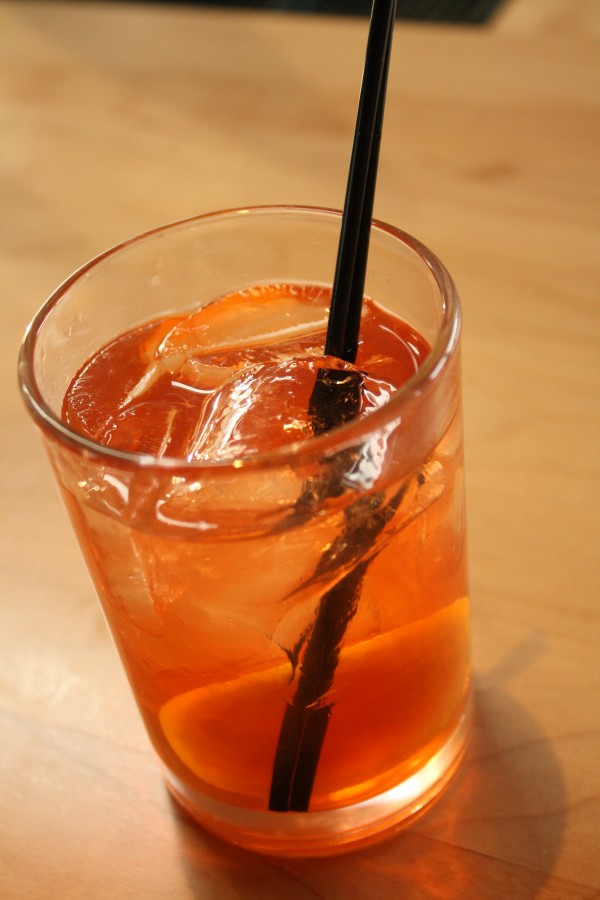 Brad was out of town so my friend Gibson went to the preview with me. He was the official cocktail taster of the night and started out with the Maple Rye Sazerac.
Maple Rye Sazerac
Tap 357 maple rye whisky, Angostura and Peychaud's bitters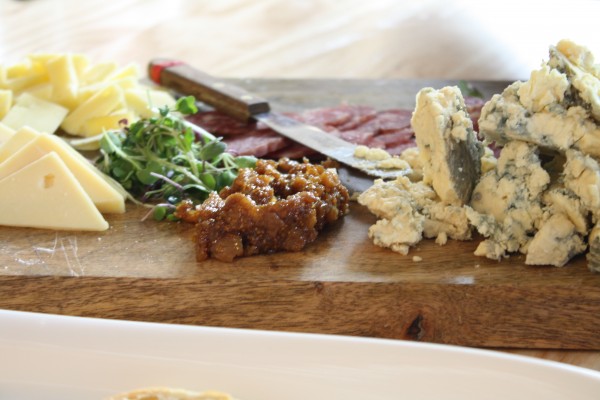 While we waited on a table (they staggered seating us as to not overwhelm the kitchen), we noshed on this plate of cheese and charcuterie.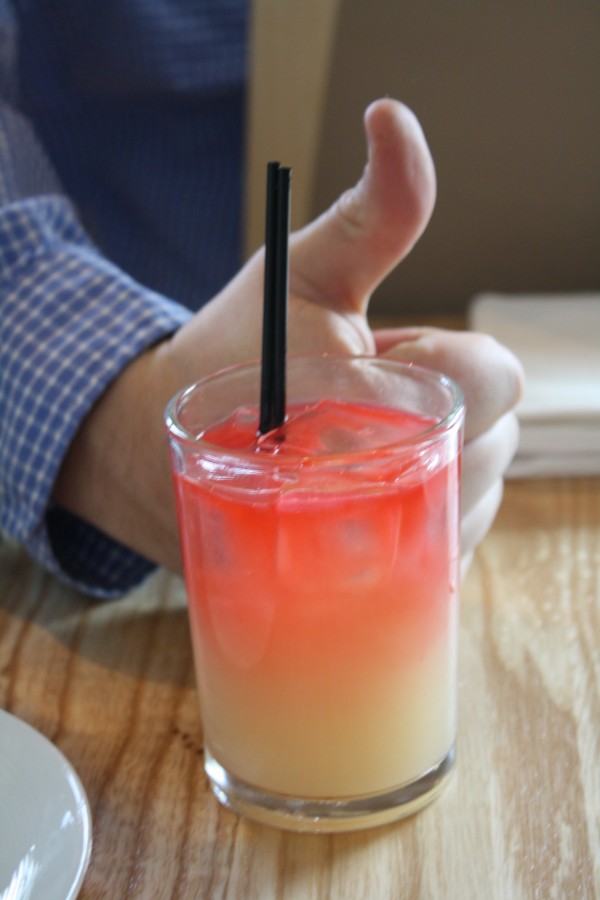 When we sat down at our table, Gibson ordered his second cocktail, the Blood Water.
Blood Water
Beefeater gin, lime, orgeat, ginger and creole bitters
This was his favorite of the night.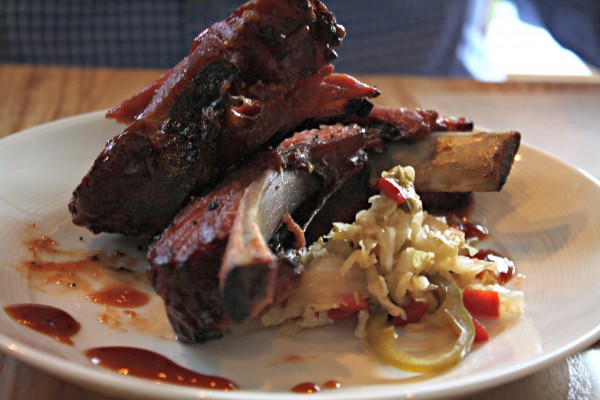 We started off with appetizers.  Gibson ordered the Smoked Berkshire Ribs, which was my favorite thing of the night.
Smoked Berkshire Ribs
Dry rubbed ribs, Cheerwine BBQ sauce, pickled slaw
If you don't live in the South, let me take a moment to educate you about Cheerwine.  It's a cherry softdrink bottled just northeast of Charlotte in Salisbury, NC. The closest thing to it is cherry flavored Dr. Pepper, but of course it has its own distinct flavor that sets it apart.
I loved the Cheerwine barbecue sauce.  Its sweet flavor complimented the smoky flavor of the dry rubbed ribs so well.  The whole dish was full of flavor and the meat were fall-off-the-bones tender.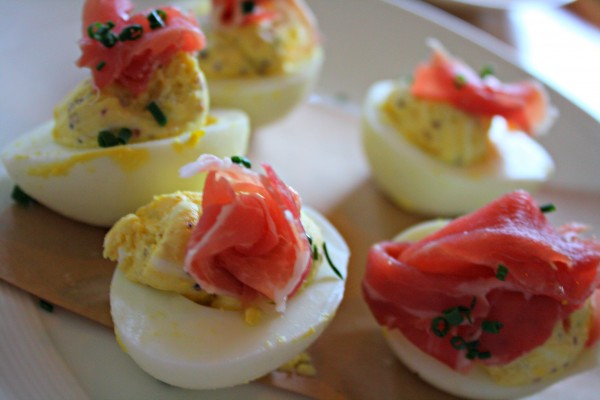 I ordered the Deviled Eggs as my appetizer.
Deviled Eggs
Goat cheese and proscuitto
I wanted to like these so much, but I guess I'm what you would call a deviled egg traditionalist.  As much as I love goat cheese, in my opinion it overwhelmed the dish and didn't give me the deviled egg flavor I love. Not bad, but not what I was looking for.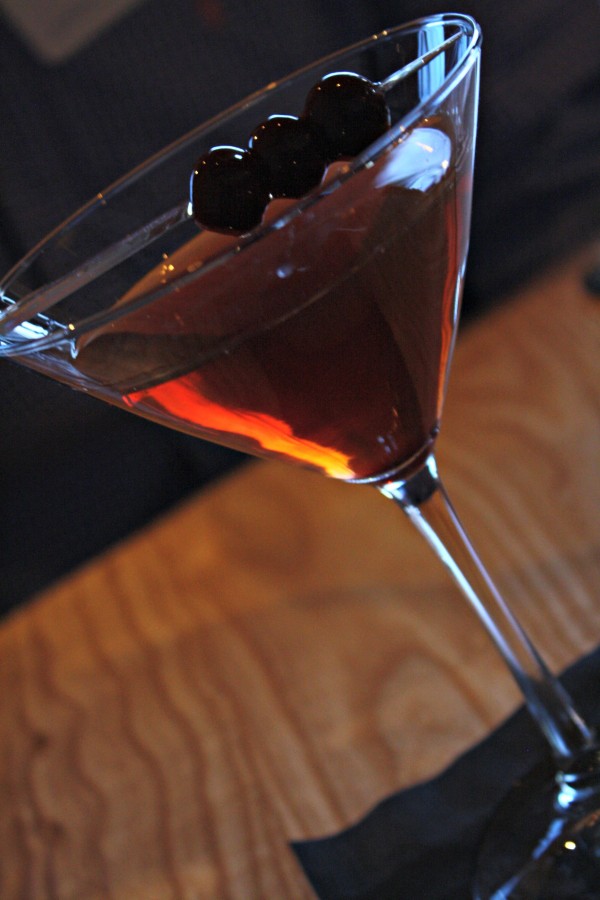 Next up, Gibson ordered the Classic Manhattan.
Classic Manhattan
Bulljet rye bourbon, Doljin sweet vermouth, Angostura bitters, garnished with brandy-soaked cherries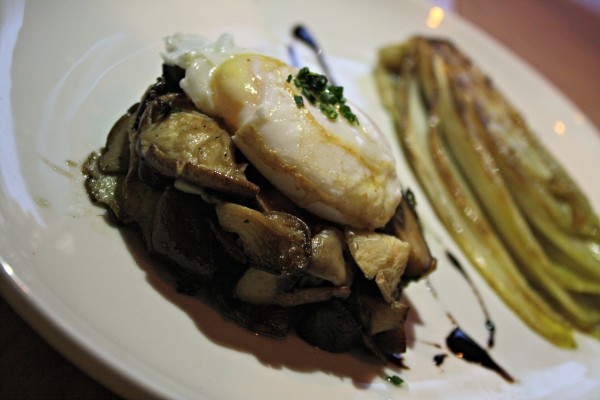 I went a little untraditional on the salad course and ordered the Local Mushrooms.
Local Mushrooms
Braised  endive and poached egg
I could have made this a meal all by itself and it would be a great meal for a vegetarian (just ask to make sure no meat was used to flavor this appetizer).  I love how sauteed mushrooms absorb the flavor of whatever they're cooked in and whatever that was, it made these mushrooms delicious.  This was my first time eating braised endive and I also really enjoyed it.  Braising it (in what I guess was a little olive oil) brought out the earthy flavor of the endive; something you don't taste when you eat it raw.  And the fried egg on top was icing on the cake.
After having a magical experience with rabbit in Belgium, I jumped on the rabbit dish listed under the entree section of the menu.
Carolina Rabbit (not pictured*)
Butter poached rack, loin and leg roulade, Bost stone ground grits
This dish was so different than what I had in Belgium, which was roasted and served with dark gravy.  The rabbit in the center of the roulade was a bit dry and although I liked the creativity of serving the rabbit two different ways, I wasn't in love with the roulade either (bacon-like rabbit meat that was wrapped around the dish).  However, the grits were very yummy and I liked the sweet sauce drizzled over the dish. The best part was the butter poached rack.  I could have eaten plenty of those little morsels (served on top of the dish). It was juicy, tender, flavorful, and the very best part of this dish.
*My photo of this dish is pictured in the next edition of Creative Loafing, so as a courtesy, it is not pictured here.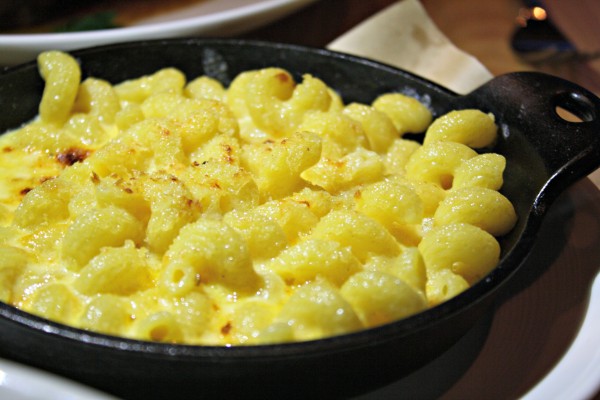 Gibson and I also ordered the Mac and 3 Cheese.
We had a conversation over why restaurants continue to name cheese and noodle dishes as "mac and cheese" even those there's no macaroni.  This dish should really be called rotini and cheese.
Regardless, the Mac and 3 Cheese was delicious.  I wish I could put my finger on the cheeses they used.  There was a flavor that really stood out in the side dish, which I'm assuming is coming from one of the mystery cheeses.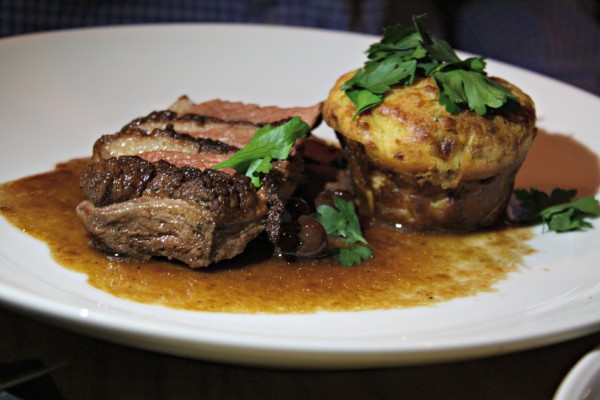 Gibson ordered the Seared Magret Duck as his entree.
Seared Magret Duck
Parsnip bread pudding and cherry and brandy glace
I'm kind of sad I didn't order this dish.  I'm a little wary of duck after I had a bad experience in France and ordered the toughest duck I had ever tasted.  This dish was the exact opposite.  It was very tender and served in the most delicious savory, but slightly sweet, sauce. Both Gibson and I really liked the parsnip bread pudding.  The thought of savory bread pudding doesn't attract me initially, but this muffin-type side was mostly parsnip held together with a bit of bread with herbs and I'm guessing butter (a key ingredient in bread pudding).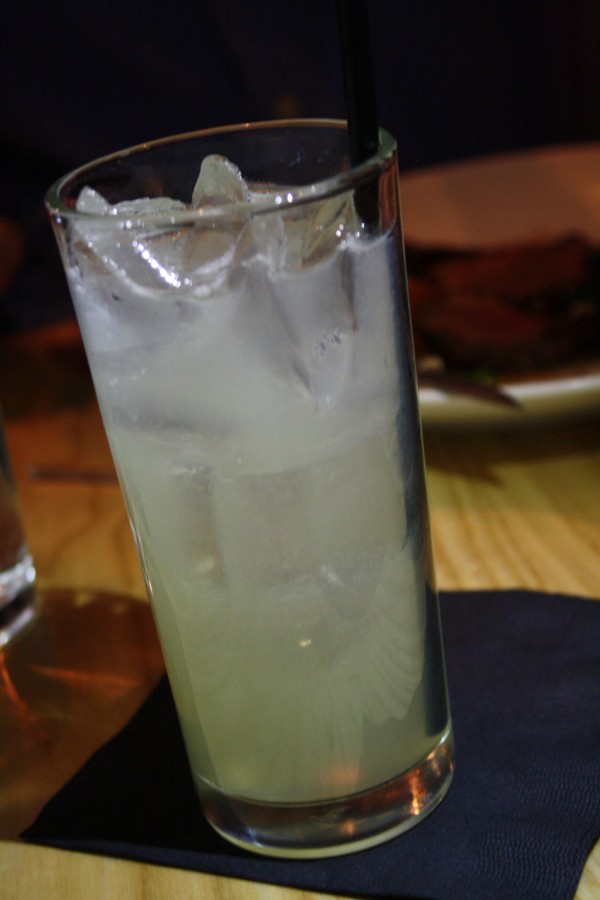 Gibson then ordered the last cocktail on their menu and his least favorite, the Tequila Daisy.
Tequila Daisy
Lunazul blanco, Cointreau, lime, and agave
According to him, this tasted like a strong margarita (which I probably would love).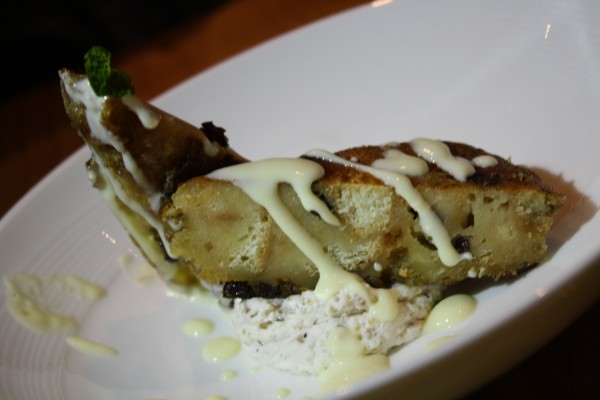 Somehow, we managed to eat some dessert after our huge meal.  We ordered the cranberry orange bread pudding with almond crema (this item is not on their regular menu).
I was not expecting the scone shaped bread pudding that arrived on our table. For those of you who don't like super sweet things, this just might be the dessert for you because it's only subtly sweet.  I probably would have liked it more if it was sweeter and more like the traditional bread pudding.  However, the almond crema was a big hit with me and my dinner guest.  I could have eaten a bowl-full.
Overall, I really enjoyed my time at Block and Grinder.  The service was awesome.  I ordered a club soda with lime when I arrived and later the bar tender walked across the room to refill my glass when she noticed that my glass was empty.
I think there are things on their menu that I would have liked more, but the experience overall was great and I will definitely be back to try more things (like one of their burgers) and encourage my bourbon loving husband to imbibe in their extensive bourbon selection.