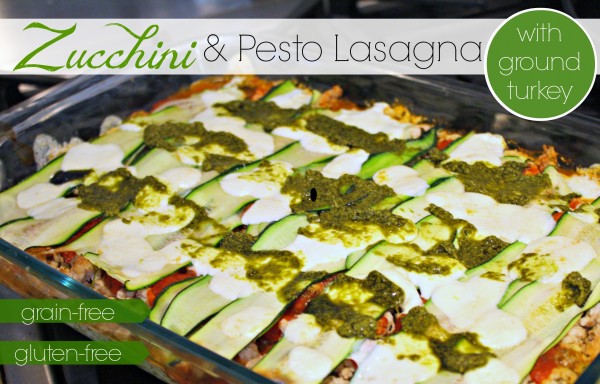 This recipe has gotten a lot of buzz since I first mentioned it on my Facebook page and now I'm finally ready to share it.
I like to think of meals like this as a warm salad.  This zucchini and pesto lasagna has veggies, meat, and cheese, which is very similar to the salads I make, but this one just happens to be served piping hot.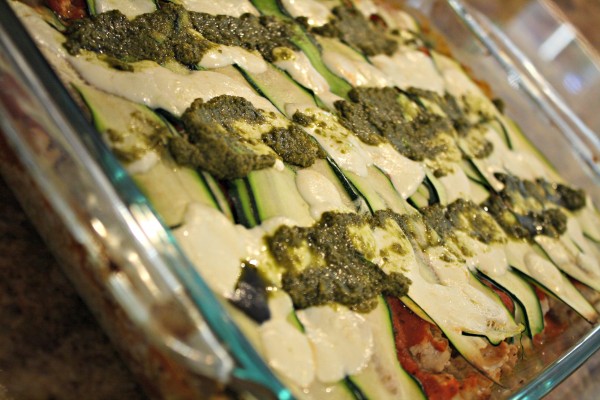 The ingredient that really takes this dish to a whole other level is the pesto.  I have my own recipe for pesto, but for this particular recipe I used a store-bought version that I picked up at World Market.  Use whatever pesto you like, but I will say that using a pre-made version made this recipe come together easy-peasy.
Brad loves pesto just as much as I do, and he was head over heels over this lasagna.  If you've never tried pesto or tried cooking with it, I can't tell you enough how good it is.  Please don't skip it unless you're allergic to basil (wouldn't that be awful?)!   And if you want more pesto ideas, check out this post where I basically profess my love for the herby sauce and then give you quite a few recipes to use with it.
But for now, check out this recipe.  It will not disappoint.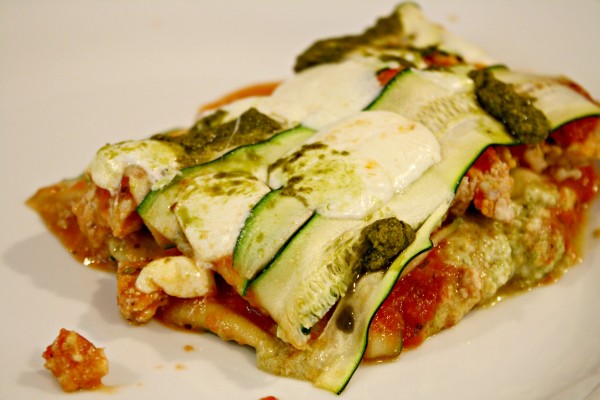 Zucchini and Pesto Lasagna with Ground Turkey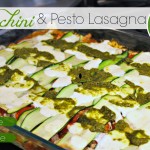 (

Serves 6-8

)
This veggie-centric lasagna is a hearty gluten free and grain free meal that will please and feed a crowd.
Ingredients
1 Tablespoon extra virgin olive oil or non-stick spray
1 pound 99% fat free ground turkey (breast meat)
1/2 teaspoon dried basil
1/2 teaspoon oregano
salt
pepper
3 medium zucchini
1 15 oz. container fat free ricotta cheese
1/4 cup + 3 Tablespoons pesto
1 24 oz. jar of tomato sauce
24 cherry size mozzarella balls, halved
Directions
Heat oil in a large pan or skillet on medium heat (if using non-stick spray,use after pan is already hot). Add ground turkey to the pan and top with basil, oregano, and about 1/4 teaspoon of salt and pepper). Stir turkey occasionally until thoroughly cooked. Remove from heat once cooked.
Meanwhile, use a veggie peeler to cut the zucchini into ribbons (see NOTES).
In a 9 x 11 baking dish, make a layer of zucchini ribbons, lying them vertically until the bottom of the dish is completely covered. Repeat, making a second layer, but placing the ribbons horizontally until the first layer is completely covered. Sprinkle zucchini lightly with salt (about 1/4 teaspoon).
In a large bowl, combine ricotta and 1/4 cup of the pesto, mixing well. Spread the ricotta mixture evenly over the zucchini ribbons. Top the ricotta with 1 cup of tomato sauce, spreading evenly.
On top of the tomato sauce, layer two more layers of zucchini ribbons as before (1 vertical and 1 horizontal layer). Sprinkle zucchini lightly with salt.
Add the remaining tomato sauce (about 1 1/2 cups) to the ground turkey meat. Stir thoroughly to combine. Add the turkey and tomato sauce mixture to the dish of lasagna, layering it thoroughly over the zucchini. Top with another two layers of zucchini as before (1 vertical and 1 horizontal).
Place halved mozzarella balls evenly over the zucchini. Spoon three tablespoons of pesto over the mozzarella balls in three evenly spaced stripes.
Cook lasagna on 350 degrees for 30 minutes.
Lasagna Layer Summary:
1. 2 layers zucchini
2. Ricotta and pesto mixture
3. Tomato sauce
4. 2 layers zucchini
5. Ground turkey and tomato sauce
6. 2 layers zucchini
7. Mozzarella
8. Pesto
NOTES:
Zucchini - When cutting zucchini into ribbons, there comes a point where you reach the center of the zucchini and it becomes difficult to continue peeling into ribbons. When this happens, flip the zucchini over and start again on the side that hasn't been cut. Once you nearly reach the center again, it become almost impossible to cut this thin slice into thinner slices. Don't struggle with this center part. Set to the side and save for another recipe and start on the next zucchini. You may not use all of the three zucchinis.
Sometimes when you cut the zucchini into ribbons, some ribbons will be paper thin. Feel free to "double-up" on the paper thin ribbons when you layer them so they are about the same thickness as the thicker ribbon peels.
Mozzarella Balls - I used cherry sized mozzarella balls, but you could also use a different size mozzarella. However, if you use a thicker version, chop it smaller pieces. You don't need to layer the cheese so thickly that it completely covers the top layer of zucchini; it will melt in the oven and cover it more evenly than when uncooked. You can further lighten this recipe by using part skim shredded mozzarella. However, this traditional Italian mozzarella give sthis recipe a more gourmet feel and definitely enhances the flavor.
Ensuring This Recipe is Gluten Free - double-check any jarred tomato sauce and pesto you purchase to make sure it is gluten free. Even if not labeled gluten free, you can check the ingredient list, if you know where the hidden gluten is (Prego, Del Monte, and Classico all offer GF options). As for pesto, the typical ingredients that make pesto (olive oil, pine nuts, parmesan cheese, basil, garlic, and lemon juice) have no gluten. But you'll need to be very careful with additives in pre-packaged pesto if you are sensitive to gluten.