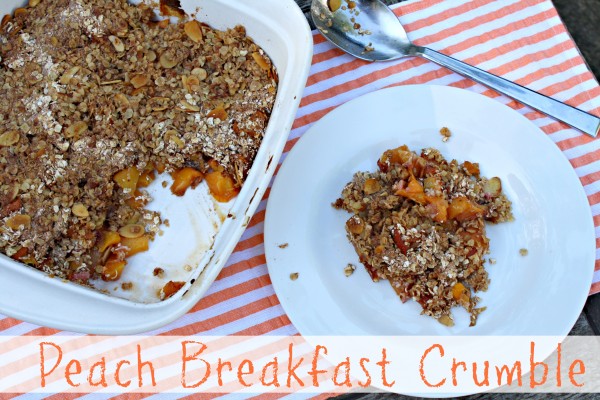 Did you go a little overboard on purchasing peaches like I did last week?  And then, did you forget to eat any of said peaches?
If you said yes, then I have the recipe for you! And if you said no, get your butt to the store and buy too many peaches, 'cause this Peach Breakfast Crumble is good.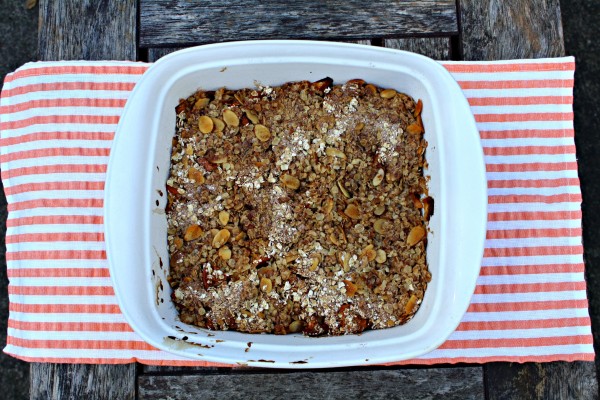 And the number of ingredients in this simple breastfast-y recipe that tastes like dessert is the very small number six.  Six ingredients.  How easy is that?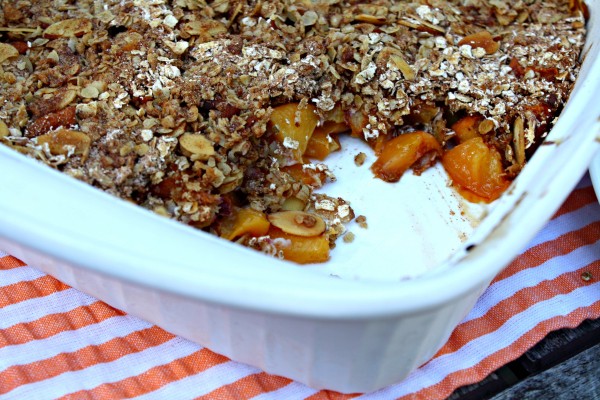 One of the ingredients in this breakfast crumble is Stevia.  If you don't like Stevia, first I have to ask — are you purchasing it from the grocery store?  Most of them have very weird additives that frankly make them taste funny.  You want to buy 100% pure Stevia, which is more expensive, but worth every penny, in my opinion.  I only buy NuNaturals brand (who is not paying me to say that).
But if you're still not into Stevia, feel free to substitute with white or brown sugar (it's only two tablespoons after all).  Or skip the sweetener completely and drizzle with honey before eating.  Yum!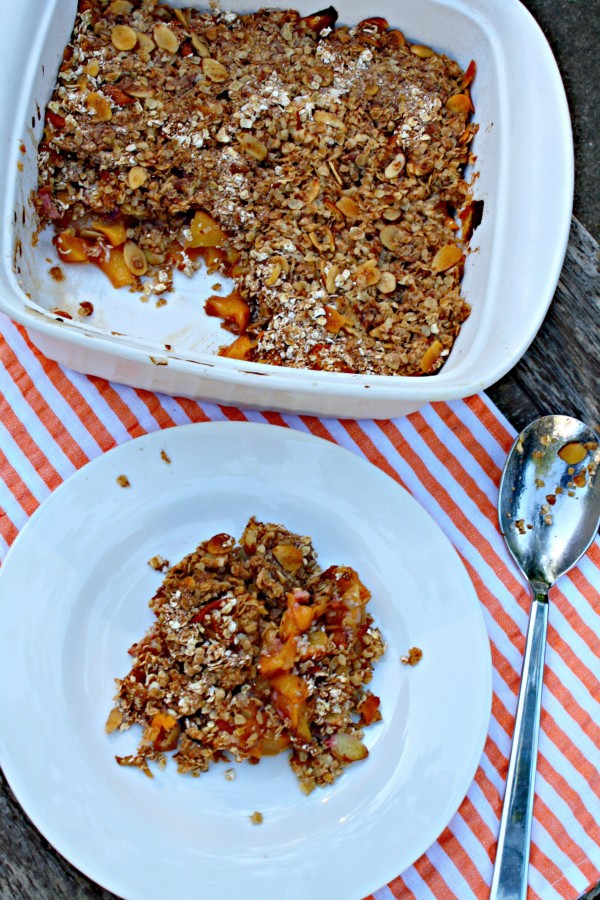 Peach Breakfast Crumble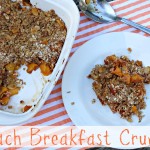 (

Serves 4-6

)
A simple delicious treat for breakfast that is surprisingly good for you, but tastes like dessert.
Ingredients
2.25 pounds peaches
1 cup rolled oats
2 Tablespoons NuNaturals Stevia Baking Blend (for no-added sugar) or Sugar
2 teaspoons cinnamon
2 Tablespoons cold salted butter
1/4 cup slivered almonds
Directions
Preheat oven to 350 degrees F.
Cut peaches into small bite-size pieces (peeling optional) and place evenly in a 9x9 baking dish.
In a medium sized bowl, combine oats, Stevia, and cinnamon and mix well. Cut butter into small slivers and add to bowl. Use a pastry cutter or large fork to cut (mash) the butter into the oats until thoroughly combined. Add almonds to the mixture and mix well to combine.
Sprinkle oats mixture evenly over the peaches. Cook for 45-60 minutes or until crumble topping starts to brown slightly.