I've been dreaming of this pasta for a while.
Even though we have had truffle oil in the States, Brad and I fell in love with it during our travels in Europe. They're much more liberal with truffle oil there , but because we have to import the precious oil to the States pure truffle oil is very very expensive.
Less expensive is truffle infused olive oil, which I used in this dish.  This is a great substitute because truffle oil is very pungent so a little goes a long way.
You'll notice from the photos that even though oil was applied directly to the pasta, it doesn't look the slightest bit oily and it's not.  Like I said, a little goes a long way.
You can purchase truffle infused olive oil anywhere from the specialty olive oil shops that are popping up all over to the grocery store.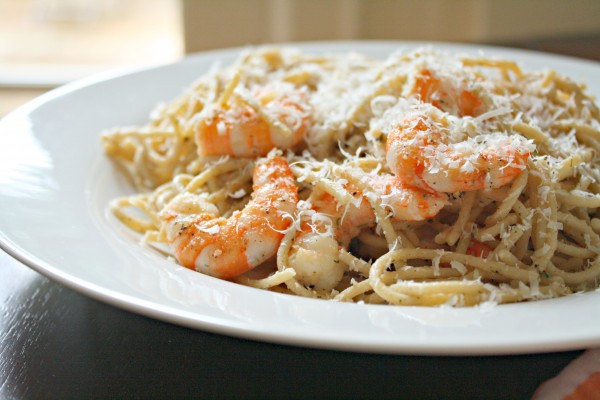 I also used an herb blend from the local Savory Spice Shop.  You can order this blend called, Capitol Hill Seasoning from their website if you don't have a Savory Spice Shop near you, or you can try to replicate the blend of shallots, salt, pepper, dill weed, parsley and chives.
I received this spice blend as a sample and I will definitely be back for more.  It was a wonderful compliment to the flavors in this dish, as well as the crustless quiche I served at brunch that same morning. I can't get enough of this stuff.
This dish was a big hit with my dinner guests.  It reminded me of something that I would have had eaten on my honeymoon in Italy — simple and elegant.   Those Italians know a thing or too about flavors and I'm happy that I had the chance to learn from them and incorporate some of their techniques into my own cooking.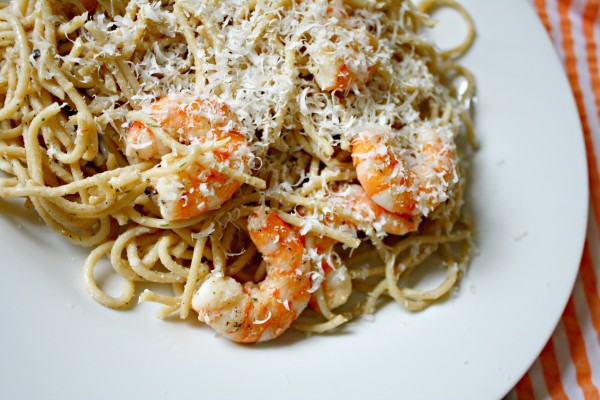 Truffle & Herb Spaghetti with Shrimp
(

Serves 6-8

)
Fool your guests into thinking you're a gourmet cook with this elegant pasta dish that is in fact very easy to make.
Ingredients
1 pound whole wheat spaghetti
1/4 cup truffle infused extra virgin olive oil
2 Tablespoons Capitol Hill Seasoning
1 cup parmesan cheese finely shredded
1 Tablespoon extra virgin olive oil
2 pounds jumbo shrimp, deveined and shells removed
1/4 teaspoon salt
1/4 teaspoon pepper
Salt to taste
Fresh ground pepper to taste
Parmesan cheese for garnish
Directions
Boil whole wheat spaghetti according to package directions in water that has been well salted. Strain pasta reserving about 1/2 cup pasta water. Place pasta back in original pot and add pasta water back to pasta along with the oil, seasoning and cheese. Place lid over pot to keep warm.
In a large pan or skillet, warm olive oil. Place shrimp in pan so that no shrimp overlaps (do this in batches if necessary). Sprinkle evenly with salt and pepper. Allow to cook for about a minute or until the side touching the pan is pink. Flip each shrimp carefully and allow to cook for another minute or until shrimp is completely pink on both sides. Quickly remove from pan as to not overcook the shrimp. Add to pasta.
Toss pasta to combine all ingredients evenly. Taste and add more salt and pepper as needed.
Plate and garnish with additional parmesan cheese, if desired.