The only time Baby E has given me any rest from his constant flip flopping in my belly today was when I made these Skinny Carrot Cake Muffins this morning.
I've been up since 5:30 am and have been eating ever since. I read a few weeks ago that the baby is basically done developing (except for his lungs) and is now just fattening up.  Maybe that's why I needed two breakfasts this morning and still wanted to make muffins.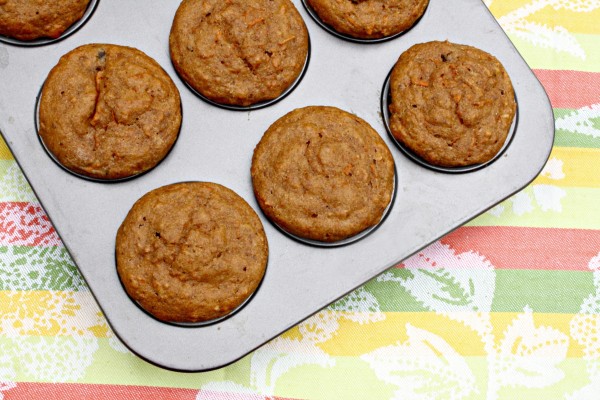 Like most of the muffins I made, I took out most of the fat (as in oil and butter) and used Greek yogurt instead.  That's why they're "skinny". In reality, they're quite plump and beautiful as muffins should be.
This recipe is wonderful if a) you have a lot of carrots in your fridge that you need to use or b) you really love carrot cake but believe that it's rarely acceptable to eat cake for breakfast.  I fit into both categories.
Let's qualify "rarely" — by this I mean you probably shouldn't eat cake most days of the week.  That is, unless you eat it in the form of bald cupcakes or fried cake and syrup. Those are perfectly acceptable as breakfast.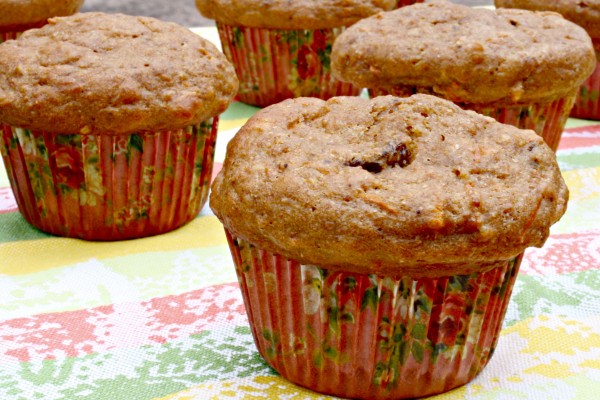 Skinny Carrot Cake Muffins
(

Serves 12

)
This delicious recipe uses Greek yogurt and only a bit of oil to lighten it up and whole wheat flour to make it stick to your ribs. It's a healthy muffin recipe that sacrifices none of the taste!
Ingredients
1 cup whole wheat flour
1 cup unbleached flour
1 Tablespoon baking powder
1/2 teaspoon baking soda
1 Tablespoon cinnamon
1/2 teaspoon nutmeg
1/4 teaspoon cloves
1 cup fat free Greek yogurt
1 cup fat free milk
2 eggs
1/4 cup brown sugar
1 Tablespoon vanilla extract
2 Tablespoon molasses
2 Tablespoon canola oil
2 cups shredded carrots
1/3 cup unsweetened raisins
1/4 cup walnut pieces
Directions
Preheat oven to 350 degrees F.
Combine dry ingredients in a large bowl: flours, baking powder, baking soda, and spices. In a medium bowl, combine wet ingredients: yogurt, vanilla, milk, eggs, sugar, molasses, and oil. Add wet ingredients to the large bowl of dry ingredients. Stir well to combine.
Add carrots, raisins, and walnuts to the bowl and stir well to combine.
Line a muffin pan with muffin papers. Use a 1/4 cup measuring cup to measure heaping scoops of muffin batter into each muffin paper. Distribute muffin batter evenly into each paper. Each will be very full and slightly rounded.
Place muffin tin in oven and bake for 30 minutes or until a knife inserted into a center cupcake come out clean.