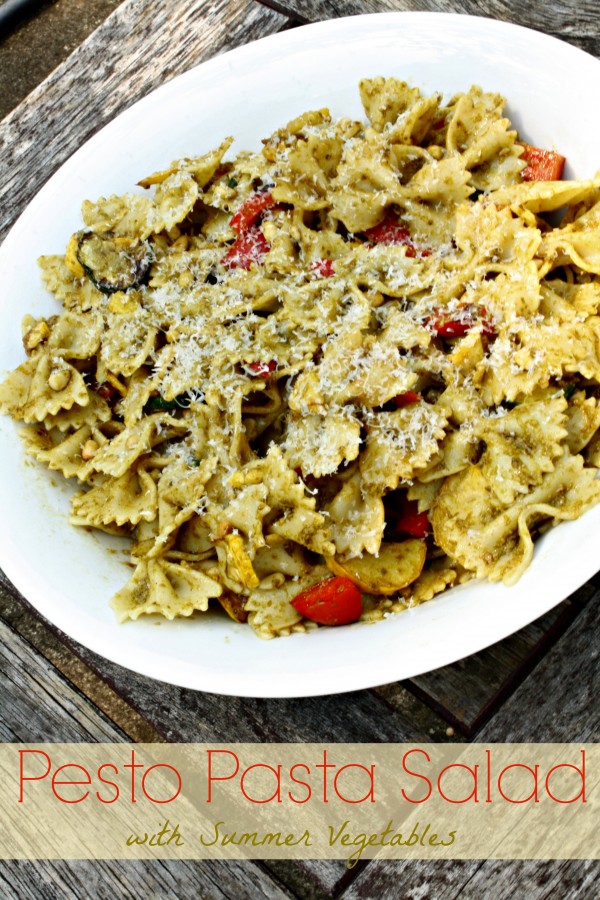 I've been really lucky to get pregnant at a time when many of my friends have newborns or are having babies themselves.  It's definitely making the transition easier.  I imagine that women who get pregnant when all their friends are childless, may sometimes feel very alone.
Not only do I have lot of people to go to for advice and empathy, Baby E has a lot of future playmates.  If he's anything like his mama and daddy, he'll be very social and outgoing so he's going to love playing with all these babies (most of which are boys!)
Yesterday, I had a couple of these mommy-friends over for lunch and made this Pesto Pasta Salad with Summer Vegetables.  I love a good pasta salad in the summer and this version is very fresh and summery.  I used a store-bought pesto to make the recipe come together in a snap.  The addition of summer vegetables made it a tad healthier and added a lot of delicious flavors and textures.
Everyone liked my pasta salad and took home leftovers, the babies were happy, and Rascal's curiosity in babies peaked. He went from cautiously curious to just curious. I'm really crossing my fingers that he's protective of the baby and treats him like "one of the pack".
But enough about that, let's get to this easy yummy recipe!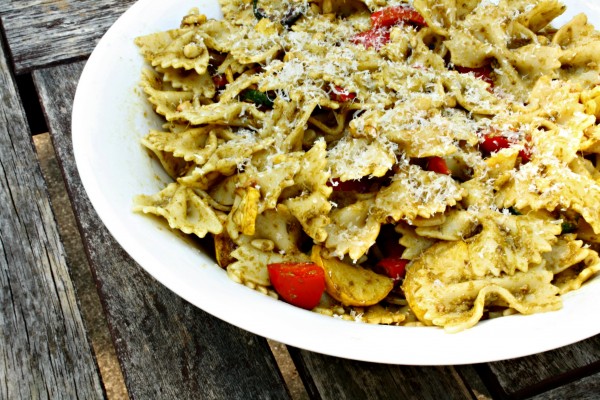 Pesto Pasta Salad with Summer Vegetables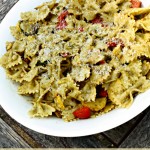 (

Serves 8-10

)
This summery pasta salad comes together easy peasy with pre-made pesto and the vegetables make it so summery!
Ingredients
1 large red bell pepper
1 large zucchini
1 large summer squash
2 Tablespoons extra virgin olive oil
1 16 oz. box Farfalle pasta
1/2 teaspoon salt
1/2 cup pre-made pesto
1/4 cup dry roasted pine nuts
Parmesan Reggiano (optional)
Directions
Chop vegetables into bite size pieces. Warm olive oil in a large pan. Add vegetables to pan and cook until vegetables begin to brown around the edges on both sides (this may have to be done in batches to not overcrowd the vegetables).
Cook pasta according to package directions in a large pot with salted water (1/2 teaspoon salt). When pasta is cooked al dente, drain water from pasta and place pasta back in the pot. Add vegetables, pesto, and pine nuts to the pasta and stir well to combine.
Serve pasta and top pasta salad with Parmesan Reggiano if desired. Pasta salad may be served warm or at room temperature according to preference.