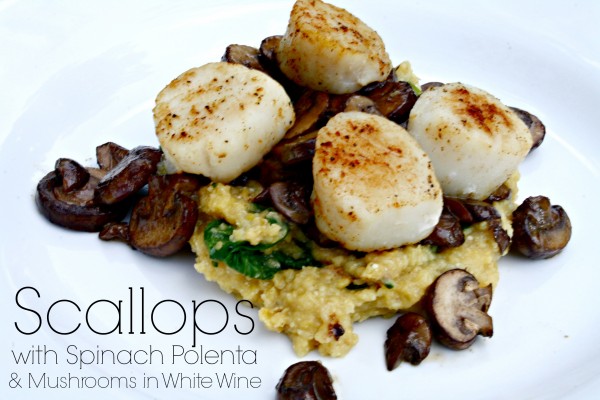 Every time I cook mushrooms in wine I wonder why I don't do it more often…like every single night.  Mushrooms cooked in wine (red or white) is one of the best tasting things ever.  And this is coming from someone who isn't really crazy about mushrooms.  Simmering the little fungi in some wine until the wine reduces makes all the difference in the world.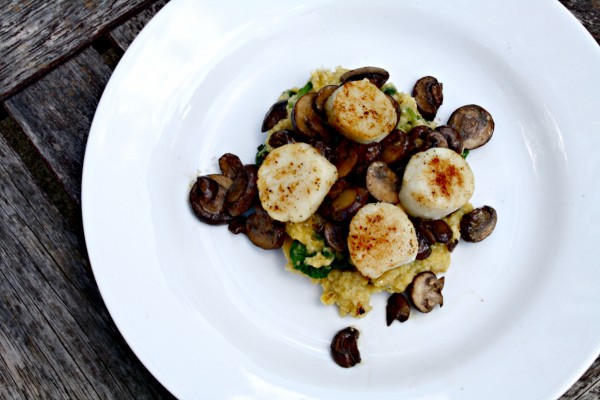 The creamy polenta in this dish, could also stand alone.  I threw in some spinach to add some color and some healthy greens, plus some parmesan reggiano, which makes everything tastier.
The scallops were a nice change of pace, but feel free to top with your favorite protein of choice.  Steak, chicken, or pork would also go great with the mushrooms and polenta.  This is a very versatile dish.
Important Note: When making this recipe or any recipe involving wine, only choose a wine to cook with that you would also drink.  Reducing the wine concentrates its flavor, so if you don't like the wine's flavor, you definitely won't like it concentrated.  The same goes when cooking with beer.  For this particular dish, I used a sauvignon blanc, which is my favorite white.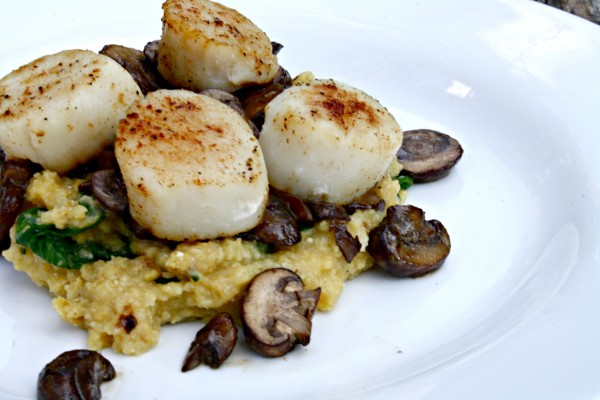 Scallops with spinach Polenta and Mushrooms in White Wine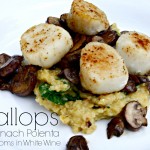 (

Serves 2

)
Ingredients
Spinach Polenta:
3/4 cup polenta
3 cups chicken broth
1/2 teaspoon sea salt
1 cup spinach
1/4 cup parmesan reggiano
Scallops:
1 Tablespoon extra virgin olive oil
8 large scallops
1/4 teaspoon sea salt
1/4 teaspoon paprika
1/4 teaspoon garlic salt
fresh ground pepper
Mushrooms:
2 Tablespoon extra virgin olive oil
1 pint baby portobellos, sliced
1/2 teaspoon sea salt
3/4 cup dry white wine
2 Tablespoons heavy cream
Directions
Spinach Polenta Directions:
Put polenta in a medium sized sauce plan and cover with broth. Stir well to combine. Turn stove to high and cook until the broth starts to boil. Lower heat to medium and stir often to make sure the polenta doesn't clump. Cook until polenta is creamy and most of the liquid has absorbed. Add spinach and stir to thoroughly combine. Grate cheese into polenta and stir to combine.
Scallops Directions:
Heat olive oil in a medium sized pan on medium heat. Sprinkle scallops evenly on both sides with spices. Place scallops in pan and cook on both sides for about 2 minutes, until slightly browned. Remove scallops from pan and place in a warm oven on very low heat so that scallops stay warm until they're ready to be served.
Mushroom Directions:
Add oil to the pan and heat on medium heat. Add mushrooms to the pan and stir to coat with oil. Sprinkle evenly with salt and stir again. Cook for 5 minutes, then add wine to pan. Stir, then cook until wine has reduced by half. Add cream to pan and stir again. Cook for 2 more minutes, then remove from heat.
Plate half of the polenta on two plates, top each plate with half of the mushrooms, then four of the scallops. Serve immediately.