Monday morning's breakfast looked so much like Sunday's breakfast.
The only real difference was strawberries, coconut, and cacao nibs in my yogurt, rather than blackberries and honey.
So, let's skip right to the most exciting culinary part of Monday, shall we?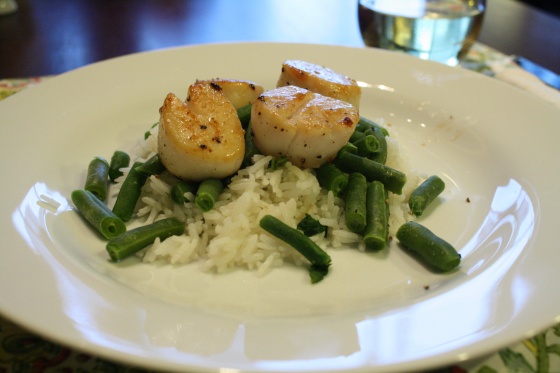 Dinner!
This meal was a recreation of a meal Brad and I both enjoyed at a Charlotte restaurant that no longer exists, La Torres.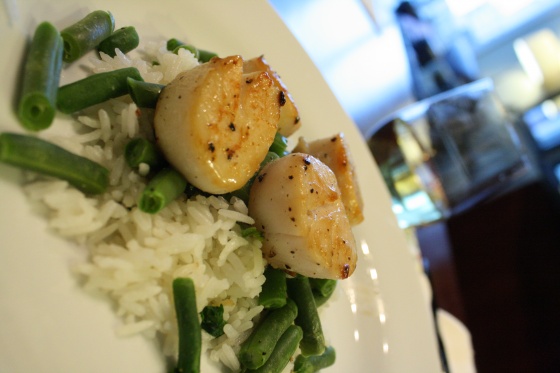 Sauteed Coconut Scallops and Rice (serves 2)
Scallops:
8 large scallops (~1/2 pound)
1 tsp. coconut oil
sea salt
fresh ground pepper
Rice:
1 cup jasmine rice
1/2 cup light coconut milk
1/2 cup water
1- 1/2 tsp. sea salt
3 Tbsp. fresh cilantro, roughly chopped
Warm a pan on medium high heat and add coconut oil.  Spread around to coat the pan.  Generously sprinkle scallops with salt and pepper.  Sautee until they turn a warm caramel color on one side.  Then, flip and repeat.
Bring coconut milk and water to a boil in a medium sized pot.  Add rice and reduce heat to a simmer.  Allow to cook until liquid is almost completely absorbed.  Add cilantro and salt.  Stir, taste, and add more salt if needed.
Serve plated with a green veggie.  I used green beans as they used at La Torres.  The one thing I missed was black beans.  La Torres mixed in a bit of black beans with the rice, but it was just a bit and not too much, so it wasn't a significant part of the meal.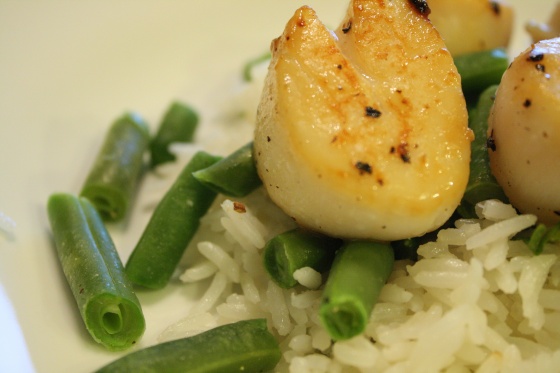 Fried plantains would have been so fitting for dessert.
But this was still very delicious all on its own.  Mmmm, why don't I buy scallops more often?  I can't get enough shell fish in my life, but I tend to forget about how much I love them until I'm on the coast or I have time to peruse the fish counter at Harris Teeter.
After dinner, Brad and I mulled over several ideas of things to do.  We wanted to get out of the house and do something, but we couldn't decide what.  We discussed riding our bikes somewhere, but Brad's light doesn't work and it was going to be dark within the hour.  We discussed driving to the NoDa neighborhood, but I wanted to walk somewhere and NoDa is not safe to walk to at dark.  The French Bakery down the street closed at 7 pm. Rascal really really wanted to go with us. 😉 What to do?
Finally, we decided to drive to the new house, park, and walk to Starbucks down the street.  Brad stayed outside with Rascal and I went in a bought hot chocolate for him and a decaf Cafe Americano for myself.  We walked back to the house and stopped by a chocolate shop that was closed.  I peered in the window and made a mental note to come back soon during their open hours.
We spent the rest of the evening reading in bed.  I recently picked up French Women Don't Get Fat for the second time and am almost done with it.  I really love that book, not only because it promotes a healthy and realistic lifestyle, but also because I would give my eye teeth to go to France right now.
But for now, I'll live vicariously through books and movies.  You guys have given me some great suggestions for French foreign films.  Any good book suggestions?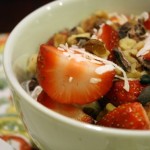 Ingredients
Directions