I was sent this loaf of Nature's Pride Hearty Wheat with Flax bread to try as part of the Fooduzz Tastemaker's Program.  Obviously, some one else (I wonder who?) beat me to the punch and sampled this before I got a shot. 😉
I am obligated to say that I received this product for free from my advertiser Foodbuzz but the ideas expressed here are completely my own.  Foodbuzz gives their bloggers things to sample and review honestly.  I am not obligated to write a positive review.
Rather than slap some peanut butter, banana, and other toppings on my bread, I decided to be a purest and stick with toast and butter.  I forgot who delicious plain ol' toast and butter can be.
I used real salted butter, and combined with this hearty bread (100 cals per slice), I thought I was eating a soft pretzel.  Delicious.
I paired my toast with a bowl of yogurt.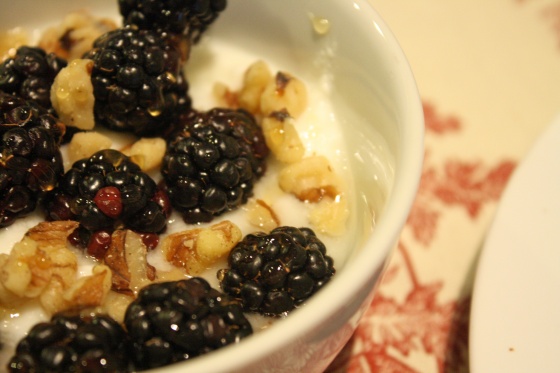 Along with 1/2 cup of plain yogurt, I also had blackberries, walnuts, and a drizzle of honey.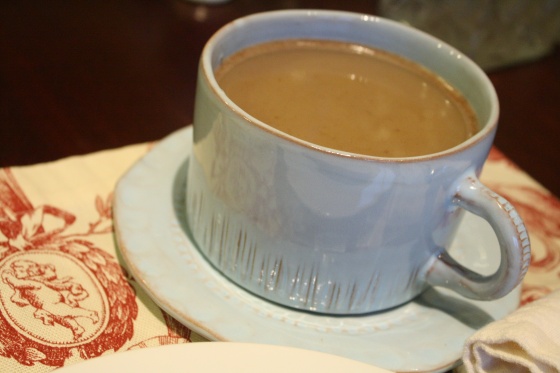 Per usual, I enjoyed a cup of coffee with milk.
After breakfast I biked to the Y, to meet Jenn for some circuit training.  Her circuits kicked my butt.  My upper body is definitely feeling it today.
After a drizzly and cold bike ride home in the rain, Brad and I headed up to Salisbury to meet up with Jon, Heather, and Avery.  We had lunch at a volunteer fire department who was doing a chicken and dumpling lunch as a fundraiser.  Boy were those chicken and dumplings good (sorry, no photos).
These were a bit doughier than my grandmothers, but very delicious.  But, I've never met a chicken and dumpling that I didn't like. 🙂  The trick to not overdoing it is to eat them slowly so you know when you're full.  C&D are delicious, but you should know that you're basically eating a bunch of dough with a bit of chicken and broth.
After spending the afternoon in Salisbury, Brad and I headed home.  He dropped me off at the Harris Teeter down the street from the condo so I could grab a few grocery items.  I walked home in the rain with my umbrella, then did some reading while Brad napped off his chicken & dumplings. 🙂
We kept dinner light with big salads and protein.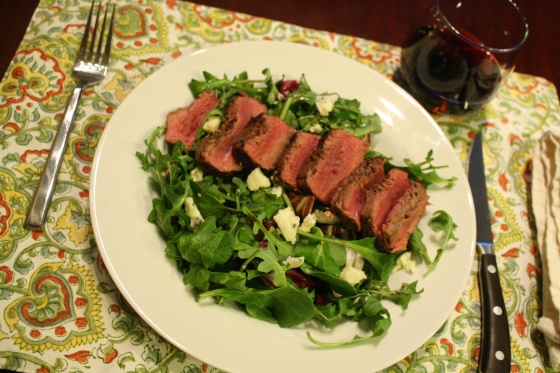 We are still slowly savoring the filet mignons Brad's grandparents sent us for Christmas.
Peppery Filet Mignon Salad (serves 2)
The peppery taste of this salad not only comes from fresh ground pepper, but also fresh arugula which compliments beef so well.
2 4 oz. filet mignons
5 cups arugula or arugula mix
2 oz. blue cheese
salt
fresh ground pepper
dried rosemary
extra virgin olive oil
Sprinkle steaks generously with salt, fresh ground pepper, and rosemary.  Sautee until steaks are at desired "done-ness" (technical term ;)).  If steaks are very thick, you can bake them in the oven after searing them to get to a higher temperature in the center if you prefer your steak more well done.
Prepare vinaigrette (see below).  Toss arugula and 1/4 cup of dressing together.  Plate salad, distributed evenly on two plates.  Crumble blue cheese on top.  Slice stead and place on top of salad.  Add more fresh ground pepper to taste.
Rosemary Balsamic Vinaigrette
1/4 cup extra virgin olive oil
1/4 cup balsamic vinegar
1 tsp. ground mustard
1 tsp. dried rosemary
sprinkle of salt
fresh ground pepper
Mix all ingredients well and serve.
I put all of the vinaigrette ingredients in a glass jar, screwed on the top, and shook the jar, rather than using a whisk to mix.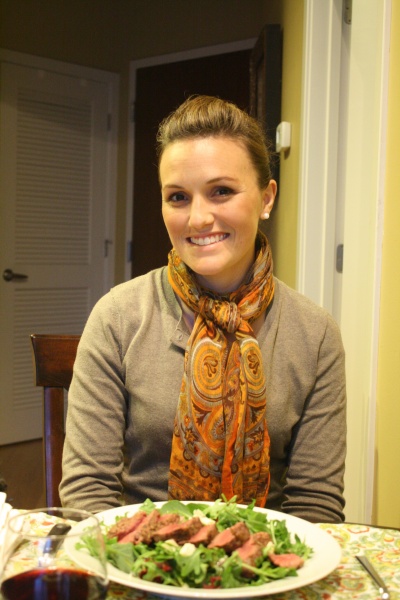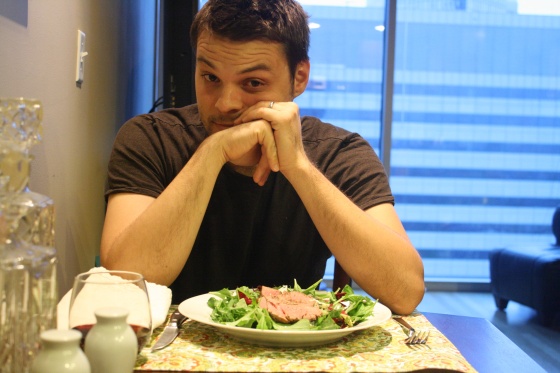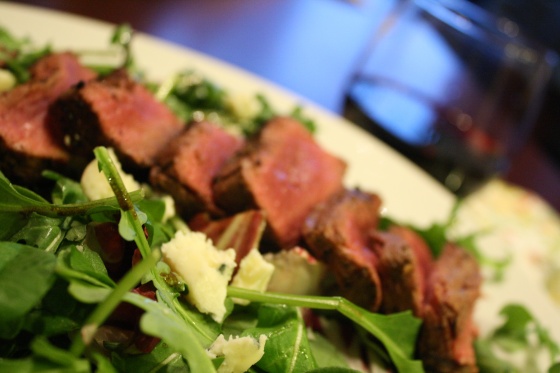 This meal was perfect with some organic Sicilian red table wine I picked up at the Healthy Home Market a few weeks ago.
Brad and I spent the evening watching a movie through Netflix.  We watched A Very Long Engagement and I loved it (Thank for the recommendation, Jenn!).  I can't get enough of French foreign films recently. Have any good recommendations?
I'm on an Audrey Tatou kick right now, so I think her portrayal of Coco Chanel is next on my list.  I'm saving it for a night I'm flying solo so Brad isn't tortured by a movie focused on fashion and subtitles. 🙂
Chacun ses gôuts. (To each their own)…
Does anyone want to teach me French? 🙂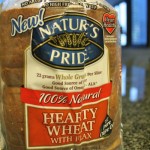 Ingredients
Directions