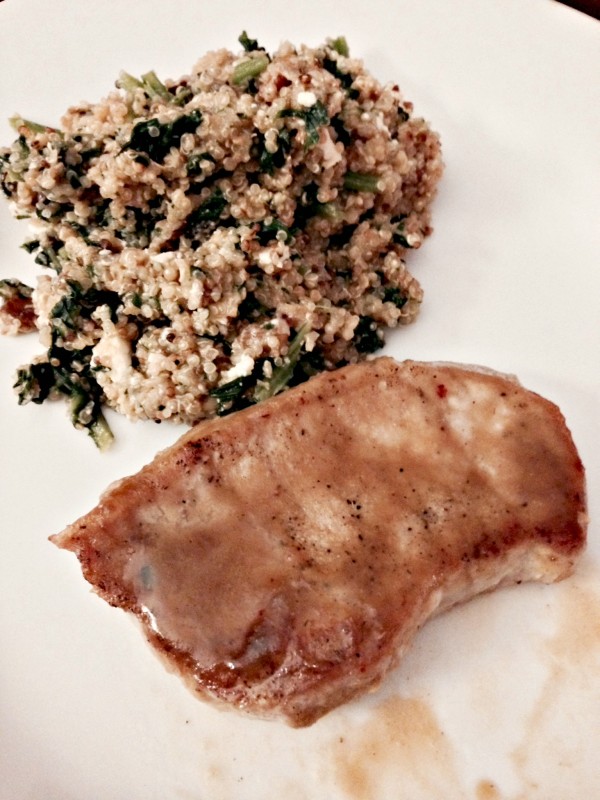 I know some people have a real problem when bloggers use phone photos instead of high quality photos taken with a "real live" camera (or so I've heard).  Knowing this makes me feel guilty about the photo quality of this post, but then I remember that I have a 12 week old and this recipe is $free.99.
Speaking of my 12 week old, I've been transitioning Elliott from sleeping in his swing to sleeping in his crib during the day time today. I've been somewhat successful after almost ripping my hair out during the morning nap process.  You'll be proud to know that I didn't utter one cuss word, although I did say "I swear, I swear, I swear" about 45 times.
We're heading out to Brad's parents for Thanksgiving on Sunday and it would be really nice if we didn't have to take the swing with us, which is why I'm trying to transition E to sleeping in a crib 100% of the time. After all, less baby stuff means more room for my shoes.  Just kidding…kinda.
Speaking of making room…I've been doing my best to make room in my busy schedule to make dinner. Elliott has gotten better at sitting in his bouncy seat and cooing along to me singing while I make dinner.  Which brings me to this recipe. I didn't really expect it to be that good.  I thought it would just be mediocre good, which is why I didn't plan to take photos. But…man, was this good.
I used one of my social media clients' products, Cloister Honey Arbol Pepper Infused Honey on the pork chops.  Their honey is ah-mazing.  In fact, I had five bottles of their honey, before I even began working with them.  Now, I have about eight.
I shared this recipe today on their Facebook page, which you should totally go "like" right now, especially if you like honey and double especially if you live in NC. You can get their honey all over the state or order it online.
So here's the recipe for my Pan-Fried Honey Dijon Pork Chops that were such a big hit.  And of course, I never make anything very complicated, so you can trust that this recipe is also super duper easy.
The side you see pictured is a quinoa and kale salad with feta, walnuts, and a dijon apple cider dressing.  It was also pretty fantastic so I'll have to make this again and post the recipe soon.
Pan-Fried Honey Dijon Pork Chops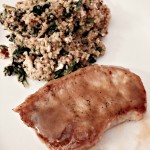 (

Serves 4

)
This simple recipe is incredibly delicious with the sweet honey and Dijon mustard flavor. It comes together effortlessly for a juicy pork chop everyone will love.
Ingredients
4 4 oz. boneless pork chops
1 Tablespoon olive oil
salt
pepper
garlic powder (about 3/4 teaspoon)
1/3 cup Dijon mustard
1/4 teaspoon Cloister Honey Arbol Pepper Infused Honey
3 Tablespoons soy sauce
Directions
Preheat oven to 350 degrees F. Heat oil in pan on medium high heat. Sprinkle pork chops liberally with salt, pepper, and garlic powder on both sides. Pan fry until browned on both sides.
Mix mustard, honey, and sauce sauce in a bowl. Place chops in a baking dish, lined with aluminum foil (for easy cleanup). Pour sauce evenly over the chops. Bake until cooked through (about 15 minutes).