Catching up from the weekend? Here's what you missed.
– Brad and I took a trip to REI and I bought a bike to ride to work!
– I ran a 6 miler on Saturday morning and had my friend Jess over for breakfast where we sampled a new jam.
– I took my new bike out around the city and hung out with friends on Saturday night.
– I had an awesome 12 mile run and had some pretty awesome post-run eating
That leaves us to Sunday afternoon.  After my awesome 12 mile run and almost as awesome strawberry salad, I hopped on my bike to take Brad and our friend Gibson a snack.  They were over at the new/old house working on restoring our windows.  I wanted to take them some of my mystery granola bars, but didn't want to take a bag with me on my bike.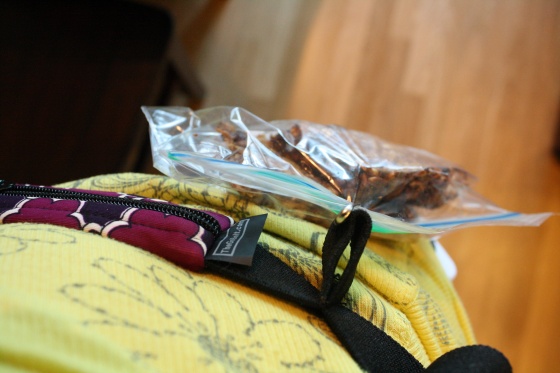 So I had the idea to safety pin them to my Go Belt.  Forget a purse, I'm just going to war my Go Belt everywhere.  It's like a less conspicuous fanny pack…but cooler….
Right?
Uh, right?
I hung out at the house and took Rascal for a walk around the neighborhood to get him out of Brad's hair for a while.  He loves going over to the new house and playing in the yard, but sometimes he is a bit of a handful and distracts Brad from what he's doing.
After an hour or so, I returned home on my bike to do some laundry and make dinner.  My legs were starting to feel like jello after my 12 mile run, bike ride, and walk with Rascal.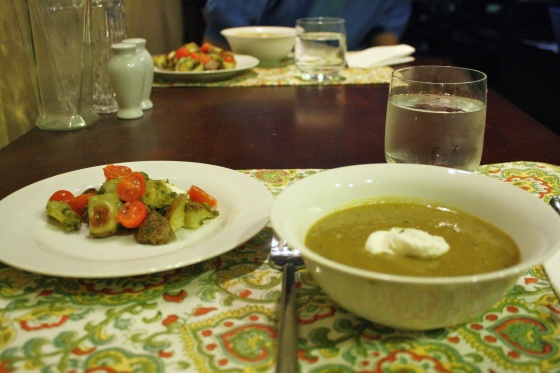 Dinner was easy.  It practically cooked itself.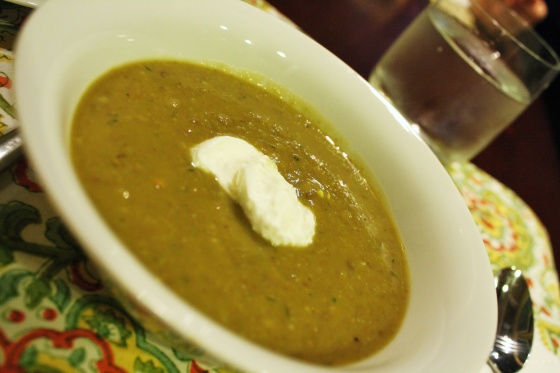 Not a Pea Soup
What makes this pea soup unique is its use of two different kind of legumes: Crowder peas and split peas.  They may sound like peas, but they're not a pea.
2 cups cooked Crowder peas*
1 cup dry green split peas
1 bag of frozen mixed veggies (corn, carrots, green beans, peas)
6 cups veggie or chicken stock**
2 Tbsp. chopped rosemary
2 Tbsp. chopped fennel
1/2 Tbsp. ground coriander seed
1 Tbsp. Garlic Gold or garlic powder
1 tsp. red pepper flakes
2 tsp. salt + more to taste
fresh ground pepper
Bring stock to a boil in a large pot.  Add split peas and frozen veggies.  Lower heat and allow soup to simmer for about 45 minutes or until split peas are soft.  Add Crowder peas (drain liquid if using canned Crowder peas).  Add all herbs and spices and continue to simmer for 15-30 minutes.
Suggested toppings: Greek yogurt or sour cream, Parmesan cheese, or chopped green onion.
*I used frozen Crowder peas that I shelled and cooked last summer.  I didn't know what I wanted to do with them at the time, so I threw them in the freezer until I was in the mood to use them in a soup.
*I make my chicken stock from scratch.  After I picked the meat off of the roasted chicken I made last week, I put the bones in a large pot and covered it with water.  I added two springs of rosemary and one sprig of fennel to the pot, plus a bit of salt (you can always salt more later), and brought the mixture to a boil.  I lowered the heat and let it simmer for about four hours, then stored the broth in a plastic container in the fridge.
I made pesto Brie home fries to go along with our soup, except this time I used goat Brie.   These do not disappoint!
The soup was a big hit with Brad.  I'm pretty sure he asked me at least ten times to make sure I wrote down the recipe so I could make it again.  That is actually one of the biggest reasons I started blogging in the first place.  When we were dating, I would make meals that Brad would go nuts over, but they were completely made up on the fly and then I would forget to write down the recipe.  Blogging forces me to document all my recipes good and bad.
After finishing the laundry and helping Brad with the dishes, I flopped down on the couch for about an hour, too tired to move.
What a great, but tiresome weekend!  This upcoming week is my last full week with my current job.  I've got a lot of loose strings to tie up,  including a beast of a spreadsheet that is giving me some issues.
Hope your weekend was fun and restful. 🙂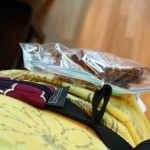 Ingredients
Directions