Yum, yum, yummy, I made a good lunch today!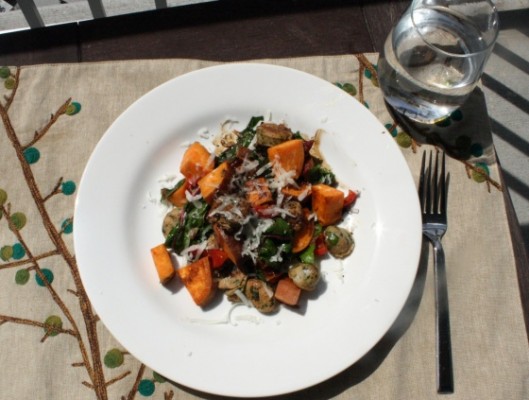 Okay, so maybe it was a little fall-like, but I thought it was a great combination of colors, flavors, and textures.
It was quick and easy too!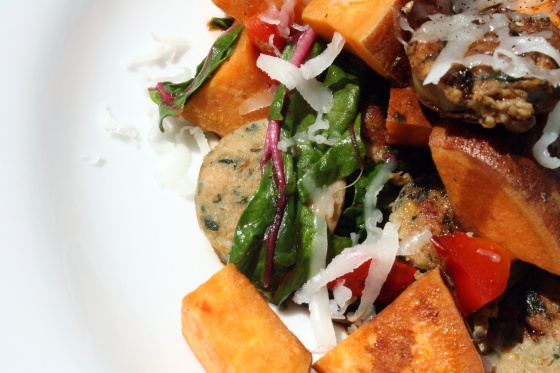 Sweet Potato and Chicken Sausage Hash with Balsamic Reduction (serves 2)
1 large sweet potato, cubed and baked
2 chicken sausage links, sliced (I used TJ's spinach, fontina, and garlic)
2 leaves of chard, chopped (I used rainbow.)
1/2 chopped red bell pepper
4 Tbsp. shredded goat cheddar (but any ol' cheddar will do)
salt and fresh ground pepper
bit of extra virgin olive oil
1/3 cup balsamic vinegar
Heat a pan with a bit of extra virgin olive oil (~1 Tbsp.).  Add red bell peppers to the pan.   Once they begin to soften, add sweet potato cubes* and sausage.  When these begin to brown, add swiss chard.  Stir continuously with a spatula, until chard is wilted.  Sprinkle generously with salt and stir a bit more. Remove from pan and plate.  Top with balsamic glaze (see below), shredded cheddar, and a bit of fresh ground pepper.
Balsamic Reduction
Put balsamic vinegar in a small pot on high and cook until it has reduced by half.
*Chop sweet potatoes and bake on a baking sheet ahead of time or simply put them in a microwave safe bowl, cover in water, and nuke 5-6 minutes.  I have only an hour for lunch, so which method do you think I chose?  Baked is always better but you can't beat quick and easy when you're short on time.
So pretty, colorful, and also tasty.
I'm pretty much obsessed with balsamic reductions right now so I put it on everything.  It was absolutely perfect on this.
Do you know one of the best things about getting to eat lunch at home almost every single day?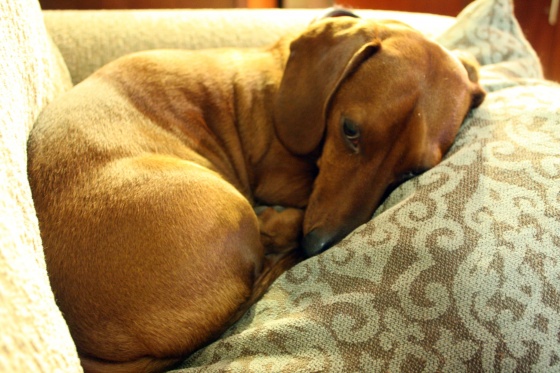 This guy is my lunch companion!  What a cutie! 🙂
What's the best thing you've made for lunch lately?  Links are welcome if you have a blog!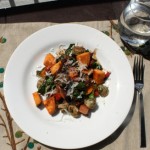 Ingredients
Directions