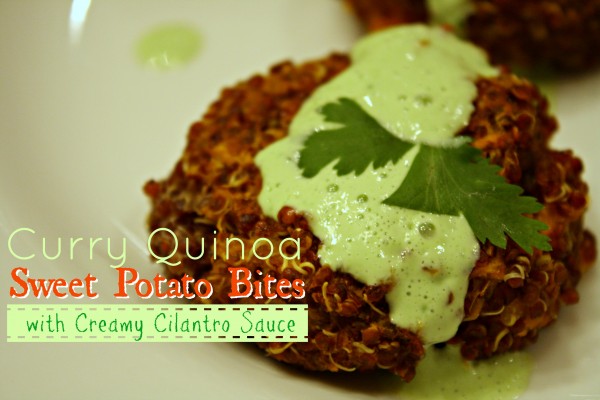 At what point do you cook things that your family wants versus things that you want to cook?  I waiver on how I feel about this.
I have a wonderful husband with an adventurous palate who will try anything I make.  Take for example these Curry Quinoa Sweet Potato Bites.  I could tell he wasn't dying for me to make them as I mixed the quinoa and the sweet potato together with my pastry cutter, but I knew he would try them before voicing any opinion.
The verdict? He loved them.  The night I served them he said they were "good". The following day after eating a few for lunch he decided to take back his "good" statement to officially state that he loved them.
I, of course, was ecstatic.  I usually only get the "love" statement when meat is involved.  But according to Brad this vegetarian recipes gets a five out of five stars.
But what if I'm not so lucky when it comes to little Baby E?  What if he doesn't want to eat mommy's creative recipes?  What if he turns his nose up at quinoa? What if he's a pizza and chicken nuggets type of kid?
How do you encourage your little ones to have a foodie's palate?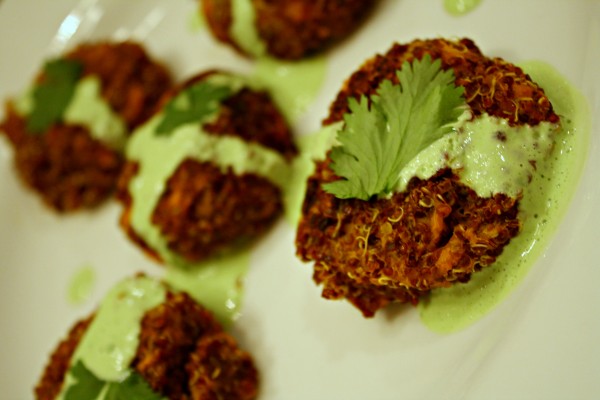 Curry Quinoa Sweet Potato Bites with Creamy Cilantro Sauce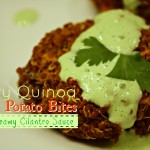 (

about 15 bites, 3 bites in a serving = 5 servings

)
This flavorful dish can be served as a main dish or an appetizer. It's completely vegetarian; packed full of protein from the quinoa and Vitamin A from the sweet potato. To adapt for a vegan lifestyle, simply skip the sauce or use a vegan yogurt or sour cream. You could also serve these on potato rolls as a vegetarian slider.
Ingredients
1 cup red quinoa, rinsed in water
1 15 oz. can light coconut milk
1 1/2 cups cooked sweet potato
1 1/2 teaspoons yellow curry powder
1/2 teaspoon sea salt
2 Tablespoons coconut oil
Sauce:
1 cup fat free Greek yogurt
1/2 cup cilantro leaves
3 Tablespoons water
juice of 1/4 lime
1/4 teaspoon sea salt
cilantro leaves for garnish (optional)
Directions
Cook quinoa in coconut milk in a medium sized sauce pan for 15 minutes. Remove from heat. Add sweet potato and use a pastry cutter or a large fork to maks the potato and quinoa together until sweet potato is mixed thoroughly throughout the quinoa. Add curry powder and salt and stir well to combine.
Form into 15 small patties with hands and place on a large piece of wax paper. Heat coconut oil in a large pan on medium heat. Place as many bites into the pan that will fit with at least 2 inches between them to flip them. Cook the bites for about 3 minutes or until the exterior begins to brown, then flip and cook an additional three minutes. Place bites on a baking sheet, working in batches until all of the bites are cooked.
Preheat oven to 400 degrees. Bake bites for 15 minutes.
Sauce Directions:
Place all ingredients in a blender and blend until creamy.
Plate bites and top with a tablespoon of the sauce. Garnish each bite with one cilantro leave (optional).