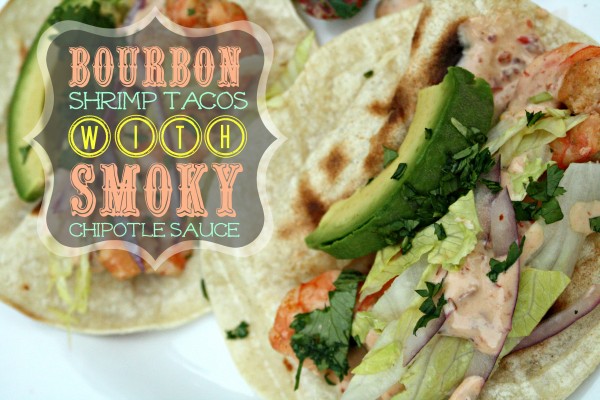 In case you didn't know, my husband loves bourbon.
It's not just his drink of choice; he actually LOVES it.
Brad : bourbon as Kelly : wine.
If the SAT would have used such useful analogies, I'm sure I would have made a much better score.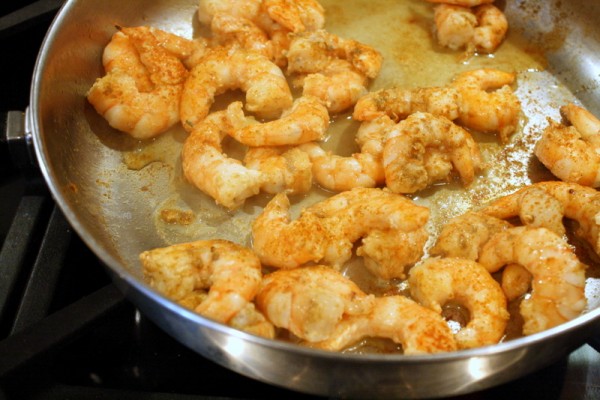 Not only does Brad like to drink bourbon, he likes any food with the mere mention of bourbon in its name.
So when we defrosted some shrimp we had in the freezer to make shrimp tacos, I wasn't very surprised when he suggested we make bourbon shrimp.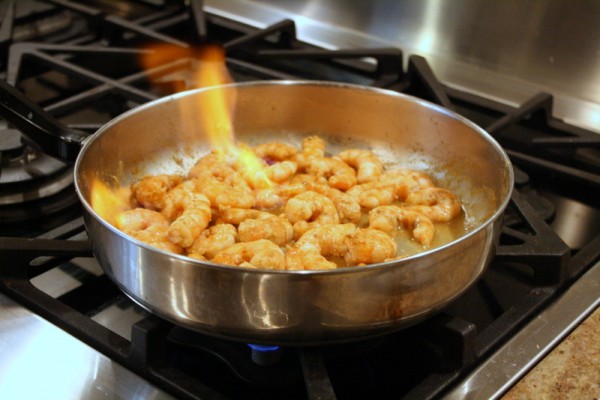 A lot of people are intimidated by cooking with liquor because typically you set it on fire to concentrate the flavor and to burn off the alcohol (reducing the alcohol content).
But it's actually quite easy.
For this recipe, we added 1/4 cup bourbon, then used a grill lighter to light the bourbon by placing the flame close to the liquid.  You can use a match, but I would rather use something with a longer handle to avoid being burned.  We let it burn for about 30 seconds and then put a lid over the pan to put out the flame.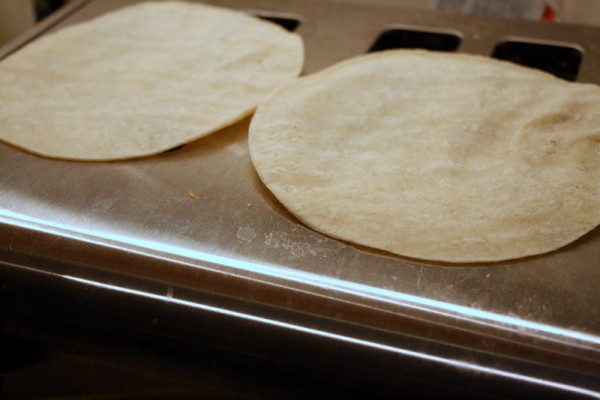 My genius husband also discovered this fool-proof method of toasting tortillas — place them over the toaster, then push the levers down to turn the toaster on, just as you would do if you had put bread inside the toaster.
For someone who always burns tortillas when I try to toast them in a pan, this has been life changing.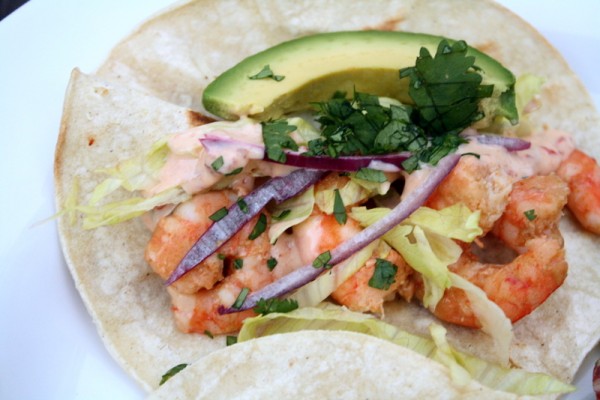 The rest of this meal comes together easy peasy.  The most complicated part is the sauce, which actually only has four ingredients.
You can't get much easier than that, folks.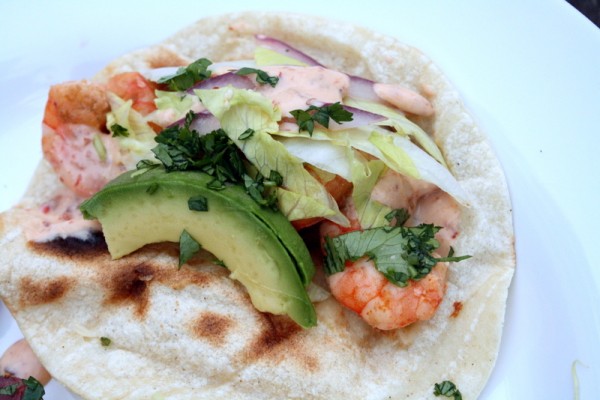 And look how pretty it is!
Fresh and delicious, you can't get tastier tacos anywhere in town.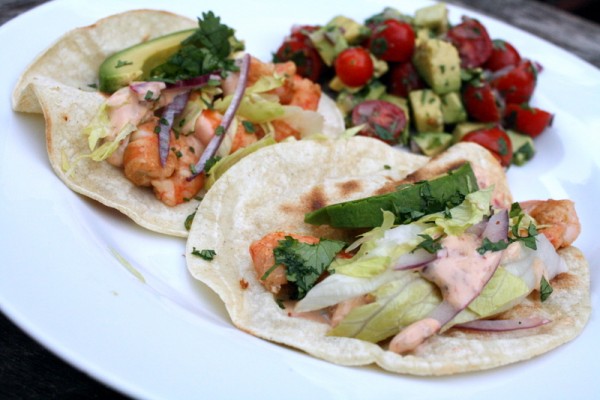 Bourbon Shrimp Tacos with Smoky Chili Sauce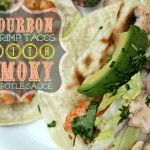 (

Serves 2

)
Ingredients
1 Tablespoon extra virgin olive oil
1/2 pound of shrimp, deveined and peeled
1/4 teaspoon cayenne
1/2 teaspoon cumin
1/4 teaspoon sea salt
1/4 cup bourbon*
4 small soft white corn tortillas
*We used Maker's Mark Bourbon.
Toppings:
Smoky chili sauce
1/4 cup red onion, thinly sliced in long pieces
1/4 cup extra sharp cheddar cheese
1/4 cup fresh cilantro, chopped
1/3 avocado sliced into 4 large slices
Smoky Chili Sauce:
2 Tablespoons light mayonnaise
2 Tablespoon fat free Greek yogurt
1 chipotle chili in adobe sauce, chopped finely
Directions
Before you get started...
1) Always have a fire extinguisher in your kitchen.
2) When you light the bourbon on fire, make sure you have a lid for the pan. If it flames up too much and you want to kill the flame by put ting the lid on the pan. That way you kill the oxygen and thus the flame. Please do not catch your kitchen on fire.
When you make this, use a bourbon that is non-rye. Rye bourbon is more spicy than wheat bourbon, which is what Maker's Mark uses. The wheat makes the flavor less potent, smoother, and thus better for shrimp.
****
Heat the oil in a pan on medium heat. Add shrimp to the pan. When they start to pink, flip them over and add bourbon. Use a grill lighter or match to set the bourbon in the bottom of the pan on fire. Allow to burn for about 30 seconds, then cover the pan with a lid to put out the flame. Remove lid and sprinkle shrimp with spices.
Toast tortillas over a toaster or in a frying pan with a bit of oil.
Top each taco with 1/4 of the toppings and a tablespoon of the Smoky Chili Sauce (recipe follows).
Chili Sauce:
Whisk all ingredients together in a small bowl. Refrigerate leftovers or if not used immediately.
****
The winner of the Rock and Read 5K is Kimi or Kim as I know her.  Yay Kim!
I hope I see the rest of you guys at the race!