I am winning today.  It's a winning Wednesday.
Case in point:
I found the keys to my office.  They have been missing for three days!
I somehow managed to pair two matching earrings together, one from my jewelry box and one from the depths of my purse.
I took out the garbage AND the recycling bins to the curb, which only gets done 50% of the time when Brad is traveling.
Today is beautiful.
My hair doesn't look half bad despite being three weeks past my limit for a cut and a color.
And I also managed to put together this tasty lunch-to-go.  Now, I originally intended to pack it in my lunchbox and take it with me to work, but said trash-taking-out and looking for my keys got in the way. I did, however, manage to get back home around noon and pack this up like I would have, if I had the time.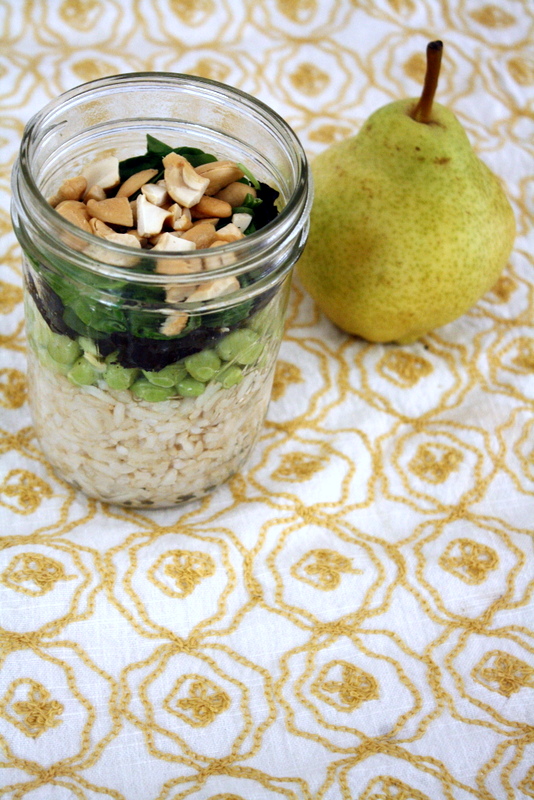 In the land of make believe I took this lunch to go.
If you've been reading Foodie Fresh for a long time (and if you have, bless your heart), you'll remember when I worked far far away and took my lunch (and blogged about it) every single day. Now that I work much closer to home, I usually go home for lunch.  But on those days I know I'll be chained to my desk, I always take my lunch.  I even have a bi-weekly-ish lunch date where we bring our lunch and get coffee.
Bringing your lunch has a lot of perks over eating out.
1. It's healthier.  In fact, it's way healthier.  Eating a home cooked (or home assembled) healthy meal is so much better for you than eating the stuff they put in the majority of restaurant lunch fare.  Don't even get me started on fast food.
2. It makes you more productive.  Who has ever wanted to take a nap after eating out for lunch?  One time after a lunch date, it was all I could do during a meeting not to lay my head on the conference table and shut my eyes.
3. It's cheaper.  Eating out (even fast food) really adds up.  And even if you think you're getting a good deal, you'll pay for it in other ways — see #2.
4. It limits waste.  You know every once in a while you forget about your leftovers and have to throw them out?  Well, if you had eaten them for lunch the next day, that wouldn't have happened.  I often make my choice for lunch based on what needs to be eaten before it goes bad.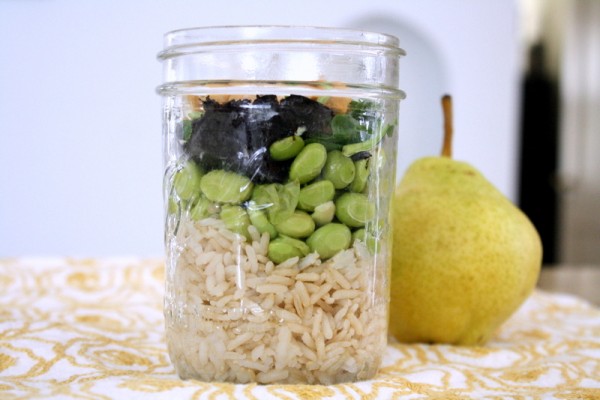 Case in point: this edamame.  I used most of it over a week ago to make edamame guacamole and what was leftover had a shelf life of oh…about 30 more minutes.  It was now or never.
I've been seeing Mason jar lunches on Pinterest for several weeks now and thought it was high time that I do my own take on jarred lunches…except, I don't use Mason jars.  I use Ball jars.
Ball Jar Lunch: 

Asian Rice Bowl
(Serves 1)Kelly Davis2012-03-07T21:24:34+00:00
Ingredients
1 Pint size jar (wide mouth works best)
2/3 cup cooked brown rice
1/2 cup cooked edamame
1 sheet nori, cut into bite-size pieces, pre-soaked (see notes)
1/2 cup spinach, wilted (1 large handful raw)
2 Tablespoons cashew pieces
2 Tablespoons soy sauce or tamari

Directions
Wilt the spinach by sauteing it in a pan with a bit of oil or butter/butter substitute or simply layer it on top of the rice and edamame, and microwave for 1 minute which will wilt the spinach completely.
In your jar, layer rice, edamame, nori, spinach, then cashews. Flatten each ingredient with a fork, to make room for the rest of the ingredients. Pour soy sauce over the contents of the jar. It will sink to the bottom and cover the rest of the ingredients.
When ready to eat, microwave for 1 minute, without the lid. Stir, then microwave another 30 seconds to 1 minute.
Notes:
Nori is edible seaweed that is often used to wrap sushi. You can find it in the international section of your grocery store. If you are not a fan, just omit it from the recipe.
Pre-soak the very chewy nori by placing it in water for about five minutes or until the nori is tender.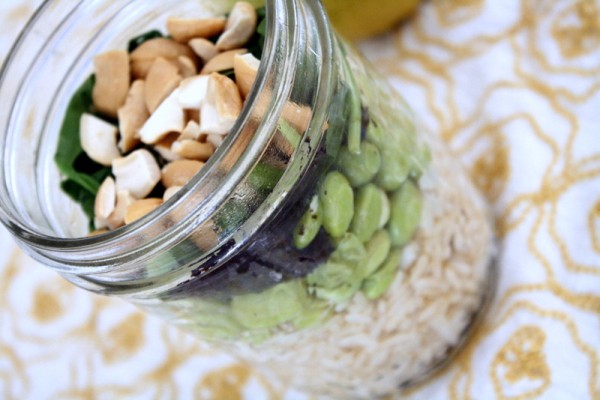 You can eat this chilled or warm, but I prefer it warm.  This was so tasty and healthy.  It was also very transportable.  Just throw on a lid and everything you need for a healthy lunch (plus a piece of fruit if you like) is right there in one jar.  This is also a good idea if you're afraid of the weird stuff that might seep into your food from plasticware.
I bet you can think of a million other easy lunches that you can put in a Ball jar.  And if you can't…well, that's why I'm here.
***
Here's another answer to the Ask Me Anything portion of my reader survey.
Have you ever received any mean or negative comments from the blog? I would love to start a blog, but afraid of people hiding behind their computers and being inconsiderate. How do you handle these type of comments?
In all my years of blogging (a little over 2 years) I've only received two negative comments.  One seemed to be constructive criticism, but they didn't leave a real email account, which makes me wonder…and the other one may have been spam because it had some strange website link associated with it.
Maybe I'm just not that controversial, but I receive an overwhelming amount of encouraging comments and they make blogging so worthwhile.  Even if my negative comments doubled (to the grand total of 4…haha) blogging would still be totally worth it.  If you feel like blogging is something you would enjoy, please don't be afraid of negative comments.  I think you'll be pleasantly surprised at how genuine and uplifting readers can be.
And how do I deal with it?  I responded as best I could to the anonymous comment and tried not to read too much into it and the other one got deleted because I was pretty sure it was spam.  I don't take it too seriously. It's just not worth it.
However, ask me again when I get negative comment #3. 😉