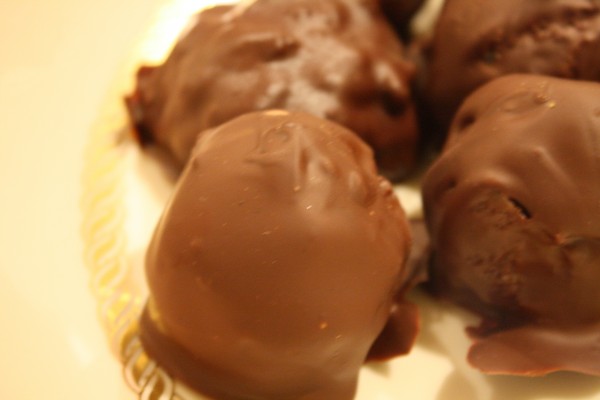 My favorite cake of all time is my Mamaw's* German chocolate cake.  It's so moist and so sweet and it just tastes like home.
*I usually say grandmother on the blog, but after getting "I never knew you had a southern accent!" from people who meet me in real life several times, let's not hide my southern-ness any longer.
When Brad turned the big 2-9 on April 8, he told me he wanted a German chocolate cake.  He knew that I would be bustling around the house, trying to get everything perfect before his party, so he suggested that I make a sheet cake instead of the triple decker my Mamaw makes.
And then he said, "No, actually I think you should make cupcakes." And I agreed.  I mean, how hard could it be to take a cake recipe and make it into cupcakes, right?
Wrong.
My cupcakes fell apart completely.  They were little buttery clumps of delicious ugliness.
But thank goodness, I had doubled the recipe to feed a crowd (we had over 30 people at Brad's birthday party) and made the rest of the cake batter into a sheet cake.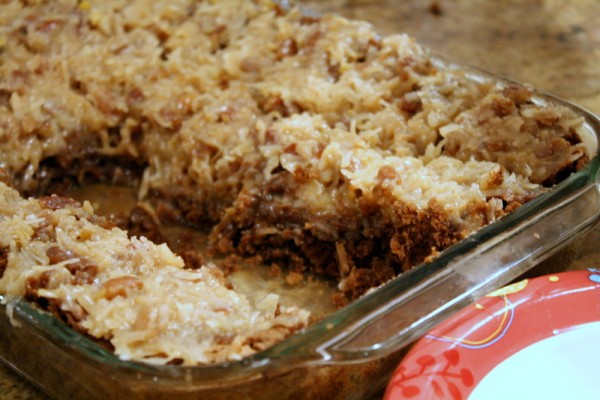 Yum, German chocolate sheet cake.  Just as good, but not as complicated.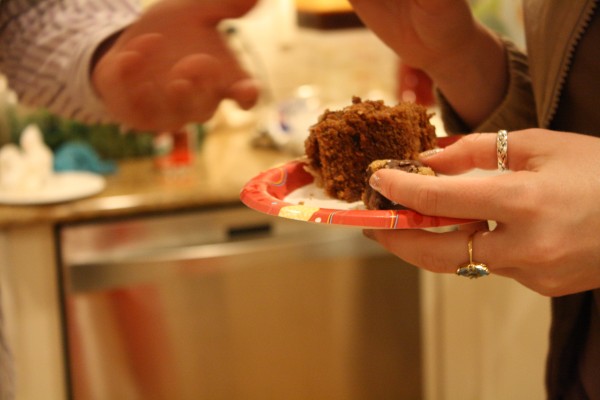 None of my guest complained it wasn't three tiers tall with alternating layers of cake and coconut icing.  No, sir.  All I heard was, "yum" and "nom nom nom".  For a brief moment my chatty guests* were actually a bit quiet.
*I say "chatty" with only the greatest magnitude of affection.  If you're not chatty, we just can't be friends.
But let's get to the good stuff, shall we?
What about those cake balls?
Even though I turned half of my recipe into sheet cake, I was still left with the cupcake crumbles.  And if you've been reading my blog for more than a hot minute, you know that I can't stand to throw anything away.
It pains me.
Let's blame it on my Mamaw who doesn't throw away tinfoil (aluminum foil, for you Yankees), if it still appears clean.  Now, I have never done that myself*, but food is another story.
*I'm totally lying.  I do that all the time.
German Chocolate Cake Balls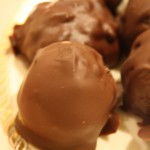 Amazing. There are no other words. A friend said she was thinking about leaving her boyfriend for these cake balls.
Ingredients
Cake:
1/2 cup water
1 package (4 oz.) Baker's German Sweet Chocolate
2 cups sugar
4 egg yolks
2 1/2 cups Swans Down Cake Flour
1 teaspoon baking soda
1 cup buttermilk
1 cup butter (2 sticks)
1 teaspoon vanilla
1/2 teaspoon salt
4 egg whites, stiffly beaten
Coconut Icing:
1 cup evaporated milk
1 cup sugar
3 egg yolks
1/4 lb. butter (1/2 stick)
1 teaspoon vanilla
2 cups shredded coconut
1 cup pecan pieces
wax paper
Cake Ball Shell:
14 oz. dark chocolate*
wax paper
Directions
Preheat oven to 350 degrees F. Heat water in a small pot until it comes to a boil. Add chocolate to pot of boiling water and stir until it melts. Remove from heat and allow it to cool.
Mix together butter and sugar in a medium size bowl until fluffy using a whisk or electric mixer. Add yolks to sugar/butter mixture, one yolk at a time, beating well after each yolk. Blend in vanilla and melted chocolate.
Sift flour into a large bowl. Add baking soda and salt to flour. Add flour mixture alternately with buttermilk to chocolate mixture, beating well with each addition until smooth. Fold in beaten egg whites.
Pour into greased muffin tins** and cook for 25-30 minutes or until an inserted fork in the center cupcake comes out clean.
Remove from oven when completely cooked and allow to cool (refrigerate or even put in the freezer if you're running short on time). Crumble cake with fingers.
Add all ingredients from COCONUT ICING recipe into a medium sized pot: milk, sugar, yolks, butter, vanilla, coconut, nuts. Heat on low, stirring often, until thickened. Add icing to crumbled cake and stir well to combine. Line baking sheets with wax paper. Form crumbled cake and icing mixture into small 1-1 1/2 inch balls with hands. Place cake balls onto wax paper lined baking sheets. Place baking sheets in the refrigerator for 30 minutes or more to allow cake balls to cool and firm up.
Melt chocolate from CAKE BALL SHELL recipe on low heat in a medium sized pot until completely melted. Lie several feet of wax paper onto a flat surface. Drop into melted chocolate and use a spoon to pour melted chocolate over the ball of cake. Pick up cake ball with spoon allowing excess chocolate to drip into the pot of chocolate. Carefully, place cake ball onto wax paper using the spoon. Repeat process until all of crumbled cake/icing mixture has been used.
Allow cake balls to completely harden before serving. You can quicken this process by placing them in the refrigerator.
*I recommend using four 3.5 oz. 72% Intense Dark Twilight Chocolate Bars.
**You can also pour into a sheet pan, but cooking time might need to be longer.
###
I have to say that I caught the Ghiradelli bars on sale at the Teeter.  But even still, the teenage boy that checked me out gafawed when he saw the price ring up on the cash register (only the best for Brad).
I then took a moment to explain to him the difference between good chocolate and just okay chocolate, to which he replied, "Well, maybe I'll have one of these on my lunch break".
So glad I'm inspiring healthy lunches.