I took last night off from blogging to spend some time with Brad (i.e. we watched another episode of Dexter and cuddled on the couch with Rascal).  So, I'm going to try to sum up yesterday in one big post.  Here goes.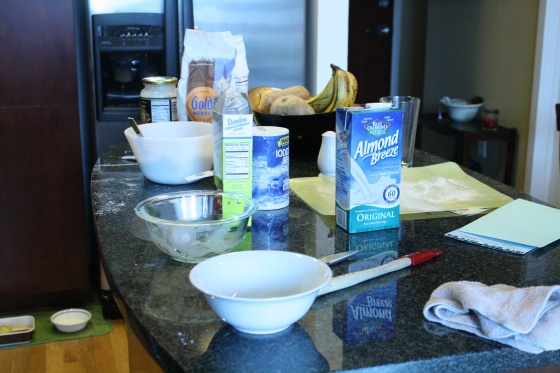 Yesterday morning, I got right to work on baking for dinner that night.  My brother, Wess, and his wife Jen were coming over and Brad and I had some major cleaning to do.  My kitchen looked like a bomb went off in it.  I did a lot of dusting and picking up around the house before starting in on the baking.  There is clearly no point in cleaning a kitchen when flour use is on the agenda.  Flour is so messy!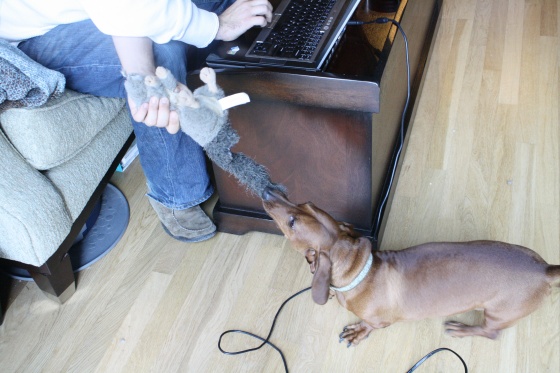 Brad was the most wonderful husband in the world and helped me clean.  He picked up his clothes, made the bed, and cleaned the bathroom. He even managed to keep Rascal entertained.
Multi-tasking at its best. 🙂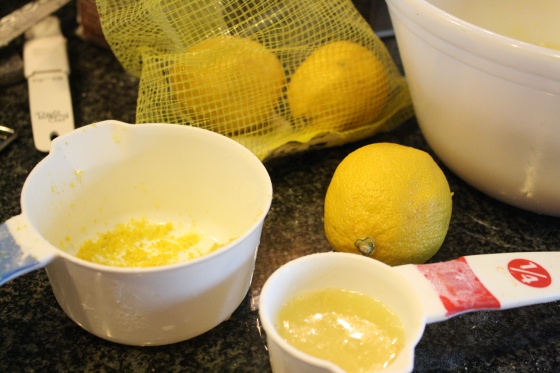 I had been contemplating what to make for dessert since the night before.  I wanted to make something delicious, but something I already had ingredients on hand to use.  Finally, I found the perfect thing and knew why God told me to buy that whole bag of lemons last weekend.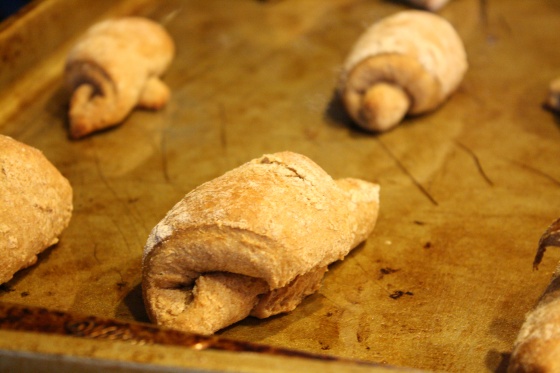 I also made these little guys.  I tweeted that I was looking for a whole wheat bread recipe and got some really great suggestions. But you know how sometimes you don't know what you want until you see it.  These whole wheat crescent rolls were exactly what I was looking for.  It just took me some time to figure that out.  They turned out perfectly, so I can't wait to share the recipe very soon.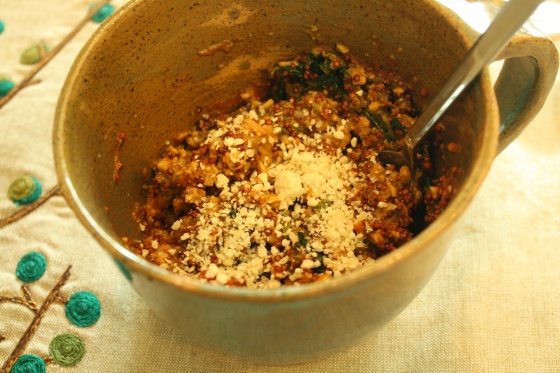 Around 1 pm, I broke for lunch throwing a mish mash together of delicious things.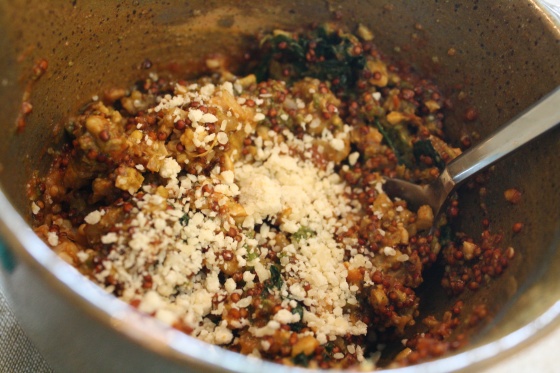 I cooked 1/3 cup quinoa in vegetable broth in the microwave.  Then I added about 2 Tbsp. of pesto, 1/3 cup marinara sauce, 1/4 block of crumbled tempeh, and reheated for one more minute in the microwave.  Last, I sprinkled some Parmesan cheese on top.  Holy wow.  This was delicious, plus so super fast and easy.
Brad and I had talked about doing a seven mile run that afternoon, but before we knew it, 3 pm rolled around.  I still had to make dinner, fold laundry, take a shower, get ready. yadda yadda yadda.  So we cut our 7 mile run down to just a little over 4 miles.  Boy was it cold!  At 3 pm, it was only 36 degrees outside.  Our run made me very wishful for spring and daylight savings.
After our quick run, we showered, got the clothes put away quickly, and Brad headed to the Teeter to pick up some last minute items.  I got started on dinner and before I knew, Wess and Jen arrived.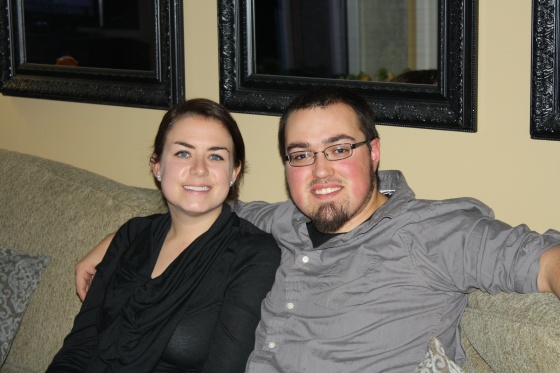 While I worked on what was left to make of dinner, we talked blog stuff.  Wess is just starting out in the blog world.  He blogs all about technology, heavy on the Apple, over at http://Technosauce.wordpress.com.  I'm trying to straddle the fine line between giving him good blogging advice and being an overbearing know-it-all sister. 😉  Wess is a good sport.
Since I did so much prep work earlier that day, making the soup for dinner was a cinch.  I have made this recipe several times in the past but haven't revisited it in over a year.  The original recipe is way more time intensive than my adapted version.  And for this time around, I took even more shortcuts, which I'll share with you now.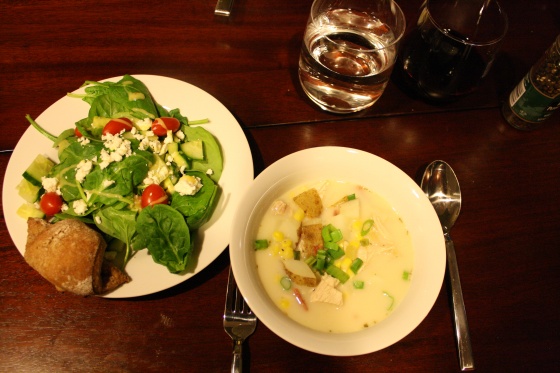 Easy Chicken and Bacon Corn Chowder
adapted from this recipe
Chicken stock:
1 1/2 pounds free range organic chicken breasts
1 stalk of celery, chopped
1 carrot, chopped
1 large white or yellow onion, chopped
1 large garlic clove minced
3 sprigs fresh thyme (stems removed) or 1 tsp. dried thyme
1 tsp. salt
1 tsp. pepper
4 cups chicken stock
1 large russet potato
4-5 servings corn (fresh or frozen)
1/4 pound turkey bacon (8 slices)
1 1/2 cups milk (or 3/4 cup heavy cream  3/4 cup milk)
3 sprigs fresh thyme (stems removed) or 1 tsp. dried thyme
1 1/2 tsp. salt (more or less depending on taste and sodium in pre-made stock)
fresh ground pepper
Combine all ingredients for chicken stock in a large pot and cover ingredients with water so that water comes just above the chicken.  Bring to a boil, then reduce heat and allow to simmer for about 30 minutes, until chicken is cooked through.  Remove chicken with tongs and chop into bite size pieces.  Place chicken back into pot.
While chicken stock is cooking, chop potato leaving skin on (skin = fiber) and place in a microwave safe bowl.  Cover with water and microwave for 10 minutes.  Once potatoes are done, place bacon on a plate, covered with a paper towel and microwave until cooked through.  I cook four at a time and cook for about three minutes total.  Chop bacon and add it and the potatoes to the soup.  Add corn, additional thyme, salt and pepper. Allow soup to simmer for about 10 more minutes.  Add milk and/or cream and stir.
Serve, topped with green onions.
Note: This is the quick and easy version of this recipe.  If you have more time, you can skip microwaving the potatoes and bacon and allow them to cook in the soup until the potatoes are tender.  Also, when making the chicken stock, you can add more water and then you won't need to add additional pre-made stock.  However, if you add more water, you'll need to cook the stock longer.  Last, the addition of heavy cream makes this soup much more rich, which I highly recommend if you prefer a richer chowder.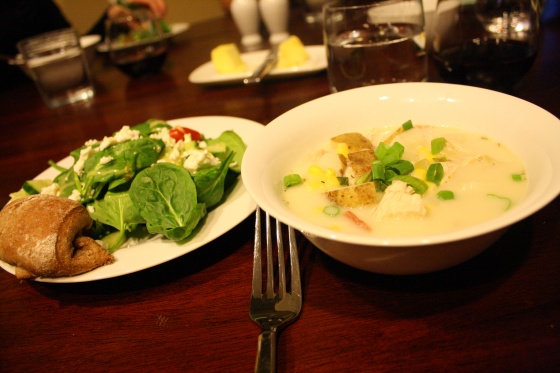 I also added a spinach salad with toppings in individual bowls to add as my guests liked: cherry tomatoes, feta, and cucumbers. We shared some red wine Jen and Wess brought over as well.  I also had a glass of white when played a game after dinner.
This was a big hit.  My brother is not a fan of vegetables.  He really only likes carby vegetables like corn, potatoes, and carrots.  He said that this soup had all of his favorite "vegetables". 😉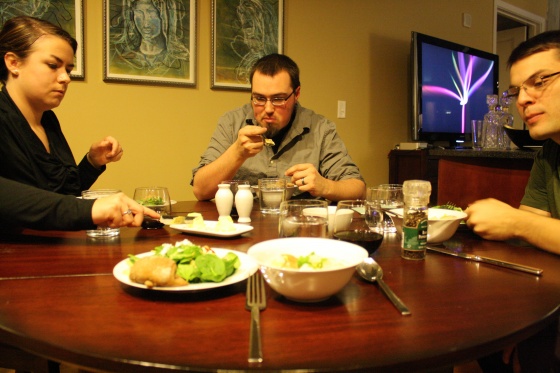 As we always do with guest, we pushed back our rolling island and pulled out both leaves of our table to make room for four.  We only have two chairs for our table, since we have such limited space, but when eating with guests, we use our two wood folding chairs from our balcony.  It works for us.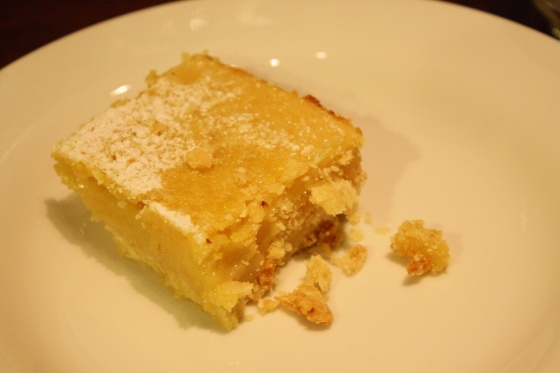 Now onto the best part: dessert.  My baking choice was Jenna's Big Sur Lemon Bars.  I followed Jenna's recipe to the T, except I used all natural cane sugar instead of the regular white stuff.  I'm going to come clean and say I actually had two of these and don't regret it a bit.  I had one after dinner and then the last one (yes, we somehow finished the whole pan) once our guests left.  Some others had two 😉 and we sent two home with Wess and Jen.
One thing I learned: mine were not as pretty as Jenna's because I decided to add the powdered sugar once it cooled then cover it in plastic wrap and put it back in the fridge.  The condensation from the plastic wrap dripped on the lemon bars, so it doesn't look like the powdered sugar was evenly sprinkled, although it was.  If you make these, sprinkle them with powdered sugar just before serving.
Jenna is a baking goddess.  You can't go wrong with her recipes. 🙂
Ingredients
Directions