One of the things I've always loved about baby girl clothes are those darling little bloomers you see peeking out of their dresses.  So when the folks at Rugged Butts contacted me about sending a pair of boys bloomers for Elliott, I jumped at the chance.
Who knew that bloomers for baby boys even existed?
This all happened before Elliott was born so I eagerly waited until he was big enough to wear the 0-3 month sized bloomers I picked out.  It was a long wait, but I've been working hard at turning E into a chunky baby. Now, all my hard work has paid off…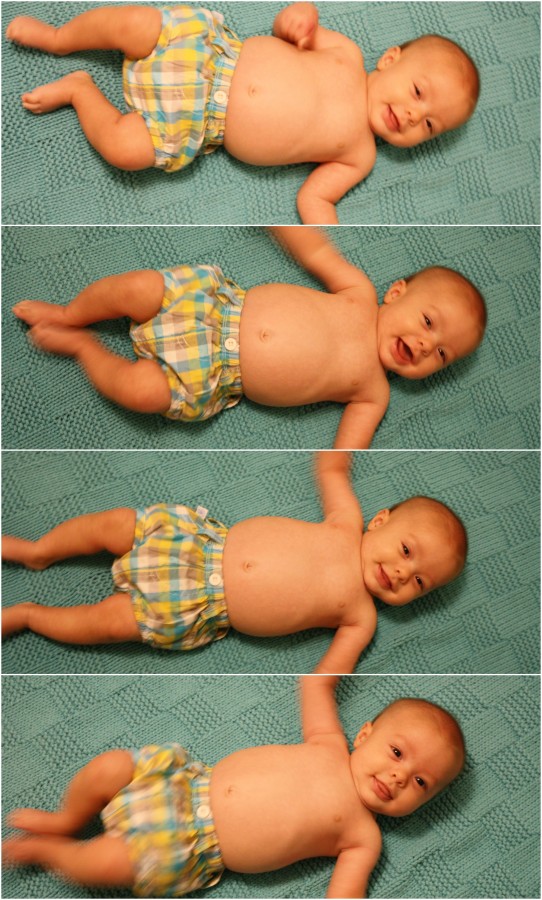 I do not envy baby photographers.  When Elliott is happy, there's no way to keep him still.  But how cute are these bloomers? I chose the Landon Plaid Bloomers, which retail for $17.00. It was a touch choice between these and the Hunter Plaid Bloomers. Rugged Butts also makes bloomers in solid colors as well as graphic print bloomers, sports bloomers, and even jean bloomers. Plaid was more Elliott's style.
Also, even though these bloomers are for boys, I could definitely see a baby girl wearing these with a yellow sundress.  This particular plaid is very unisex.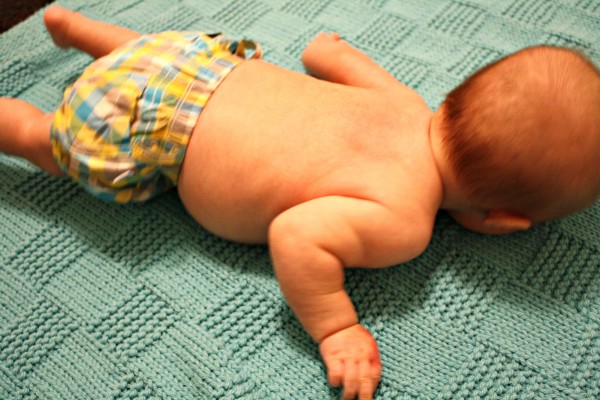 Getting off-topic…
We took the opportunity when modeling our Rugged Butt Bloomers to do a bit of tummy time, which E hates.  He almost always cries and screams within 30 seconds of me flipping him over on his belly. We try everyday, but tummy time just hasn't took yet.
His neck is strong, so I'm not worried about developing those muscles.  But if he doesn't get better used to being on his tummy, he's never going to learn to crawl.
Fun fact: I never crawled.  And obviously I learned to walk…But, this was in the 80's when walkers were all the rage.  You know, those seats that had a tray and wheels.  According to my mom, I used to tear through the house in my walker going as fast as my little legs could take me.
So if anyone has any tummy time tips or words of encouragement, I'm all ears.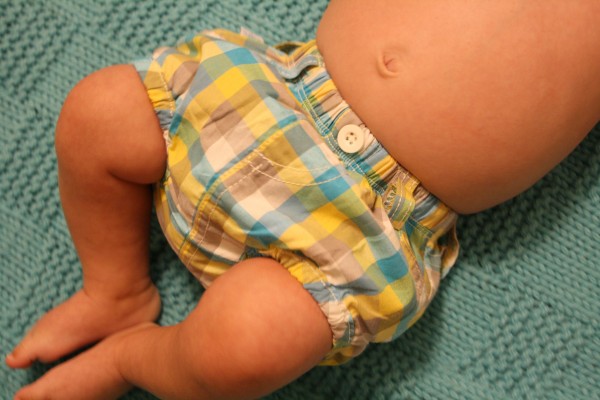 So back to the bloomers for boys.  What did I think of them?  I absolutely loved them.
I actually purchased some bloomers for Elliott via Groopdealz a while back and hated them. The material was an almost shiny polyester and when I washed them, the red chevron faded to pink.  Urgh.
Rugged Butts' bloomers are 100% cotton and definitely a higher quality than the cheap bloomers I bought originally.  They're super cute and even have matching tops that go with them.
Baby boy clothes have came a long way in the past few years and I can't wait to check out Rugged Butt's other clothes, like their personalized birthday hat (so cute!).
If you're the mom to a baby girl, check out Ruffle Butts for all things girly.
I was not compensated for this post, but did receive a free Rugged Butts' boy's bloomer of my choice.  All opinions stated are 100% mine.