Last Tuesday night, I had the very fun opportunity to attend my very first bourbon pairing dinner at Wolfgang Puck Pizza Bar's Cooked Corked and Poured Dinner.  The dinner featured bourbon from Jim Beam distillery.  And although I'm not a huge fan of bourbon, I love trying new flavors and experiencing first hand how chefs present different flavors together.
This was not my first time at the restaurant. Even though I haven't reviewed it here yet, I've been twice before this night.  I really love their pizza, especially their crispy, yet chewy crust, so I was excited to see what their chef would whip up for this particular dinner.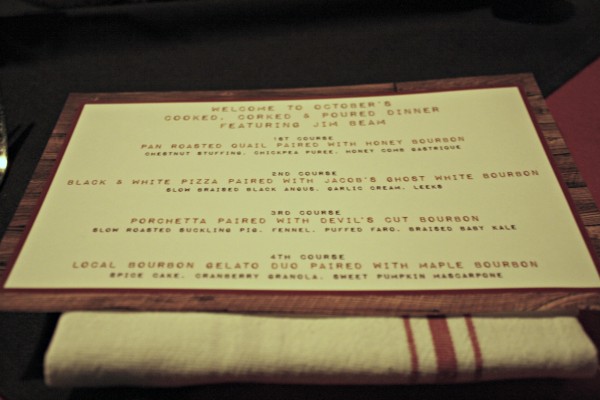 Upon arrival, we were sat at a very long table with the menu laid out in front of us.  The dinner was set up so that at each course, we received a small sample of a particular bourbon from Jim Beam, a cocktail make with the bourbon, and a dish created especially to go with the bourbon.
We learned prior to beginning our meal that tasting bourbon is a skill, much like tasting wine.  To do it properly you must use the "Kentucky chew" method.  You take a small sip, keep it centered in your tongue, smack on it, then take a breath to get the true flavor profile.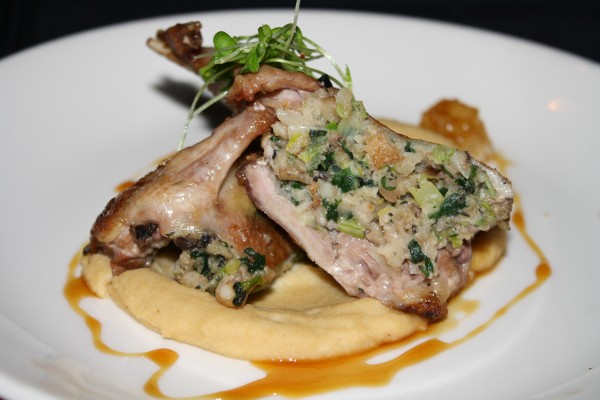 1st Course
Pan Roasted Quail paired with Honey Bourbon
chestnut stuffing, chickpea puree, honey comb gastrique
The honey bourbon definitely tied for my favorite bourbon of the night. It's made with a four year old bourbon.  Technically, it's not really a bourbon because when you add flavor (the honey), it becomes a whisky.  I learned that evening that bourbon has very specific guidelines that make it bourbon.  A bourbon is always a whisky, but a whisky is not always a bourbon.  One of these factors being that bourbon is always unflavored.
I loved this first course, mainly because I love all roasted birds.  But the true star of this dish was the chestnut stuffing.  It had me excited for Thanksgiving, the only time I really ever eat stuffing.
Pictured above is my first two cocktails.  The cocktail on the right was a Sidecar made with honey bourbon.  It was my favorite of the night.
The second cocktail was made with Jacob's Ghost, a white whiskey made by filtering out the color, with a higher corn content than most bourbons.  The cocktails was made with pineapple juice, ginger beer, and the whiskey.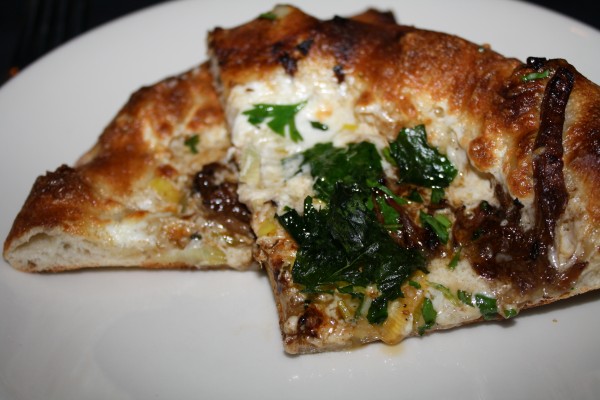 2nd Course
Black & White Pizza Paired with Jacob's Ghost White Bourbon
slow braised black angus, garlic cream, leeks
This was my favorite course of the night, as well as many other of the dinner guests.  This pizza isn't currently on the Wolfgang Puck Pizza Bar menu, but many of us told the chef that it really should be added.  It was delicious.  I'm usually a fan of pizza with a lot of tomato sauce, but the garlic cream paired with the beef was just amazing.
I also learned a lot about the pizza dough made at Wolfgang Puck Pizza Bar during this dinner.  The pizza dough is made with three different doughs and it takes nine days to get the right doughs. All the doughs come from the mother dough.  One is an overnight dough, one is a three-day dough, and the third is a nine-day dough.  Just the right amounts of each dough are used to make a dough with a sourdough taste that's light and crispy.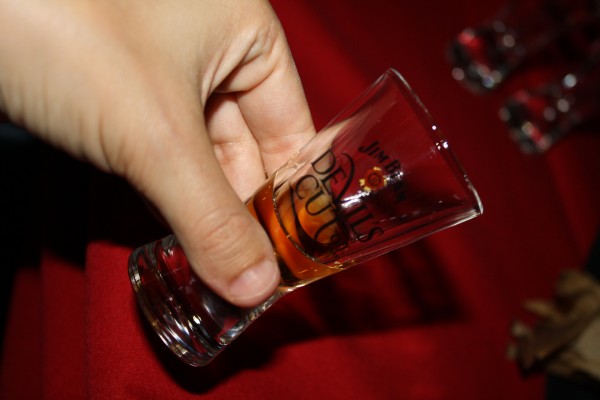 Our third bourbon of the evening was the 90 proof Devil's Cut.  I'm pretty sure the tiny sip of this bourbon put hair on my chest.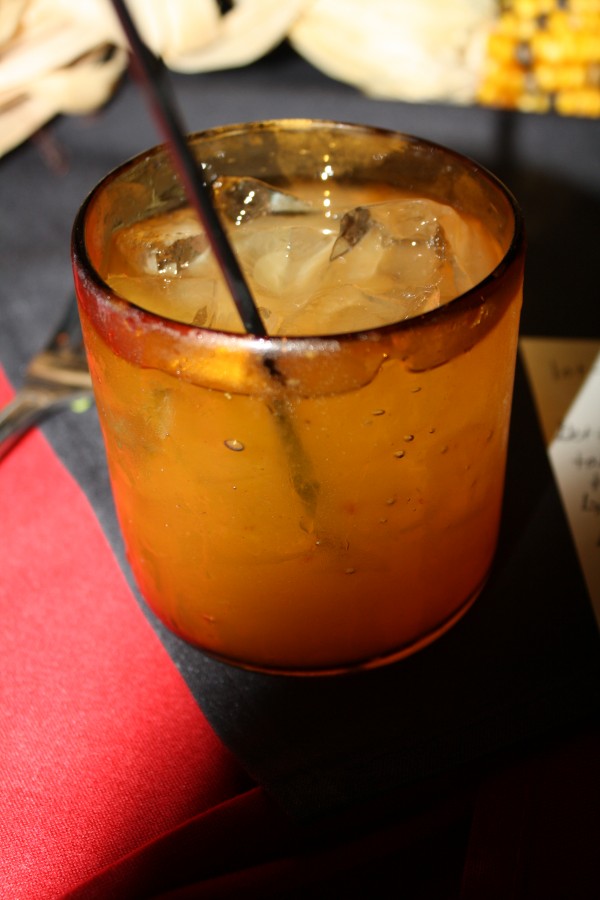 It was used to make our third cocktail, called Dancing with the Devil, made with triple sec, passionfruit juice, and Tabasco.  The Tabasco sounds odd, but it was very subtle and added just the right amount of spice.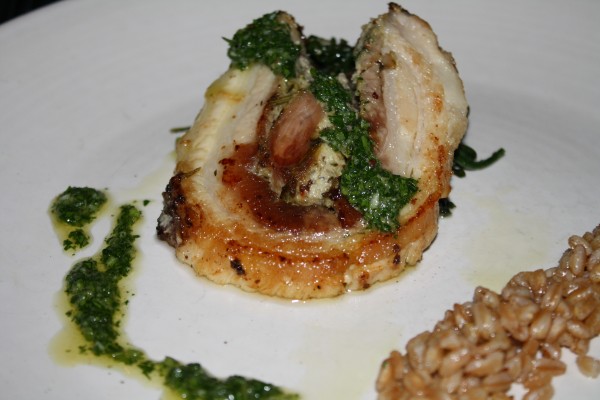 3rd Course
Porchetta Paired with Devil's Cut Bourbon
slow roasted suckling pig, fennel, puffed faro, braised baby kale
If you've never had porchetta, it basically tastes like chewy bacon.  It went very well with the earthy kale and fennel.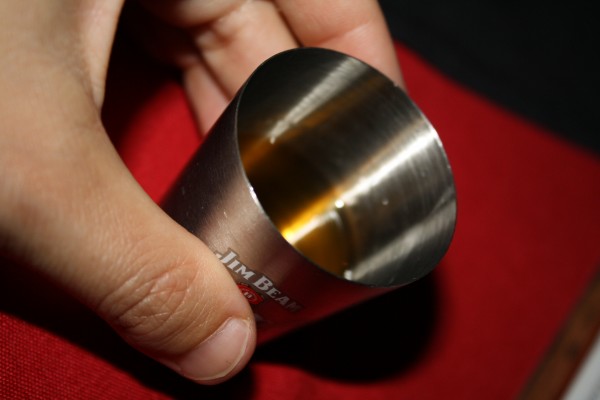 Our final bourbon of the night tied for my favorite bourbon — Maple Bourbon.
This bourbon literally tasted like maple syrup with a shot of bourbon.  And although I don't usually reach for bourbon when making cocktails, I could definitely see myself using it to make a fantastic fall-inspired cocktail.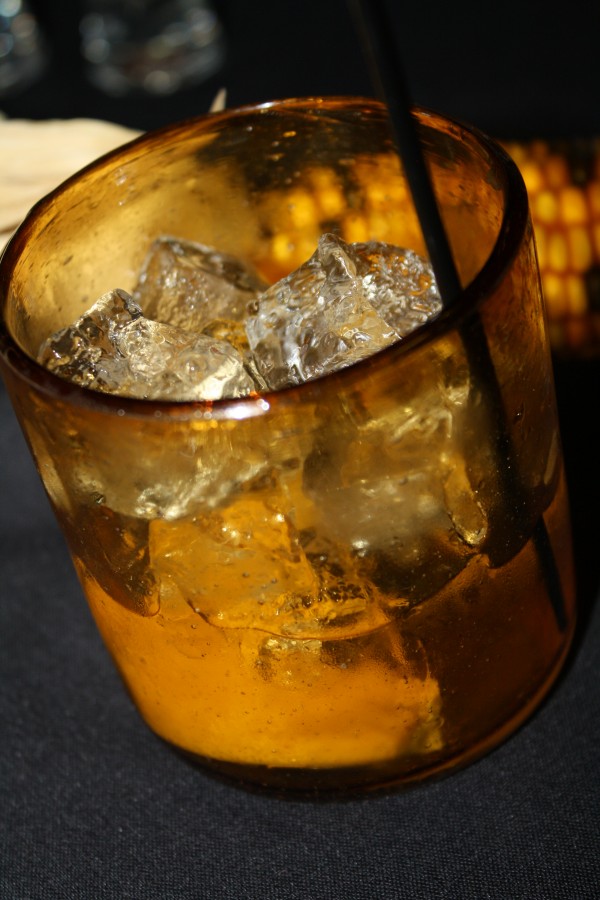 Our fourth and final cocktail was a simple combination of the maple bourbon and mulled lemon.  I never would have paired these two flavors together, but surprisingly, they worked!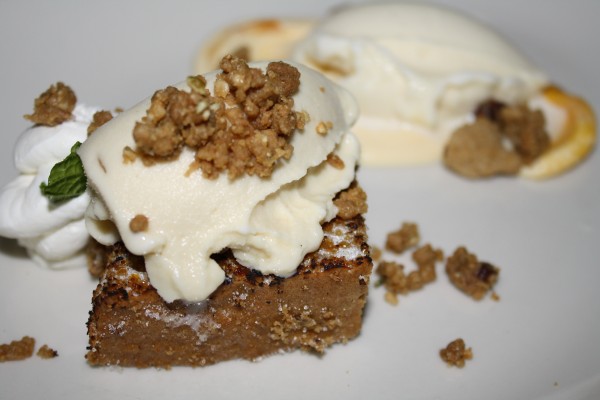 4th Course
Local Bourbon Gelato Duo Paired with Maple Bourbon
banana spice cake, cranberry granola, sweet pumpkin marscarpone
Wowza! This dessert was good.  You would have thought I would have been too stuffed at this point to polish this off, but breastfeeding does wonders for my appetite.  The cake was dense and the gelato was rich and creamy.  I never would have thought to top a dessert with so much going on with granola, but I loved the crunch it added.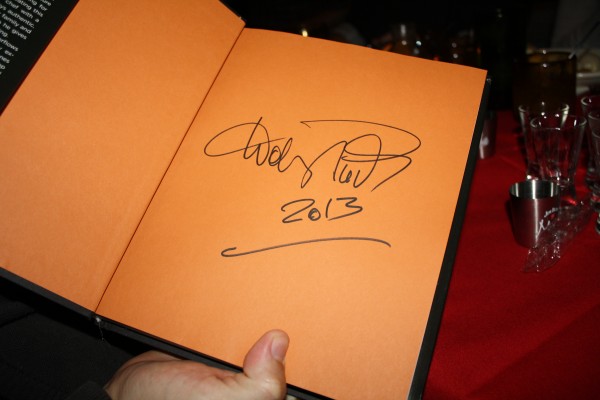 In addition to the yummy food and drinks, Jim Beam raffled off gifts including this signed book my Wolfgang Puck, which my friend won and a really nice Makers 46 drink mixer set in a small vintage suitcase.  I was happy to give it to Brad, who is a huge fan of Maker's Mark.  He graciously stayed home with Elliott so I could attend this event.
I had a great time learning about bourbon and enjoying the delicious food paired with it at this monthly dinner pairing event.  Next month, Wolfgang Puck Pizza Bar will be featuring a wine pairing dinner.  To find out about these events, sign up for their newsletter, located at the top right of their website.
I was not compensated for this post, but was allowed to attend this dinner with a guest free of charge. All opinions are expressed here are 100% my own.