A couple of weeks ago, I talked about "How to Wear Non-Maternity Clothes When Pregnant in the Summer". And today I want to share with you guys the summer maternity clothes I actually wear.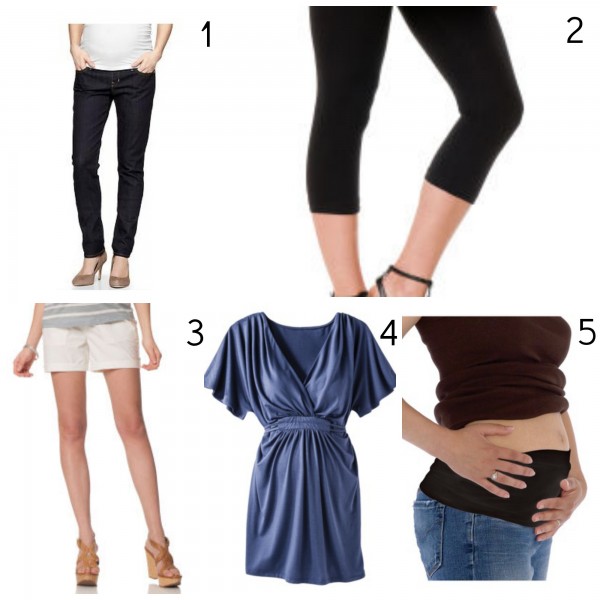 1/ Maternity Jeans
I wore these more in the spring, but every once in a while I'll pull them out to wear now.  The summer is, after all, only three months.  I have three pairs of maternity jeans that I actually wear.  One is a pair of Seven for All Mankind that I got for $33 at a consignment sale.  The other two are bright coral and lemon, which I got on sale at the Gap for $30 a piece.  Truth be told, you don't need bright colored trendy jeans when you're pregnant, but it helps to feel a little bit trendy.  There are so many styles that you just can't wear while pregnant so do what you can to still feel normal, like splurging on jeans that help you feel more current.  My mommy friends have all said that they loved the full panel jeans, and that I would love them too when I got further along in my pregnancy.  But, I'm less than five weeks from my due date and I still fold down full panels.  My demi panel jeans are just more comfortable to me.
2/ Maternity Leggings
I love leggings in the winter and fall, but have actually been surprised that I like leggings in the summer too.  However, I only wear my calf length.  Apparently you can find knee length too.  I love them because they're so easy with a tunic, but most importantly they're so comfortable.  I have full panel leggings, but I fold the panel down.  I like to hang out with my belly out.  I got mine at Motherhood, but you can probably find them at any maternity store.  
3/ Maternity Shorts
As much as I love dresses, it's really nice to have shorts so I can mix up what I'm wearing.  I usually wear them with long tanks or blousy tops — all non-maternity.  I'm not really into blue jean shorts so I settled on a white pair and a black pair.  I got the black pair at Target and the white pair at a consignment store.
I'm not going to lie — it's hard to find good maternity shorts.  I looked for months and mostly found long baggy shorts.  Ugh.  Not cute! If I hadn't already bought the white shorts at a consignment store, I would have purchased both colors of the shorts I found at Target, which were black and khaki.  If you find a pair you like, buy multiple colors.
4/ Maternity Tunics
If you purchase maternity leggings, you're going to need something to cover your bum.  Enter maternity tunics.  Truth be told, you might be able to find non-maternity tunics that work. But I feel like they're just not as popular in the summer, so it's easier to find maternity-specific tunics.  I bought mine at Old Navy, Zulily,  and consignment stores around Charlotte.  In fact, if you want to save money, consignment is definitely the way to go.  I've found so many great things (like $33 designer jeans) at consignment sales.
5/ Be Band
Be Band is the brand sold at Target, but these are also called Belly Bands at other stores.  Regardless of the brand, it's basically a large piece of elastic that you wear around your waste so you can unbutton or even partially unzip your non-maternity pants and the elastic holds up your pants.  You can fold the band in half or wear the full panel. These are necessary when you're in the in-between stage where regular pants/shorts/skirts are too tight, but you don't quite fit into maternity clothes.  I wore mine well into the second trimester and definitely couldn't have lived without them when I worked in an office job and had to wear dress pants (yuck, I so don't miss those).
 Honorable Mentions
– Maternity Dresses
– Maternity Blouses
– Maternity T-Shirts
These are "nice-to-haves", but honestly, I could have done without them.  If you do purchase these items, I highly recommend trying them on and not buying them if they don't fit with the expectation that they'll fit eventually.  I have several maternity dresses and t-shirts, that just aren't ever going to look good on me.  They're just too big in the stomach area.  Likewise, I have a few tunics that have fit me for a while, so I imagine they might be too small for women with less compact stomachs.  It's really difficult because you can be a "small" with a gigantic belly or a "large" with a belly that doesn't stick out very much.  Bellies are not necessarily in proportion to the rest of your upper body.
Dressing my belly has been a bit of a challenge because I'm used to being able to buy tops and dresses online, which will typically fit, while bottoms are another matter.  Everything changes when you're dressing for two.
Also, I've said this before, and I'll say it again Asos has the best maternity bathing suits.
What article of maternity clothing could you not live without?