Last Thursday night, I attended Sugar Rush, a fundraising event to benefit the NC Dance Theater.
The event was a bake-off between 15+ local bakeries and dessert specialists in Charlotte.  Tickets were $25 and with the purchase we got to sample all of the desserts and choose a winner.  Yes, all of them.  Holy sugar coma, Batman.
Here's a brief glimpse of everything I tried.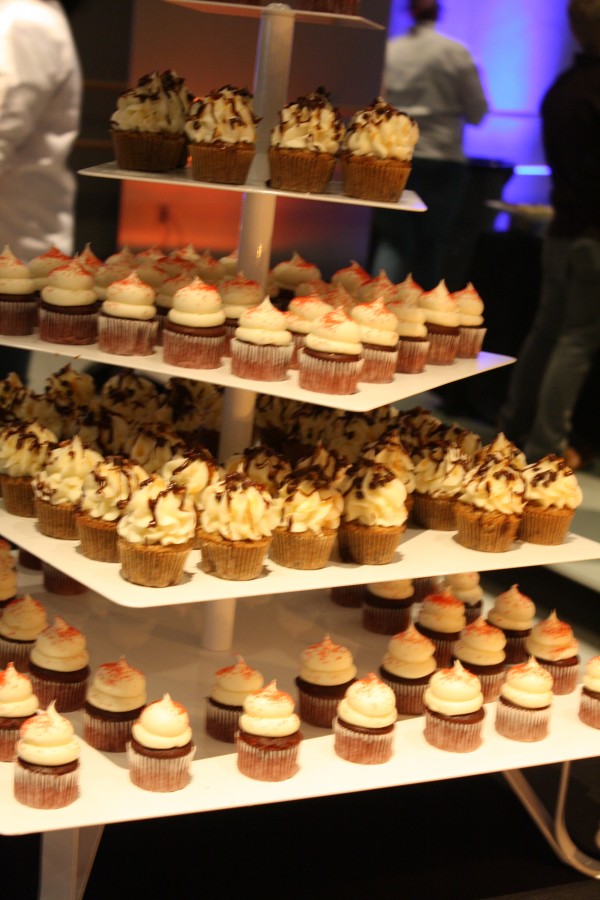 Kentucky Bourbon Cupcakes and Red Velvet Cupcakes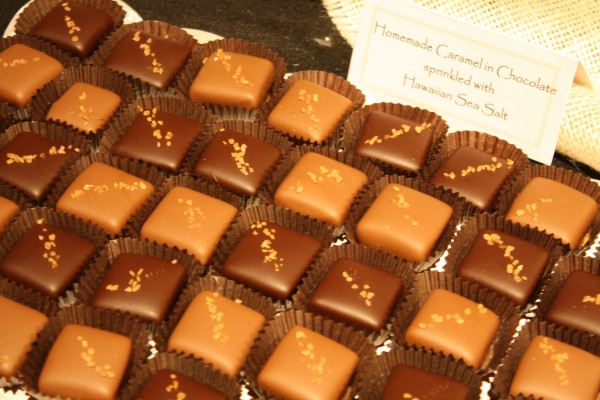 Dark and Milk Chocolate Caramels with Himalayan Sea Salt
Salted Caramel Macarons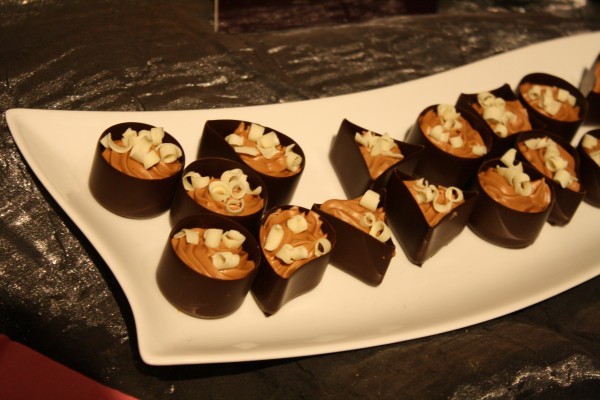 Dark chocolate cups with milk chocolate centers and white chocolate ribbon curls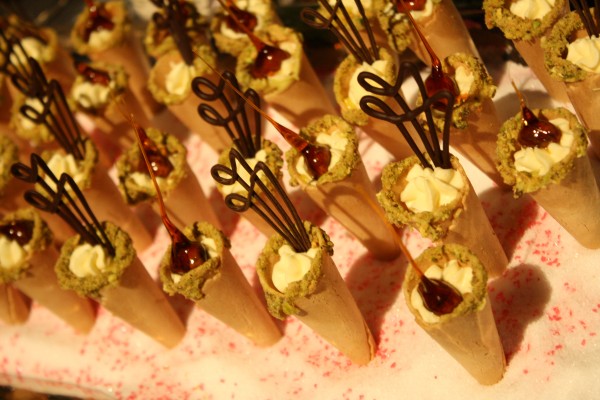 Passion fruit cream filled cones with pistachio crust — some had hand-piped chocolate garnish and some had pistachio filled caramel drops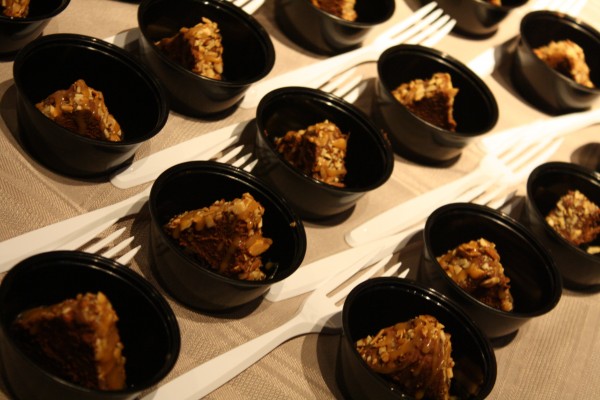 I honestly don't remember what this was called, but I do remember that it came from the Secret Chocolatier. It was like a milk chocolate mousse topped with almond slivers and a crumbly chocolate crust.  Yum.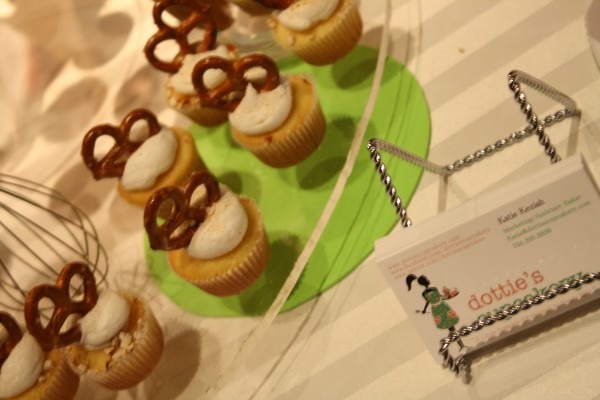 These cute little vanilla cupcakes with a salty pretzel topping are from Dottie's Cupcakery out of Waxhaw.  I somehow missed taking a photo of her key lime cake balls, which was a close second to my favorite sweet of the night.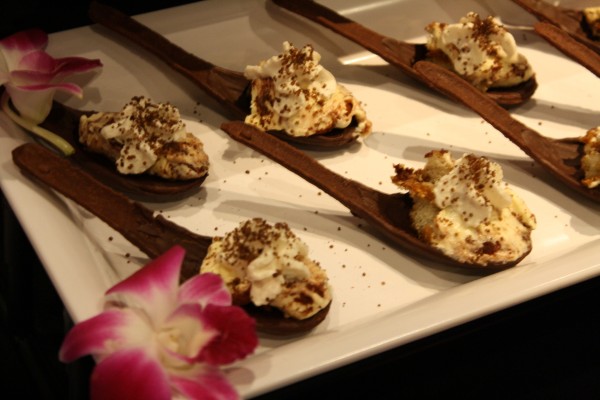 I wasn't a huge fan of this tiramisu because of the overwhelming taste of Kahlua, but I thought the presentation was very creative and unique.  The spoons are edible!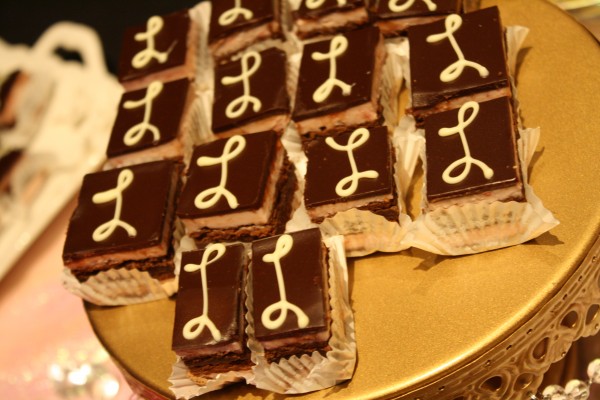 These chocolate raspberry bars from Sweet Lorraine's were very decadent.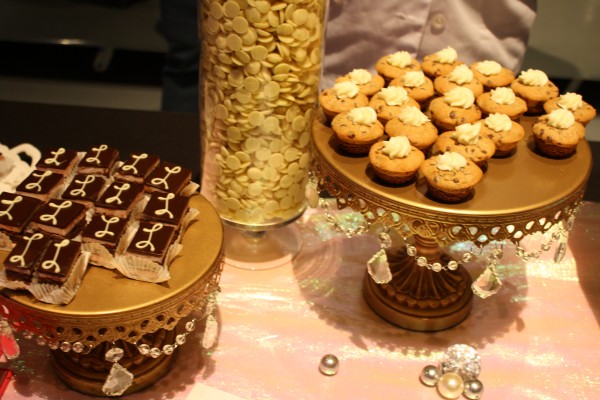 However, my favorite thing from SL's is their chocolate chip cookie brownies (pictured right).  But the trick is to getting them when they're straight from the oven.  They need a "hot and now" sign, I tell ya.
That's Krispy Kreme reference, yankees. 😉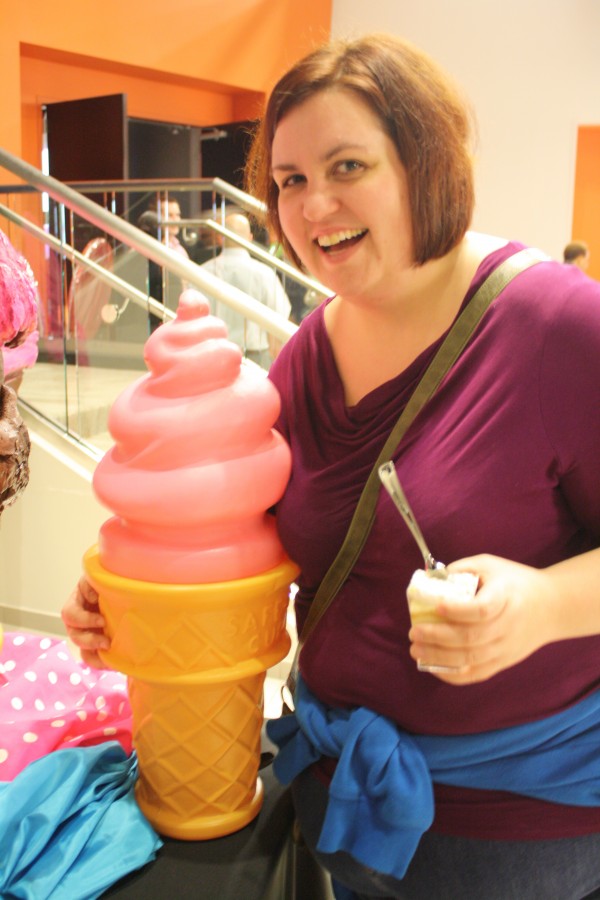 There were quite a few other tastes here and there and thank goodness I had a partner in crime (my friend Jes, who suggested we attend the event) who didn't mind splitting a lot of the treats else, I would have needed to be rolled out of there in a wheel barrow.
But now, let's get to my favorite of the night…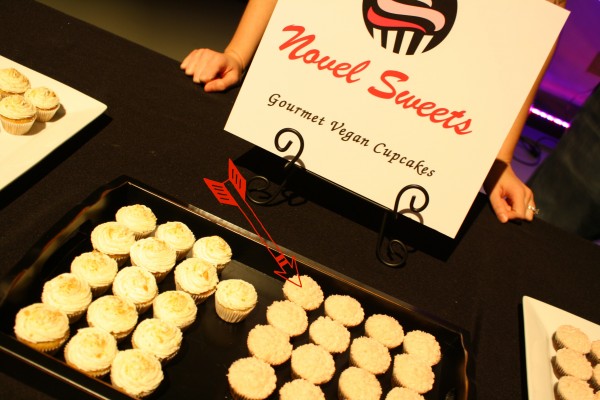 Novel Sweets' Dante's Inferno Cupcake!
Sweet Kiersten of Novel Sweets dropped off some of her vegan cupcakes to me a few months ago and just last week I saw her mention this particular cupcake flavor (they change regularly) on her Facebook page and thought, "Wow, that sounds amazing."  I have a thing for spicy chocolate. So I was super excited to see her and this particular cupcake at the Sugar Rush event.
I loved that the spice was very subtle and that the cherry was also pretty subtle.  I'm kind of on the fence when it comes to cherry and chocolate, but I really loved this flavor combination.
Choosing my top pick was not easy. But the fact that I knew I loved this cupcake the most out of all the other sweet options is saying a lot since it was one of the last things I tried.  I was about 2 grams of sugar away from being completely over all of it.
If sweets are you thing, definitely check out this event next March.  Due to the number of people there, I have a feeling this is going to become a regular event for the NC Dance Theater.
And due to the 100:1 ratio of girls to guys (I'm estimating), this event seems like a wonderful place to meet a girl. Just sayin'. Maybe I'll take all my single guy friends next year. 🙂