I really loved visiting Belgium, not in the same way I love France or Italy, but I loved it just the same.
Here's what I loved most about Belgium and what you need to know if you want to love it too.  Because let's face it; anyone can have a bad trip if you aren't prepared or don't know what to expect.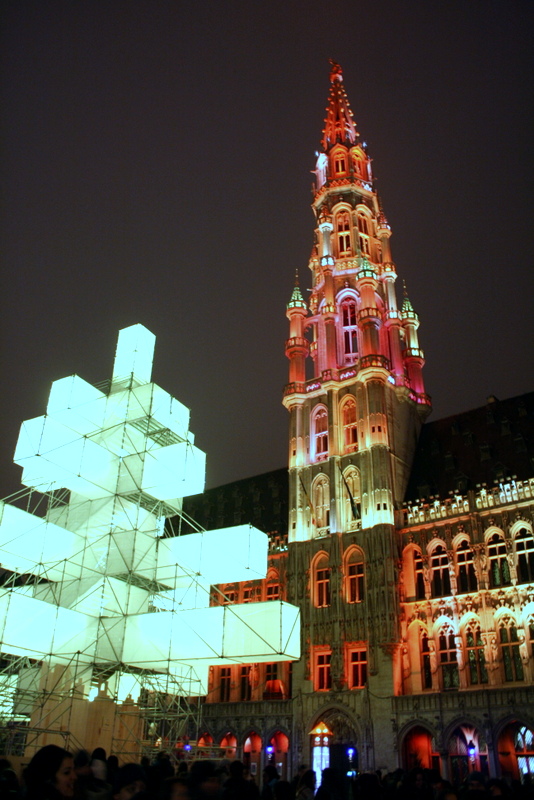 1. Belgium in December is magical.
The Christmas festival lasts all through the month of December.  If you love the holiday as much as I do, then you're sure to get swept up in the gorgeous lights and Christmas festivities.
If you visit during this time of the year, make sure you hang around the Grand Place after nightfall to catch the spectacular light show. Grab a cup of mulled wine just outside the Grand Place and browse at all of the stands of goods being sold a few steps away in the St. Catherine's neighborhood.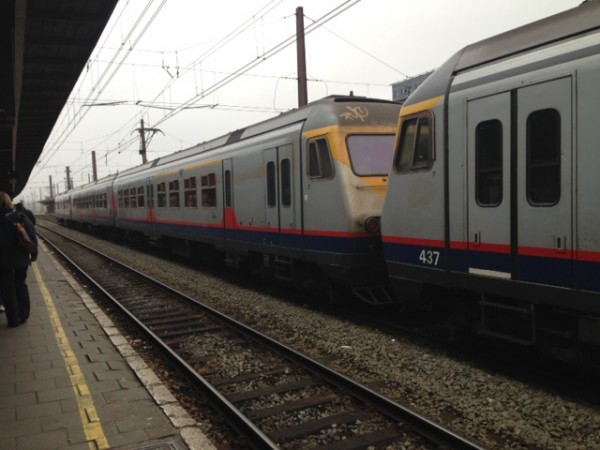 2. Belgium is a European hub and a great base from which to travel to other countries. 
We chose not to take advantage of this but I was this close to hopping a fast train to Paris on one of the days Brad had to work and I was left to entertain myself. It's only a one-hour trip to Paris from Brussels via fast train.  But word to the wise: it's extremely expensive (about 200 Euros) if you purchase your ticket closet to your trip.  So if Paris by way of Brussels sounds like a good idea to you, purchase your tickets well in advance.
Another option was Amsterdam, which is only three hours away via train (not fast train).  We toyed with the idea of visiting Amsterdam, but decided to focus our time on visiting Belgium's cities like Bruges and Gent.  Bruges was only an hour away and Gent was only thirty minutes away by train.  By comparison, when traveling in France and Italy, it took at least several hours or even most of the day to get from one destination to the next.  A train ride from Sarlat, France (Dordogne Region) to Nice (French Riviera) was 12 hours and several connections, or a seven hour car ride.
Sometimes a small country is just easier.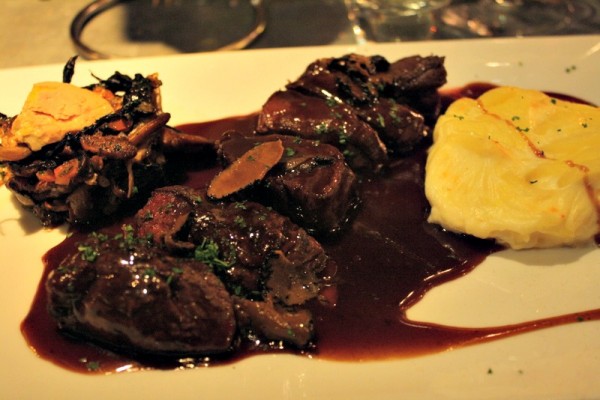 3. Belgium's food is just as good as France's. 
The first thing you should know is that I just adore French food.  Escargot, roasted chicken, coque au vain…yes, give me that.  All of it.
Because Belgium shares a border with France, it is heavily influenced by French culture.  A large portion of the country speaks French and their food closely resembles French food.  Bust instead of cooking everything in wine, the Belgian often cook their food in beer.
I loved the variety of meat in Belgium.  While I was there, I ate rabbit, wild boar, and venison. Now, whether these dishes actually came from wild game is questionable.  There are actually farms for these types of animals in Europe so you see them more often on menus than you do in the U.S.  Each one of these dishes were absolutely amazing and did not taste "gamey" at all.  There are also a lot of of yummy fish options. If you're a meat eater, then I highly suggest being an adventurous eater in Belgium.  If you're a vegetarian, good luck. You're going to eat a lot of ravioli.  If you're vegan, pack a snack or 12.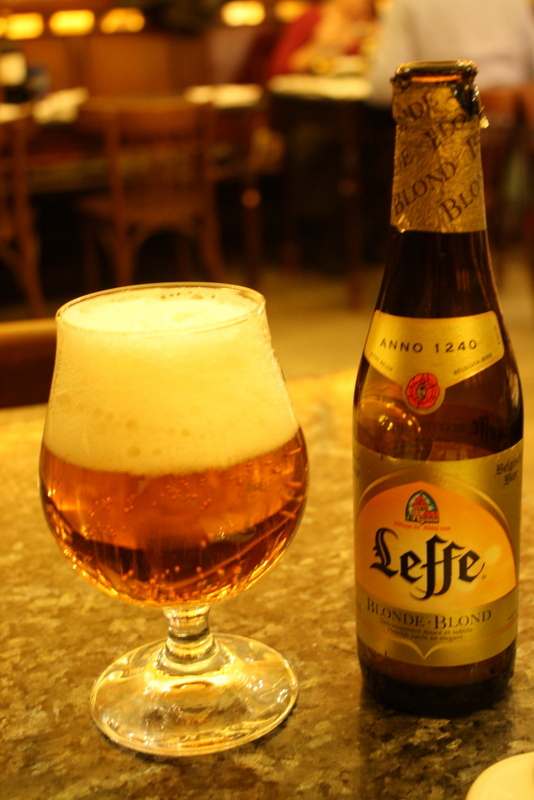 4. Belgian beer is fantastic. 
In fact, I'm willing to wager than even you non-beer drinkers can find a beer to love, especially if you visit Delirium.  This pub is in Brussels and is where Brad fell in love with Delirium Red.  He swears it tastes like Cheerwine and I concur.  For you non-southerners, Cheerwine is a cherry soda and tastes somewhat like cherry Dr. Pepper.  If you're not at Delirium, ask your server for a non-sour Lambic or fruit beer.  
If you love beer like I do, you have to check out the Leffe (pronounced 'lef') Blond or Brun (brown).  It was my favorite of all that I tried that week.  And if you're there during December, ask your server about their favorite Christmas beer.  Almost every pub and restaurant carried a selection of them and everyone I tried was really yummy — not too dark and not too light, with lots of spices. (I have on good authority that Common Market in South End carries Leffe Blone — 7th beer cooler on the left.)
Also, two more things to note about Belgian beer: they like a lot of head in their beer and they never drink out of a bottle.  I was really surprised when I ordered my first beer and the waiter dumped the contents of the bottle directly into the glass with no regard for the foam.  Because the entire beer won't fit into your glass, they'll leave the bottle with you. Apparently, this brings out the flavor, but I still prefer to pour my beer slowly so I don't have to fight through the head to get my beer.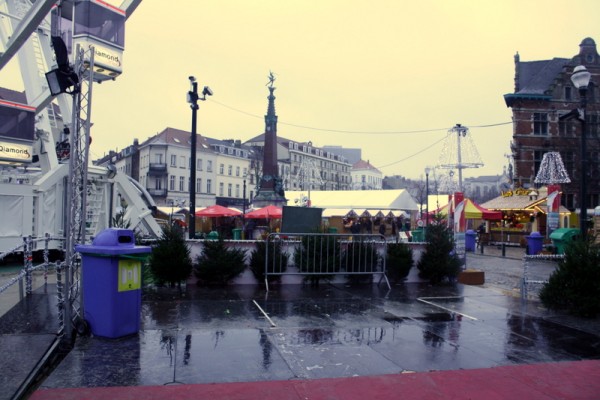 5. The weather in Belgium in December (and most of the winter) is dreary. 
But if you pack for the weather, you'll be a-okay. I meant to pack two pairs of boots. My heavy-duty leather waterproof Merrells and my cuter over-the-knee cognac colored boots.  I was really disappointed when I opened my suitcase to see that I had completely forgotten to pack the cuter pair.  However, after my first day in Brussels, I was so happy that I didn't have the cuter (and less warm) pair.  The Merrells were absolutely fantastic.  They were comfortable and warm.  They're so easy to pull on and off that I can wear them through the airport.  I can walk in them for days.  I only wore a different pair of shoes once when I knew we would be taking a cab to and from dinner.
This is not an ad for Merrells.  The moral of the story is that if you go to Belgium in the winter, pack for comfort, not cuteness.  You're toasty feet will thank you.
You should pack plenty of layers.  Think jeans and thick leggings everyday with chunky sweaters, heavy coats, scarves, gloves, a cute hat or two, and especially an umbrella.  It rained almost every day were were there.  But most days the rain was so light, I could just wear a hat.  A coat that is a bit water resistant it good too, but not necessary.  This North Face coat is what I wore most of the week and it was perfect.  If I walked briskly, I was toasty warm.
6. Belgium, or at least Brussels, has great shopping. 
My suitcase was at the fifty pound weight limit when I boarded the plane, so I had to restrain myself.  But while I was there, I bought a couple of things.  There are two main shopping areas in downtown Brussels.  The really swanky area (think Louis Vitton and Versace) was near our hotel.  The shopping district at which I could afford to shop was just outside the Grand Place.
Do not mark your location via proximity to an H&M because there is at least three within a half mile radius in downtown Brussels.  They even have a men's only H&M.  Brad bought me two scarves (he really likes me in scarves and hats) — one at Levi's and one at Mango.  Mango is a shop based out of Barcelona that doesn't have a shop in the States yet.  I bought a dress for his company's holiday party there.  It was very inexpensive and I can't wait to wear it!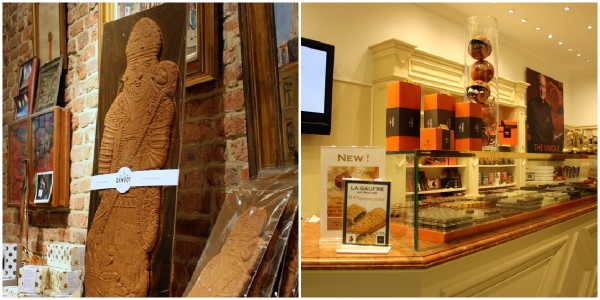 7. The chocolates, oh the chocolates. And don't forget the speculoos.
I probably gushed about this in another post, but it bears repeating.  You should spend at least a few hours visiting the chocolate shops.  The speculoos cookies are also pretty fantastic.  At most (maybe even all?) of the shops you could get chocolates with a creamy speculoos butter center.  Let me translate, that's cookie blended with other wonderful things until it is the consistency of peanut butter. It's as amazing as it sounds.
My favorite chocolate shops were Galler, Neuhaus, and Mary although every place I tried had very good chocolates.  However, I would skip Godiva.  Theirs is the priciest and I really didn't like the fact that the flavors weren't labeled.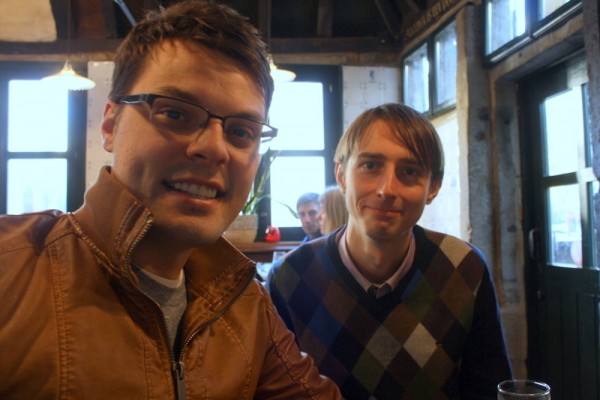 8. The Belgians are very laid back friendly people. 
Rick Steve's described them as "unpretentious" and I whole-heartedly agree.  We had nothing but good experiences with all of the Belgian folks we met.  The Belgians are my kind of people.
Of course, our new Belgian friends Geoffrey and Stephanie were wonderful.  And as a whole, I have to say that I really enjoyed the other Belgians with which we interacted, including the lady at the information desk at the train station we peppered with questions every time we bought train tickets.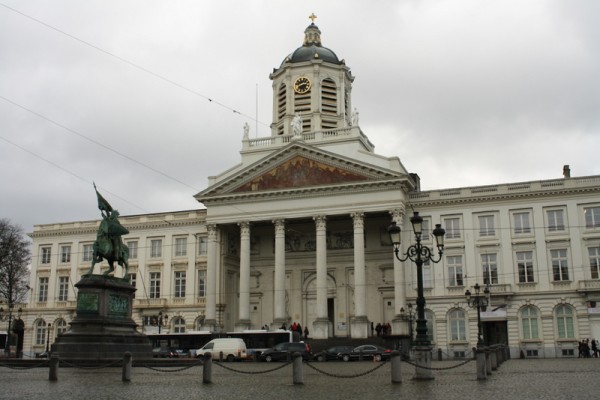 9. Belgium is rich with history.
I will admit that when Brad told me that he was going to Brussels for work and there was a chance that I could go too, I was excited.  However, I immediately realized that I really knew nothing about Belgium.  I wasn't even certain of what language Belgians spoke.  I read a bit about Belgium before leaving for our trip, but learned so much more during my visit.
If you love art museums, there are several really good ones in Belgium (and not just in Brussels).  If you like learning about other governments, Belgium has a very interesting setup between the French and Flemish Belgian cities in their parliament. You can tour everything from a castle in Gent to the seat of the European Union in the Berlaymont building in Brussels.  Belgium was occupied by Nazi Germany during World War II, so there is a lot of war history here as well.
Also, and probably the only thing I really knew about Belgium before visiting, Belgium is the birthplace of Audrey Hepburn.  How could a place that created such a  lovely person be anything but lovely itself?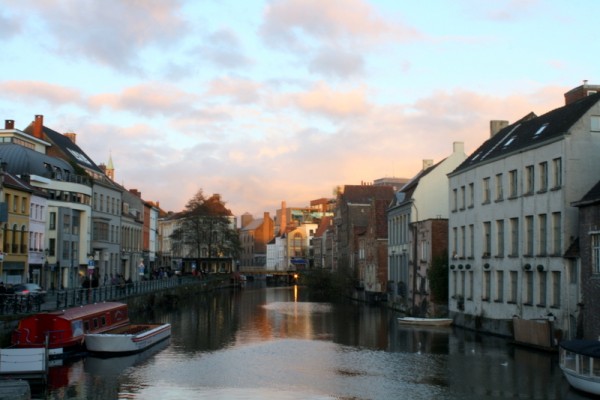 10. Belgium is a beautiful country. 
Beautiful and distinct architecture, rolling green countryside, colorful boat dotted canals…Belgium is just a beautiful country. Some metropolitan cities are just dirty, but Belgium was clean.  And this is coming from the girl who lives in a city where we pressure wash the gum off the sidewalks and sweep the streets every night. I have high standards.
One more thing — if you're curious how much French you need to know in order to make it in Belgium, here's all you need to know.
Bonjour (good day or good morning)
Bonsoir (good evening or good night)
Au Revoir (goodbye)
Parlez-vous anglais (Do you speak English?)
Merci (Thank you)
Excusez-moi (Excuse me)
Pardon (Pardon)
*You can hear the pronunciation on Google Translate.
** Excusez-moi and pardon are used interchangeably.
Of course, it's always nice to know more French, which almost everyone I met (especially in Brussels) spoke.
If you have any questions about my time in Belgium, I'm happy to answer them.  Simply leave a comment or email at kelly@foodiefresh.com.