**This giveaway is closed.**
I'm so excited to be able to offer this giveaway because this little business venture is very close to my heart!
My sister-in-law Jen (my younger brother's wife) is so incredibly crafty and has been making gorgeous jewelry now for several years.  I've told her many times (as have many others) that she should sell her jewelry on Etsy.
I'm so pleased to present her Etsy shop Bead Paper String to you.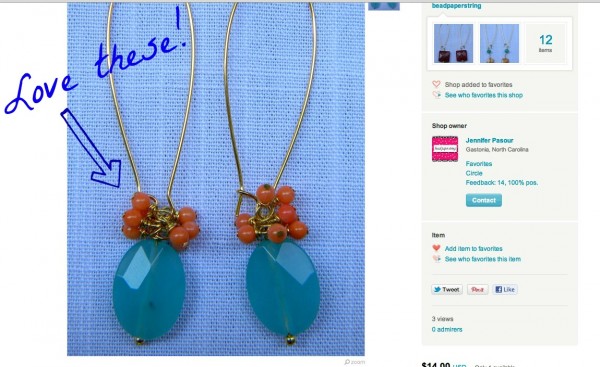 After making me these beautiful earrings for my birthday (plus another beautiful cobalt blue pair), I asked her to make some for me as gifts.  My friends have loved the delicate handmade earrings I have gifted them and I think you'll love them too.
In fact, I think you'll love them so much that I want to give a pair to you!  
You can win one pair of any of the earrings featured on Bead Paper String…
OR
Jen will make a custom pair* for you!
*not to exceed the monetary value of the earrings listed in her shop (i.e. you can't say you want a custom pair of diamond earrings…haha).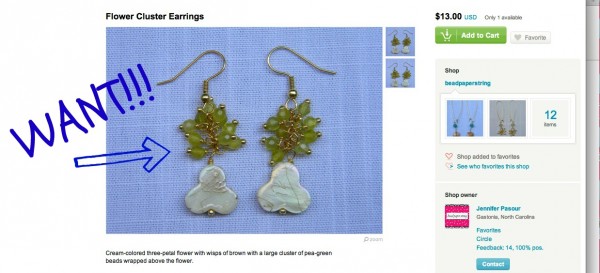 Entering to win is easy peasy and you can get up to three entries by doing the following.
Entry option #1 — Go to Bead Paper String and choose your favorite pair.  Leave a comment saying which earrings you would choose if you win or what idea you have for a custom pair.
Entry option #2 — Link to this giveaway on Facebook (must include link to this blog post).
Entry option #3 — Tweet "@Foodiefresh is giving away handmade earrings (must include link to this blog post).
You can do any of these things to gain an entry or all of these things. Please tell me what you did in the comments to gain your entries.  Please make one comment per entry.
For example:
Comment #1: I would choose the flower cluster entry!
Comment #2: I tweeted this giveaway.
The giveaway will close at 12 pm on Wednesday and I'll pick a winner later that evening.
Good luck!
Also, for the next two weeks, Jen is offering a special 10% discount to Foodie Fresh readers.  Just enter foodiefresh10 as the discount code to get the 10% off whenever you make a purchase to Bead Paper String.  Jen has a very limited amount of handmade earrings so if you see something you like, don't hesitate to snatch it up.
***
I'm so appreciative of the support I've received thus far, but if you haven't voted for Foodie Fresh for the City Web Awards, I would really  love your vote! Click here  to vote.