In case you haven't noticed, I've been eating a lot of egg whites lately — hence the huevos blanco (egg whites).
Egg whites are so easy to incorporate into so many things.  Plus they pack a protein punch that is both filling and healthy.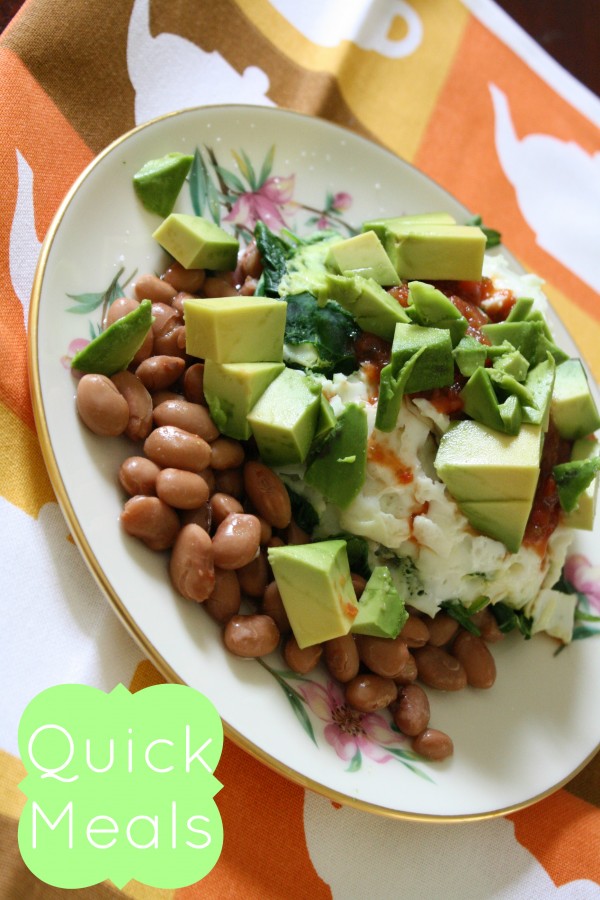 Several days ago I made an incredibly delicious and super fast meal of huevos rancheros for the speedy cook.  It literally took four minutes — two minutes to cook the egg whites + spinach, one minute to heat the beans, and one minute to chop the avocado and assemble.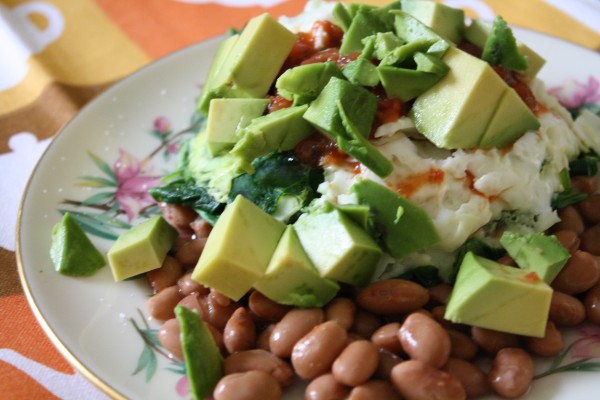 Huevos Blanco Rancheros (serves 1)
1/2 cup egg whites (or 4 egg whites)
2 cups baby spinach
1/2 cup pinto beans
1/4 cup salsa
1 1/2 ounces avocado, chopped
Place egg whites in a microwave safe bowl and top with spinach.  Cover with a paper towel and microwave for two minutes or until egg whites are firm.*  Plate beans and microwave for one minute if refrigerated, 40 seconds if room temperature.  Place egg whites and spinach on top of the beans.  Top with salsa and avocado. Eat immediately.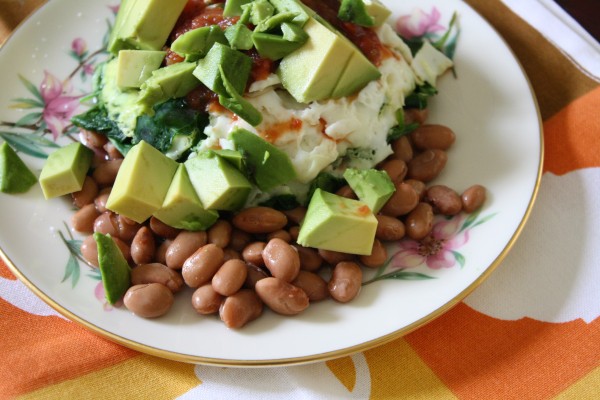 Never was there a more perfect combination than eggs and avocados.  Well, except chocolate and just about anything.
This meal is so delicious, light, and filling.  It has all the right components: healthy fats, healthy carbs, healthy protein, healthy veggies.  Pair it with your favorite piece of fruit and you have a complete meal.
***
In other news….
I'm registered to run the Race Fest Half Marathon tomorrow, but after suffering from hip flexor issues for several week and topping out at 10 miles on my long runs two weeks ago, I'm feeling kind of iffy.
My plan is to run until the point where the 10K and the half fork off from each other. If I feel like doing the half, I'll keep on keepin' on.  If I'm hurting in the least or don't feel like I'm going to make it, I'm going to form to finish with the 10K-ers.
Some blogger friends and I are meeting up prior to the race, so if you're running the race and would like to meet up as well, please email me at kelly@foodiefresh.com and I'll give you all the details.
Happy Friday!