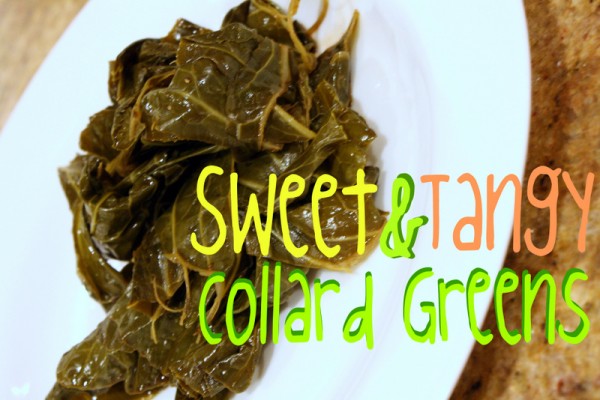 I don't know if it comes through here on my blog, but I'm as pretty Southern as they come. I have an accent…like a real live southern accent.  Some people are surprised of this when they meet me for the first time in real life after getting to know me via my blog.
I'm also pretty southern in the fact that I probably could carry on long conversations with other southerners, and outsiders would have no idea what we're talking about or what we're saying. Colloquialisms are darlin', ya'll.
I love southern food through and through, although I don't eat southern food (or at least as most people traditionally think of southern food) every day.  But I love it still.
As southern as I am, I have never been a big fan of collard greens.
They stink like cabbage. They just don't look appetizing.
Even in the photo above, even though I ate that huge portion of them and loved every bite, I have to admit…they don't look very good.
But Brad has totally changed my mind about collard greens.  Without any experience cooking them, he developed his own recipe several months ago when we were up to our ears in collard greens from our CSA.
He loved the collard greens at a local restaurant and tried to replicate them, but wasn't able to get them just right, and by that I mean his are SO much better.
They're sweet and tangy, just the way I never knew I loved my greens.
Here's everything you need.
– balsamic vinegar
– honey
– red wine vinegar
– hot banana pepper rings (just the juice)
– brown ale
– 10 collard green leaves
– salt and pepper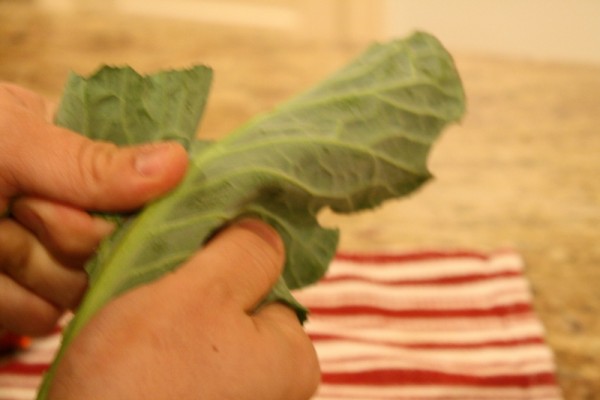 First, you separate the leaves from the stalks.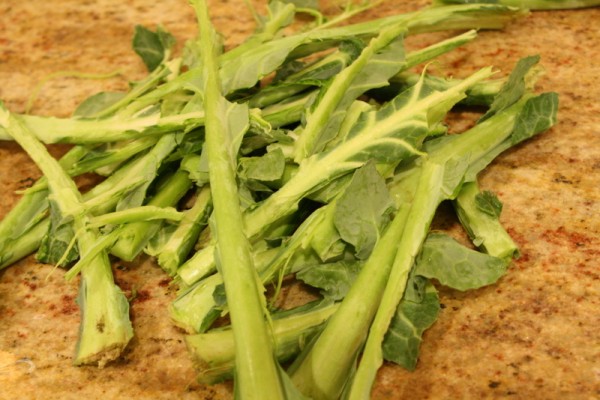 Discard the stalks or put them in your compost.  I say that like I have a compost.
I'm only a hippie at heart.  Not in reality.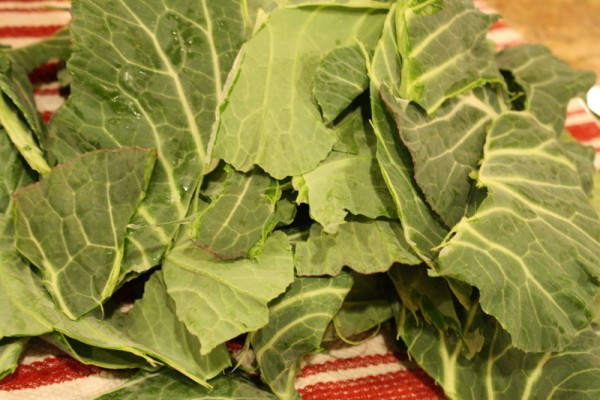 There, now your collards are ready for steaming. These suckers are thick, so you have got to steam them for a while to break down the fibrousness of their leaves so they're more tender.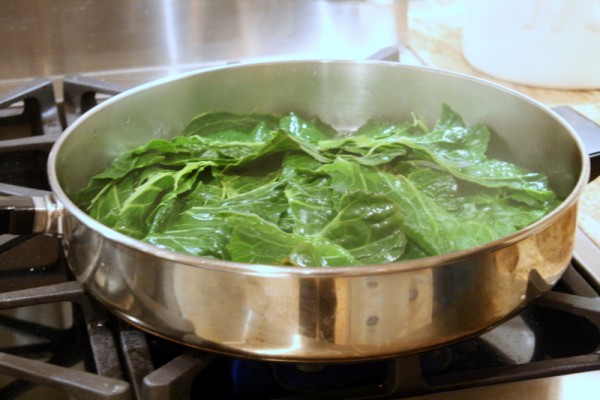 Put them in a large sautee pan with 1 1/2 cups water. Put the lid on and steam them for 10 minutes.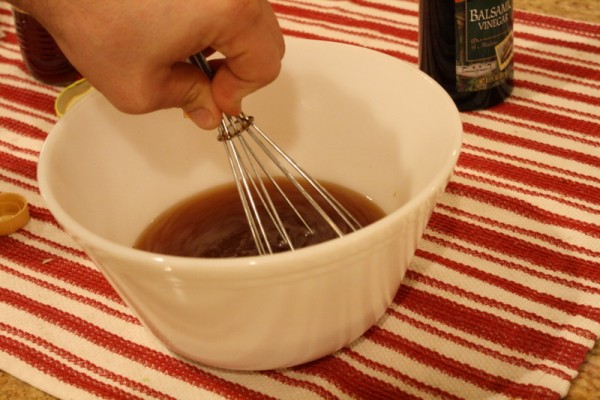 Add all of your ingredients for the sauce to a bowl and whisk.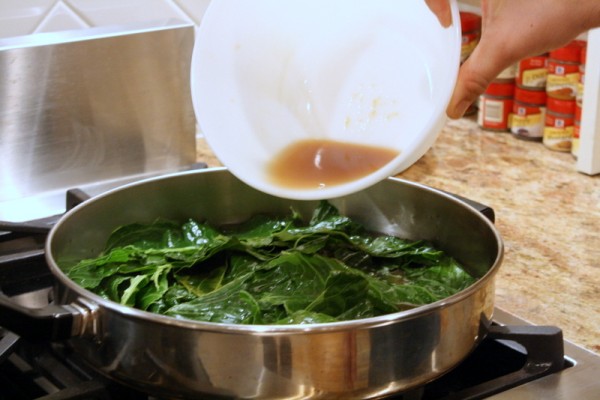 Do not drain the collards.  Add the saue directly to the pan.  Allow to cook for 10 more minutes.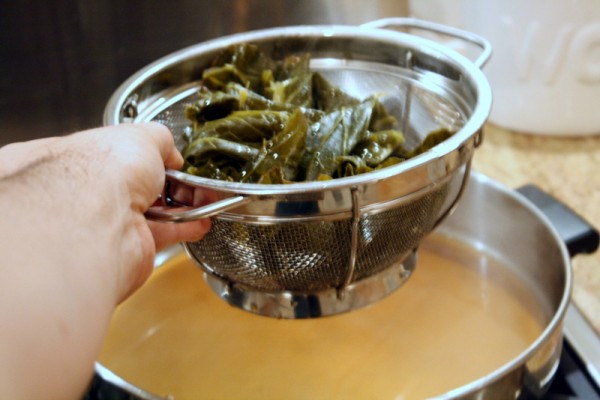 Use tongs to remove collards from pan and put in a colander so the sauce drips off the collards and remains in the pan.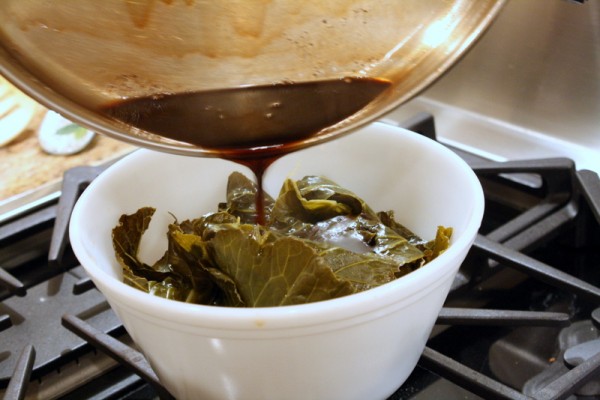 Put collards in a bowl.  Reduce sauce by half, which takes about five minutes, then pour over collards.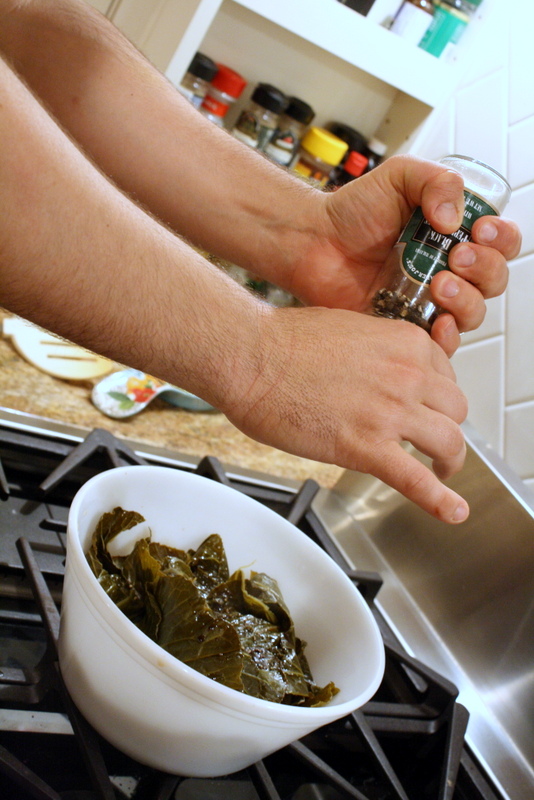 Add some freshly ground pepper and enjoy!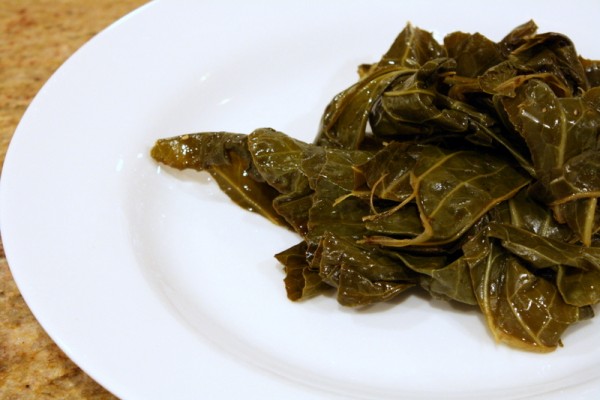 Brad's Sweet and Tangy Collard Greens (serves 2 collard lovin' folks or 4 regular people)
10 large collard green leaves
1 1/2 cups water
1 1/4 cup brown ale (Brad uses Newcastle)
1/4 cup balsamic vinegar
1/4 cup red wine vinegar
1/2 cup juice from jarred hot banana peppers
4 teaspoons honey
1/4 teaspoon salt
fresh ground pepper
Wash collards thoroughly* and remove leaves from stems.  Discard stems.  Add leaves to a large sautee pan with water. Cover with the lid and simmer on medium high for 10 minutes.
Combine sauce ingredients: ale, vinegars, pepper juice, honey, and salt.  Whisk together and add to collard greens.  Cover the collards again and cook an additional 10 minutes.
Remove collards from pan with tongs and put in a colander to allow juice to drip from collards into the pan.  Put collards in a bowl.  Turn heat to high and heat sauce until it reduces by half, whisking continuously so sauce does not burn.  Heat until sauce has reduced by half (about 5 minutes).  Pour sauce over the collard greens and serve.
*This is very important.  Nothing ruins collards faster than a gritty texture from leftover dirt.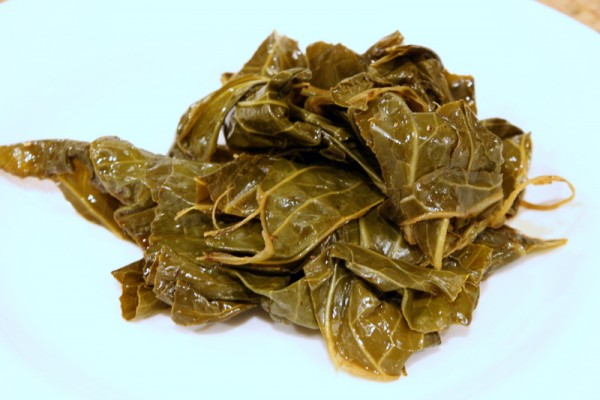 This recipe completely changed my mind about collards.  Now instead of holding my discriminating nose when I go to my grandparents house, I'm enjoying them at home…at least when I can talk Brad into making them for me.
Collards are so incredibly healthy for you so they're worth at least trying a few times before you make a decision about them.  And if you're going to try them, you have to try this recipe.  Take my word for it.
They're that good!
What's one food you've changed your mind about and what changed it?