If you've been reading Foodie Fresh for a while, you'll remember that I joined a CSA in the spring.  CSA stands for community supported agriculture.
Basically it works like this:
– You find a farm that is a CSA provider (more on this at the end).
– You pay for the CSA in one or two lump sum payments or broken up into monthly payments (mine was paid in two payments).
– Every week for a pre-determined number of weeks (mine was 15 weeks), you receive a share of the farm's produce.
– Most CSA's have drop off sites in major cities, some will bring it to your house (usually for a fee), and some require that you actually pick it up from the farm (mine could be picked up in Charlotte or at the farm).
I loved participating in Cold Water Creek Farm's CSA so much, I decided to sign up for the fall CSA as well.  The number one reason I loved my CSA is because it encouraged me to use veggies in new and exciting ways.
Some of my favorite recipes that emerged out of my abundance of CSA veggies include: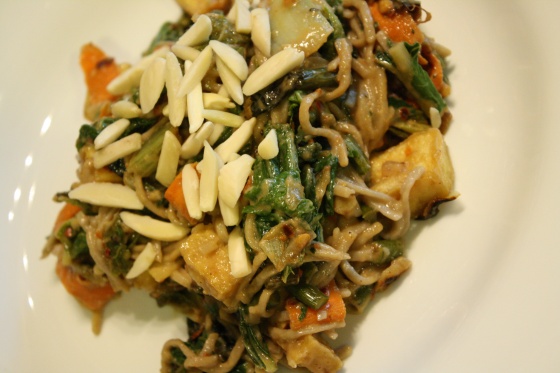 Peanut Tofu Noodle with Greens
CSA star ingredients: nappa cabbage, bok choy, garlic scapes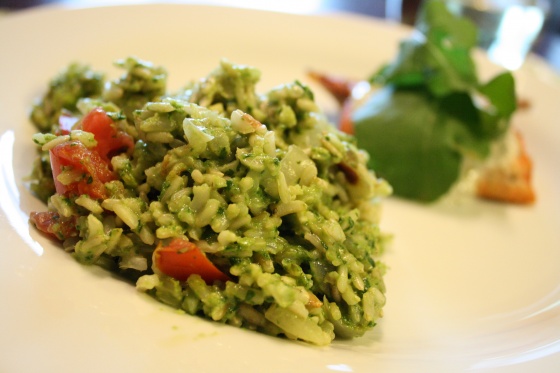 Arugula Pesto Brown Rice
CSA star ingredient: arugula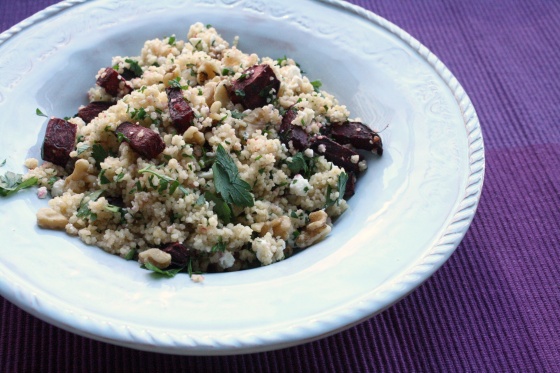 Roasted Beet and Walnut Couscous
CSA star ingredient: beets
Roasted Veggie Quinoa Salad
CSA star ingredients: corn, garlic, bell peppers, yellow pear tomatoes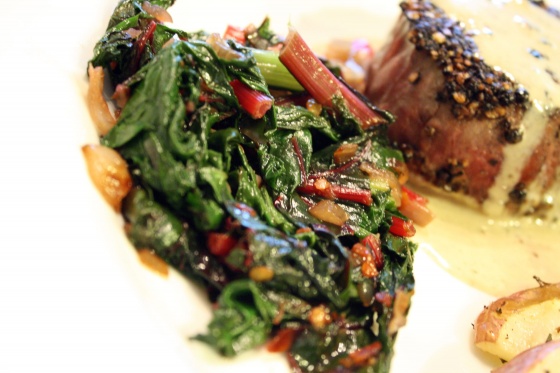 Maple and Spice Chard
CSA star ingredient: rainbow chard
Lemon Basil Smoothie
CSA star ingredient: basil
Other reasons I loved participating in the CSA:
– It's economical. A full share of Cold Water Creek Farm's CSA is $500 and a half share is $350.  I split a half share with a friend, which came out to $250 a piece.  For 15 weeks, that's only $16.67 per week.  You cannot beat that price! I had more than enough produce every single week and even had to come up with creative ways to use them up, including sticking smoothie greens (like spinach and kale) in the freezer and huge vats of veggie-filled soup, which is also easy-to-freeze.
And guess what? If you join both the summer and fall CSA, you get $100 dollars off, which brings my cost to $15 per week!
– It's organic. The end of the weekly email I get from Cold Water Creek Farm always says Don't panic, it's organic! 🙂 Not all CSA's are organic, but mine is. I don't have to worry about pesticides and weird chemicals on my veggies.  I don't always eat 100% organic, but I try to eat it when it makes the most sense (i.e.  isn't unreasonably priced and I can find it at the places I shop).  Being a part of an organic CSA takes the guess work out of it for me. I don't have to play 30 questions with the staff at the farmer's market and I don't get sticker shock when comparing organic versus conventional produce.
– It's local. Cold Water Creek Farms is located just 23 miles away from my doorstep.  Buying local produce means less fuel was used and less emissions were omitted transporting my food to me.  Buying local means supporting local agriculture and thus, supporting the local economy. All very good things!
– It's convenient. My CSA pick-up location at Atherton Mill's Market is about two miles away from my condo and even closer to my new house.  Also, instead of racking my brain trying to decide what I want to cook this week and what I need to purchase at the grocery store to do that, I just adapt my meals to my CSA.  I don't know about you, but the less decisions I have to make, the happier I am.
– It's seasonal. Eating seasonally has it's benefits: produce is fresher and tastes better when it's at its peak.  When I go to the grocery store, I don't always remember what's in season and what's not.  Just another way, my CSA takes the guess-work out of grocery shopping.
– It's fun. I have really enjoyed getting to know Eric, the farmer who supplies my CSA share each week.  When I go to Atherton Mills whether it's to pick up my CSA or to look at other local goods on Saturday mornings, there is always a friendly face there to greet me.  I've also really enjoyed sharing my CSA with my friend Chloe.  Most weeks we spend some time discussing what we plan to do with our produce or what we did with it last week.  I love hearing things she's done with hers that I didn't think of and sharing my own ideas.  Sometimes our conversations about vegetables are more strategic planning than a recipe swap, but it's always a good time!
Finding a CSA took a little research.  I did a lot of googling, but eventually found Cold Water Creek by asking around at Atherton Mill's farmers/local goods market.  There are usually websites for most metropolitan areas that offer a listing of CSA's.  You might also want to try asking around at a nearby farmer's market, as I did.  Of course, if you are in the Charlotte area, I highly recommend Cold Water Creek Farm CSA.  I can't say enough good things about them!
If you do not live in the Charlotte metro area, this website allows you to search for a CSA by city and state or zip code.  The site also offers helpful tips in choosing a CSA and questions you should ask the farmer before deciding to commit.
If you have any questions about my CSA experience, I'm happy to answer them.  Ask away!  
Or, if you have had a wonderful CSA experience, feel free to share as well in the comments section.