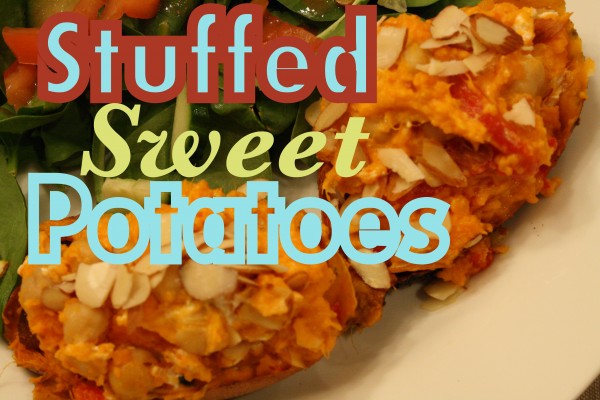 This recipe only has five ingredients!
…unless you count the salt and then it has six ingredients, but I really don't think salt counts.  It's kind of a given.
When I told Brad we were going vegetarian for dinner, he looked less than thrilled.  He usually is okay with no-meat dinners.  But let's face it.  He's never jumped up and down when I break my vegetarian dinner plans to him.
But, often times, his post-first-bite reaction is totally worth the lack of enthusiasm.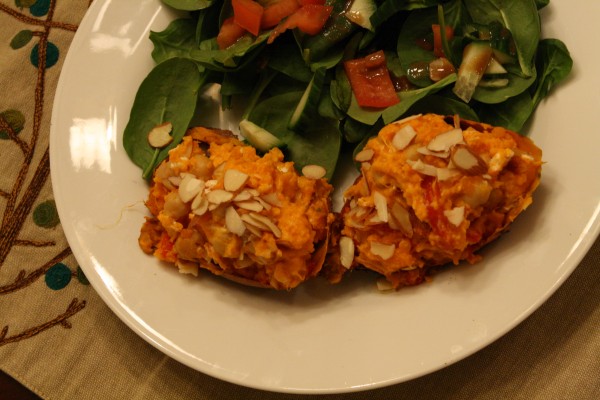 This meal was one of those times.
He LOVED these so incredibly simple stuffed sweet potatoes.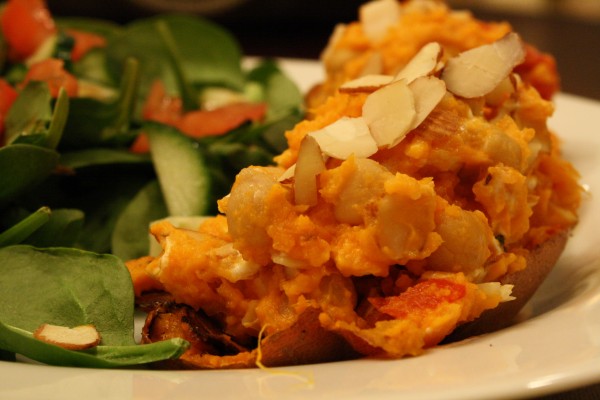 Once you see the five ingredients, you'll realize why.
5 Ingredient Stuffed Sweet Potatoes (serves 4)
4 small sweet potatoes (2-3 ounces each)
1/4 + 1/4 cup slivered almonds (1/2 cup total)
1 cup chick peas
1/2 cup crumbled goat cheese
1/2 cup jarred roasted red peppers, chopped
1/2 teaspoon salt
Preheat oven to 400 degrees F.  Bake sweet potatoes for 1 – 1 1/2 hours, or until a knife can be effortlessly inserted into the center of each potato.  Remove from oven and allow to cool (stick in the fridge or freezer to cool quickly).
Once potatoes are cool, cut each potato in half, scoop out the flesh, and place into a medium sized bowl. Put 1/4 cup of the almonds (reserve the other 1/4 cup), plus the rest of the ingredients in the bowl and stir to combine.  Scoop mixture back into the potato skins.
Bake on 350 degrees for 10 minutes or until potatoes are warmed through.  Plate and sprinkle the remaining 1/4 cup slivered almonds evenly over the potatoes.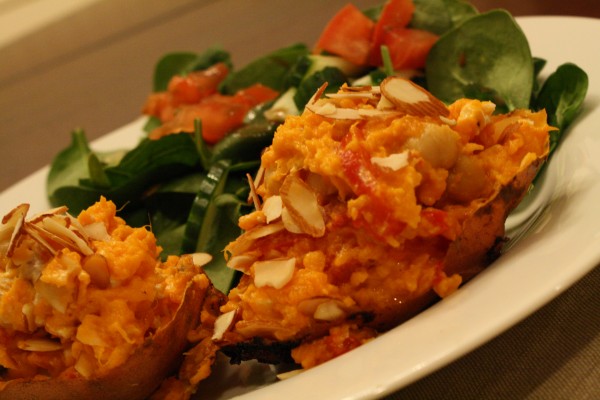 Oh yeah.
That's the stuff.
Something about those five simple ingredients is so incredibly good together.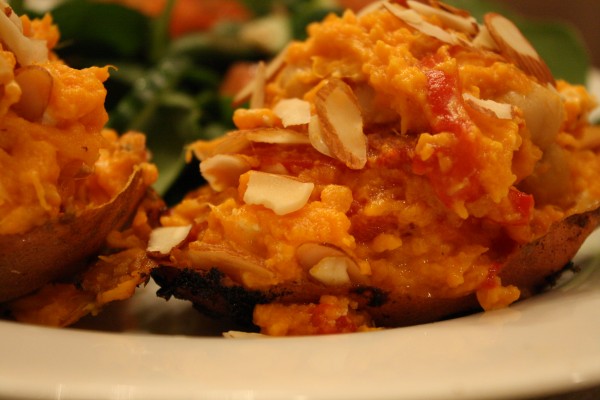 Meat? What meat? I'm too busy enjoying the sweat, creamy, nuttiness of these little orange nuggets of deliciousness.
I'm also thinking that you could put about 1/4 – 1/3 cup of flour in the sweet potato mixture, shape them into patties, and make one mean veggie burger.
In fact, someone do that and invite me over to dinner…pretty please.
I'll bring the wine.