Some people have a pasta weakness.
I am not one of those people.
My vices usually contain chocolate and sugar and wine. Although, not necessarily all at one time.
However, every once in a while I want to indulge in a pasta dish.  It's a nice change of pace from my typical carb choices like brown rice, sweet potato, and Ezekiel bread.
During these occasions, what I really want is something that tastes indulgent, but doesn't have all the calories of the typical pasta sauce.  Pasta dishes with cream sauce can run into upwards of 1,000 calories.  Indulgent dishes have their place, but I for one do not like pasta enough eat 1,000 calories worth of it.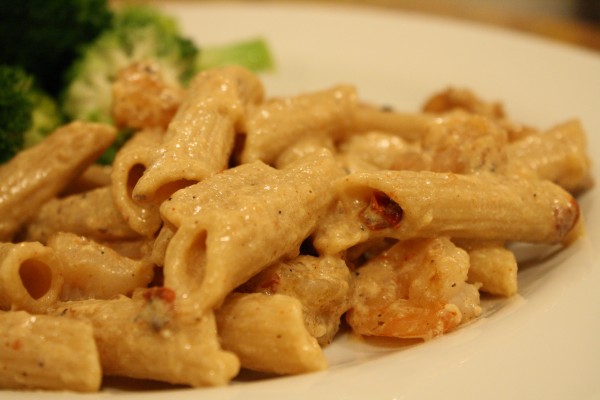 After a little experimenting in the kitchen, I think I nailed it.
This delicious rich and creamy dish tops out at about 370 calories but tastes as good as the 1,000 calorie versions.
And here's how you make it…
The sauce is easy and starts with some minced garlic.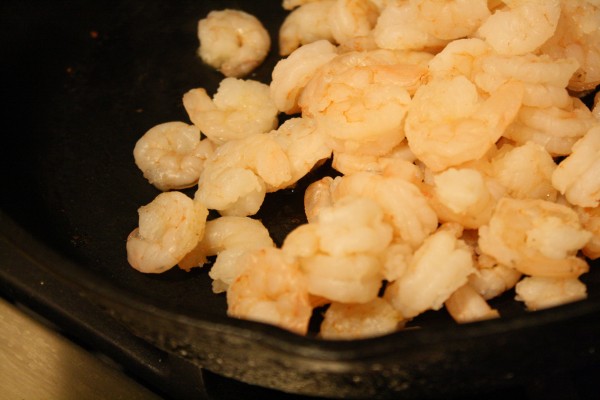 If you're a good multi-tasker, you can cook the shrimp while you prepare the pasta and sauce.  But watch the shrimp closely, because they cook up fast!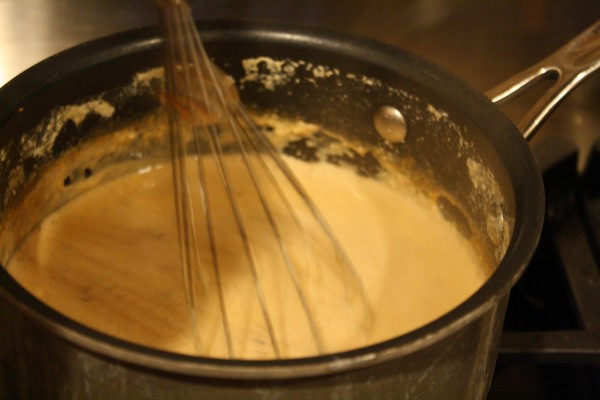 The heart of the dish, and the place where I cut out most of the calories, is the cream sauce.  Instead of heavy cream, I use skim milk, vegetable broth, light cream cheese, and some unbleached flour (plus spices) to make it taste deceivingly decadent.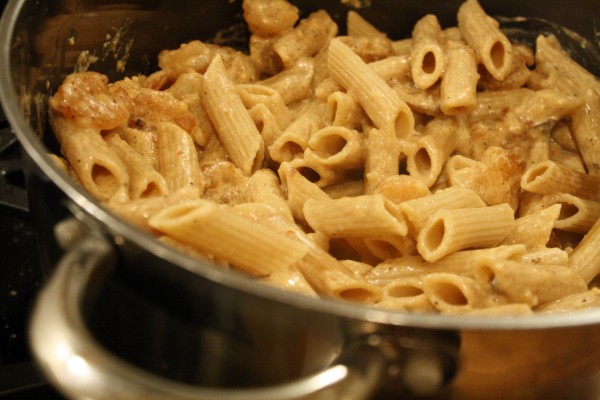 In the end, you just mix it all together and serve.  Easy peasy.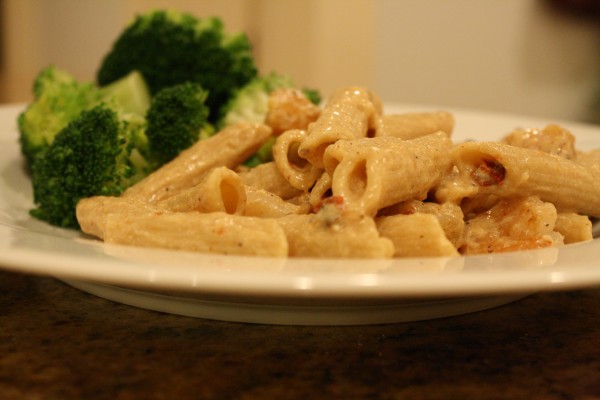 Pasta with Shrimp in a Light & Spicy Cream Sauce (serves 5-6)
This dish can be summed up in three words.  The first: spicy.  The second and third: deceivingly decadent. 
Light and Spicy Cream Sauce:
1/2 teaspoon extra virgin olive oil
3 cloves garlic, minced
1 cup skim milk
1 cup vegetable broth
1/4 cup light cream cheese
1/2 teaspoon cayenne pepper
1 teaspoon chiles in adobo sauce, chopped
1/4 teaspoon pepper
up 3 Tablespoons cup unbleached flour
Heat oil in a medium sized sauce pan on medium heat.  Add garlic and sauté until beginning to brown.  Add milk and broth and bring to a simmer. Add cream cheese and stir until completely melted.  Add spices and chiles and stir to combine.  Turn heat to low and allow to thicken, stirring periodically.  Just before serving, raise heat to hight.  Slowly add flour, one tablespoon at a time, stirring quickly with a whisk for about a minute after every tablespoon.  Add flour until sauce has thickened to desire consistency (up to 1/4 cup).
Shrimp and Pasta: 
1 teaspoon extra virgin olive oil
16 oz. medium shrimp
1/4 teaspoon sea salt
1/4 teaspoon pepper
2 1/2 cups brown rice penne pasta (or pasta of choice)
1/2 teaspoon sea salt
Heat olive oil in a medium sized skillet or pan on medium heat.  Add shrimp and sprinkle with salt and pepper.  Cook for 2-3 minutes, then use spatula to flip over the shrimp to cook on the second side.  Cook an additional 2-3 minutes or until shrimp has turned pink on both sides.
Cook pasta according to package directions in a large pot with salted water.  Strain pasta in a colander and place back in the large pot.  Add sauce and shrimp to the pot of pasta.  Stir well to combine.
Serve immediately or allow to cool, then store in a sealed container to serve later.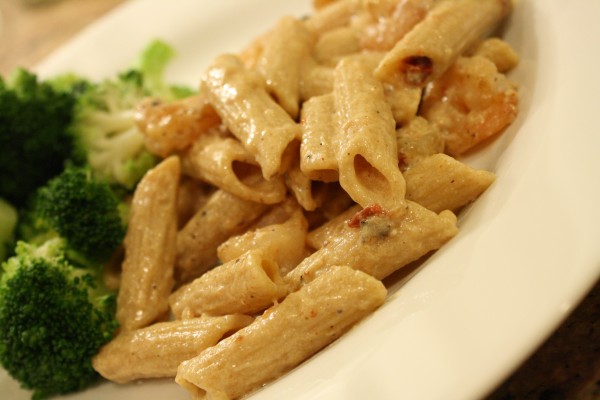 This pasta is on the spicy side, so if that's not your thing, only add 1/4 teaspoon of cayenne. It's spiciness was just right for me.
Between the creamy sauce and the shrimp, this meal was just what I wanted.  If shrimp isn't your thing, you can easily substitute with chicken, tofu, or leave the protein out completely.
Are you a pasta lover?  How do you lighten up decadent dishes?