I got mixed responses over who wanted to see a whole day's worth of eating while I'm on my sugar detox so I decided to compromise.  Once a week, I'll post my food from an entire day.  But I won't bog you down with it on a daily basis.  Happy medium, right?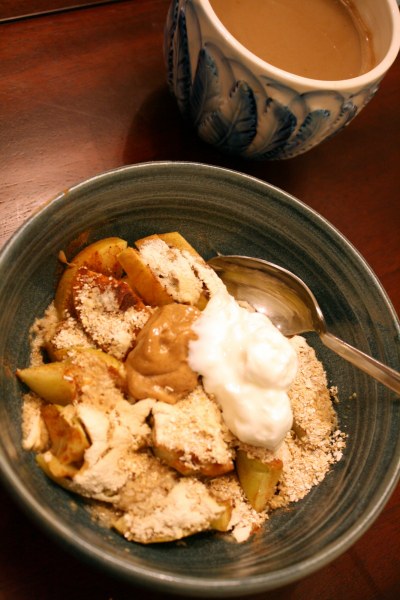 Yesterday morning, I enjoyed an apple breakfast crisp (fruit #1).  I like to make these with rolled oats, but since I'm out, I used oat bran instead.
I make it just like my raspberry coconut breakfast crisp, except I use a chopped apple and no coconut.
This is Brad's favorite snack that I make.  When I make it as a snack, I halve everything.
Lunch was so yummy!
I made a sandwich with:
– 2 pieces of Ezekiel bread, toasted
– a big handful of wilted spinach
– curried chickpea dip with feta 
I also had a side salad made with arugula, pecans, gorgonzola, and a vinaigrette.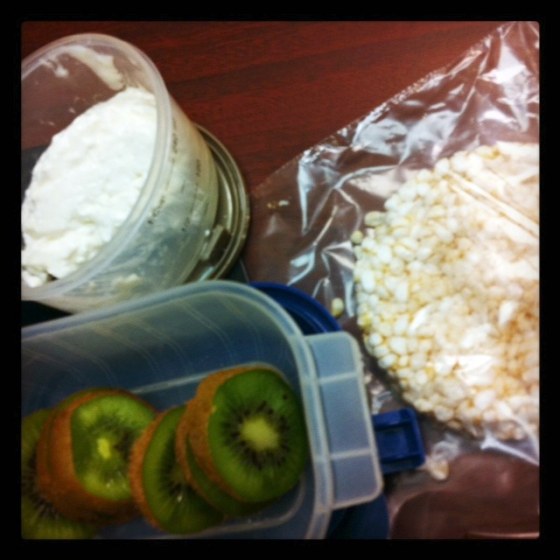 Snack #1 was 2 kiwis (fruit #2), 1/2 cup fat free cottage cheese, and a brown rice cake.
Snack #2 was unpictured (sorry, guys!) and was two pieces of celery with more curried chickpea dip and a slice of low fat cheddar cheese.  I ate this while making dinner after spin class. I was ravenous.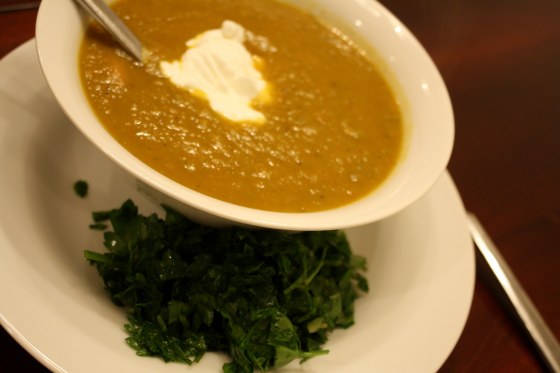 Dinner was split pea soup.  It was kind of like the recipe I linked to, but I used thyme instead of parsley and sage and added a bit of cayenne. I also left out the spinach.
I wanted to use the huge bunch of parsley I had in my fridge but didn't have everything on hand to make tabouli.  Instead I made lazy girl's tabouli which consisted of parsley, lemon juice, olive oil, salt, and a pinch of cayenne.
Still tasty, but not quite tabouli.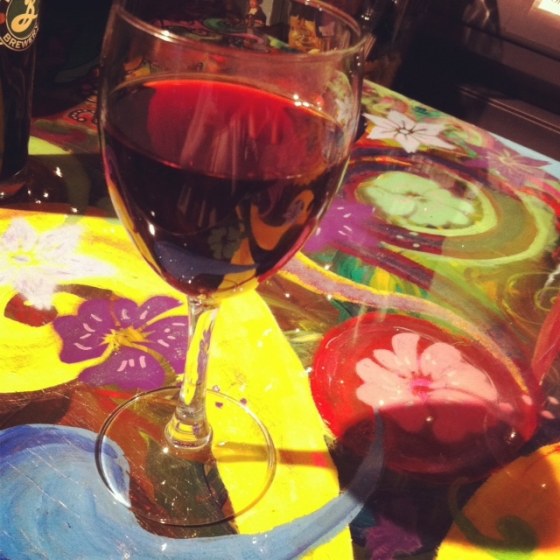 Brad was not in the mood to stay in so I agreed to take a shower and put something on a little more presentable than my pajamas.  We ended up at Common Market at South End.
Now, one of my New Years Resolutions was to drink less alcohol and I've been pretty good about this all week — I haven't had anything.  One of the ways I want to cut back is by not having a glass of wine or beer (which is all I ever drink) on week nights at home.  So if we go out, I can enjoy myself within reason.
Of course, like I said before, there's nothing wrong with having a glass of wine or a beer on a week night, but this is just extra calories for me that is usually unnecessary.  Also, I tend to get snacky when I have alcohol.
Well, last night was a big wake up call on the amount of wine that pushes me into the snacking zone.
I had one glass of wine and then decided to have another.  Then, when I got home, I finished off the bag of chocolate chips I had hidden away in the freezer.
Sugar detox, what?
This is a good learning opportunity for me.  I could have made better choices if I would have done two things:
Drank water in between glasses before deciding if I wanted another glass.
Been more present and had a different type of snack instead of lunging for the first thing I saw.
In reality, this isn't the end of the world and it's not the end of my resolution.  A resolution that requires me to be perfect will fail as soon as I make it.  Resolutions are for improvement, not perfection.
When I learn from these experiences, I'm better equipped to handle them next time, which is exactly what I plan to do.
What do you do after a set back?
Do you tend to see slip ups as failures or learning opportunities?